High-performance, low-maintenance composite decks combine unprecedented durability and beauty. As a testament to the quality and value of the new generation of wood alternatives, Trex now solely produces high-performance composite decking materials that offer a variety of benefits over their wood and PVC counterparts. The experts at Trex share some of the reasons why you should consider using composite materials for your next outdoor living project.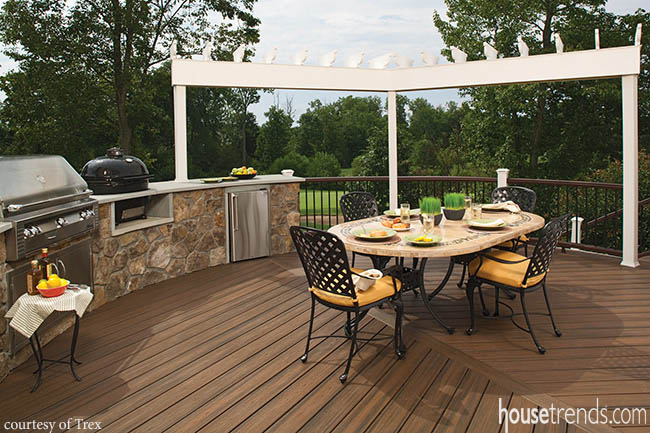 Superior durability
Unlike wood, and even many PVC options, high-performance or "capped" wood alternatives resist fading, scratching and mold—and won't rot, warp, crack or splinter. Spilled food, dropped grill tools and wet planter pots are no match for newer composites like the high-performance Trex Transcend collection. Transcend offers an unprecedented combination of fade, stain and mold resistance thanks to its exclusive protective shell and high-traffic formulation.
Ultra-low maintenance
It's important to wash, stain and seal wood decks—a process that can take several days and may require the use of heavy equipment like a power washer. High-performance composites retain their beauty for decades with minimal upkeep, meaning you'll spend more time enjoying—rather than maintaining—your deck for years to come. In fact, you never need to worry about sanding, staining or painting—just do a simple soap and water cleaning twice a year. Since spills, splashes and other mishaps are inevitable, it's extremely important to select a composite that guarantees no-fade color—so that your decking remains looking the same for decades as it did on the day it was installed.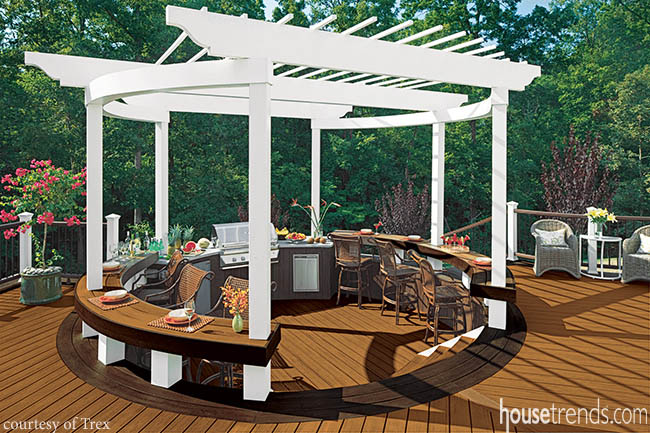 Sustainability
High-performance composite decking provides the look and feel of real wood, but without the environmental impact of deforestation. While PVC decking is made only from synthetic materials, the entire high-performance Trex decking portfolio is manufactured from more than 95% recycled content—a combination of polyethylene (dry cleaning bags, sandwich bags, etc.) and wood scraps.
Strong warranties
Lengthy warranties on composites guarantee enduring good looks and offer additional peace of mind. In fact, Trex decking is backed by a 25-year Limited Fade and Stain Warranty, which is unprecedented in the industry—resulting in the ultimate assurance of lasting beauty. When planning an outdoor living space, an important consideration for homeowners is cost. As with many things in life, you get what you pay for. Initially, composite decking and railing does cost more, board for board, than wood decking and railing. However, the payoff you get over time in decreased maintenance costs and increased leisure time provides compelling value.