When Paul Lanz and his partner Tom Silver bought their 1950s ranch along Brightwaters Boulevard in St. Petersburg they knew they would have to renovate. The home featured a mishmash of various designs, from a Victorian-era dining room to a Spanish hacienda-inspired kitchen. "It started as an 1,800-square-foot bungalow and went through many metamorphoses over the years," Paul says. "Every owner added their own touch to the house. While they expanded the size to around 4,000 square feet, nothing flowed."
So it turns out that over the past two years Paul and his partner, Tom Silver, have renovated the majority of the living spaces throughout the house. Perhaps their largest undertaking to date was the kitchen and master bathroom remodels.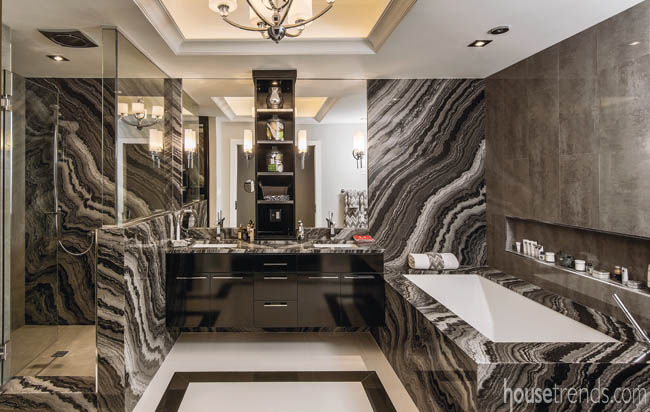 Those astounding slabs of Mercury granite featured on the tub surround, shower walls and vanity countertop take the bathroom design to an entirely different level. The black, gray and white veining create fluid movement in the space, encouraging your eyes to follow the ebb and flow of each section. The edges of the tub surround and shower stall were mitered in order to match the veining. "It looks like it has been carved out of a solid block of stone," says Amoroso. "You can't see the seams. The attention to detail in this bathroom is unbelievable."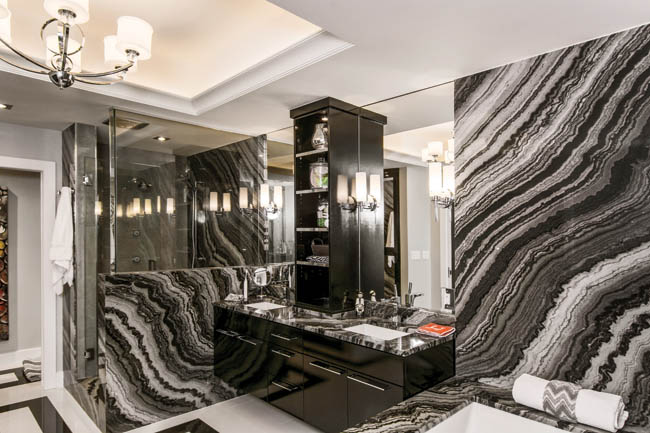 To complement the stone, Amoroso installed a maple double vanity cabinet covered in black high gloss paint.  "The cabinetry takes a backseat to the granite, so our goal was to create a subtle vanity with a masculine touch that continues the design and complements the stone," says Amoroso.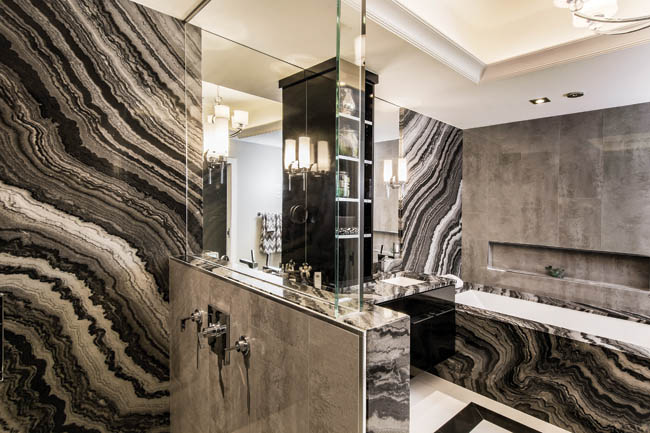 Smooth gray tile lines the half wall in the oversized shower as well as the tub wall and rectangular niche. Paul also points to the Kohler digital control system in the shower, which operates the eight water jets. "The tub filler was also installed in the ceiling," he says. "The cylinder tube of water that flows from the ceiling is a great feature and it fills the tub in just two minutes."
The bathroom serves as an extension to Paul and Tom's master bedroom, which features black and gray carpeting that they selected before the renovation started. "Our vision was 1920s Asian modern. The bold bathroom design just finishes off the overall look we wanted to achieve," he says. "We couldn't be happier with how everything turned out. The house is unbelievable."