Homeowners April Miller Boise and David Willbrand searched for the perfect Cleveland-area home with "good bones" and when they finally found it, they realized that they needed to clean it up a little and make it truly their own. To achieve their dreams they reached out to Ryan Duebber Architect, a firm in Cincinnati that David had worked with before. In addition to the rest of the house, the couple redid the master bathroom, incorporating a very minimalist style.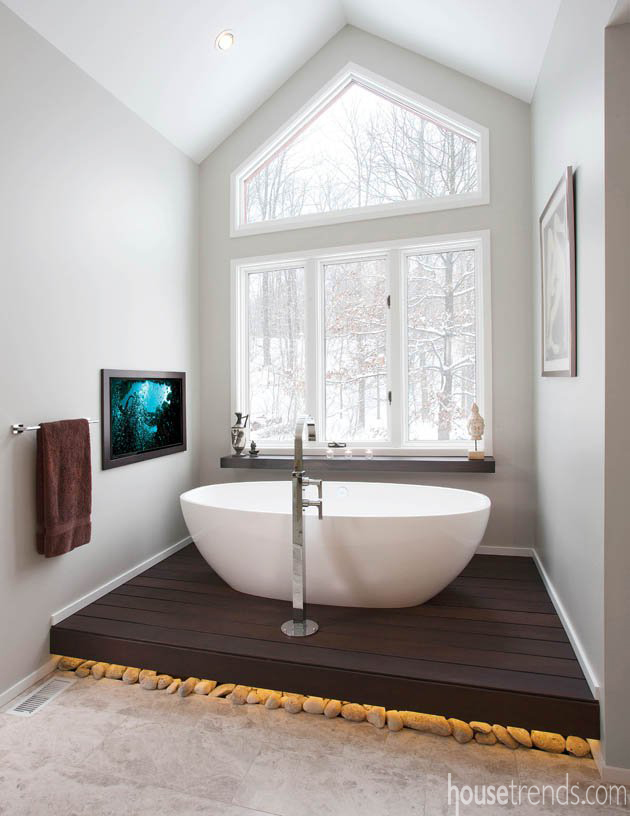 The master bathroom is striking with the eye going immediately to the large window and amazing views. "We replaced the built-in corner Jacuzzi occupying that alcove with a soaking tub—we didn't want to block that focal point," explains Duebber. Emphasizing the minimalist style, the tub stands alone on a raised wooden platform settled on a line of LED lit field stones.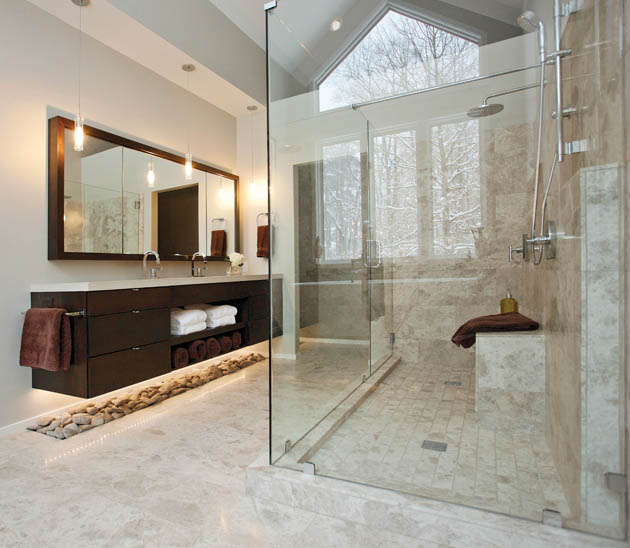 The double vanity floats above another deposit of warmed stones, giving a spa-like sense of serenity. These splashes of dark stained wood help to anchor the vaulted space, opened up when the false ceiling was removed. JP Compass moved walls to add footage to the bath, creating an opening over the water closet wall that both mirrors and balances the window's architecture. The relocated shower is kept subtle with glass walls and consistent materials, yet made luxurious with a bench, product ledge and rain shower head. "The master bath is my favorite transformation—what a great way to wake up in the morning," exclaimed John Park. Finishing off the project, new stained doors adorn the his and hers closets, the master bedroom and the office. "It's not always the case that you have someone like Ryan who has a good sense of what it would take to accomplish something and clients who enjoy the process…when they in turn trust us, we create something that people don't stop talking about," says John Park. "The end result here is simply gorgeous…one of a kind." In agreement, April is already mulling over renovating other spaces.