More and more families are moving their living rooms outdoors, and some of them like to bring along a kitchen. Al and Joyce had plenty of land to carve out an outdoor living area that would surely win first prize, if there were a contest. Their home is cushioned by 70 acres of immaculately manicured land, and the owners needn't leave their own back yard to take the grandkids swimming or fishing.  They have a three-acre, 16-foot-deep lake, and a smaller silt pond, which was created to capture all of the mud and silt build-up in the larger lake. The lake has been there for almost a century and has naturally big fish, so the owners never have to stock it.
"One thing about this property is that it takes a little bit of work to maintain it," laughs Al. "To do so, I have all of the necessary equipment because I like to do all of the work myself."
A 2,400-square-foot garage holds seven shiny red tractors, each one equipped for a specific duty. "It's too difficult to put all the elements on each one, so every tractor has its own function," he explains. "For example, one can blow snow, one brushes the snow, one digs holes, one cuts small areas of the property, and another one cuts through big areas."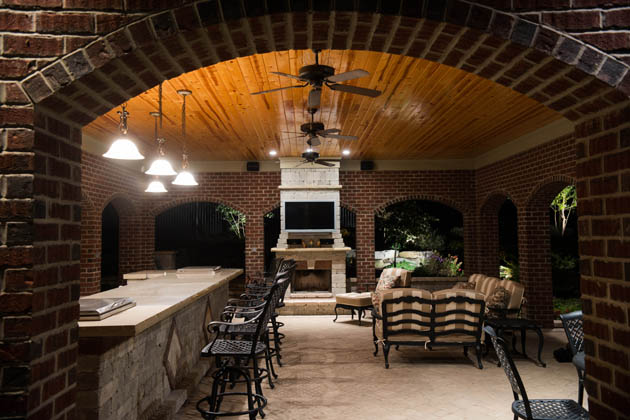 Al brought in landscape designer, Jeff Blunkosky, owner of Pittsburgh Stone & Waterscapes, to help design and install the stunning outdoor living space in the back of his home. "Along with being construction savvy, Al is someone who does his homework and was able to provide great input with what he wanted to include in this project," says Blunkosky. "Joyce also collaborated with me on layout ideas and on specific requests to accommodate the couple's service and aesthetic needs."
The couple started out building the outdoor kitchen area from the ground up. "It was a tough structure to engineer and we tied all the arches together so that they are engineered as one unit," points out Al. "Then we brought Jeff and his crew in and they actually did the bar, which is topped with a three-inch layer of sandstone, the fireplace and the landscaping."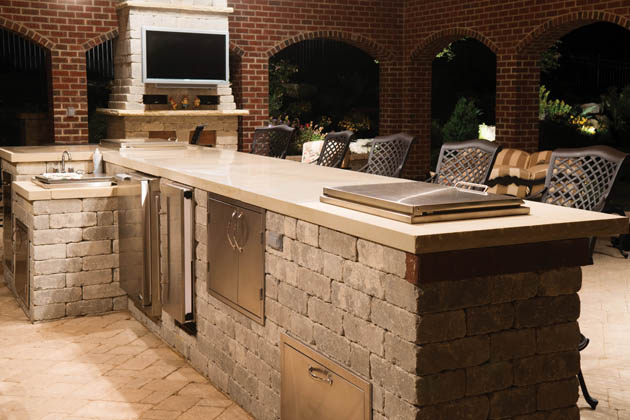 The fully operational bar has a pantry, grill, warming oven, icemaker, refrigerator, and sink. "We make pizzas in our pizza oven and we're getting pretty good at wings," laughs Al. "Last year was kind of our break-in-year, and this year we'll be hitting it hard!"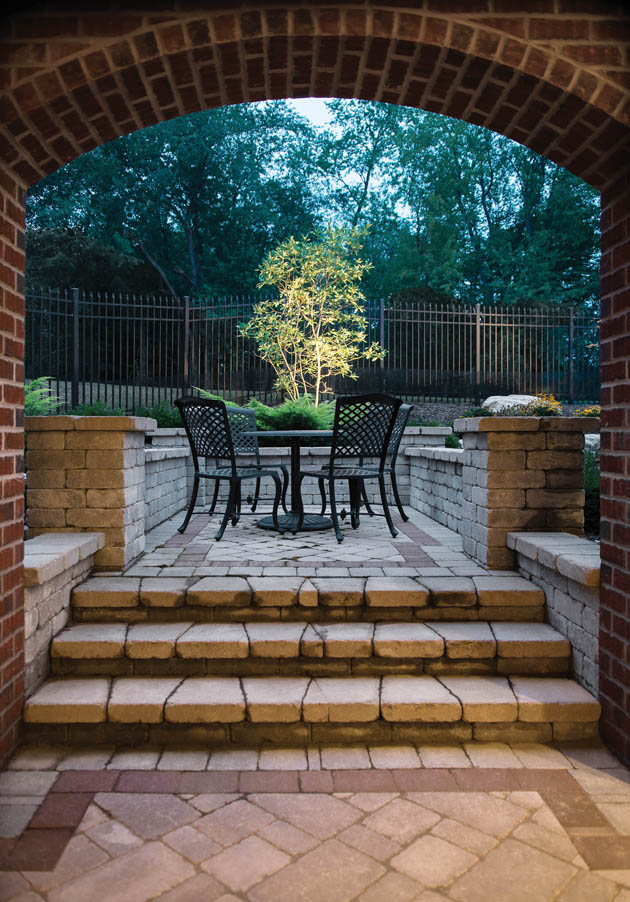 Guests can settle in with a good cigar while watching sports on a SunBrite, outdoor television, in the designated smoking area.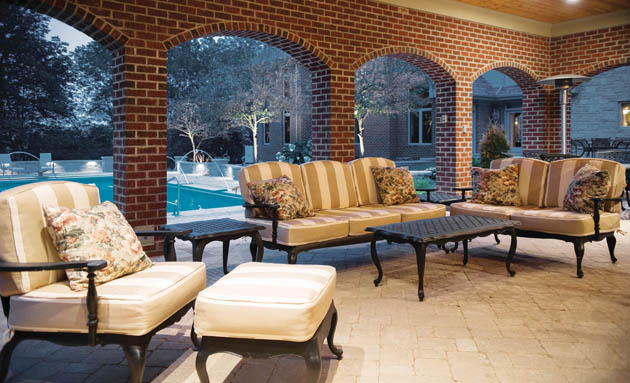 A couple of weeks after the project was completed, Joyce hosted a surprise 60th birthday party for Al with 160 guests. "Sitting back at the party and watching how the space and components were being utilized by the guests, was a very rewarding feeling," recalls Blunkosky.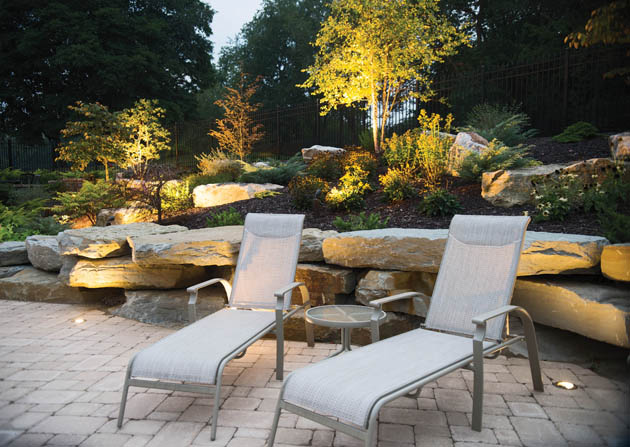 Boulder stones were incorporated in the surrounding landscape to carry the same theme throughout the property. "It's a country home with a western Rocky Mountain look to it," points out Al. "I envisioned this whole concept while actually building the house, and Jeff and I did it in sections so that we could see how things would settle and how things would lay."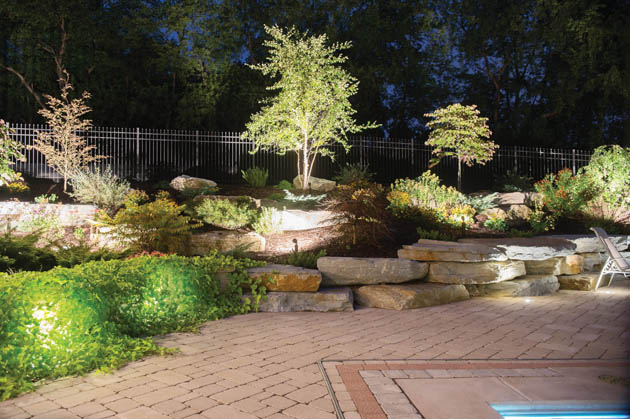 The entire hillside is lit from within, along with the trees and bridge area.  The addition of low voltage lighting gives a totally different perspective in the evening. A daytime recreational atmosphere transforms into an elegantly illuminated portrait.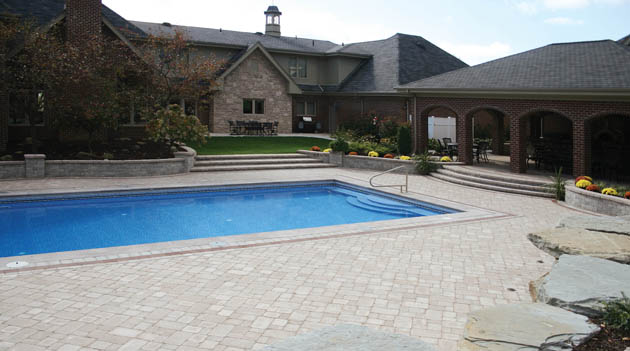 Herb Brown, of Brown's Building and Remodeling, was brought on to do the skilled masonry, carpentry and roofing work of the pavilion. "Overall it was a great experience to meet and work with such a skilled contractor that allowed my crew and his crew to run the project seamlessly," says Blunkosky. "A project of this magnitude takes tremendous communication, and set timelines, for an efficient build."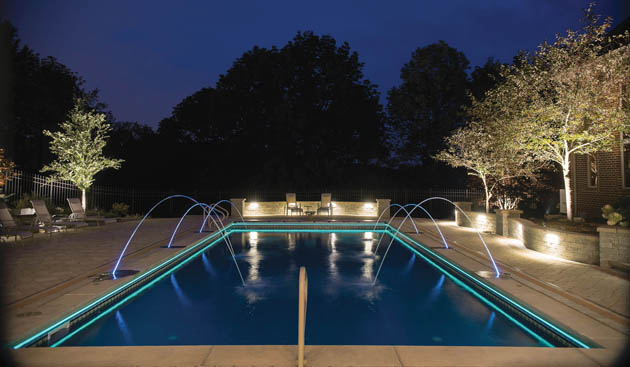 When Joyce and Al's grandkids come for a visit, they ride in the boat, fish, hit golf balls and swim. They live in New York City, so having such a big back yard is somewhat of an anomaly to them.
The property started out, many years ago, as farmland and eventually became a cattle and horse farm. After Al took ownership, he sold off several small portions of the land to cut down on his grass cutting but still maintains a vast amount of the property for himself. "I usually do the work at night, so that I can actually have time to do my regular job during the day," says Al. "But it's actually very therapeutic, and I often will come outside after dinner and work until midnight." With his state-of-the-art, outdoor kitchen, rolling hills of majestic beauty and a list of outdoor activities fit for a country club; there may be no need to ever come inside.