Deadline. Traffic jam. Homework… The words can bring anxiety to the calmest of people. Let's face it, no matter what type of life we lead – it's busy! We are all rushed and stressed; so now more than ever it is important that our homes serve as safe-havens.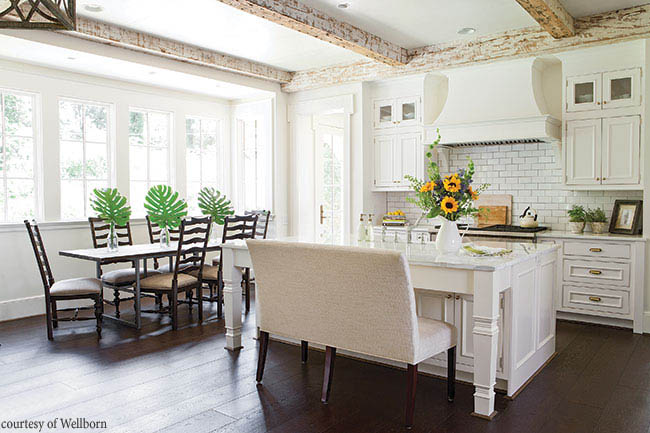 Leaders in the kitchen and bath industry flocked to Las Vegas for the Kitchen and Bath Industry Show (KBIS) where they highlighted their latest design trends. Hands down, the experts all agree that kitchen cabinets are going contemporary. And design leaders, such as the senior manager of MasterBrand's design studio Stephanie Pierce, say the driving force behind the trend is that consumers today are looking to simplify their busy lives.
"Homeowners want things that are less cluttered, easier to clean, and sleeker in appearance," Pierce explains. "Plus, trends in other key categories like home furnishings, fashion, personal electronics and automobiles are all moving more and more toward the contemporary."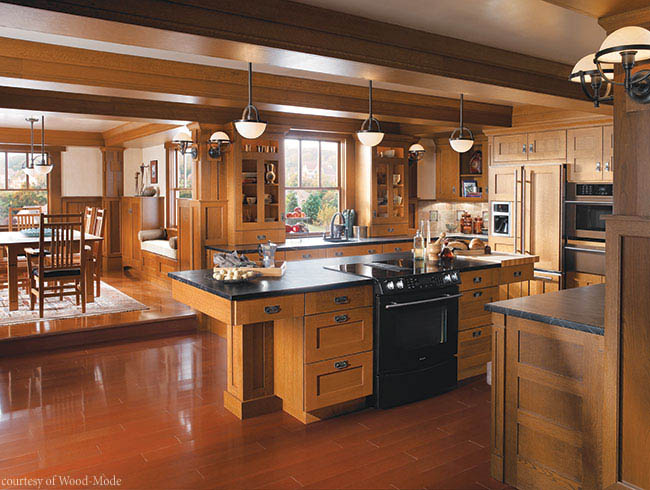 John Troxell, director of design at Wood-Mode Custom Cabinetry, adds another reason cleaner cabinet lines are gaining in popularity is because of their easier installation.  "Part of this trend is due to time constraints in installation, but lower maintenance and less clutter are other factors.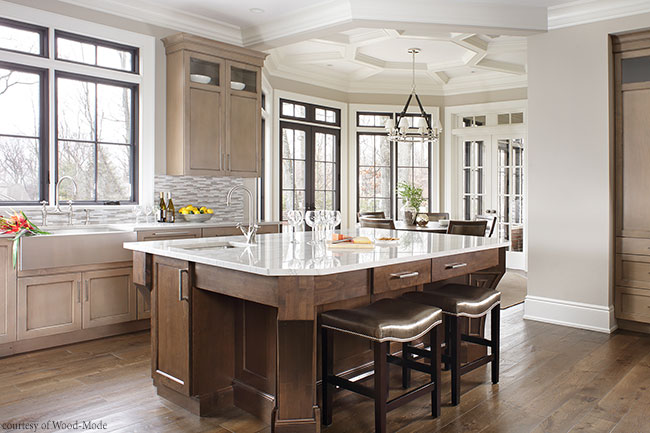 "Smaller spaces look bigger with less ornamentation.  Wood-Mode offers a number of door designs that provide homeowners with varying degrees of detail enabling them to achieve the room environment they want."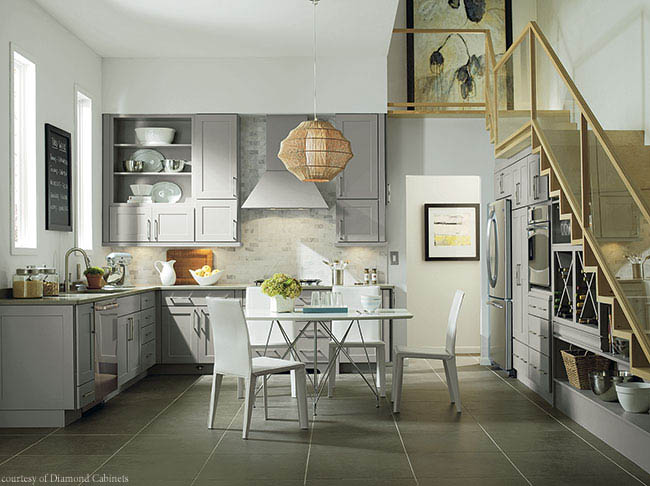 While modern design is gaining in popularity, there are still some homeowners who are leery of the term 'contemporary.'
Troxell says cleaner lines are not just part of contemporary design though. They are also important for traditional and transitional styles today.
Angela O'Neill, the director of marketing and advertising at Wellborn, explains, "Transitional styles are definitely the trend because style today is all about clean, uncluttered lines with good storage; which provide homeowners with a comfortable living environment."
Troxell adds that recessed panel designs that give a more informal look seem to be the most popular at the moment. "Painted finishes in white and off-white continue to be strong because of the ability to refresh the look with new accessories in current colors either seasonally or over a period of time," Troxell says.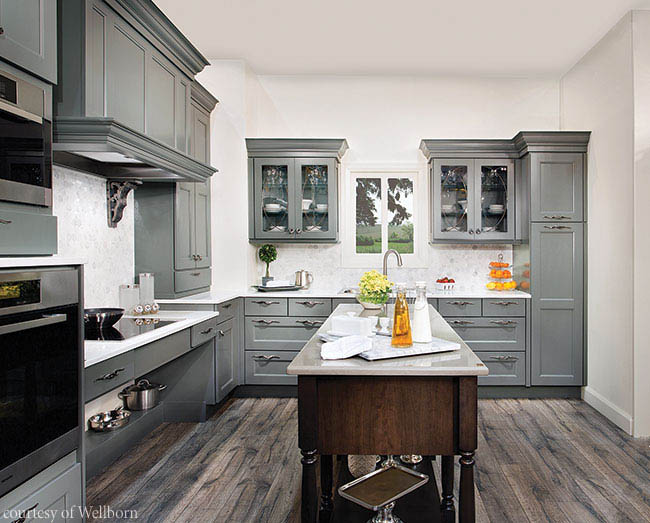 According to Pierce, warm gray finishes have become the third-most popular color in kitchen remodels behind white and beige cabinet finishes.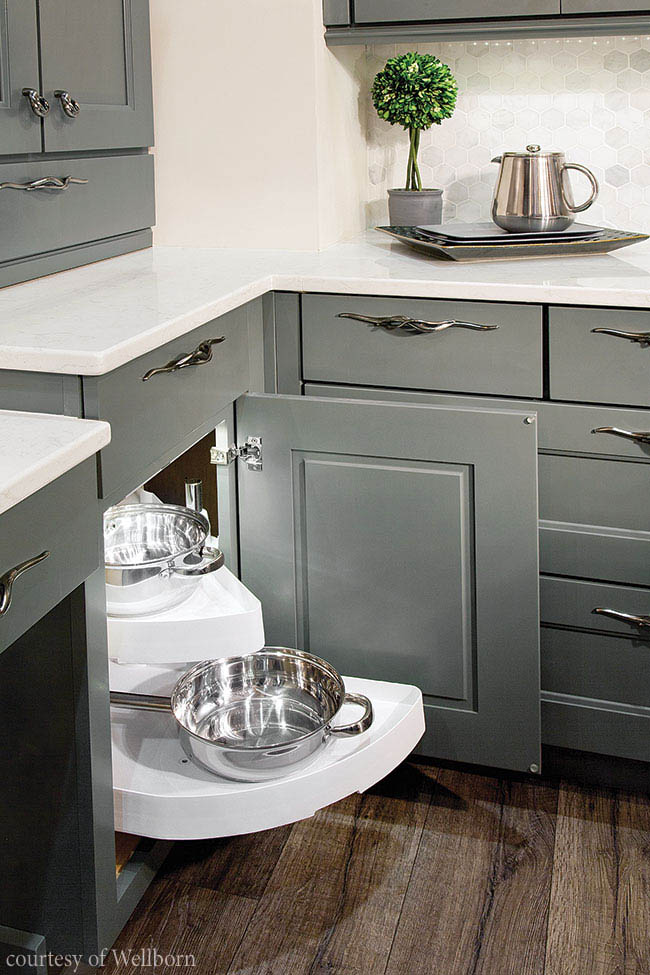 "The trend for gray continues to rise dramatically, bringing a sense of chic sophistication to kitchens and baths. Today, in cabinetry, we're seeing shades of gray paired with pale blues, earthy tones and neutral finishes to create sleek, comforting color schemes in the most frequently used rooms of the home," Pierce says.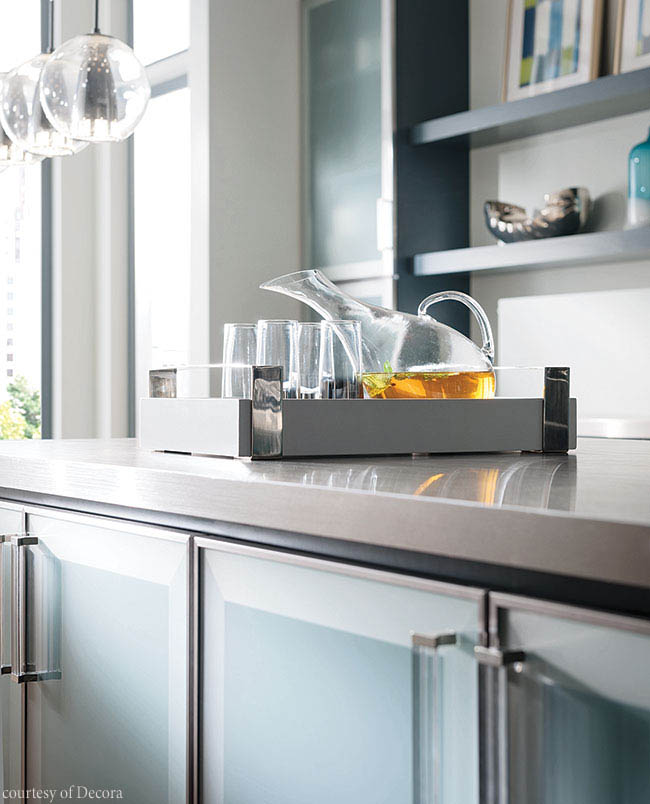 "The shape of the kitchen is changing to a more horizontal orientation and as a result, clean, linear design with much less fuss and bother resonates with consumers today," Pierce explains. "Overall the kitchen and embellishments have a cleaner, more pure look."
Pierce adds that their customers can choose from a full range of embellishments, mouldings, corbels and colors to create unique looks from very traditional all the way to high contemporary in their Decora brand of cabinets.
"Our Decora product launch this spring includes new and exciting embellishments and a very contemporary aluminum doorframe collection with a variety of insert materials including glass and acrylic."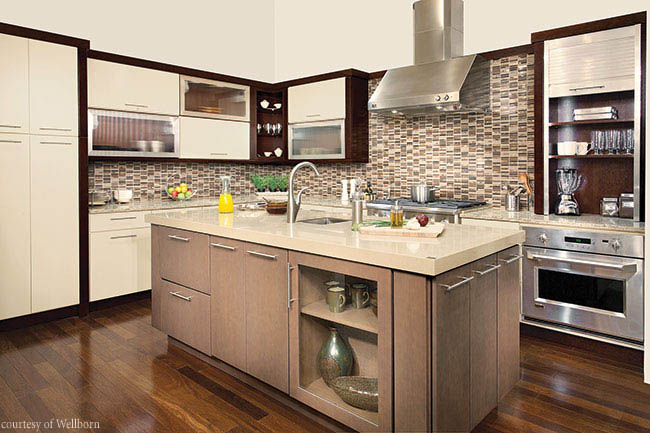 The experts all agree that maple remains the number one kitchen cabinet material due to its stability, subtle grain and value.
"Maple is still the most popular, but we have seen some in increase in oak and cherry," says O'Neill.
Pierce adds that they are seeing more alternative materials enter the market place to align with the shift toward transitional designs, such as the aluminum framed doors in their Decora line.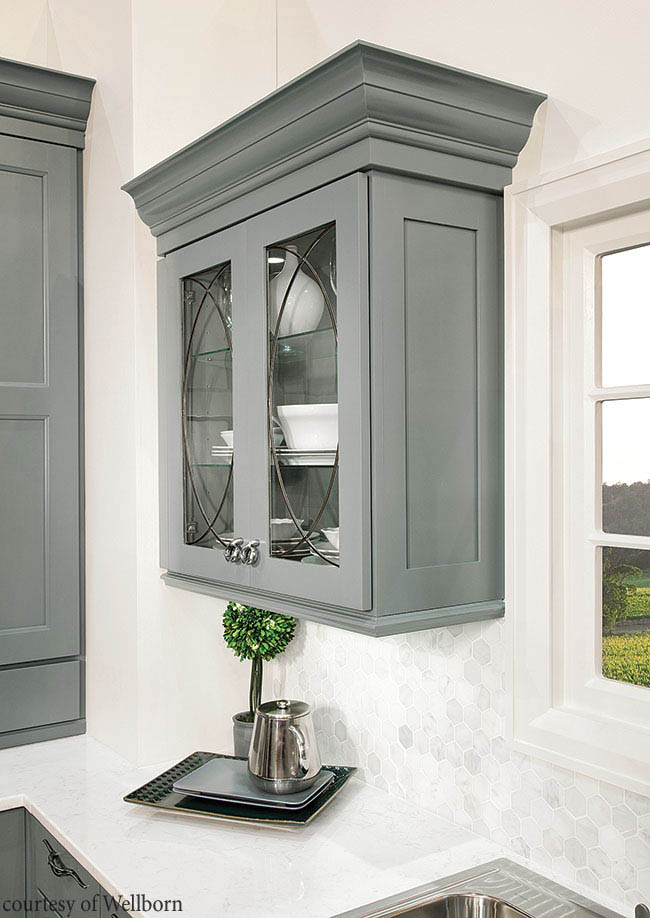 While it seems that everything in kitchen design – just as in life – is changing, there is always that old saying, The more things change, the more they stay the same… Traditional kitchen design will always be in-style.
Pierce explains by saying, "It's interesting… Most of the feedback we receive is about the modern styles, and those are selling well, but we still sell quite a lot of transitional and traditional mouldings and decorative trims.
"The same is true with trendy paint colors. We offer them and we sell them, but our best sellers are still brown stains and cream-colored paints. People tend to play it safer with their selections on large scale projects like a kitchen remodel, but get bolder with colors and styles in their accessories, which are less expensive and easier to replace."