Ann and Jim Jinks are among the lucky couples to call Sweetbriar Village home. They moved into their new townhome a year ago from Georgia and worked with Paul, a designer who works with all Sweetbriar Village homeowners to customize their kitchens, to create a modern and bright kitchen design they love coming home to each day.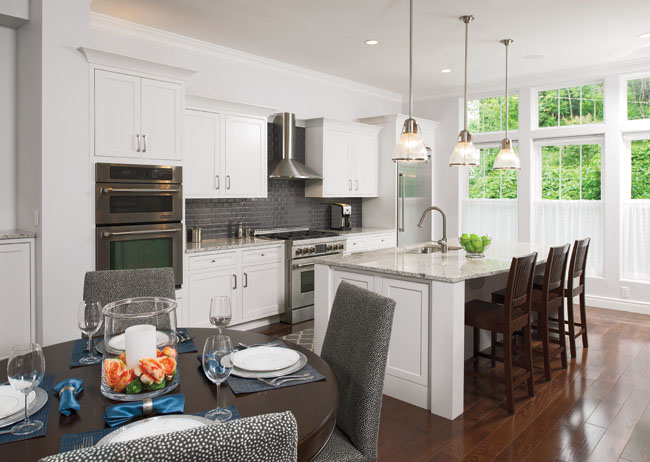 "It was really important to me that the kitchen was light so a white kitchen made sense," Ann says. "We also love the large windows that are just lovely. I work all day in an operating room with no windows and to come home to a light, bright house with these big windows is like heaven or, at least, close to it."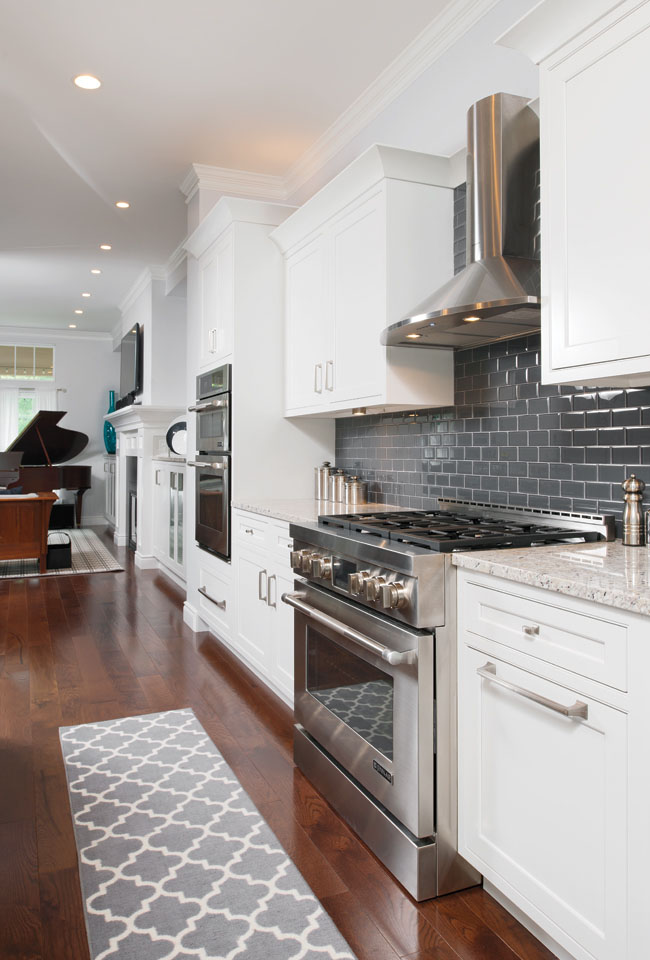 The Jinkses selected white sleek shaker-style cabinetry from Decora with brushed nickel hardware. Light gray walls complement the cabinetry and are a nice contrast against the dark wood flooring that runs throughout the entire space. For the kitchen backsplash, the Jinkses chose a glass subway tile in a blue-gray hue. "One of the last things we picked was the backsplash," Ann says. "We wanted to pick up on the gray that we have throughout the home and have something that was contemporary and easy to take care of."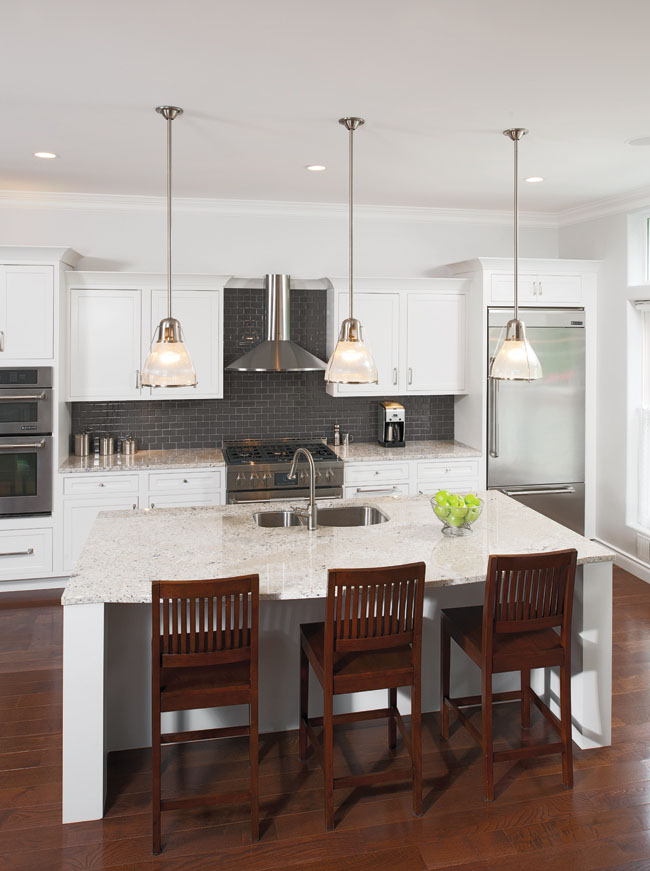 Low maintenance was also a factor in selecting countertops for the home. Ann says she loved the look of marble, but was intimidated by the upkeep. "We considered marble because the colors are so beautiful, but we cook a lot and thought we'd be too obsessive about cleaning the marble," she says. "We ended up getting Bianco Romano granite, and it has a very similar look and feel as marble."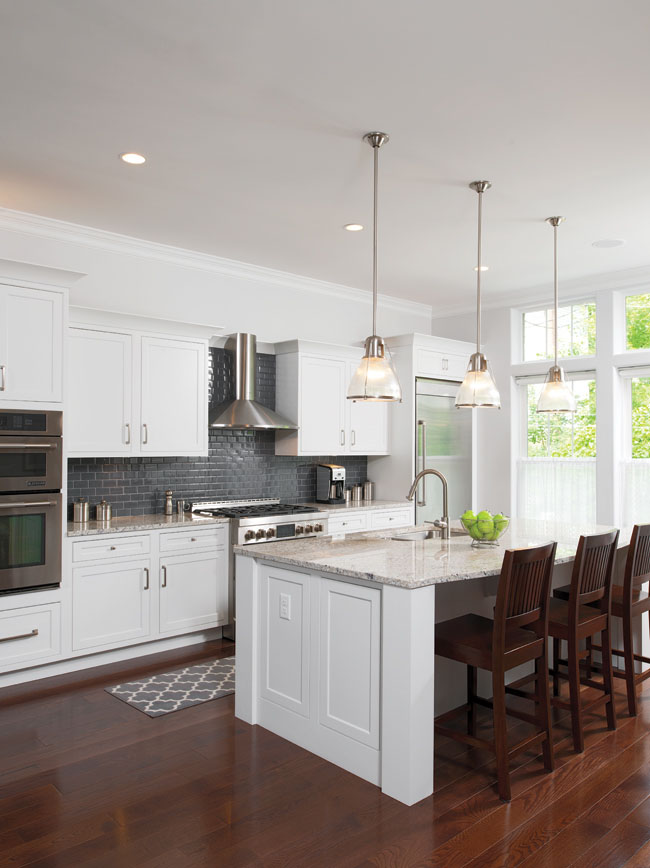 The Jinks' kitchen also features Jenn-Air Pro-Style appliances in stainless steel. Ann said the appliances have been fantastic for their lifestyle. Ann and her husband both enjoy cooking and have found that having a wall oven in addition to a regular range oven makes it easy to have two cooks in the kitchen. "We love coming home at the end of the day and cooking, and having these great appliances makes it easier. My husband can be stir frying on the stove and I can be baking cookies in the oven at the same time and we don't run into each other," she says. "We also opted for the six burner stove and I'm so glad that we did because it's a little wider and makes it easy to pull pots to the side."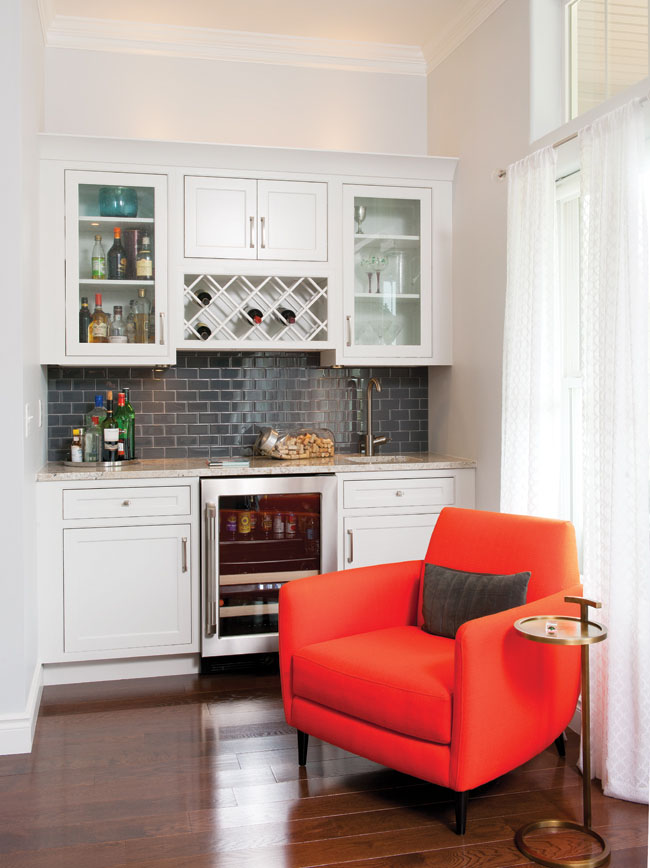 The Jinkses made one tweak to the standard layout of their home, and that was the addition of a wet bar area opposite the kitchen. Paul was able to create the space with the same cabinetry and glass tile backsplash as the kitchen for a very cohesive look. The space features a built-in wine rack, glass door upper cabinets to store liquor bottles and stemware, a sink and a wine refrigerator.
"When we come home we like to relax and have a drink," Ann says. "We also like to entertain and wanted something away from the kitchen, so if we were cooking it wouldn't be in the way. When we aren't entertaining, my husband enjoys relaxing in the big red arm chair, drinking martinis and reading the paper."