Morning, noon and night—there is always something going on in the kitchen. Whether you are enjoying a cup of coffee on Monday morning, prepping dinner on Tuesday or entertaining a crowd on Saturday, the kitchen is where everything seems to happen. These four kitchens scattered throughout Pinellas County prove that the kitchen is truly the heart of the home.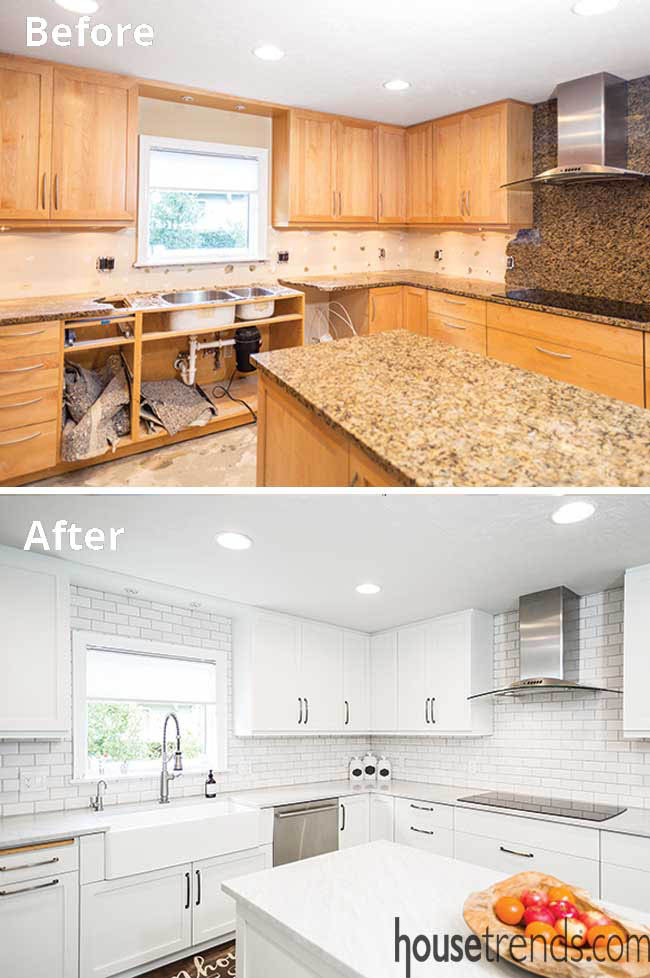 A clear winner in Clearwater
Rather than completely gut their kitchen, the owners of this home in the Feather Sound Country Club chose to breathe new life into their culinary space by refurbishing one of the largest elements—the cabinets.
The owners hired N-Hance to refinish the original maple shaker style cabinets. "We refinished the natural maple wood with N-Hance Winter White with a Matte UV Cured Finish for long lasting beauty and durability," says Daniel Geier, owner of N-Hance in Pinellas County.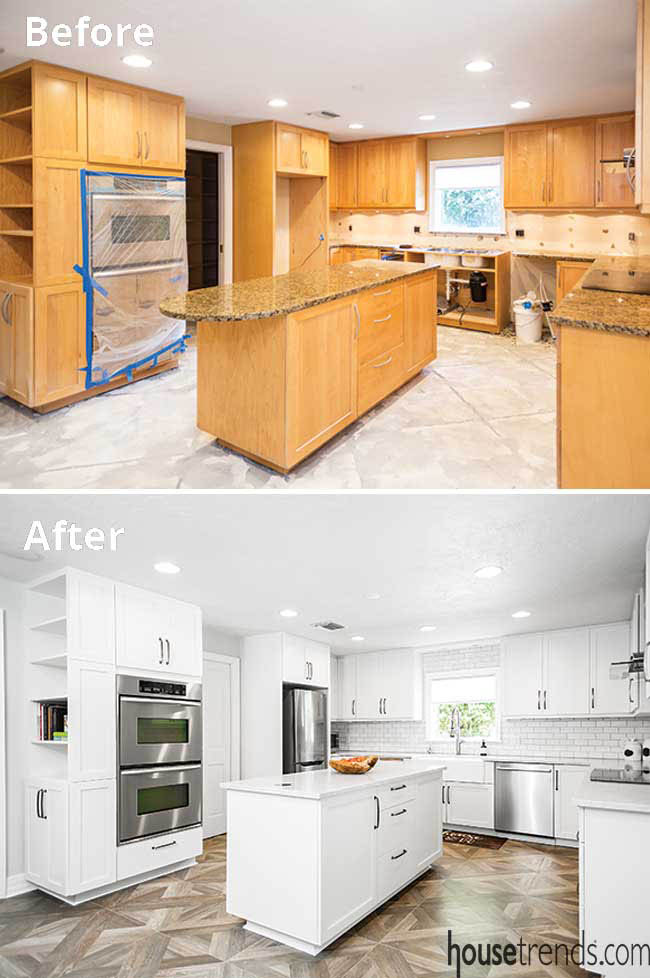 A beautiful subway tile backsplash, along with sleek marble countertops and a farmhouse sink—all in classic white—play off the clean look of the cabinetry. The unique, wood-look tile floor adds visual interest and movement underfoot. "By utilizing the original cabinets, this kitchen remodel was completed in just a few days for a fraction of the cost, allowing the homeowners to splurge a bit on the other materials," Geier says.
Resources: Contractor: N-Hance of Pinellas County; Countertops: Marble; Backsplash: White subway tile; Sink: Farmhouse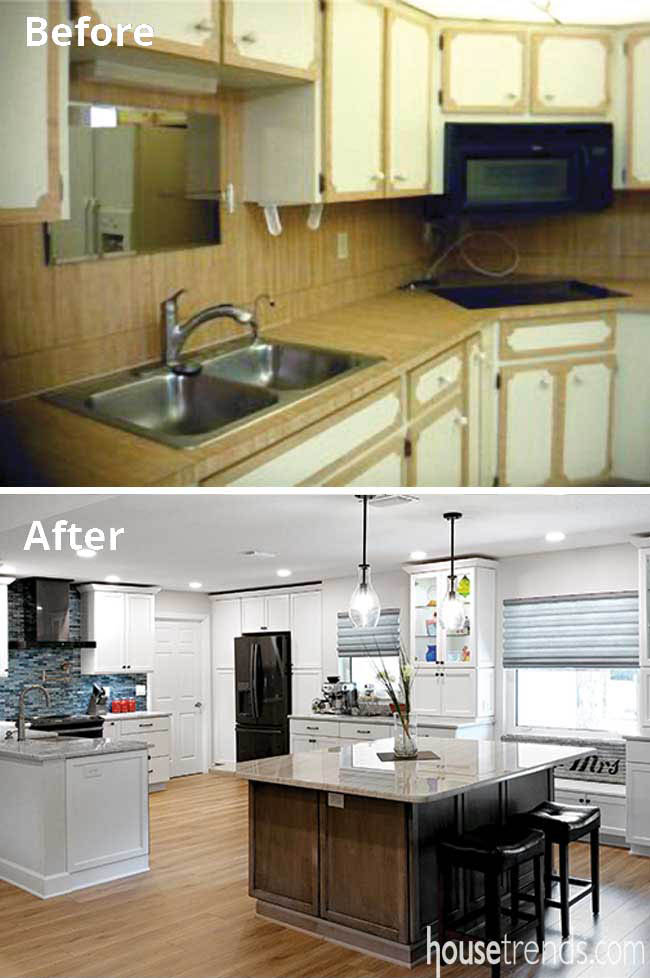 Going coastal in St. Petersburg
It is hard to believe that this is the same house upon first glance. The original kitchen was a tight, cramped space with outdated cabinetry and appliances and poor fluorescent lighting. They enlisted the help of Michelle Manzini at Fusion Cabinets and contractor Pete Lavoie to help them create a bright and cheerful kitchen with a "relaxed coastal" feel. "We removed some walls and installed new windows and doors to establish the open floor plan they desired," Manzini says.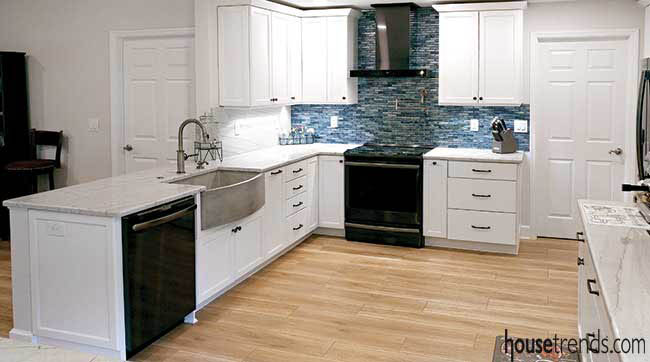 Beautiful white shaker cabinets line the perimeter, while the oversized island features a storm gray, hand-stained cabinet base. Elegant materials like the Opus Pearl quartzite countertops and blue glass mosaic tile backsplash add the perfect splash of color. The homeowners incorporated some of today's most sought after design trends—such as the durable laminate flooring that resembles the look of hardwood, the modern GE Profile appliances in Black Slate rather than stainless steel, and the oversized concrete apron front sink. "We also added a cozy bench seat under the window, which is flanked by eye-catching glass-front display cabinets," says Manzini. "With the coffee station nearby, that seat offers the perfect place to wake up in the morning."
Resources: Contractor: Pete Lavoie; Kitchen designer: Michelle Manzini, Fusion Cabinets; Cabinetry: Eudora Cabinets, Fusion Cabinets; Countertops: Opus Pearl quartzite, Alpha Granite & Marble; Backsplash: Moody Blues glass mosaic, Floor & Décor; Plumbing fixtures, lighting and pot filler: Ferguson; Hardware: Westerly by Amerock, Fusion Cabinets; Appliances: GE Profile Black Slate, Famous Tate; Painting: Eider White, Sherwin-Williams; Espresso machine: Breville, Williams Sonoma; Flooring: Calico laminate, Floor & Décor; Window treatments: Hunter Douglas, Coastal Breeze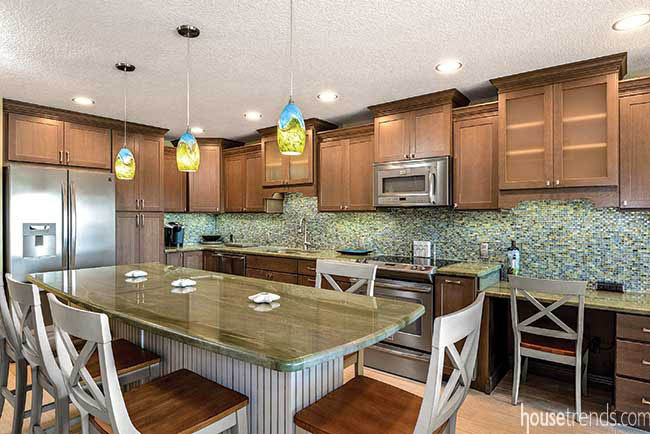 Harmony in St. Pete Beach
An alluring blend of colors makes this kitchen in St. Pete Beach a real showstopper. The homeowners worked with Susanne Van Selow, owner of Van Selow Design Build, to create the feel of a large kitchen in a somewhat smaller space. "We were very careful to keep the color selections light and bright so as not to make the space feel heavy," Van Selow says. "We also varied the heights of the wall cabinets so additional uplighting could be installed, making the ceiling appear to be higher than its actual eight feet."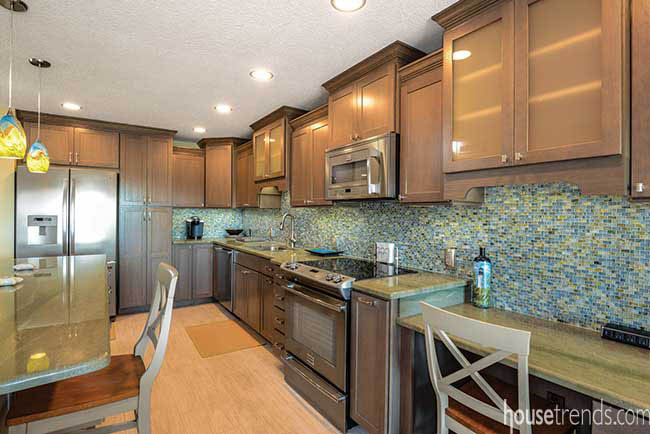 This attention to detail helps to create the perfect kitchen that offers the family an abundance of space to entertain. Since there isn't a dining room table, the large island was created to include plenty of seating. Unique materials, such as the quarter sawn oak cabinetry with a gray stain add character, while the Bora Bora granite countertops play off the colors seen in the mosaic tile backsplash and pendant lights. Van Selow and her team also installed a built-in desk in the kitchen, so the family could work, plan meals and congregate all in the same space.
Resources: Contractor: Van Selow Design Build, LLC; Kitchen designers: Brian McKenzie and Meaghan Gonzalez, McCabinet, Inc.; Interior design: Susanne Van Selow; Cabinetry: Kabinart Arts & Crafts collection; Countertops: Bora Bora granite, A+ Signature Design; Sink: PROHS; Faucet: Moen Arbor; Hardware: Berenson Aspire; Appliances: Frigidaire Professional; Painting: Sherwin-Williams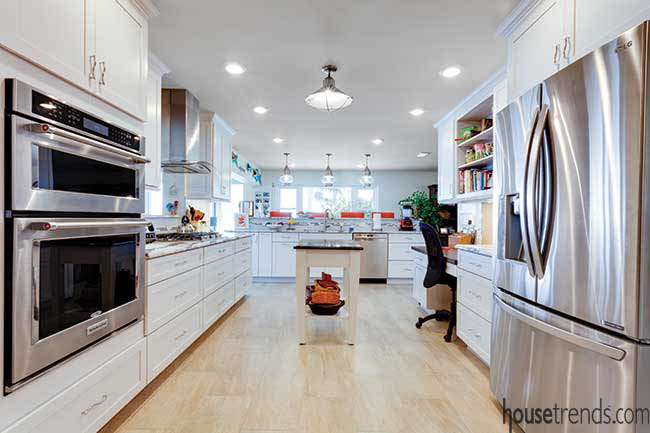 Broadwater kitchen a cheerful remodel
This whole house renovation in Broadwater relies on the kitchen to serve as the base of all operations. The owners purchased the 1973 home almost four years ago. It had the typical 1970s style—complete with a closed off kitchen with a low drop down ceiling, a dysfunctional layout and terrible lighting. "I called it 70s vintage décor," Doug King, owner of King Contracting, Inc. says with a laugh. "The owners are retired and they wanted a home that offered plenty of entertaining space with a coastal vibe."
King and his team remodeled the entire home, making sure that the new kitchen could accommodate the homeowners' wants and needs. By removing one of the load bearing walls, relocating the appliances and raising the ceiling to nine feet, they were able to create an open-concept kitchen that provides plenty of space for cooking and entertaining—all at the same time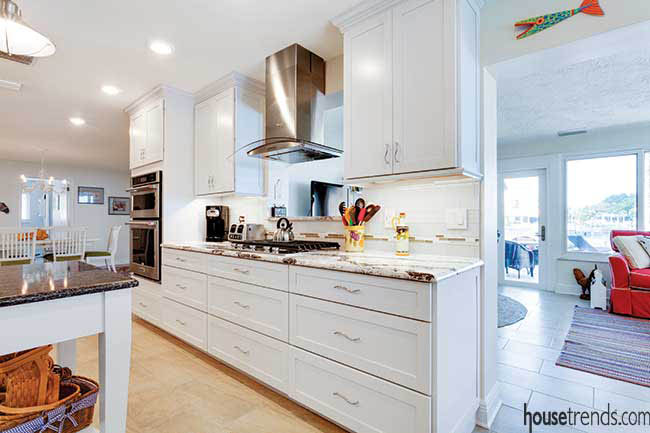 The floor of the nearby sunroom, which is located on the other side of the pass-through behind the new gas range, was also brought up to be level with the kitchen. "There was about a six inch step down from the kitchen to the sunroom," King says. "We poured concrete to bring the floor up, making the space much more functional. We also took out a huge fireplace, opening up the kitchen by about 20 feet."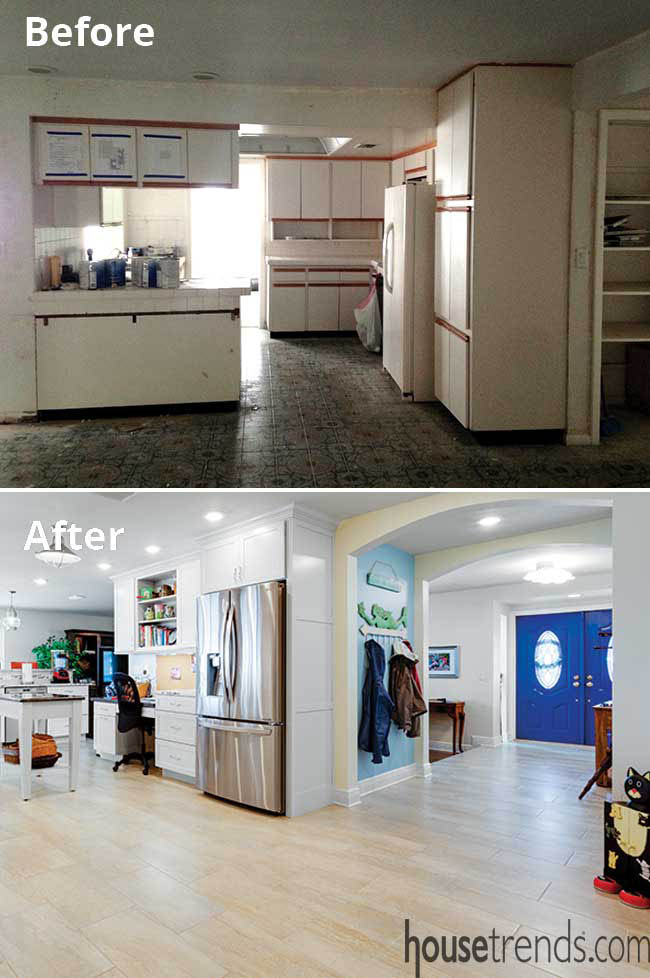 Bright white KraftMaid maple cabinetry and Cambria Seagrove countertops, which feature beautiful veining and visual movement, set the sleek tone in the kitchen. A planning desk tucked into the kitchen is offset by a rich walnut countertop, while a small work island positioned in the middle of the room can be easily moved when necessary. "I really like the mix of wood and how open and accessible everything is," King says. "Along with the nautical-inspired lighting and bright colored accents, this kitchen really is a great space for the family."
Resources: Contractor: King Contracting; Cabinetry: KraftMaid; Quartz countertops: Cambria Seagrove; Wood countertop: Walnut veneer, Artisan Restoration; Sinks and faucets: Kohler; Appliances: LG refrigerator; KitchenAid ovens; Whirlpool hood