This week at the Housetrends office, we moved into the sweeter side of edibles by testing out an adapted version of this Citrus Olive Oil Cakes recipe from Fork Knife Swoon.
Tara, our senior graphic designer, felt the recipe was easy to follow and execute. She doubled it, and the end result was 26 nicely-formed mini Bundt cakes.
Tara adapted the recipe by using vanilla bean paste instead of vanilla extract. The paste, when incorporated into the glaze, allowed us to see little black vanilla bean flecks, which, at Housetrends, are some of our favorite things. She also doubled the amount of milk in the glaze to thin it out a little and allow it to soak into the cakes.
We also love the stencil design we created on the walls. Check out the "Kinetic Floral" stencil from Royal Design Studio Stencils shown here in Chalk Paint from Annie Sloan.
Our taste testers found the cake to be a breath of fresh air on a warm summer day. Each bite was nicely balanced between the sweet, airy cake and a refreshing citrus flavor.
Recipe adapted from: Fork Knife Swoon
Yield: 12 Cakes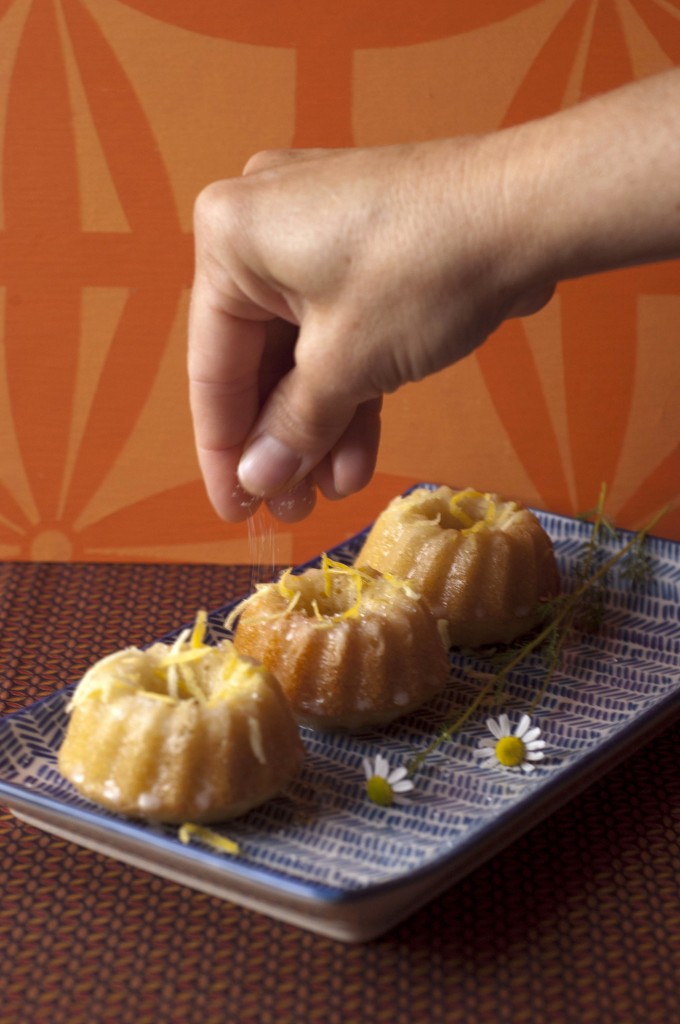 INGREDIENTS:
Citrus olive oil cakes:
1-1/4 cups white sugar
1/2 cups extra-virgin olive oil
juice and zest of one Meyer lemon
2 tbsp tangerine or orange juice
2 large eggs
2 tsp pure vanilla bean paste
2 cups plus 2 tbsp cake flour
1 tsp baking soda
1 tsp fine sea salt
1/2 cup buttermilk
1/2 cup plain Greek yogurt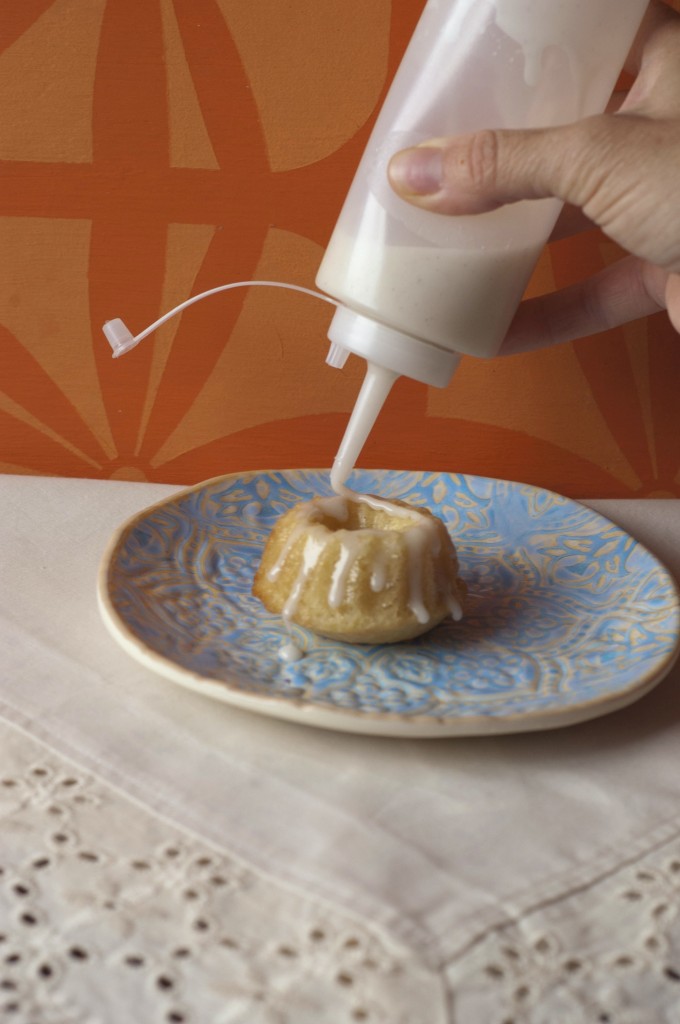 Simple lemon sugar glaze
1 cup powdered sugar, sifted
4 tbsp milk
1 tsp pure vanilla bean paste
zest of 1 Meyer lemon, finely minced
INSTRUCTIONS:
Preheat the oven to 350 degrees. Grease and flour miniature cake pans. The recipe should make enough for 12 miniature Bundts with a little to spare. (Tara had enough batter for 26)
In a stand-up mixer fitted with the paddle attachment, mix together the sugar and olive oil on medium-high speed until well-blended, about 2 minutes. Add the zest, juice, eggs and vanilla and continue to mix until creamy, another minute or two.
Turn the mixer down to low speed and add the flour, baking soda, salt, buttermilk and yogurt. Return to medium-high speed and mix until well-combined, about a minute. Divide the batter evenly into the mini cake forms, being careful to only fill the molds halfway full. Bake for 18-20 minutes, until a toothpick inserted into the center of each cake comes out clean.
Remove the cakes from the oven and carefully invert the pan. Let the completed cakes cool on a wire baking rack for 5-10 minutes. Serve warm with the Lemon Sugar Glaze or a dusting of powdered sugar.
Simple Lemon Sugar Glaze
Whisk together the powdered sugar and milk until smooth and fully-combined. Stir in the vanilla extract and lemon zest. Spoon over the warm cakes. This will allow some of the glaze to soak into the cake more thoroughly.