In the iconic, 80s film Can't Buy Me Love, Cindy Mancini gets herself into trouble by sneaking into her mother's closet and 'borrowing' an outfit, which she proceeds to ruin. Fortunately for Pittsburgh homeowner Dawn Kozel, the outcome was much less stressful when her 17-year-old daughter 'borrowed' a gown from her newly renovated master closet. "She went to the Cinderella Ball with her girlfriends and was named Best Dressed," Dawn recalls. "It was a huge surprise, but I was happy for her."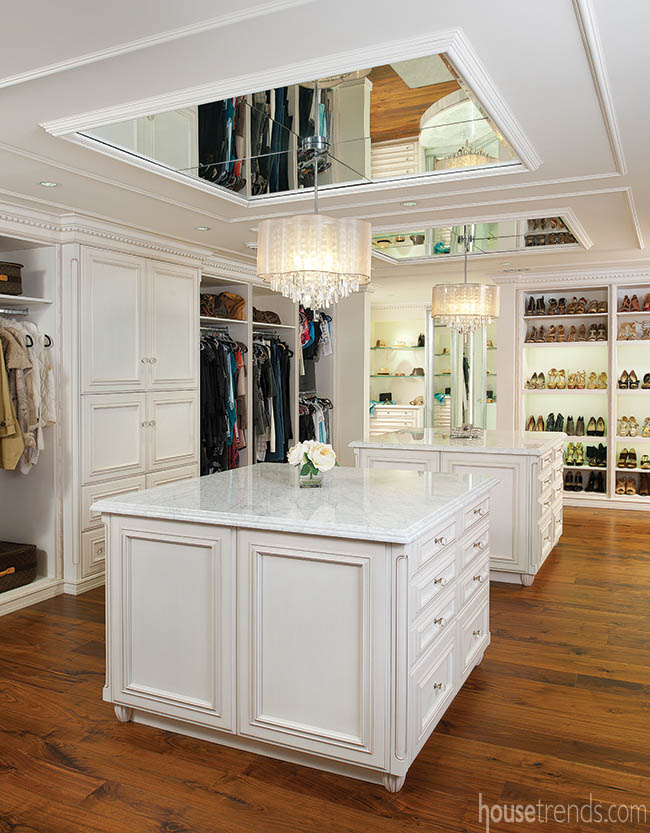 Dawn and her husband Rob's master closet isn't just a closet anymore. After the renovation and an abundance of closet organization ideas, it is a much more distinct aspect of their master suite. It is a relaxing and elegant oasis with very practical roots.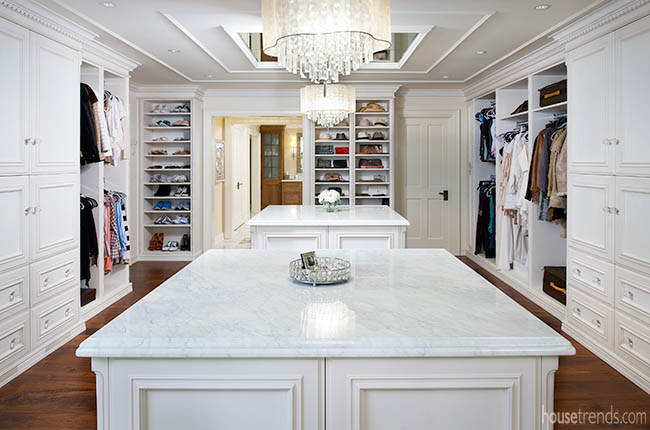 Dawn understands that her master closet, measuring in at 1,500 square feet, may seem decadent; but she explains it was the result of a much more down-to-earth home renovation project.
"When Rob and I blended our families (they have five children collectively) we needed more bedrooms," Dawn says. "In Fox Chapel, you can't just build wherever you want. Even though we have a lot of land, we had to add on in the rear of the main level."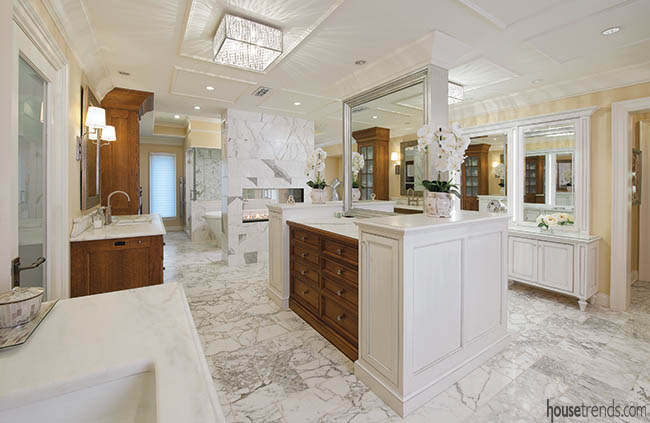 The addition also created new space in the lower and upper levels of the home. A game room and gym were easy additions in the lower level, but Rob and Dawn had a more difficult time deciding what to do upstairs. Tom Trzcinski, CMKBD, of the Trzcinski Design Group suggested they re-imagine their master suite to include a luxurious master bathroom and closet redesign.
"They're the modern-day Brady Bunch," Trzcinski says. "I've known Rob for 10-15 years, and when he needs work done he calls us because he knows that we know his tastes and aesthetics."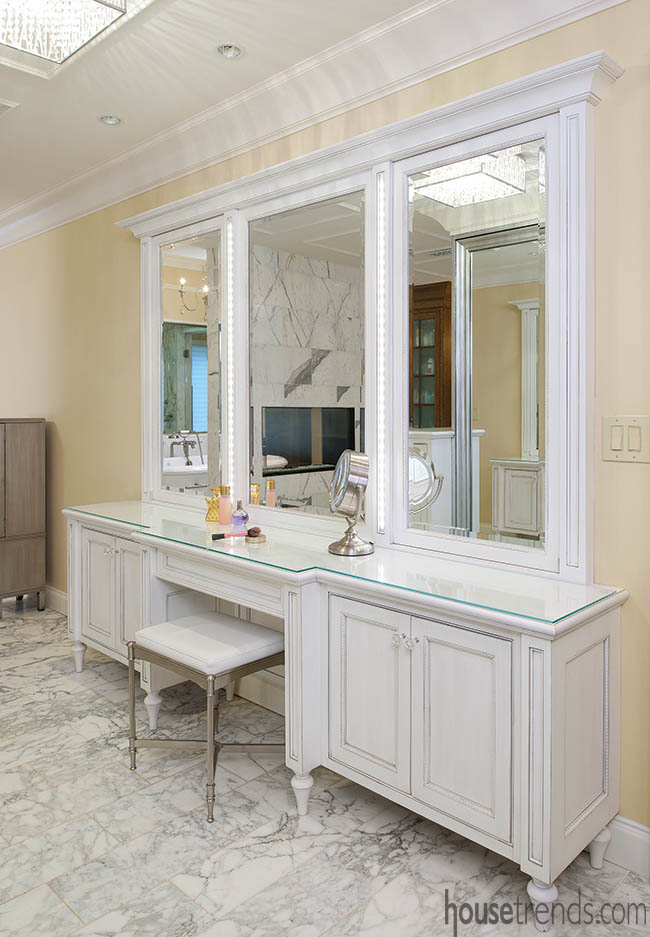 Trzcinski has been in the industry most of his life. "I started in cabinetry with my father at the age of 11," he explains. "I went to Penn State to study architectural engineering and switched to business. I ended up with a degree in marketing."
Trzcinski took what he learned from his father, combined it with his business and architectural design education, and built a kitchen and bath business that has grown into a home-design company that now includes his son and daughter.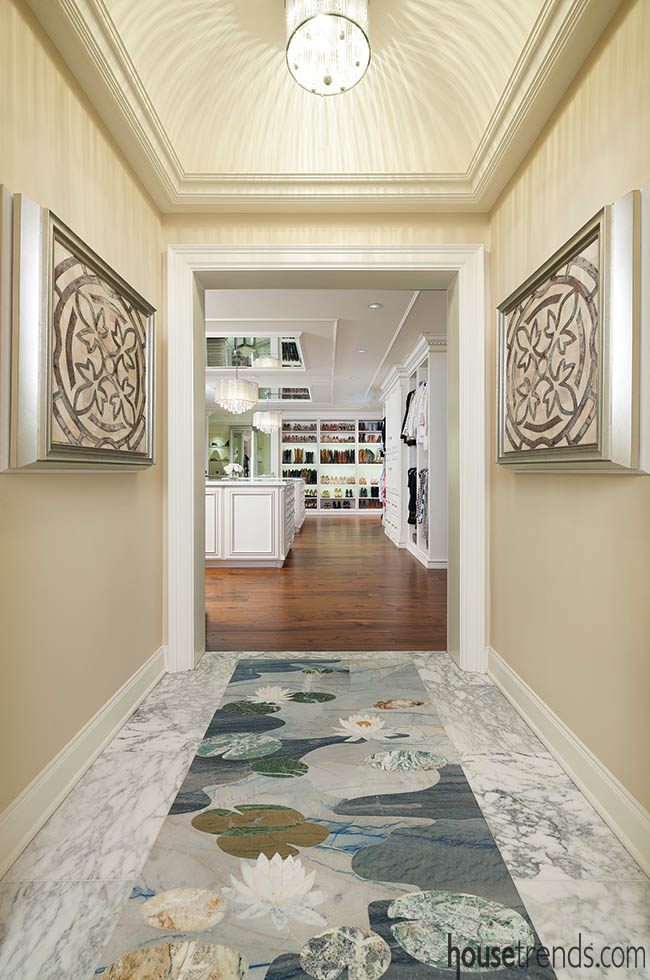 "Our design technique is to keep similar rhythm between rooms within each house we design…so it feels unified and warm as you move throughout a home," Trzcinski says. "In Rob and Dawn's master suite, we were able to create a more impactful, functional space that includes two closets and a private workout space.
"We were also able to expand their master bath, without undoing recent renovations, by moving one wall. And now they really don't have to leave their master suite in the morning. They can work-out, have coffee, shower and get dressed without going anywhere else in the house
"I wanted the space to feel very relaxing, beautiful and elegant," Dawn describes. "I didn't want anything over-the-top with crystal finishes. I wanted sophisticated and clean."
"Tom was very good at interpreting what we wanted. I absolutely love it. I didn't want stark or modern, but simple and sophisticated."
Dawn is also impressed with Trzcinski's use of space. "I have a large, long drawer that has belts and scarves. You can't even tell it's there, and Rob's shoes are stored under the closet," she describes. "Tom utilizes all of the space very well."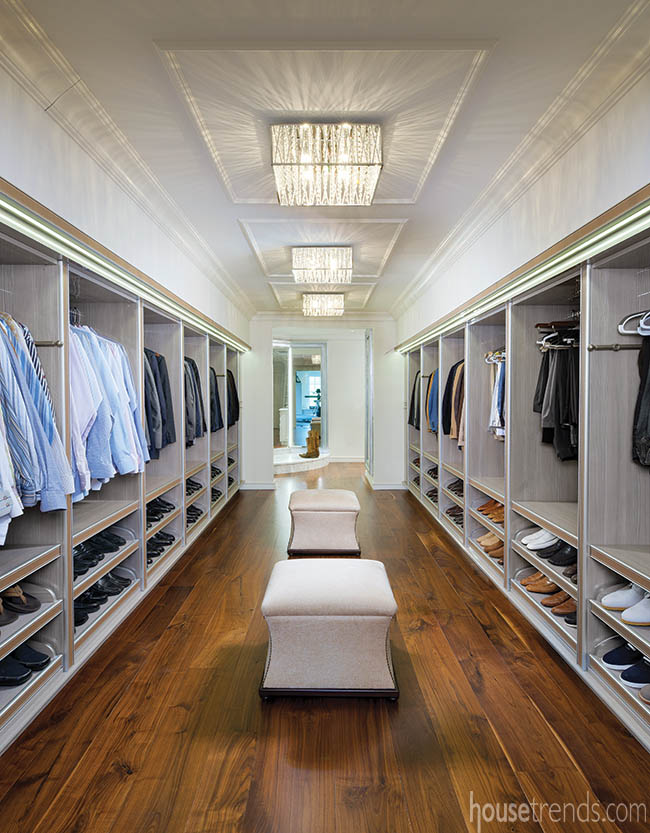 Trzcinski was equally impressed with the amount of trust Rob and Dawn put in his team. "It was a fun project because they trusted our suggestions and decisions."
Trzcinski explains that Dawn's closet is more feminine and delicate while Rob's is more masculine and tailored. "Rob's closet was designed more like a haberdashery (a shop where they sell small items like thread and buttons used to sew men's clothing)," he says of the space.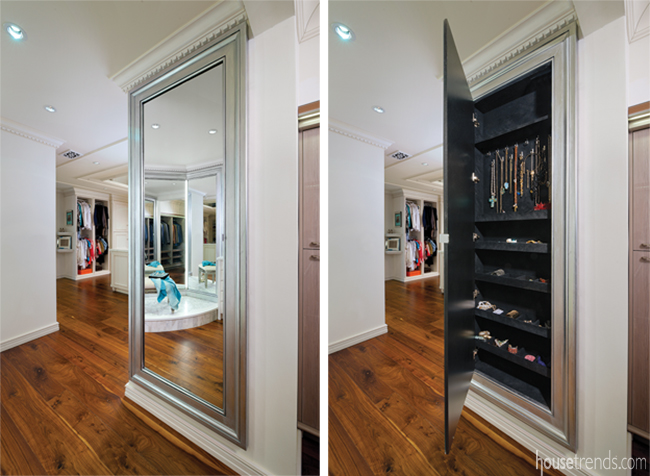 Dawn didn't have a long list of must-haves for Tom to include in the remodel, but she did have one request.
"I saw a jewelry closet in a magazine and ripped the page out to ask Tom to order one for me," Dawn remembers. "He said, 'Oh no, I'll build you one better.' And he did."
Trzcinski says these customized jewelry storage units have become extremely popular. "We measure jewelry, count our client's bracelets—and then custom build the pieces in-house," he describes. "These hidden units are each one-of-a-kind."
Trzcinski strategically placed the mirror-faced jewelry closet near Dawn's three-way dressing mirror so she can have a 360-degree view while getting ready.
And Rob got some special touches as well, like the shelving unit measured to house the cowboy boots he wears while doing business out west.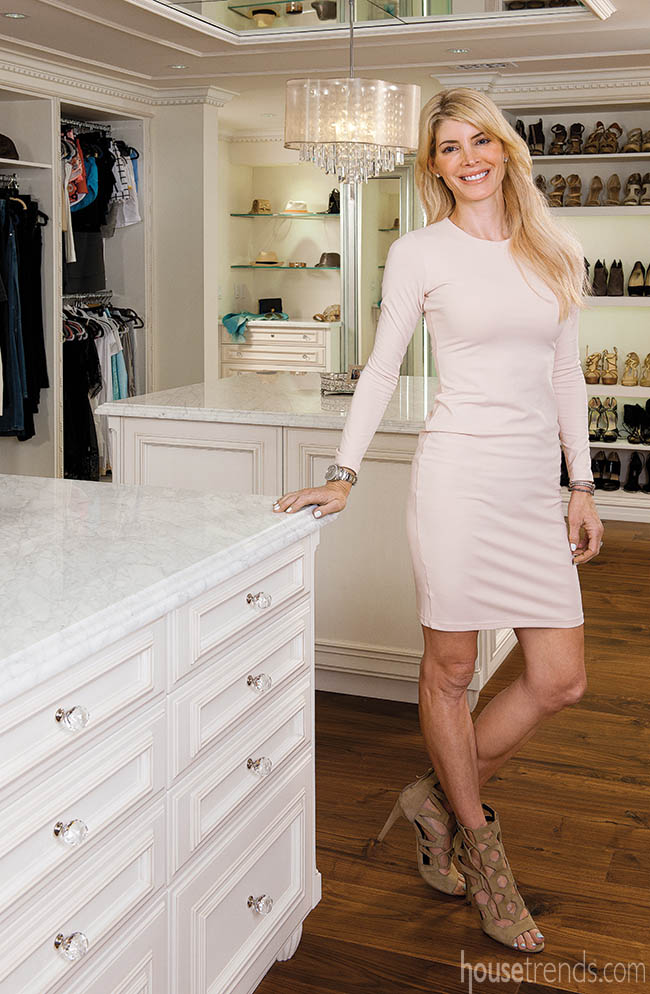 "I am so happy with it," Dawn says of the finished product. "It turned out beautifully, yet it's comfortable."
And Dawn's description of her closet also describes her personal style. She is a beautiful woman, a former full-time model, but she has a casual, comfortable style.
"My kids are confused why I have all these clothes because I usually have yoga clothes on," Dawn admits with a laugh. "Sometimes I'm still in my yoga clothes in the afternoon—but I know at some point during the day I'm going to exercise.
"But when I do go out, I like dresses."
RESOURCES Designer Thomas D. Trzcinski, CMKBD of Kitchen & Bath Concepts of Pittsburgh (KBC Pittsburgh); Casework installation Blain Bartley; General Contractor PW Campbell; NEW SECTION OF EXISTING MASTER BATHROOM Cabinetry Quality Custom Cabinetry; Flooring Calacatta Gold Marble, Ceramiche Tile & Stone; Tile installation Darren Jarvis, Mosaic Tileworks; Countertops Calacatta Gold Marble, Ultimate Granite; Vanity mirror Custom with integrated lighting, KBC Pittsburgh; Full-length mirror Clear mirror, Rex Glass; custom framework, KBC Pittsburgh; Fireplace Ortal double-sided, Fireplace & Patio Place; Mirror frame faux painting Anna Marie Ladavat; WARDROBE Cabinetry Neff; Flooring Walnut hardwood, PW Campbell; Countertops Double-stacked Calacatta Gold Marble, Ultimate Granite; Ceiling mirrors Antique bronze mirror on ceiling, Rex Glass; FITTING AREA Clear mirror Rex Glass; Custom integrated lighting KBC Pittsburgh; Jewelry cabinet Custom felt-lined, KBC Pittsburgh