Penny and Kirk had been looking to buy a home that they would be able to pass down for generations.  Coming from row house living on the Mexican War Streets, they were looking to settle in an area with a little more breathing room.  When they walked into the 7,500-square-foot Shadyside mansion, they knew they had found their future home.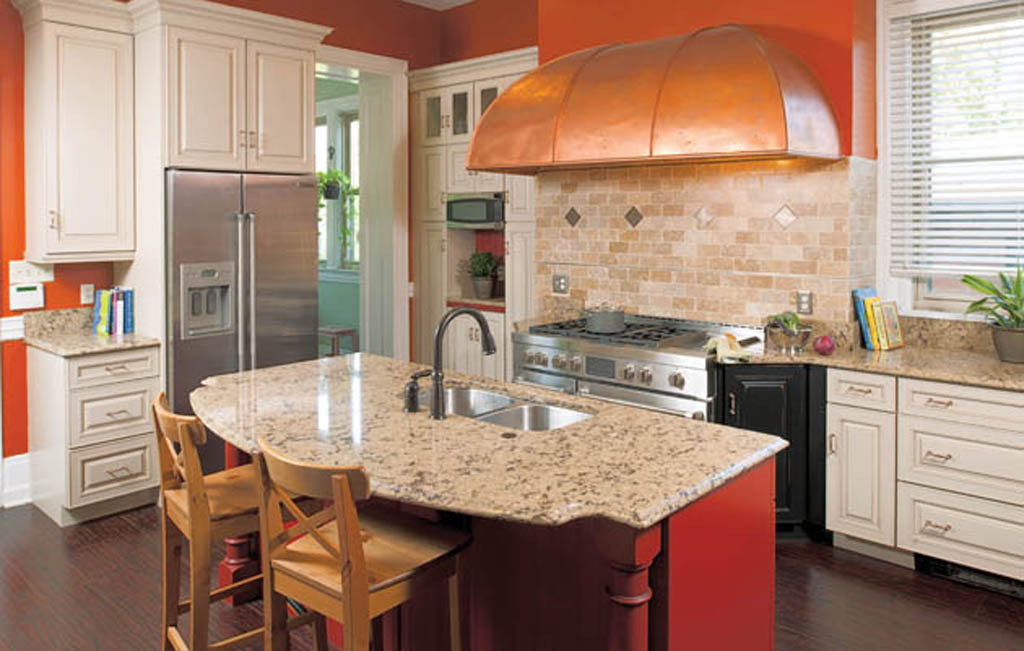 The original kitchen consisted of two smaller rooms, which were opened up to create the new large space. "There were a lot of limitations because of the stone structure of the house," says Kirk.  "We also didn't want to play with the integrity of the home or the architectural elements."  The new plan would have to carefully work around old windows, doorways, a butler's pantry and a back staircase.  Everything is new except for the oven hood, which is original to the kitchen.  They debated taking it down, and then decided it was a focal point and that it belonged to the house.  "It used to be cream color and looked pretty bad, so I sprayed it with copper paint to give it a lift," says Kirk.
For the cabinetry, they chose onyx, cardinal and mushroom as the color scheme.  The onyx cabinets are cherry wood and the other two are both maple.  "The onyx is a black painted finish with an artistic over-sanding technique that's applied to the accent and raised areas," explains the designer.  "This creates the vintage look of fine furniture." The maple cabinets were painted and then glazed over.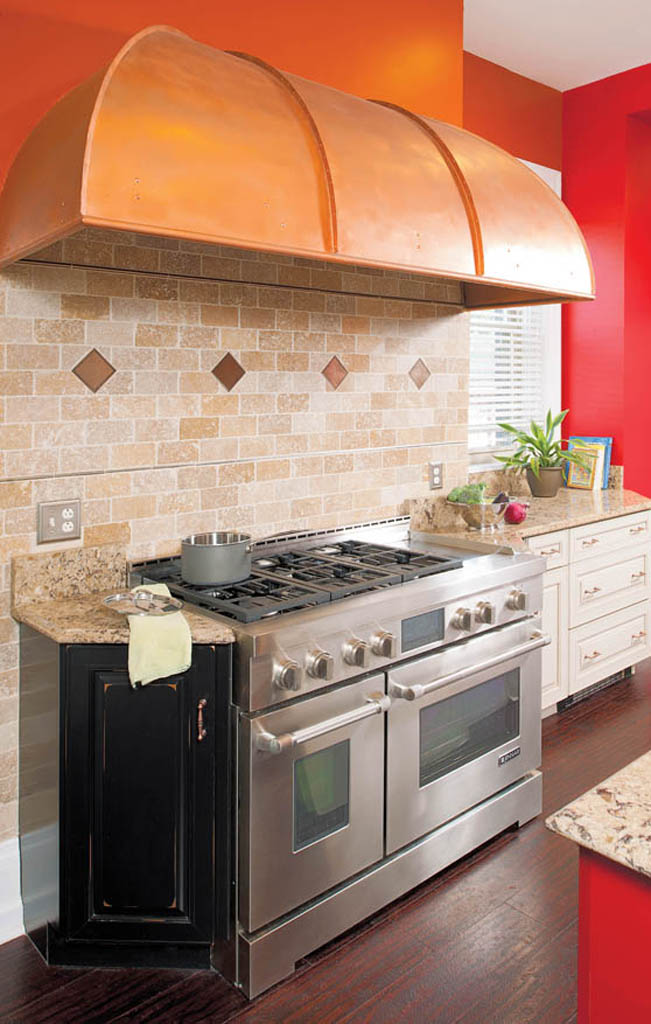 The backsplash behind the stove was constructed of rectangular pieces of marble to look like a brick wall.  Kirk laid out the tiles himself and put them in place with an adhesive bond.  He interlaced small brass diamond pieces and a strip of stainless steel to tie it in with the overall scheme.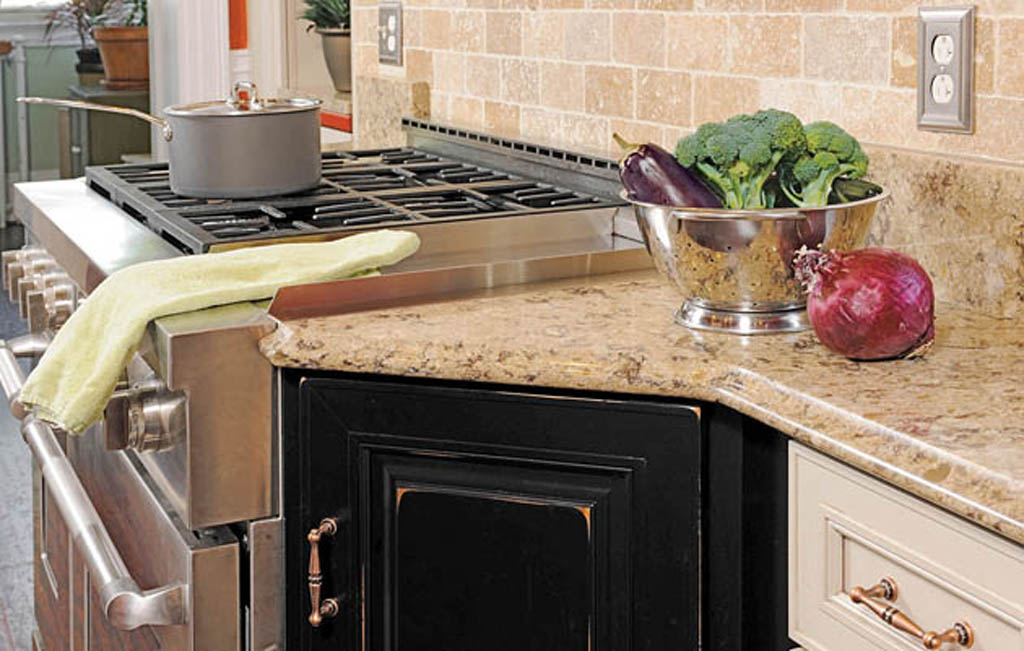 Cambria quartz countertops were chosen, because of their natural look.  "The patterns are realistic and look like granite, but without the maintenance," points out Riggin.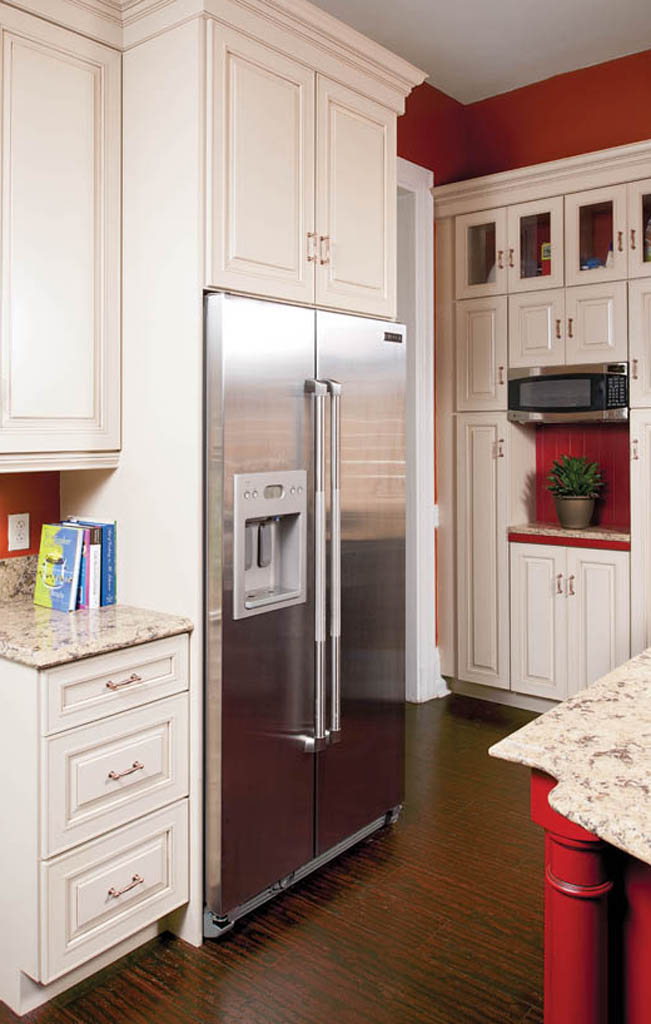 Floors are made of cork, which is soft and easy on the feet.  "Cork is a little more forgiving, and that was good because we were combining two rooms," explains the designer.  "It is also a very durable material that is softer than ceramic tile and has a long lifespan."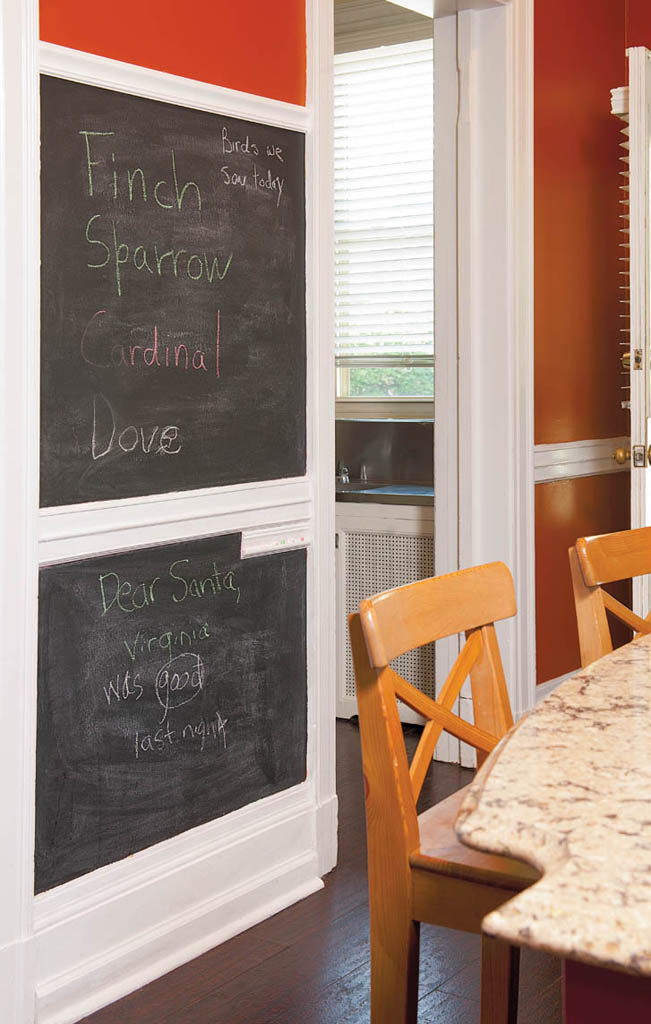 Kirk came up with the idea to build a giant sized chalkboard on one of the walls.  He applied black chalkboard paint and then framed it in with strips of trim.  For a finishing touch, he beveled out one of the pieces to serve as a ledge for chalk.  The kitchen is a beautiful blend of funky and chic, and is a place where the whole family loves to hang out.  "The kids can sit and color, while someone is drinking coffee or cooking at the island," says the owner.