Inspired by foray into mini pumpkin cheesecakes, which ended up more like a mousse, Housetrends went on the hunt for more easy, creamy desserts to try. We found these three recipes we thought were perfect to save and make for holiday gatherings and family events. We found all three of the recipes to be fairly easy to make and modify. Photographer Connie Kimsey photographed the finished desserts on a granite sample from Cincinnati Stoneworks.
First up, was this recipe from Let's Dish for Mini No-Bake Key Lime Cheesecakes.  Housetrends Editor Karen increased the butter for the crust to a whole stick and used a small amount of food coloring, which was listed as optional in the directions. This recipe is a favorite among the Housetrends staff, and we would not hesitate to make it again.
Recipe: No-Bake Mini Key Lime Cheesecakes
Adapted From: Let's Dish
Ingredients:
• 3/4 cup graham cracker crumbs
• 8 tablespoons butter, melted
• 8 ounces cream cheese, softened
• 1 (14 oz.) can sweetened condensed milk
• 1/3 cup bottled key lime juice
1 teaspoon lime zest
1 (8 oz.) container frozen whipped topping, thawed
Instructions:
Line 12 muffin pan cups with paper liners.
In a small bowl, combine graham cracker crumbs and and melted butter. Press one tablespoon of crumbs into the bottom of each liner.
With an electric mixer on medium speed, beat the cream cheese until smooth.
Add the condensed milk and lime juice and mix well. Mix in the food coloring, if using.
Fold in the lime zest and 1 cup of the whipped topping.
Divide the mixture evenly among the lined muffin cups. Cover pan with foil or plastic wrap and freeze until firm, at least 3 hours.
Remove cheesecakes from the freezer 10-15 minutes before serving. Peel off the paper liners and garnish with whipped cream and sliced lime, if desired.
Second to the plate, this basic chocolate mousse recipe, from Give Recipe, was also a big hit in our office. The original recipe listed ingredients in grams, so Tara, our senior graphic artist, converted them to cups. The recipe also called for fluffed egg whites. To properly fluff whites, you should use an extremely clean and dry bowl. Not knowing this, Tara attempted to whip them in the same bowl she used for the cream. As a result, the egg whites never fluffed, so she omitted the whites entirely from the recipe. The result, by happy accident, was a very creamy mousse.
Recipe: Basic Chocolate Mousse
Adapted From: Give Recipe
Ingredients:
1 cup heavy cream
1 cup dark chocolate, chopped
1/4 cup butter
¼ cup milk
1 egg yolk
Chocolate shavings for garnish, optional
Instructions:
Whip the heavy cream and set aside.
Combine the chocolate, butter and milk in the top of a double boiler over hot, but simmering. Stir occasionally until smooth.
Beat the egg yolk and add it into chocolate mixture stirring very fast, still over the heat. Remove from the heat when it starts to boil.
Pour this mixture slowly into the whipped heavy cream and stir.
Share the mousse into individual dishes and chill at least 5 hours.
Serve cold with chocolate shavings.
Finally, Housetrends Senior Advertising Designer Gina whipped up this No-Bake White Chocolate Peppermint Cheesecakes from A Family Feast. She followed the recipe almost exactly and found that it came together very easily. The only change she made to the original recipe was to used Keebler Grasshopper cookies instead of the chocolate wafer cookies it originally called for.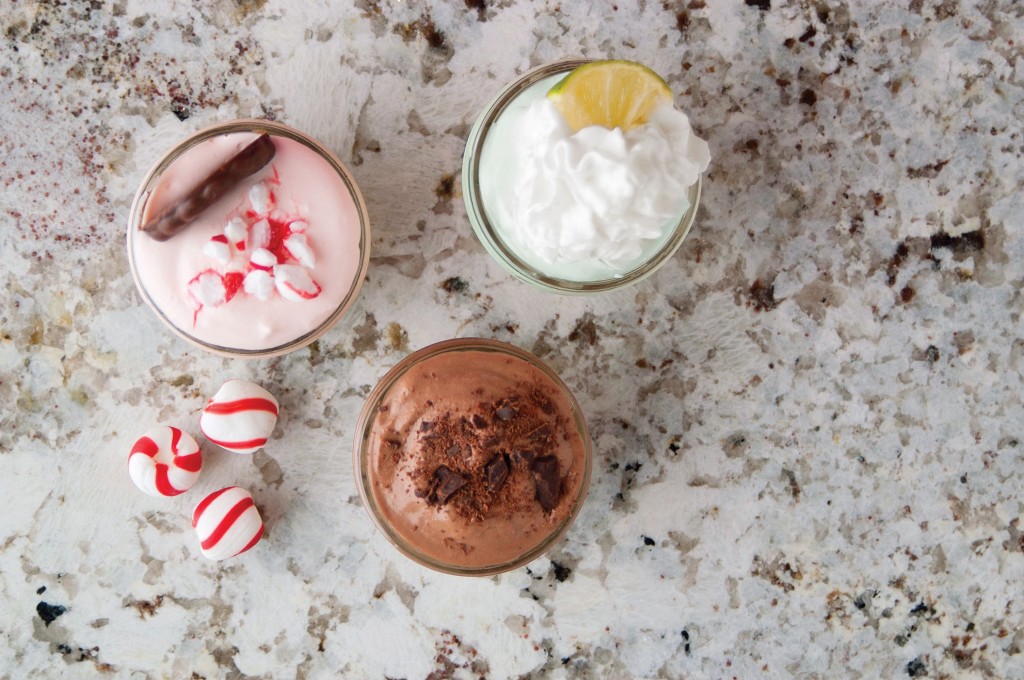 Recipe: No-Bake White Chocolate Peppermint Cheesecakes
Adapted From: A Family Feast
Ingredients:
For the crust
Keebler Grasshopper cookies – for the crust and garnish. You should not need more than one package though.
10 After Eight chocolate mints
2 tablespoons melted butter
For the filling
1 1-ounce package sugar-free white chocolate instant pudding mix (or a 3-ounce package of the regular pudding mix)
2 cups whole milk
1 8-ounce package cream cheese, softened to room temperature
1 1-ounce package sugar-free cheesecake-flavored instant pudding mix (or a 3-ounce package of the regular pudding mix)
½ teaspoon real peppermint extract (do not use mint extract which is typically a combination of peppermint and spearmint)
1 12-ounce container frozen whipped topping, plus extra for garnish, if desired
1-2 drops of red food coloring (optional)
Candy cane sticks, After Eight chocolate mints, and additional crushed chocolate wafers and crushed candy canes for garnish, if desired
Instructions:
Place the grasshopper cookies and chocolate mints in the bowl of a food processor and pulse into fine crumbs. Add the melted butter and pulse again until combined.
Spoon the crumbs into individual 9-ounce plastic cups (or other individual sized cups for serving). Place in the refrigerator to set while you are preparing the filling.
Prepare the white chocolate pudding with the milk according to package instructions. (Note: Do NOT prepare the cheesecake pudding mix – that will be added as a dry stabilizer later in the recipe.)
In the bowl of a stand mixer with the paddle attachment, beat the cream cheese until light and creamy.
Add the prepared white chocolate pudding, the dry cheesecake pudding mix and the peppermint extract and beat until completely mixed, scraping down the sides and bottom of the bowl to ensure that all ingredients are well combined.
Change your stand mixture attachment to the wire whisk. On slow speed, fold in the tub of frozen whipped topping and until well combined. If you'd like to tint your cheesecakes a light pink "peppermint" color, add 1 drop of red food coloring – you can leave the color swirled or mix completely for a light pink color. If desired, add a second drop of red food coloring if you want a darker pink color and mix again.
Allow the mixture to sit in the refrigerator for about an hour to firm up.
Using a large pastry bag with a large tip, or a spoon, top the chocolate mint crumb crust in each cup with the cheesecake mixture and refrigerate until ready to serve.
Garnish with additional whipped topping, a candy cane stick, a chocolate mint and crushed chocolate wafers and candy canes, if desired.