More than 4,000 Miami Valley residents toured the 10 homes taking part in the Home Builder Association of Dayton's 2016 Homearama Touring Edition presented by Vectren over the summer. If you are in the market for a new home—or if you are just looking for ideas to update your existing house—this tour gives you a first-hand look at the innovative techniques our area's top builders are doing in architecture and design. The annual home show also gives Housetrends the opportunity to highlight a handful of today's top interior design ideas. Here are three recurring trends we noticed at this year's show.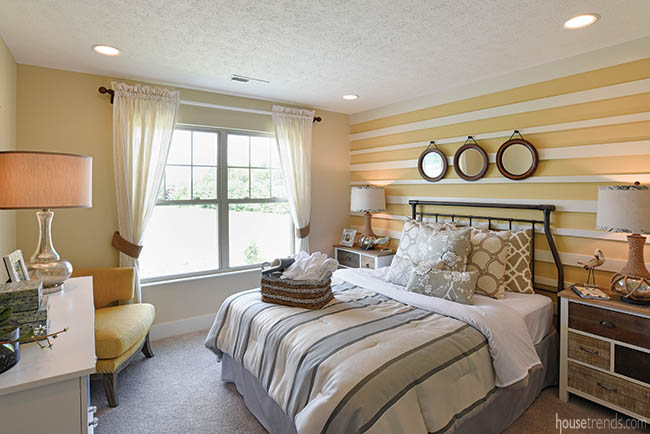 The striped accent wall gives this bedroom in The Willow by Peebles Homes a 3D-inspired effect. Semi-gloss off white flat stock trim is alternated between rows of Sherwin-Williams' Blonde, a soft yellow hue that is accented by a complementary chair tucked into the corner of the room.
RESOURCES Builder Peebles Homes; Interior designer Kay Green Design; Paint Sherwin-Williams Blonde and Natural Choice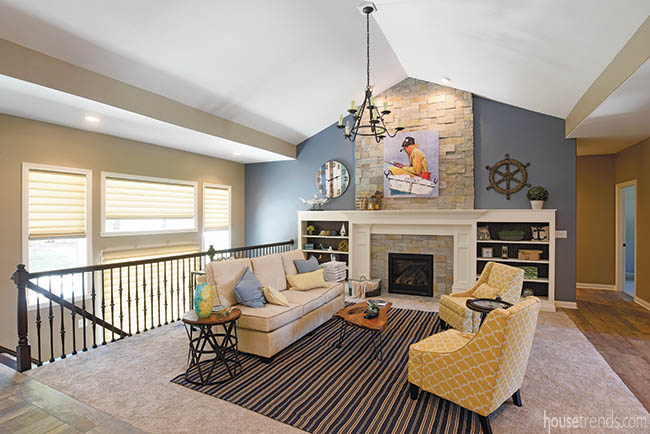 R.M. Clemens Company utilized the entire fireplace wall as the focal feature in the great room of Grey Field. The deep blue-gray wall accents the stone fireplace surround and custom mantel and built-ins. The striped rug and throw pillows pull the color out into the room.
RESOURCES Builder R.M. Clemens Co.; Fireplace Dayton Fireplace Systems; Accent wall paint Sherwin-Williams Storm Cloud; Paint contractor Chris Darnell; Masonry Seaton's General Contracting; Carpentry Stowe Construction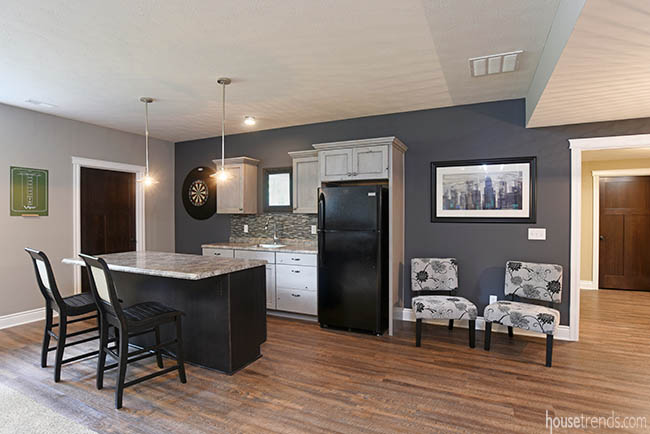 The lower level entertaining area is the perfect place to incorporate a bold accent color. The rich blue of Sherwin-Williams' Waterloo paint creates an enticing focal point in the wet bar area of Whisperwood by Custom Concepts Construction Company.  The glass backsplash and a pair of patterned fabric chairs help to tie the entire room together.
RESOURCES Builder Custom Concepts Construction Company, LLC; Interior decorating Furniture Fair, Kari Cox; Paint contractors Price Painting & Wallcoverings; Accent wall Sherwin-Williams Waterloo; Appliances Custom Distributors, Inc.; Cabinetry The Requarth Co.; Flooring ProSource Wholesale Flooring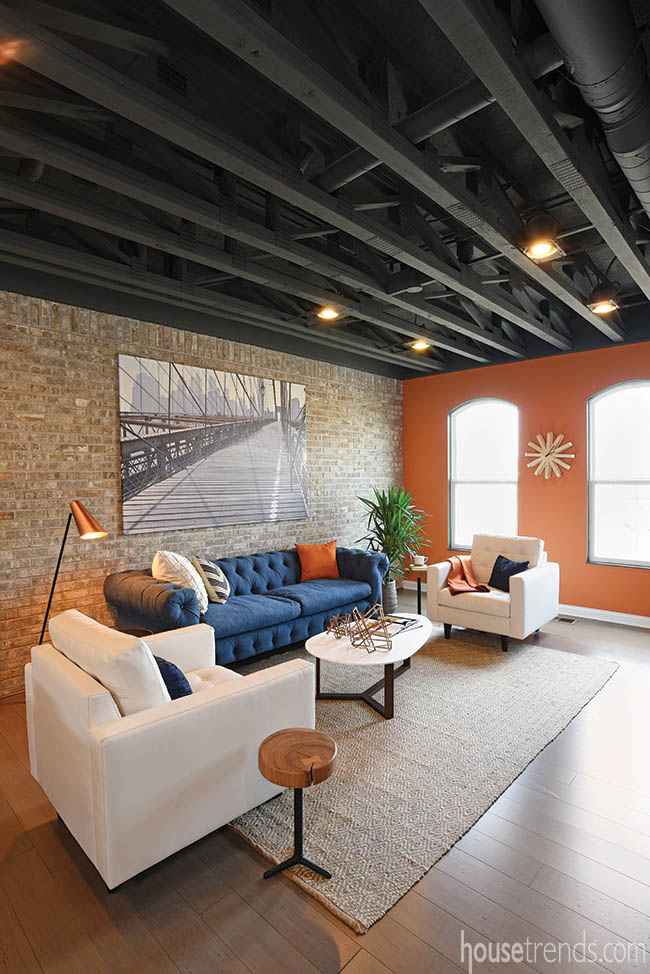 The Market Street by Charles Simms Development uses a variety of colorful accent walls to its advantage. To coincide with the urban design, the living room features a sunny orange-yellow accent wall that works perfectly next to the brick interior wall, hardwood flooring and gray tile fireplace surround.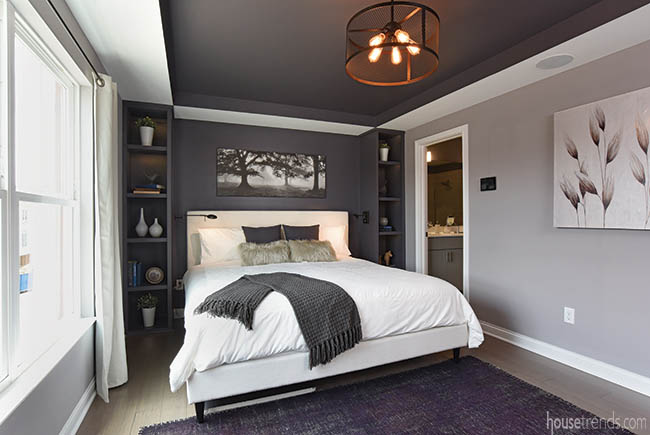 A blue wall in the family room and the dark gray wall and ceiling in the bedroom offer chic, retro-inspired spaces to relax and unwind.
RESOURCES Builder Charles Simms Development; Interior designer RM Interiors & Design; Paint contractor HLE Coatings; Paint Sherwin-Williams Butternut, Rainstorm and Cloak Gray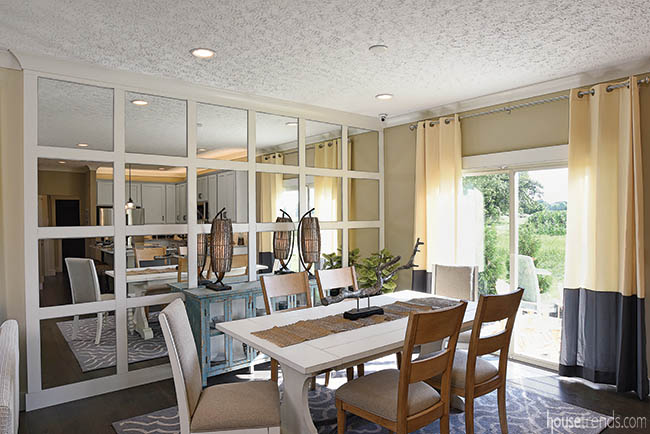 Smoke and Mirrors
Mirrors have always played an important role in the bathroom—and even bedroom—design. This year, several Homearama builders utilized mirrors to serve as accent pieces in unexpected rooms. Twenty-four individual mirrors framed in painted trim line the wall in the dining room of The Willow by Peebles Homes. The custom application, which is topped with 6-inch crown molding, brings balance to the room and naturally brightens the open-concept floor plan.
RESOURCES Builder and mirror wall Peebles Homes; Interior designer Kay Green Design; Trim paint Sherwin-Williams Natural Choice
The welcoming foyer of Whisperwood by Custom Concepts Construction Company offers everything a homeowner would want in an entry—an elegantly arched door, beautiful hardwood floors, and an obstructed view of the great room. An eye-catching solid pine sideboard with mirrored doors helps to reflect these features and bring character to the space.
RESOURCES Builder Custom Concepts Construction Company, LLC; Interior designer Jenny Lynn Wynne, Furniture Fair; Hardwood flooring ProSource Wholesale Flooring; Sideboard Classic Home Furniture, Furniture Fair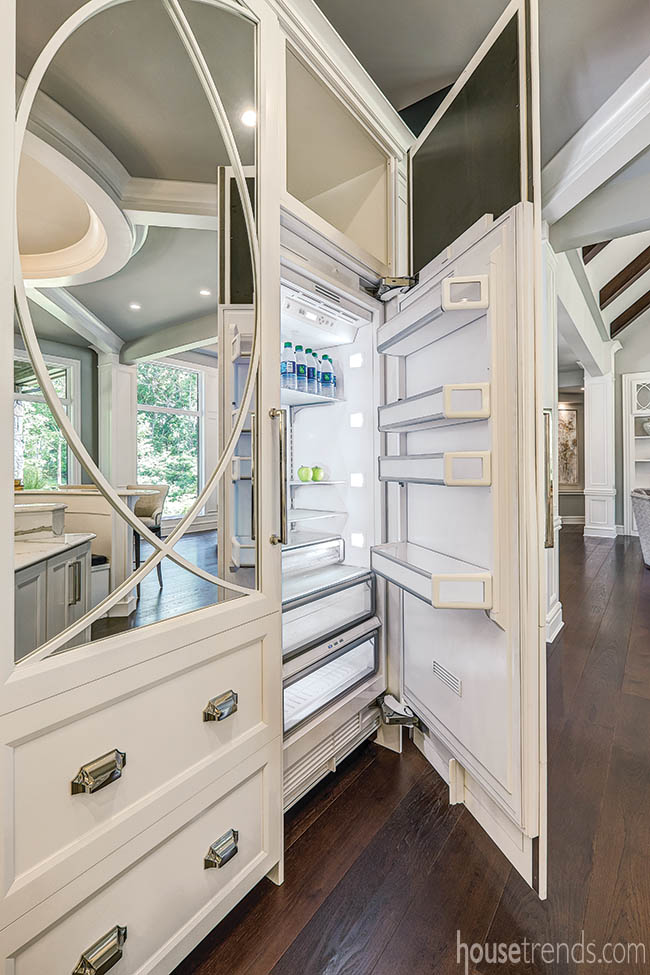 Meanwhile, mirrors were also included in the design of the gourmet kitchen of the Chateau Serendipite by G.A. White Homes. Rather than standard cabinet panels, the 60-inch Thermador refrigerator features custom door panels with mirrors that reflect the unique design of the round island and ceiling details.
RESOURCES Builder G.A. White Homes; Architect Jim Bauman Design; Kitchen cabinetry Dura Supreme, Mauk Cabinets; Refrigerator Thermador, Ferguson Enterprises; Interior designer Debbie Sykes Interior Design; Hardwood Carlisle Wide Plank Floors, ProSource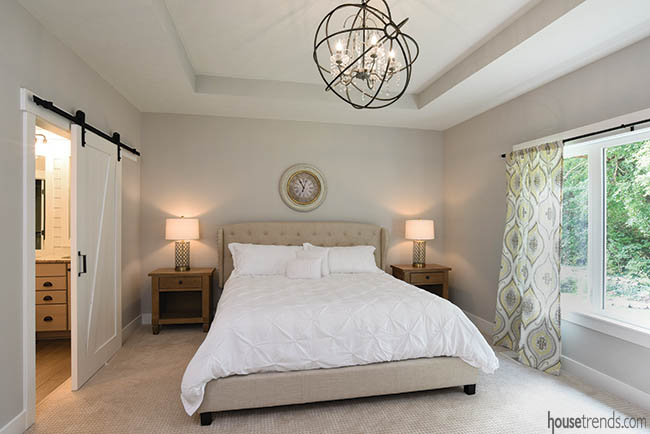 Farmhouse Chic
Barn doors are definitely a big trend right now—and four builders at Homearama utilized these design treatments in very different applications. Catalyst Homes used a barn door in the master suite of The Ashley to complement the rustic, Craftsman-inspired architecture.
RESOURCES Builder Catalyst Homes; Architectural services Trentech; Cabinetry The Requarth Co.; Light fixtures Factory Lighting Center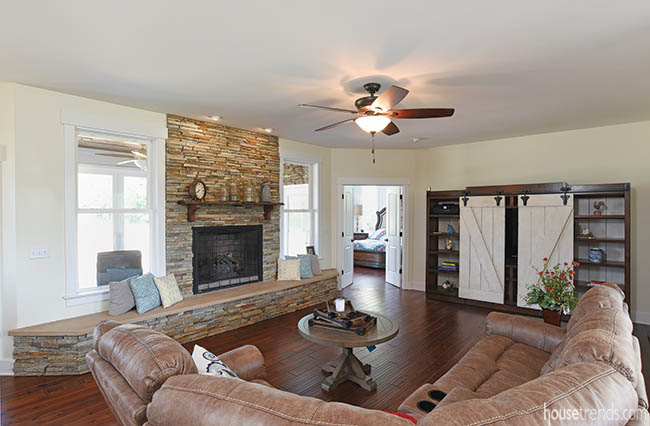 And, in an effort to hide the television in the great room of The Weston, M/M Construction added a pair of sliding barn doors to the console area.
RESOURCES Builder M/M Construction; Architectural services Visions by Grant; Interior designer Sunray Designs; Furniture Rita's Furniture