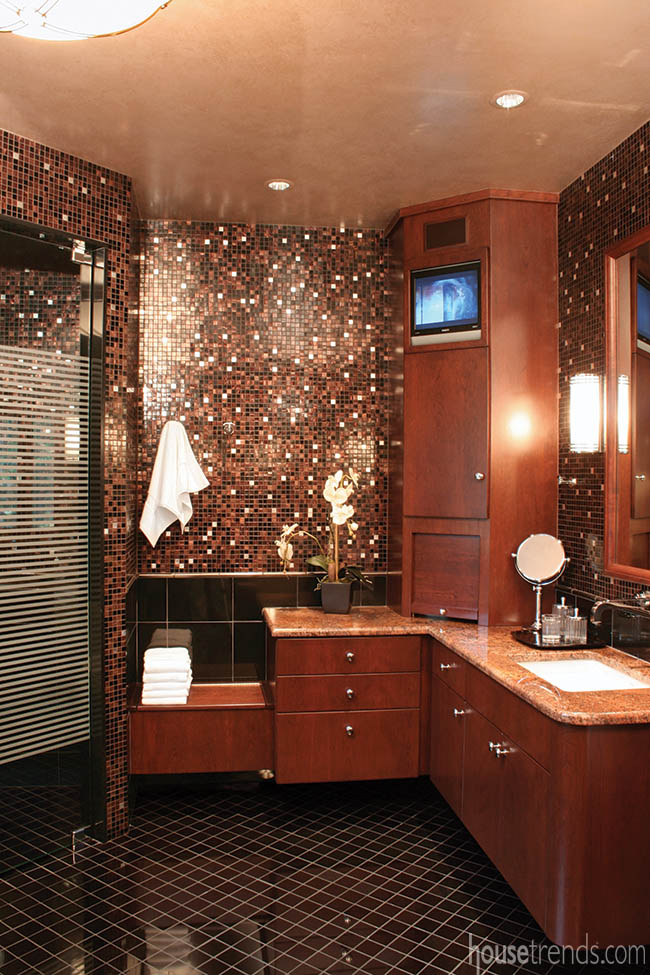 In 25 years as an interior designer, Debbie Rosenthal has never done a house like this one. In fact, never repeating herself is her trademark, as is creating spaces that are timeless and difficult to categorize.
"I sort of pride myself on not having a specific look," says Rosenthal. "I like the change."
Part of this philosophy is market-driven. Cleveland is not a big enough market for a designer to be too myopic or specific. There needs to be flexibility for long-term success. The other factor that leads to this modus operandi is Rosenthal's own need to be creative. She likes to stay on her toes and interpret each individual client's wishes and needs in a new way.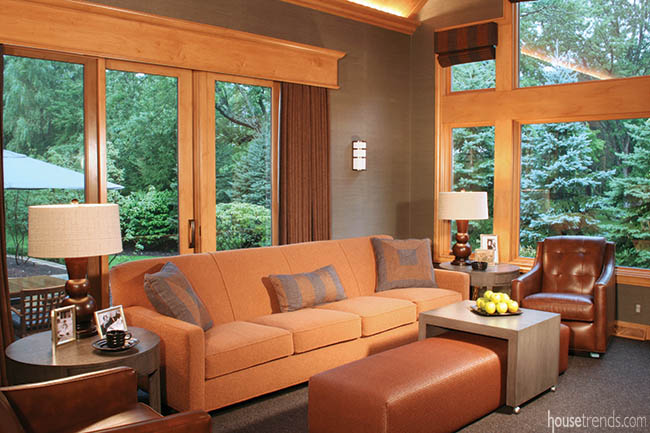 The results are far from the ordinary and engender a certain loyalty among her clientele—as is the case with this home. Her client, whom she had worked with before, wanted her to help create a masculine space. It needed to be timeless and yet contemporary, masculine, but devoid of the trappings and stereotypes of masculinity—there are no stuffed fish or mounted animals on the walls.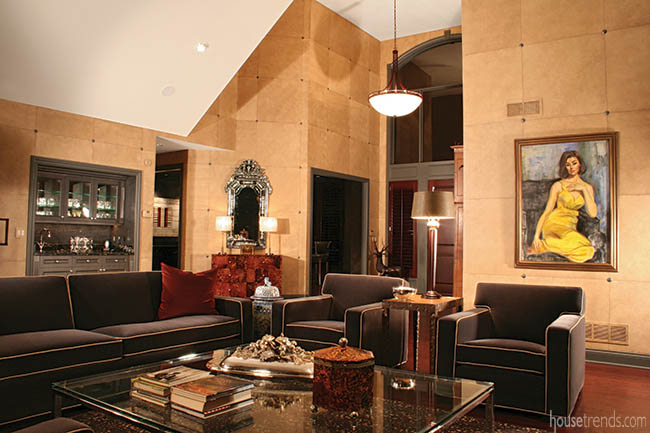 "I just kept thinking 'Gentlemen's Quarters,'" says Rosenthal. "[Her client] had confidence in me and I had a certain amount of freedom to execute the design."
So how then does a designer blend classic and contemporary? How does one create a space fit for both Brad Pitt and Humphrey Bogart? Well, for Rosenthal, it's all about materials, textures and colors.
"Timeless is the goal, not trendy," says Rosenthal. "We wanted to create warmth."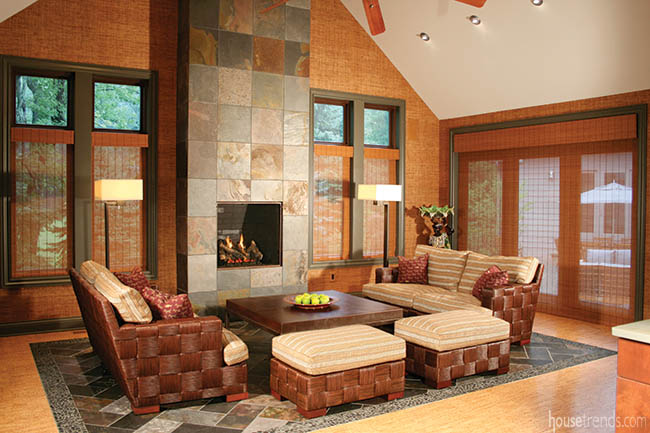 She accomplishes this by using a number of different natural materials. Slate plays an important role in creating accent walls above the fireplace in the sunroom and leading down the stairs to the lower level. The color is mirrored in an entertainment unit and in furniture elsewhere in the house.
Rosenthal created a "rug" in the sunroom using pebble and slate tile to break up the light colored cork flooring. This rug is a natural gathering place and perfect for the woven rattan furniture she selected for the room.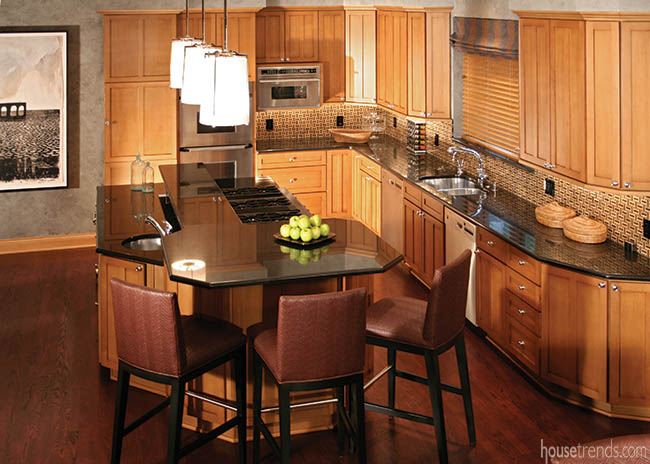 Another unusual use of stone is the backsplash in the upstairs kitchen. Rosenthal selected a marble basket weave pattern that blends together perfectly the light color of the cabinetry and the dark granite countertop.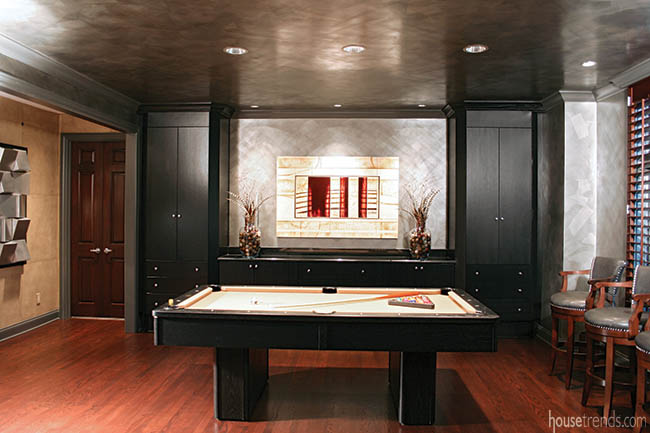 Wall coverings and faux finishes tie all the rooms together, like the faux leather finish in the living room that is accented with oversized nail heads to create a subtle, geometric feeling. Rosenthal turned the formal dining room into a billiard room by building a wall around a pillar that separated it from the original living room. For these walls, she selected a metallic finish—silver, slightly industrial and yet refined.
Perhaps the most striking rooms in the home are the master bath and lower level kitchen.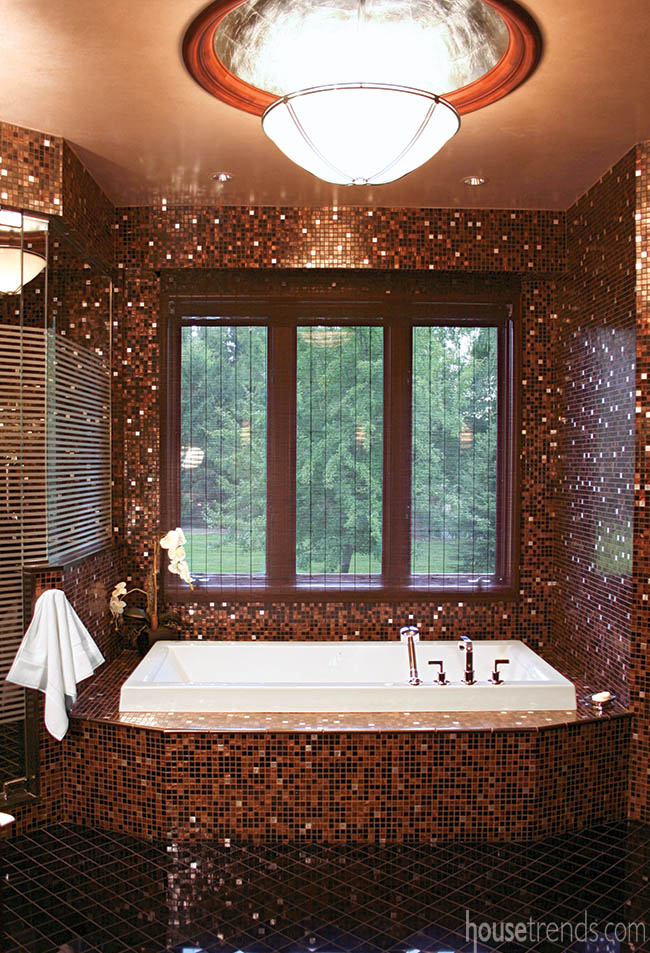 The master bath is a perfect example of the geometric symmetry that prevails in the home. Rich, copper tones in the floor-to-ceiling glass tiles reflect the warm glow of a recessed dome metallically finished and housing a chandelier. The black granite floor reflects recessed lighting hidden beneath the chestnut colored cabinetry, creating the feeling of walking on a midnight sky. Hexagonal shower and toilet enclosures flank the elegant white tub framed by the stunning wall tile and a picture window.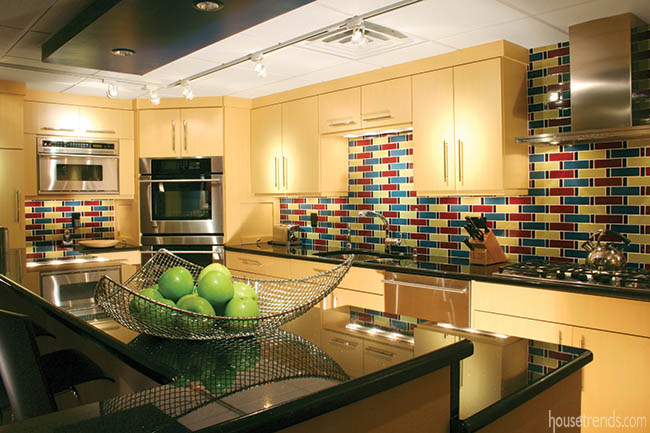 On the lower-level, the chef's kitchen—which Rosenthal said was originally a "big, white box"—is a fun, informal gathering space both functional (it features a dumbwaiter) and stylish. Buttery cabinets are accented by stainless appliances and a tile backsplash in burgundy, black, steel blue and a color matching the cabinets, of Rosenthal's original design.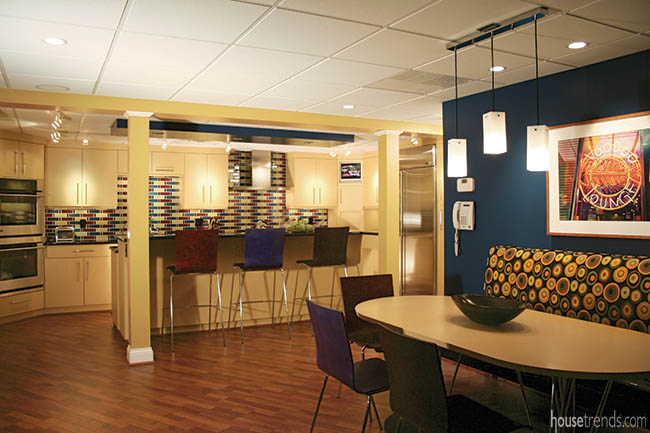 Everywhere one looks, in every room of this home, the design exudes sophistication. This home is made in the details and the details are of a quiet, masculinity. It is neither overt, nor obvious, but rather stately and virile. Contemporary, and yet timeless.
Resources: Designer: Debbie Rosenthal Interiors, Inc.; Contractor: Residence Artists; Cabinetry: Dragomer Cabinetry; Kitchen backsplash and tile: Stoneworks; Plumbing and fixtures: Edelman Plumbing; Lighting: Boyd Lighting; Faux painting: Room Service