For years, Xenia Maye collected home décor magazines, created photo collages of plush kitchens, and said to herself, "One day."
One day she'd have that fantasy space, where she could entertain guests on Christmas Eve and whip up Thanksgiving feasts. Now, the Tampa homeowner's vision has materialized. "I've always dreamed of a wide open kitchen with all the nice features," says Xenia, who lives with her husband, John Maye, and their four purebred Malteses. "I love to cook, so this really is like my dream kitchen."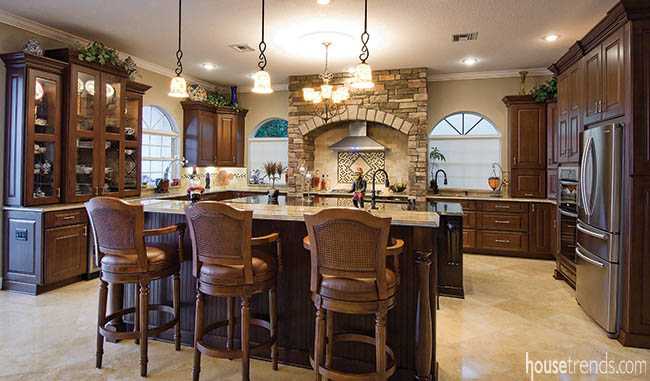 The project was completed in November, after the Mayes purchased the 3,970-square-foot waterfront property in June last year and gutted the original kitchen. They enlisted the expertise of Jeff McNabb, a designer with Kitchen Creations, to help with the renovation. Old, white cabinets were demolished. An island, which was unusually far from the stove, was moved to a central location, and a bar was added in its place.
"The design really fits our lifestyle. We have friends from our neighborhood over every other week," Xenia says. "We'll just put all the food on the island and they'll gather around it."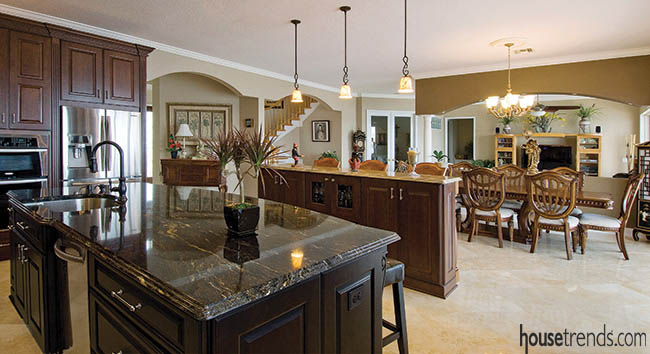 With cabinetry by Custom Cupboards, countertops by Granite World, a tumbled travertine backsplash with mosaic glass and stone, a stone hearth, and stainless steel appliances, the kitchen is the apex of modern, with some old-world accents.
"It's a popular style because it's timeless by nature," McNabb says. "Xenia does a lot of entertaining and needed cabinets with a very durable finish, so we chose Custom Cupboards. The chocolate-colored island breaks up the traditional cherry and gives the kitchen a transitional look."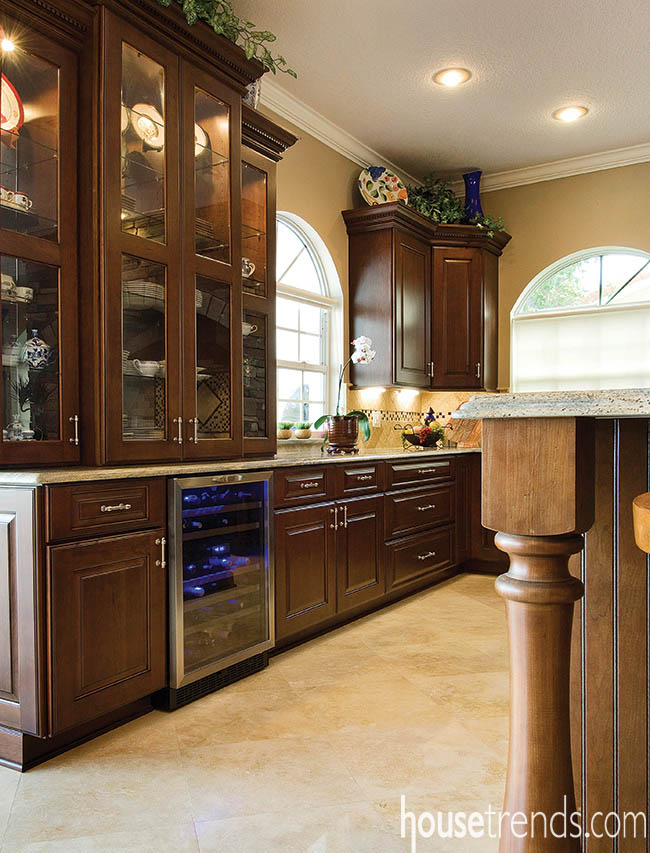 For the perimeter, McNabb and the Mayes chose cherry wood cabinets with a pecan stain and a midnight frost glaze. For the center island, they opted for beech wood with a German chocolate stain. A double stainless steel sink, soft close cabinet doors, a full china cabinet, a 42-inch mounted range hood, a pullout spice rack, brushed nickel knobs, and three layers of crown molding are just a few of the eye-popping and utilitarian features.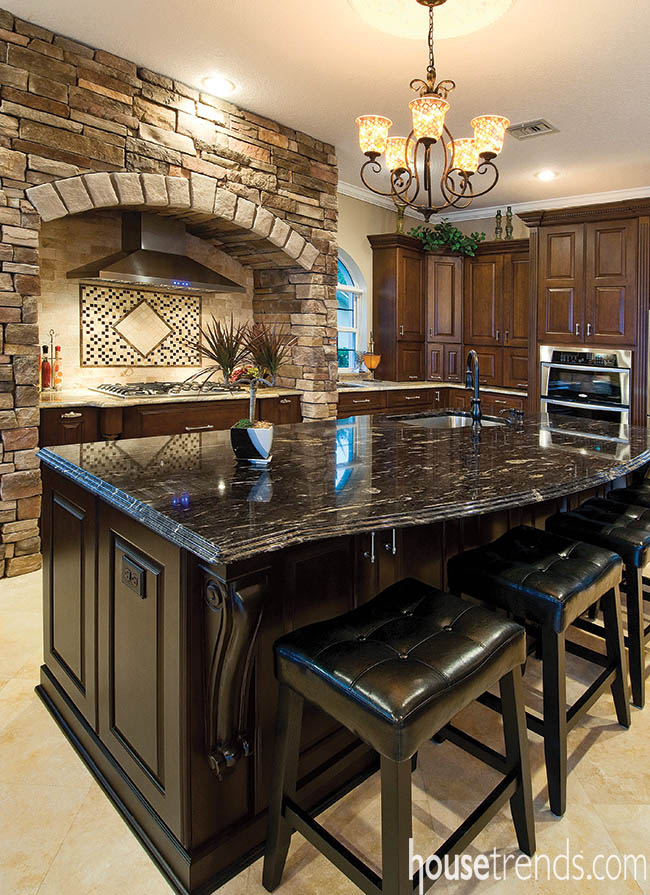 Gold ivory premium-filled travertine floors complement the beige walls, as well as the Lightning Gold granite tops around the kitchen's perimeter and the Black Titanium granite on the island. To illuminate the room, a five-bulb Quoizel chandelier mingles with mini pendant bar lights.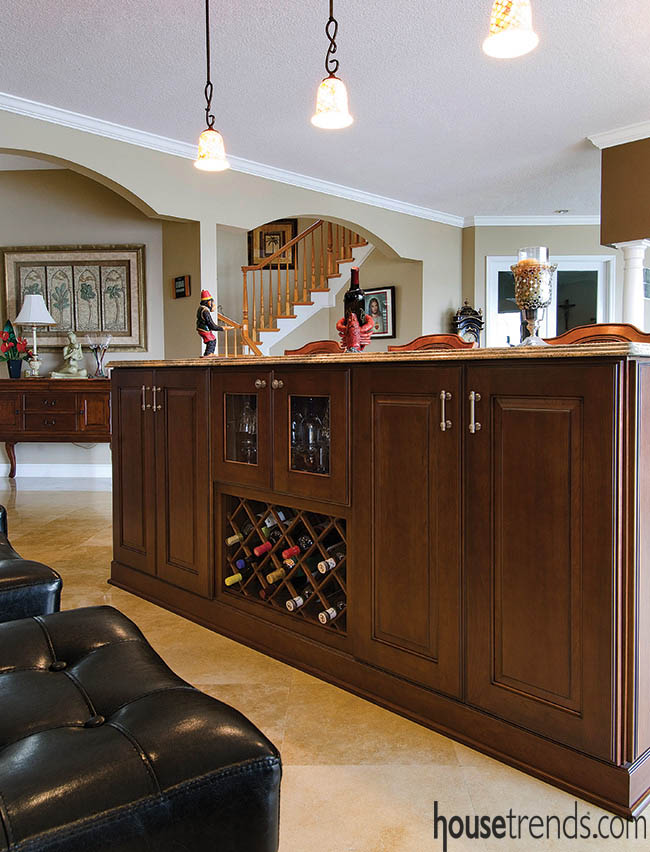 John is in the Air Force and employed at MacDill Air Force Base in Tampa, while Xenia is a software engineer. For them, home time is precious. And the new kitchen gives them an aesthetic perk whenever they return from their offices or their international outings. They've moved around quite a bit—this being their third house in Tampa—and they're finally settled in for good. "This is it. We're not moving anymore. Now that I have my dream kitchen and we have the water view, we're set," Xenia says. "I always look forward to coming home now."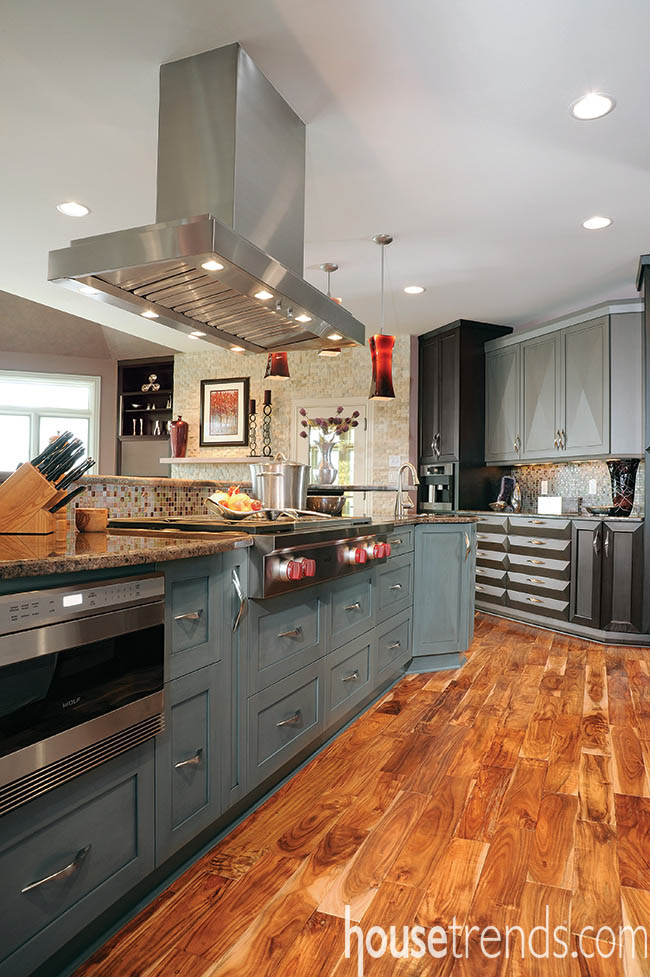 Every Thursday, the Mayes host a Catholic prayer group at their residence. They have block parties and swing open the doors. They invite relatives from Virginia and the Philippines. The kitchen has become a hub for social interaction, and the neighbors can't stop ogling.
"We're very happy with the way it turned out," Xenia says. "Every time people come over, they say, 'We just can't get over how gorgeous your kitchen is.'"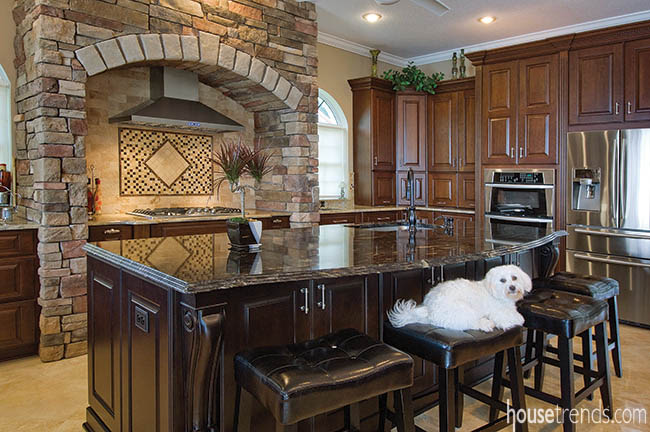 The dogs are huge fans, too. The Mayes even purchased four barstools for each one of the pups, and they congregate in the kitchen while mom prepares dinner. Xenia pulls recipe books from her massive library, and creates healthful meals while her cuties watch. Everything she needs, she says, is right there.
"I remember when I had all these magazines and saved these pictures, and I said, 'Someday, I'll have this dream kitchen,'" she says. "I really feel that, if you follow your dream, you'll achieve it."