Fall is officially here, but a couple weeks ago at the Housetrends office, our Senior Advertising Designer Gina made us some delicious peach cobbler.
Gina used this recipe from Majic 102.1, which she found on Facebook. Majic adapted the original recipe from Lui in Cicina to make it a simple process that resulted in a quick and yummy cobbler.
Gina said while the cobbler was baking, her whole home smelled so good, you'd want to eat the walls.
Our taste testers thought it was a deliciously simple dessert that reminded them of old-fashioned country cooking, making it the perfect dessert for the end of summer and beginning of fall.
The finished cobbler was served with Hokey Pokey Madisono's Gelato from Pipkins, which we let melt around the warm cobbler a little, so all the flavors mixed together.
Housetrends Photographer Connie Kimsey photographed the cobbler against a beautiful end-of-summer bouquet of flowers from Pipkins and glass jars that had been painted with Annie Sloan Chalk Paint.
RECIPE: End-of-summer Peach Cobbler (adapted from: Majic 102.1)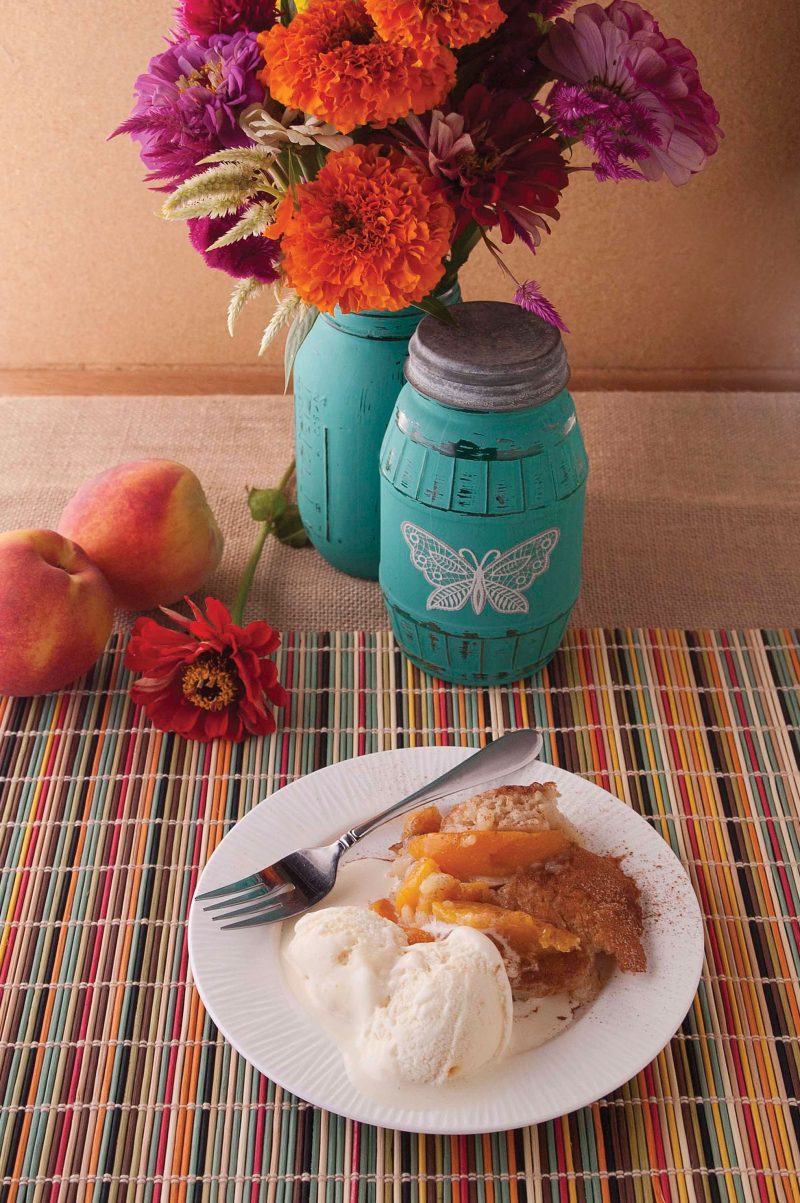 INGREDIENTS:
• 1/2 stick of butter
• 1 can (28 oz) of peaches. Gina used 2 125 oz cans. You can also use fresh, about 8-10 peaches boiled and peeled.
• 2 1/2 cups of sugar, divided
• 1 1/4 cup of water
• 1 heaping tablespoon of cornstarch
• 1 1/2 cups of self-rising flour
• 2 teaspoon vanilla
• Milk, add until the consistency of pancake batter
• 1/2 teaspoon cinnamon
• Additional sugar and cinnamon to garnish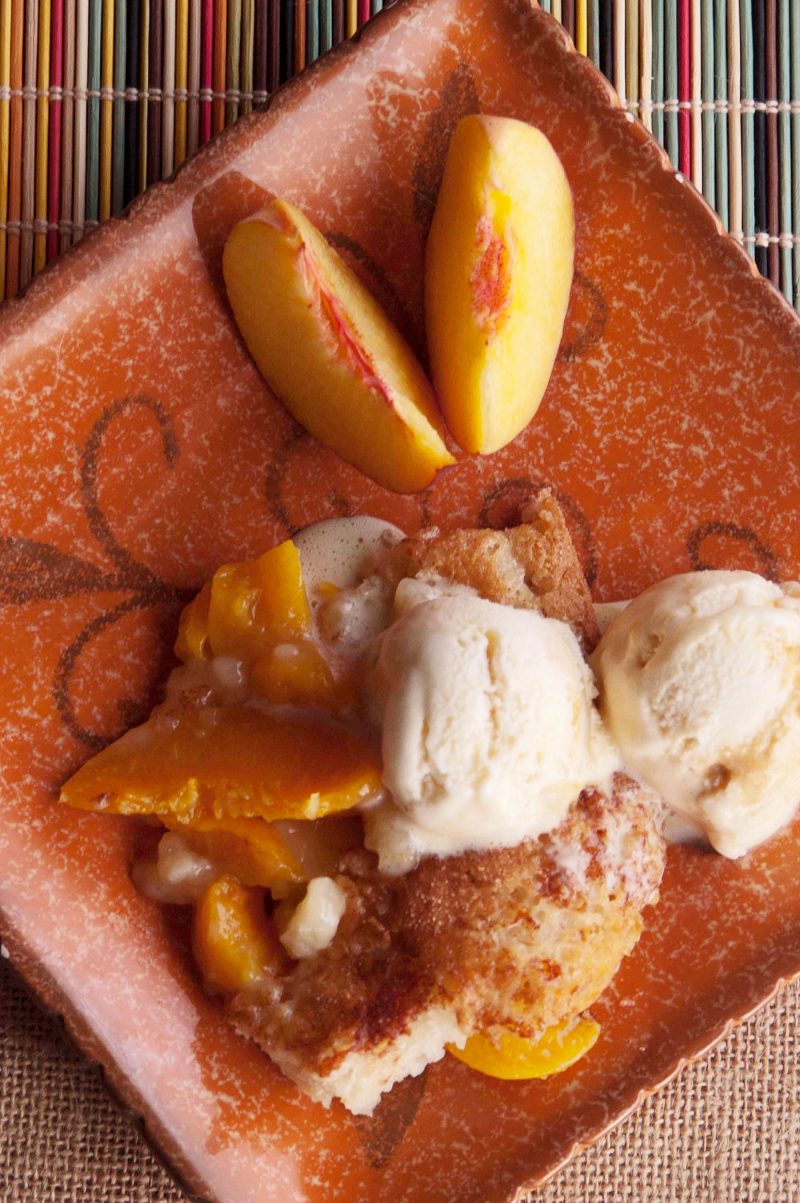 DIRECTIONS
• Preheat oven to 400 degrees.
• Melt 1/2 stick butter in 13×9 metal baking pan.
• In heavy saucepan, combine peaches (undrained), 1 cup sugar, 1/2 cup water. Bring to a boil.
• In a small bowl, combine 3/4 cup water and 1 heaping tablespoon cornstarch and add to peach mixture. Return to boil.
• In a mixing bowl, combine 1-1/2 cups sugar, 1-1/2 cups self-rising flour, 2 teaspoons vanilla and enough milk to make a thin batter. (a little thinner than a pancake batter).
• Pour hot peaches into pan with melted butter, and pour batter all over peach mixture.
• Top with cinnamon/sugar mixture, (1/2 cup sugar, 1/2 tsp cinnamon) and bake for 30 minutes or until golden brown.
• Serve with ice cream or gelato and allow it to melt a little (or a lot) with the warm cobbler.