Your front door has big shoes to fill. It must be commanding and protective, yet also warm and inviting. In addition, it sets the tone for the rest of your house and conveys a message to all who enter.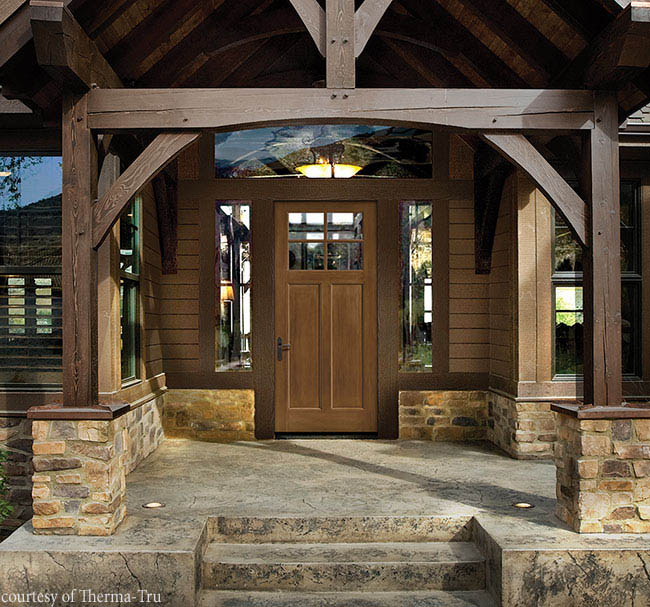 Homeowners look to replace their entry doors for a myriad of reasons, but the primary driver is aesthetics. "Attractive entry doors are an important part of any home's curb appeal. You can get a door that is absolutely gorgeous and it will change the home's entire dynamic," explains Steve Billingsley, Inside Sales Manager for McCabe Lumber, a Cincinnati, Ohio-based supplier and distributor of Therma-Tru doors.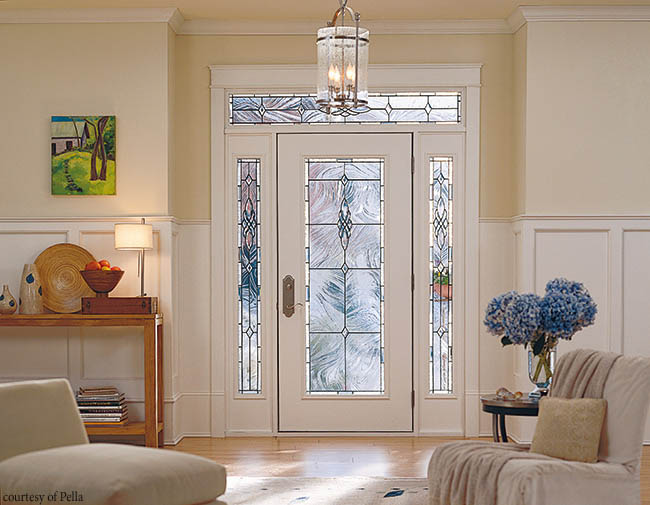 "Most people start the process because there is neighborhood competition," adds Alicia Snyder, Product Specialist at Pella Corporation. "In other words, someone else has a really pretty door."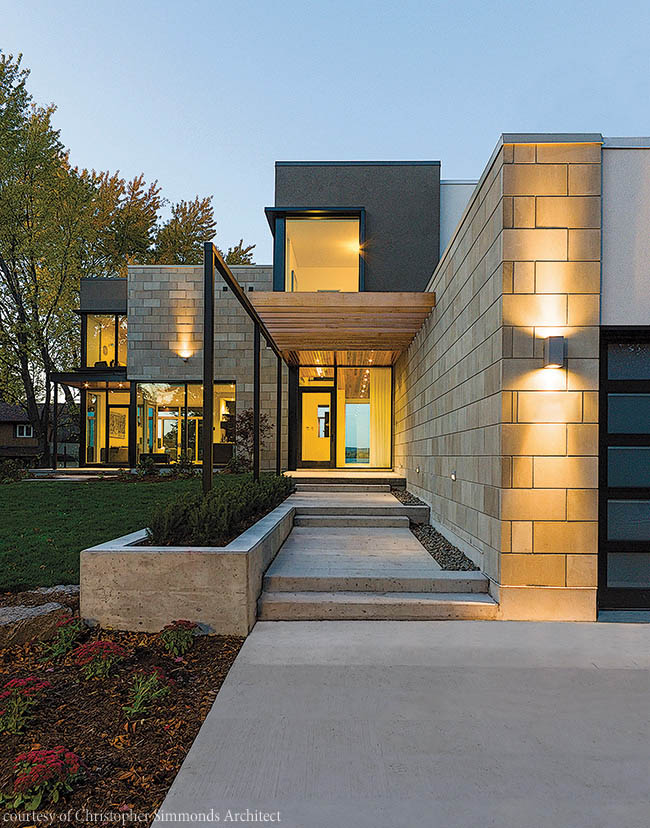 In addition to curb appeal, people install new entry doors to compensate for damage (not only to the door—check your sub-floor, joist, rim joist and sill, particularly if you have an older home) that comes from years of exposure to the elements. Warping, cracking or peeling aside, upgrading your front door will improve your home's insulation and energy efficiency, ultimately resulting in lower heating and cooling costs.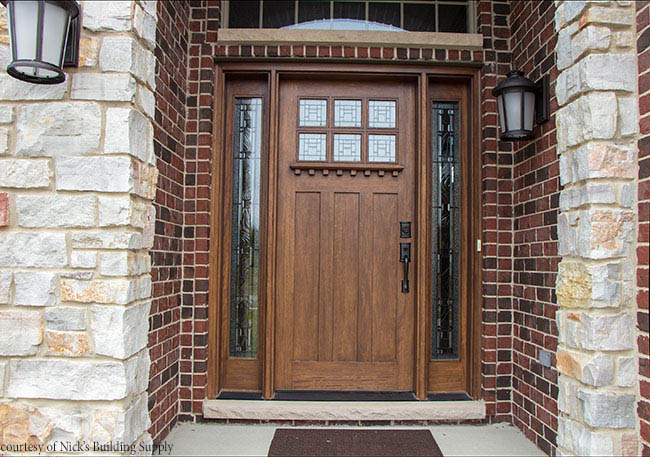 Not only that, says Billingsley, but a new entryway may offer the highest return on investment your home ever sees, going beyond a kitchen remodel or room addition. It increases your home's perceived market value, boosting curb appeal and having a big impact on your investment.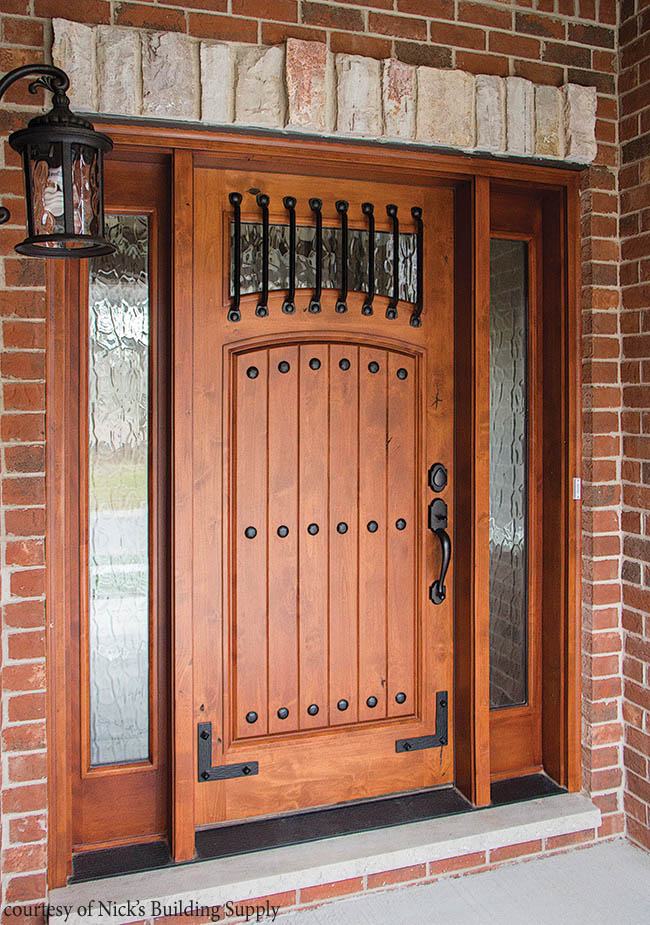 As you shop for an enhanced entryway, you'll find that choosing the appropriate material is your most critical decision. The material you choose affects not only aesthetics but also longevity and safety—not to mention price.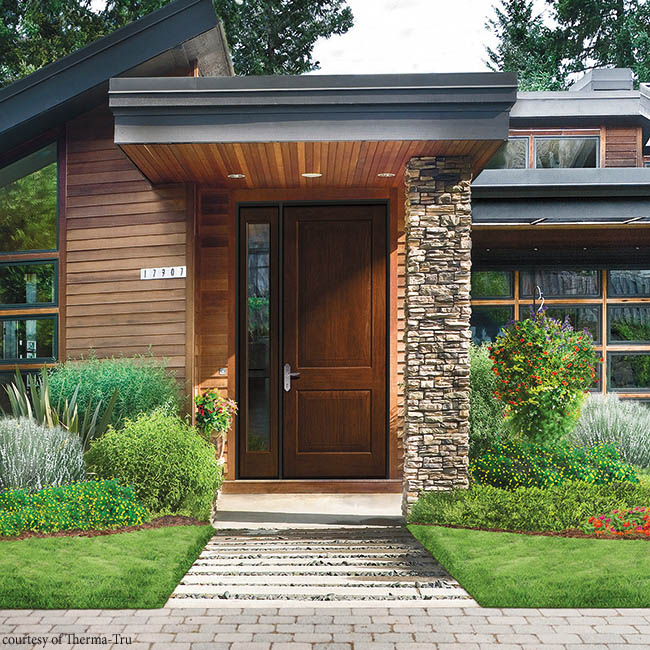 Though fiberglass has been around for some time, there is a renewed industry push for this sturdy, low-maintenance material. Fiberglass is also a viable choice for humid climates. "We see a lot of humidity in the Mid-West and in locations like Florida," says Derek Fielding, Director of Marketing Insights & Innovation at Therma-Tru. "Fiberglass doesn't warp or swell. We use a polyurethane foam core, which provides good energy-efficiency and durability."
To accommodate Florida building codes, manufacturers like Therma-Tru offer impact-rated doors and glass to withstand high winds. "Our doors are equipped with a full steel plate on the interior for that added protection," says Fielding.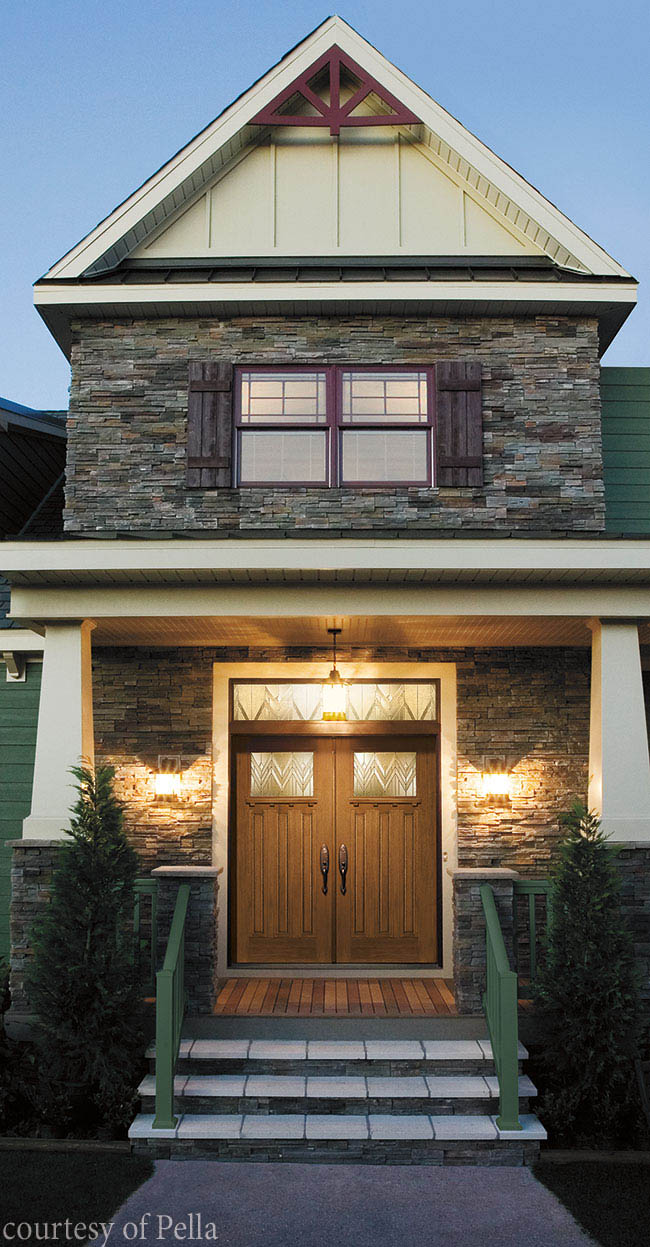 Many of today's fiberglass doors emulate real wood and pick up the subtle graining and texture of that particular wood, whether it's mahogany, walnut or fir. "You don't have to re-stain or re-sand it," says Snyder. "It creates a great-looking, wood-like door and prevents water infiltration."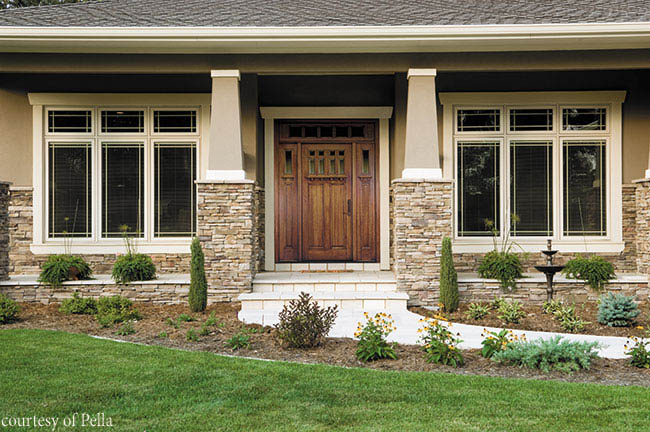 If your climate is amenable to a wood door, it can serve as a personalized gateway to your home. "The unique part about having a real wood door is that it's a completely unique door made of organic and living material," explains Snyder. "And the customization options are quite extensive."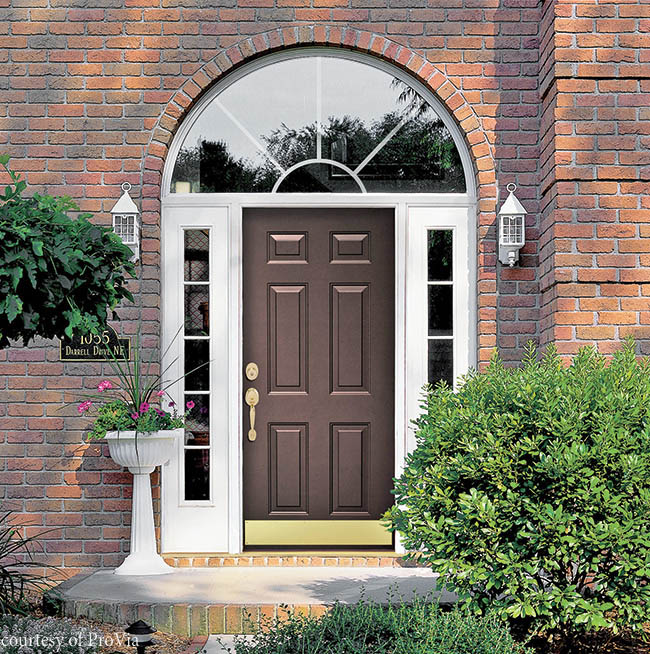 If you're looking to fulfill utility-type needs, steel doors are renowned for their security and durability. As examples, steel works well for doors that lead from the garage to the exterior yard or the garage to a mudroom.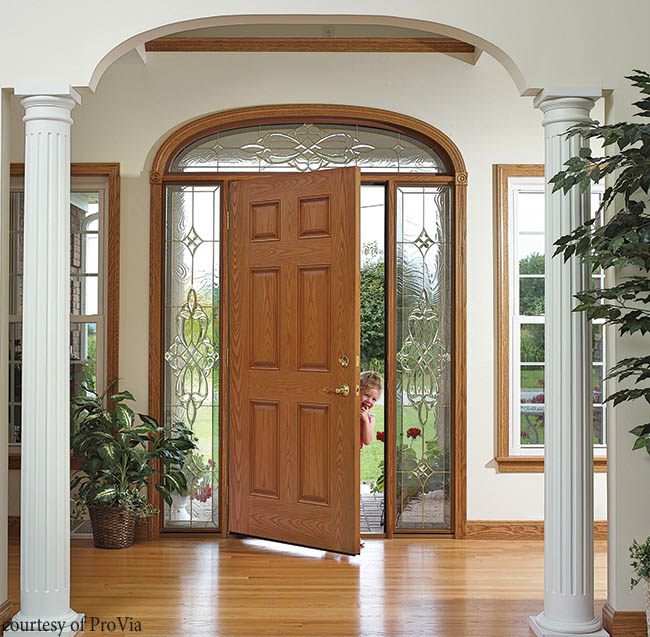 After choosing your material, you'll need to think through a number of other factors. Talk with an expert about whether you need to replace the entire frame, including sidelites and transoms, as well as whether you want to incorporate a new design into your home as part of the replacement process. Billingsley recommends bringing pictures and dimensions when you shop, as well as a specific budget, so that your door manufacturer can guide you.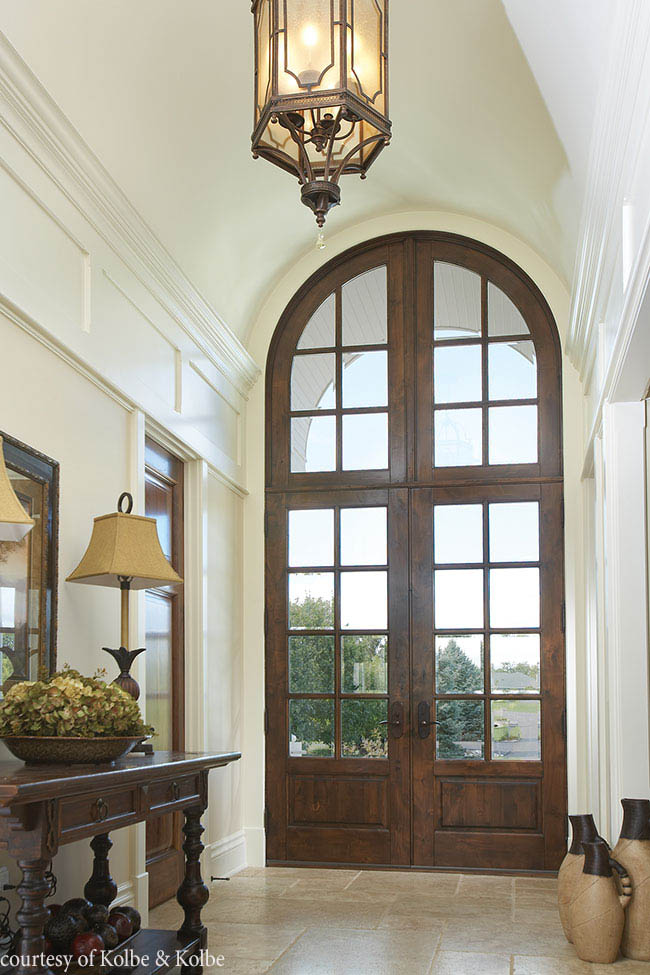 "What direction does your house face? And what does the front of your house look like already?" Billingsley asks. "You don't want to introduce a shape that already exists or clash with your other shapes."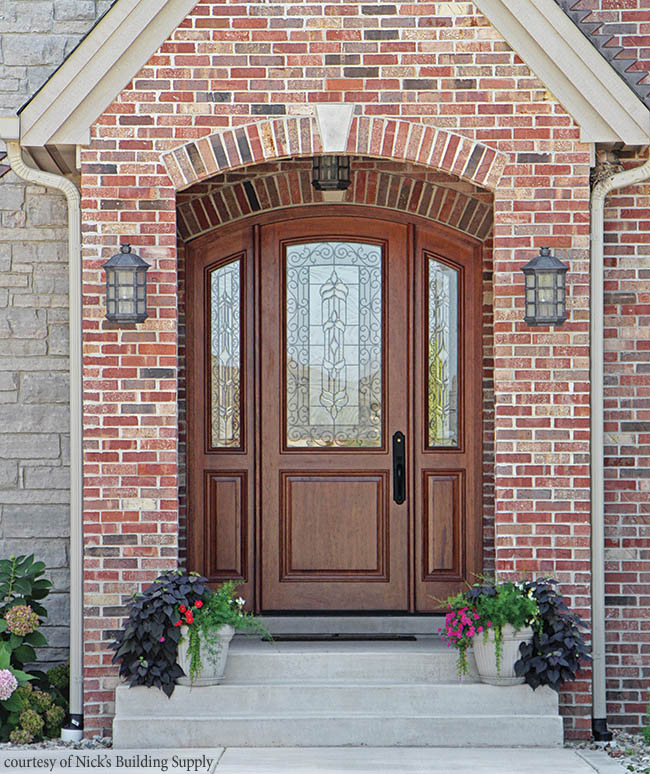 Fielding also suggests that homeowners think about their own personal habits. "Do you want to refinish or repaint a door because certain materials require upkeep and maintenance?" he adds.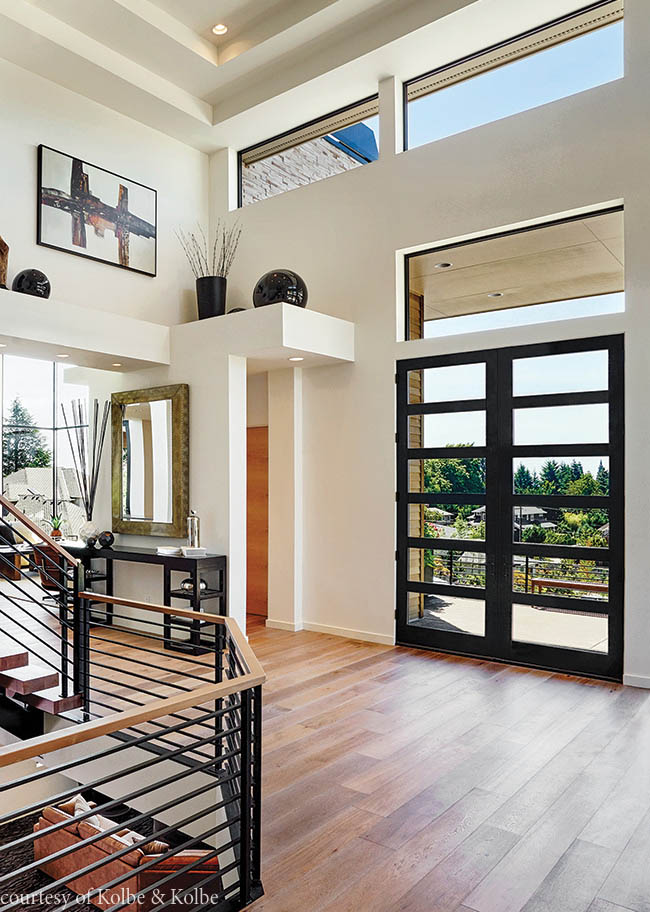 After you choose the type of door you want and determine whether to paint or stain it, you'll need to think about caming and glass. The former is the metal banding that joins panels of glass together, and comes in varying colors such as black, pewter and satin nickel.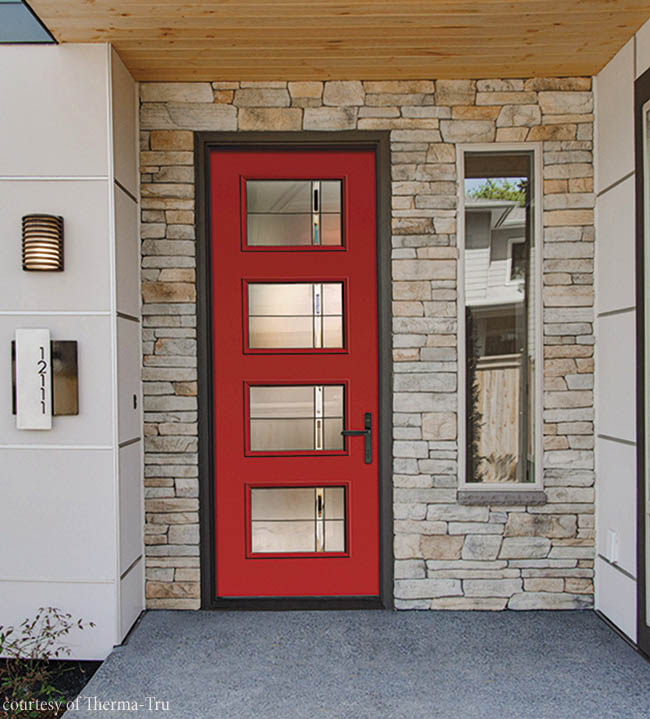 For its part, decorative glass incorporates both style and function, says Billingsley. Different styles work together artistically and glass also has privacy ratings that represent how much light infiltrates it.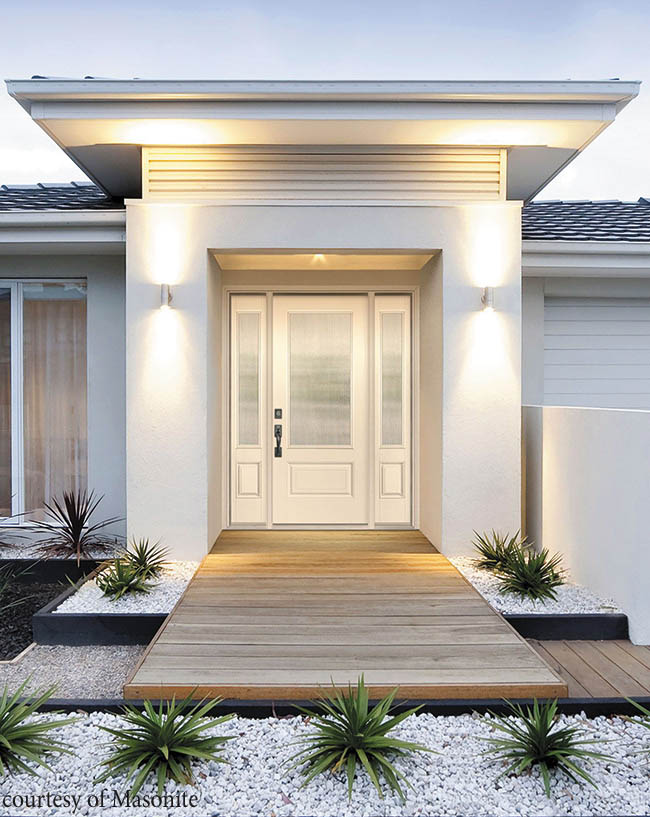 "We are seeing a lot of homeowners request obscure or textured glass in their entry systems," says Fielding. "This allows for that great natural light to come through, along with the added benefit of privacy."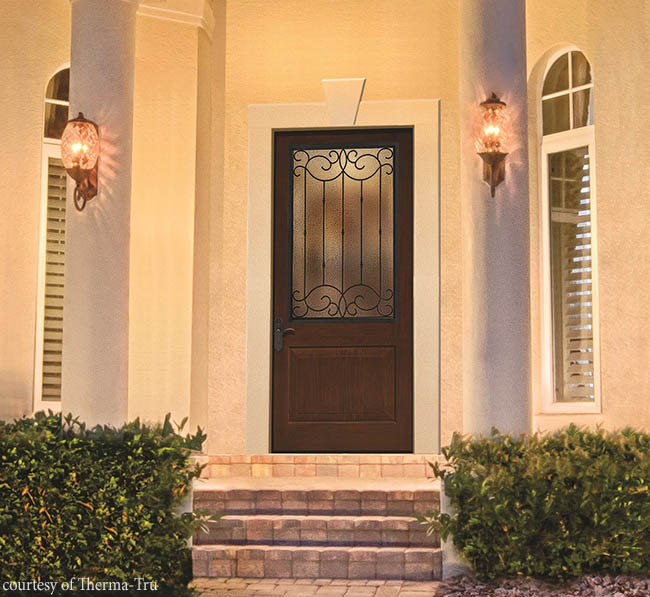 Luckily, most manufacturers have experts who can assist with everything from picking out caming, to coordinating the exterior sconces with your door replacement, to choose the correct door jam.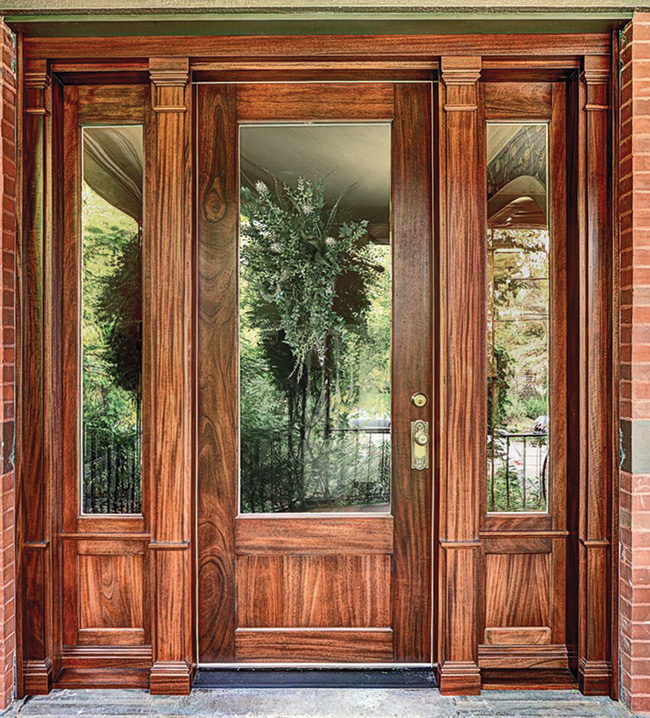 And those decisions will continue to evolve as the industry evolves. "You never know what's coming next with entry doors," says Snyder. "Mixed materials, texturing and finishing are becoming other ways to differentiate. And as color trends continue to morph, we are keeping up with them and with what the finishing experts have to say."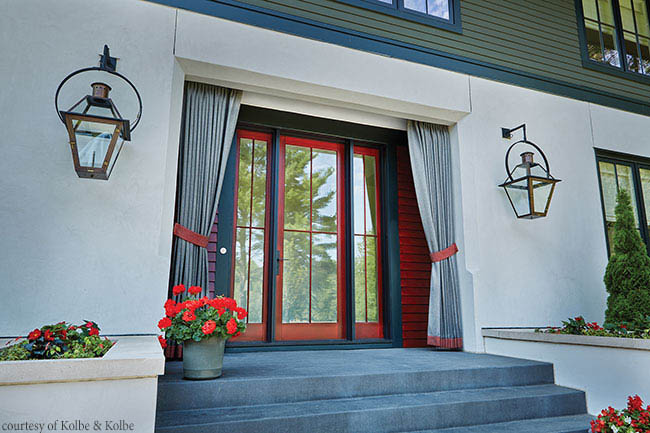 This is welcome news, as there is no second chance to make a first impression. Your entry door is your first impression.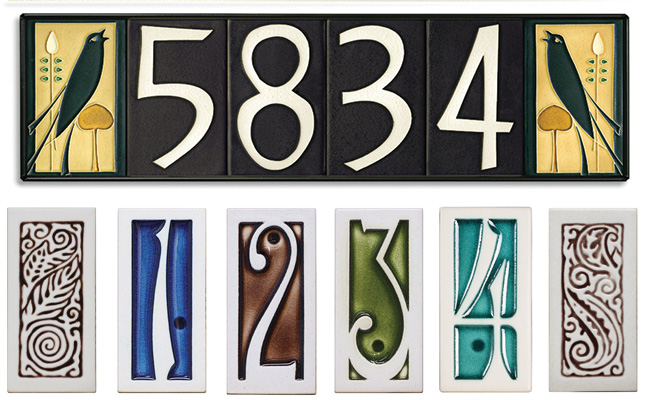 Looking to go that extra mile? Something as simple as adding new house address numbers can take your home's curb appeal to the next level. While standard metal numbers or engraved concrete plaques can sufficiently do the job, why not complement that beautiful new door with something equally unique? Tile manufacturers such as Motawi Tileworks (top) and Rookwood Pottery (bottom) are producing colorful tile numbers that can add charm and character to your front entry.
Resources: Macik Custom Woodworking & Contracting; McCabe Lumber; Pro Exterior-APCO; Kolbe & Kolbe; Masonite; Motawi Tileworks; Nick's Building Supply; Pella; ProVia; Therma-Tru; Rookwood Pottery; Dayton Door Sales, Inc.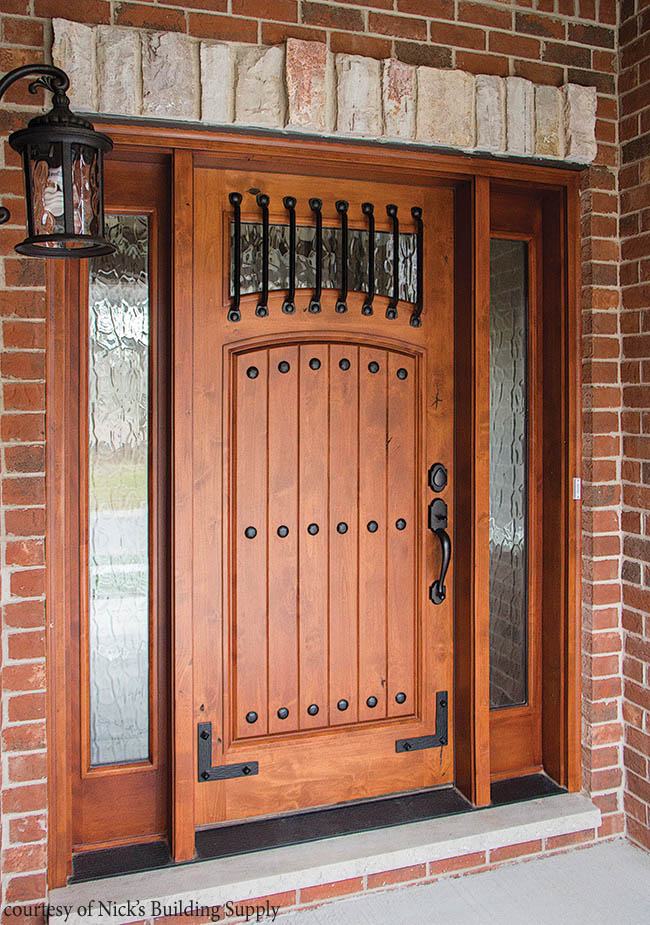 As you shop for an enhanced entryway, you'll find that choosing the appropriate material is your most critical decision. The material you choose affects not only aesthetics but also longevity and safety—not to mention price.