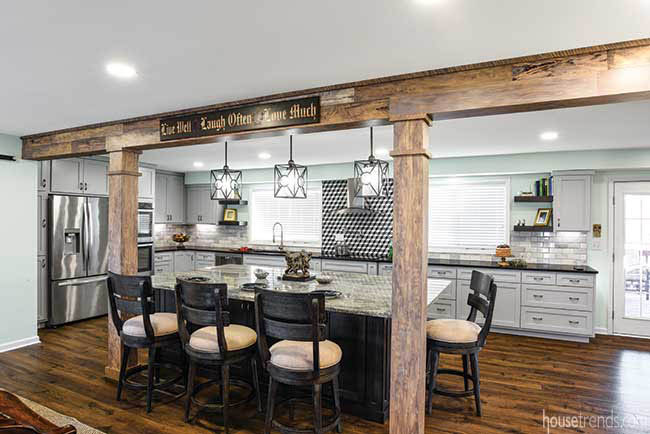 After living for 17 years in their Centerville home, Teri and Dr. Michael Halasz had to make a decision. Would it be more worthwhile to move in search of their dream home, or could they transform their current property into a space they couldn't have imagined?
Their house search, however, made them realize that the homes fitting their specifications extended far beyond their budget. Downsizing wasn't an option either, as these soon-to-be empty nesters wanted to maintain a space where their children could eventually visit with their own families, and where they could continue to entertain throughout the years. As part of their Jewish heritage, hosting large family gatherings was an important tradition they intended to keep. "It's not unusual for us to have over anywhere from 20 to 30 people at any given time, whether it's for a family dinner or parties," says Mike.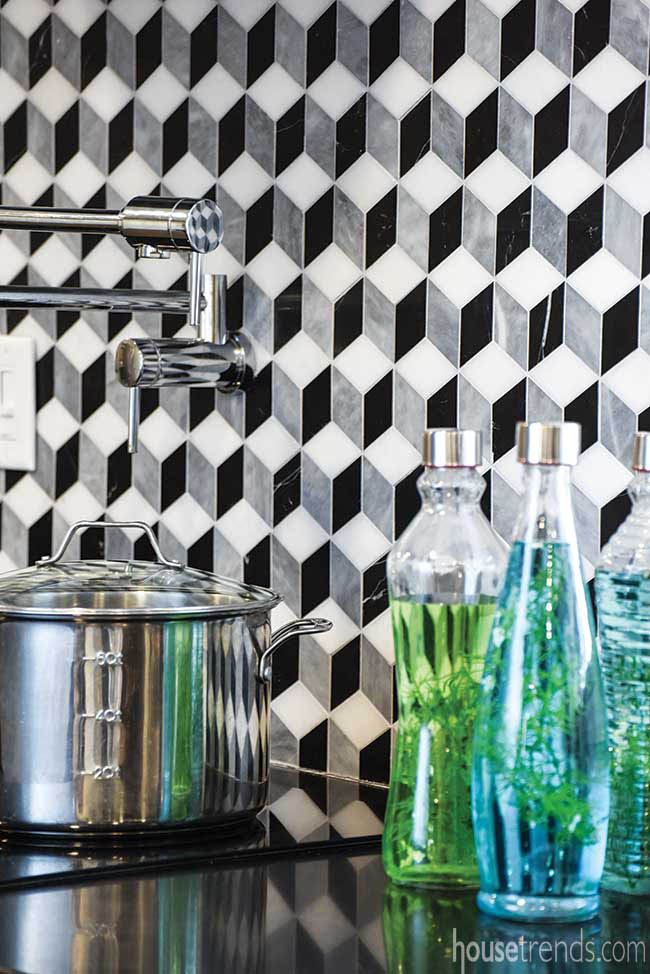 Bringing a vision to life
After Mike and Teri made the decision to stay, their desire to remodel their kitchen and dining area would lead them to reach out to Jane Barlow, of JB Adaptations, after seeing the results of her previous work in a neighbor's home. Barlow sat down with Teri and Mike and began working with them to develop a plan that would capture their vision and make it a reality.
"We really just clicked with Jane," says Teri. "Remodeling is such an overwhelming process; you have so many options, and it was really nice to have somebody talk to you, get your ideas, and then help you narrow it down. She wanted to know how we cooked; the kinds of things we made; how much entertaining we did?"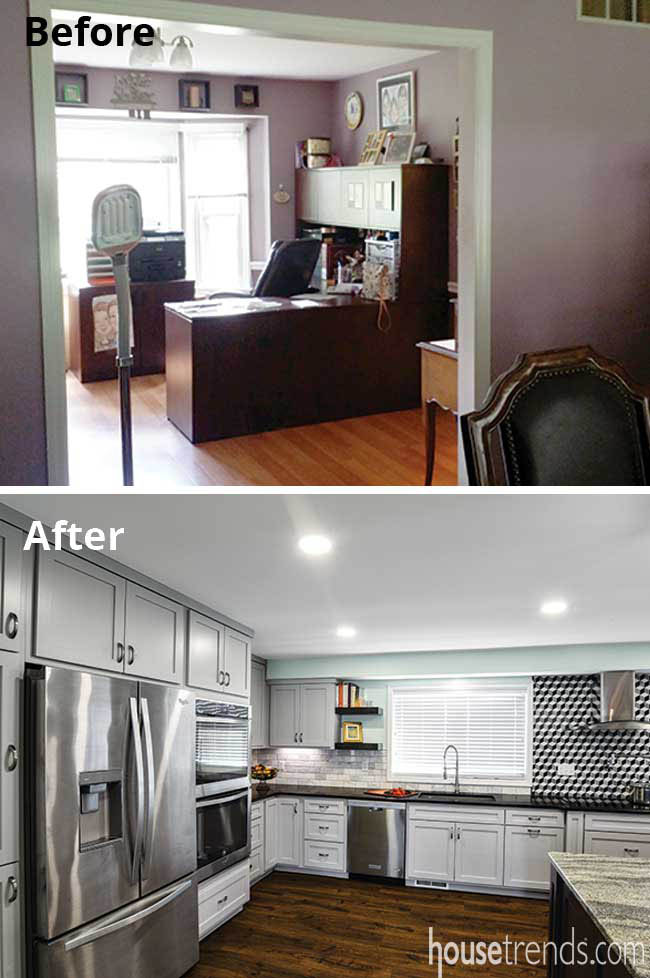 It became apparent they would need to transform the tightly separated kitchen and dining room areas into a much more open floor plan. "Right away, it was evident that the biggest challenge was how to create extra space," says Barlow. "Plus they didn't have enough storage where they were. It was very tight and enclosed. There was no openness about any of it."
Barlow's plan began with knocking down the load bearing wall, which separated the dining room from the kitchen, as well as a wall between the kitchen and an adjoining office. In addition, a partial opening between the kitchen and family room areas was expanded to complete the transformation.
To help solve the storage issue, a pantry, enclosed by a rustic barn door was built into a dining room wall, and a large 10×5-foot island was installed in the kitchen. Though the island seats up to five around its outer perimeter, it offers significant preparation and storage space in the areas facing the sink, ovens and refrigerator.
"What I found with the big island is that I have much more space," says Teri. "I can still use the outside rim as a buffet area and still have plenty of space to prepare."
The Halasz's open floor plan also means that both hosts and guests can remain fully connected in the same space whether they are working in the kitchen, at the island, or sitting at the family's massive dining room table.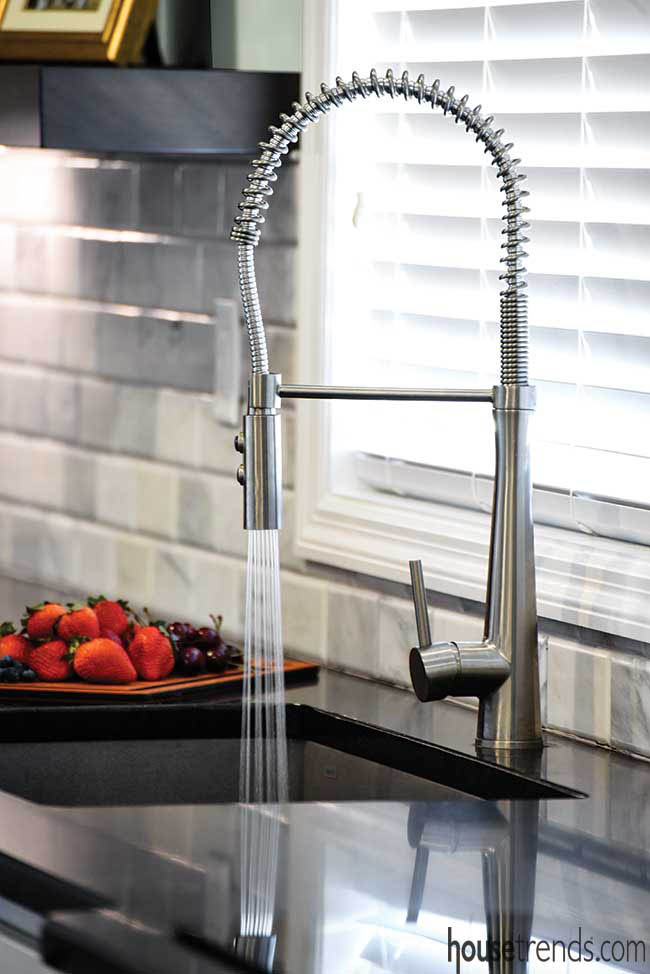 "The improved flow has allowed them to move the people into the family room and out the adjoining patio doors," says Barlow. "It's a natural progression where they can easily move outdoors in nice weather. Before, they had a table really close to those double doors and it made it tough to go outside."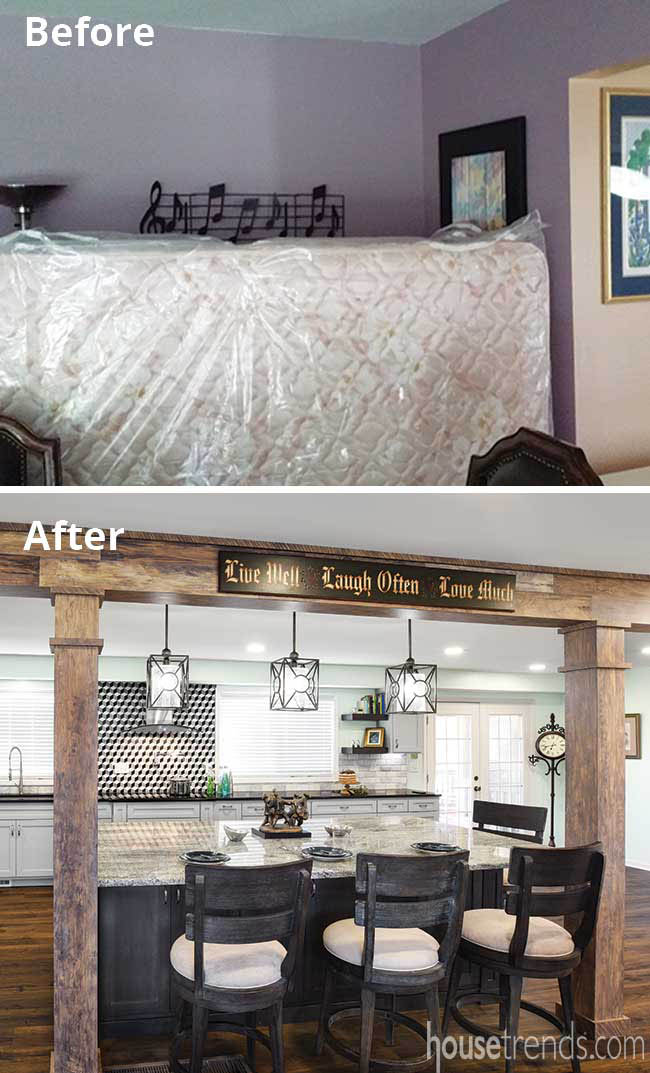 A rustic, modern design
The overall design is a timeless combination of modern with various rustic natural wood accents from the Pergo Outlast+ flooring to the hand-painted faux wood beam, which divides the kitchen from the dining room.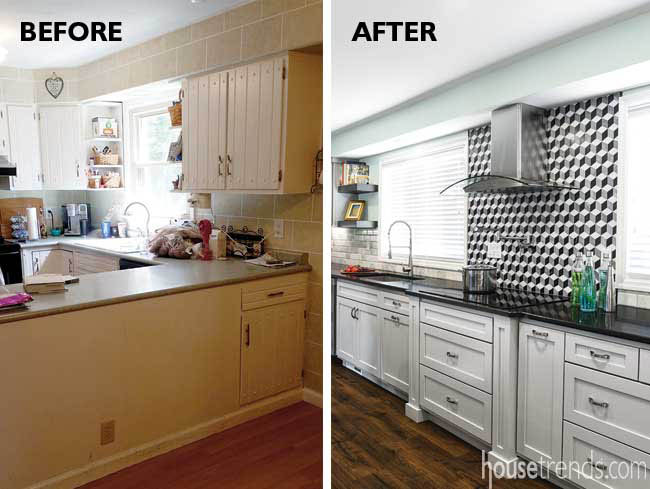 The kitchen's focal point is its cooktop, which is accentuated by a sleek stainless hood and a unique geometric shaped black and white tile backsplash and handy pot-filling spigot. Carrara marble subway tile with beautiful veining was used to create the main backsplash, providing a perfect contrast to light gray cabinetry and stainless steel appliances. Stunning pendant lights float above the granite-topped island, while dimmer controlled recessed lighting is placed throughout the dining room and kitchen.
"The biggest thing we like is the amount of space, and how we can ergonomically function together while we have family and friends in our home," says Mike.
Resources: Contractor: Tom Weir, RAM Restoration; Kitchen designers: Jane Barlow, JB Adaptations; Aaron Barhorst, Barhorst Woodworks, LLC; Tile installation: Mike Winkler; Pendant lights: Uttermost Arbela, JB Adaptations; Painting: Sherwin-Williams, RAM Restoration; Bar stools: Watson's; Flooring: Pergo Outlast+ Vintage Tobacco Oak, Home Depot; Cabinetry and barn door: Barhorst Woodworks, LLC; Granite countertops: Mont Granite; Window treatments: Blinds Plus; Backsplash: Hampton Carrara marble subway tile, The Tile Shop; Cooktop backsplash: Euclid Mosaic Paperwhite, Louisville Tile; Sink: Blanco Diamond; Faucets: Leland Delta; Appliances: KitchenAid dishwasher; GE cooktop; Whirlpool refrigerator and oven; Frigidaire drink refrigerator; Hardware: Brainerd; Faux finishing: Murals by Char