Nadine Middendorf has touched, remodeled or added onto almost every square inch of the Montgomery house she has lived in for 22 years. However, the large, four bedroom, Zicka-built dwelling was lacking in one important place: a walk-in closet that could elegantly display designer purses, shoes, boots, clothing and jewelry.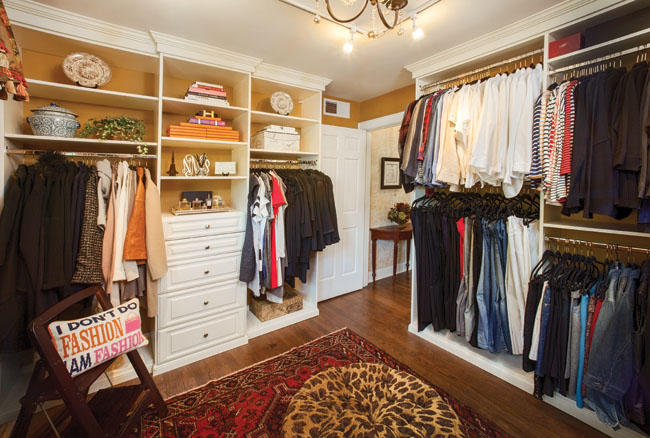 The idea of turning the small, 11×10-foot bedroom adjacent to the master bedroom into a walk-in closet first started tickling Nadine's brain years ago, but she couldn't shake it. "I kept thinking this would be great because the room was so small and I only used it for storage," she says.
Because the concept of the room reconfiguration would not go away, Nadine turned to her friend, interior decorator Ann Hoffman of Hoffman & Albers Interiors.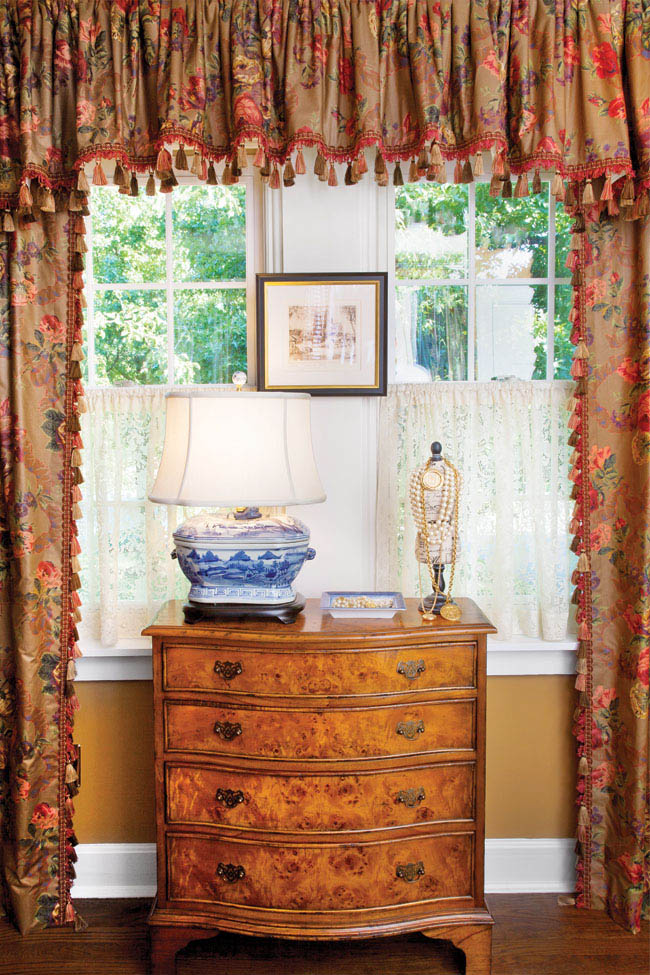 Nadine was a fine antiques dealer for years, so she has a good eye for what she wants and what works in her home. She likes to decorate and envisioned using her favorite fabrics and colors to make the closet her own blend of style. "When I have an idea, I have something that I start with, like the Ralph Lauren fabric with bronze and browns I used for the window treatment." She admits that transforming the room was a bit of a challenge because of the existing window, but it was easily dressed up by the custom-made drapes she chose to soften the space.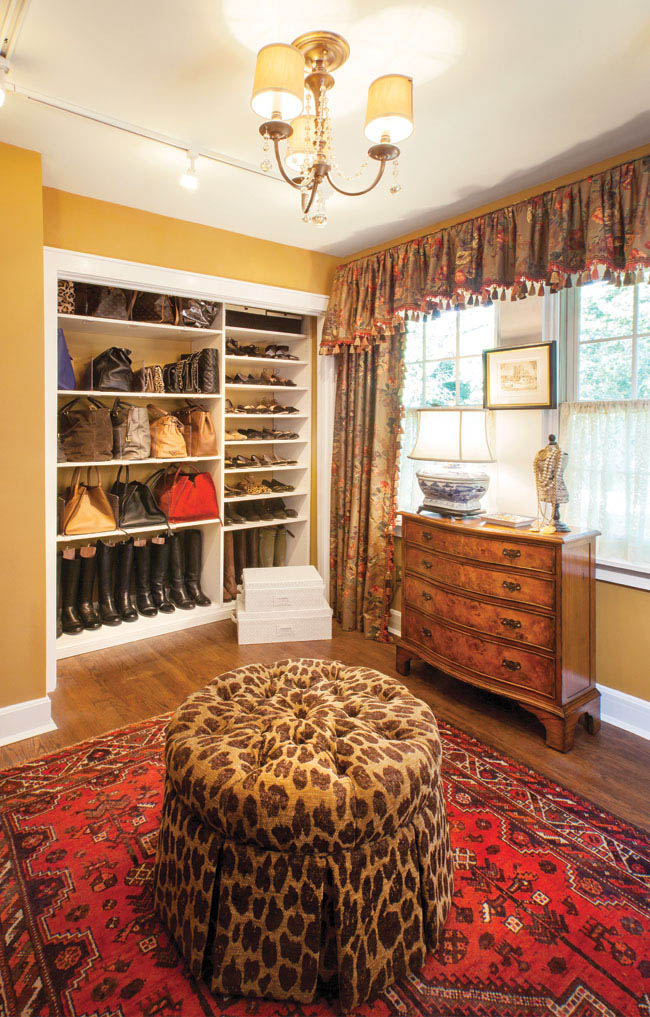 "I wanted the closet to look like the other rooms in my house, so I kept the hardwood floors, but added an antique Oriental rug in the space," says Nadine.  Ann helped narrow down the best size for the ottoman that serves as a cushy place to sit while choosing outfits or simply slipping on a pair of shoes. It was Nadine who broke out of her traditional tastes and requested a leopard print fabric for the ottoman. "There is always room for an animal print," laughs Ann.
The ladies teamed up to find the burly wood chest that sits under the window. The chest needed to be shallow enough to not swallow up precious floor space, but large enough to hold Nadine's jewelry collection.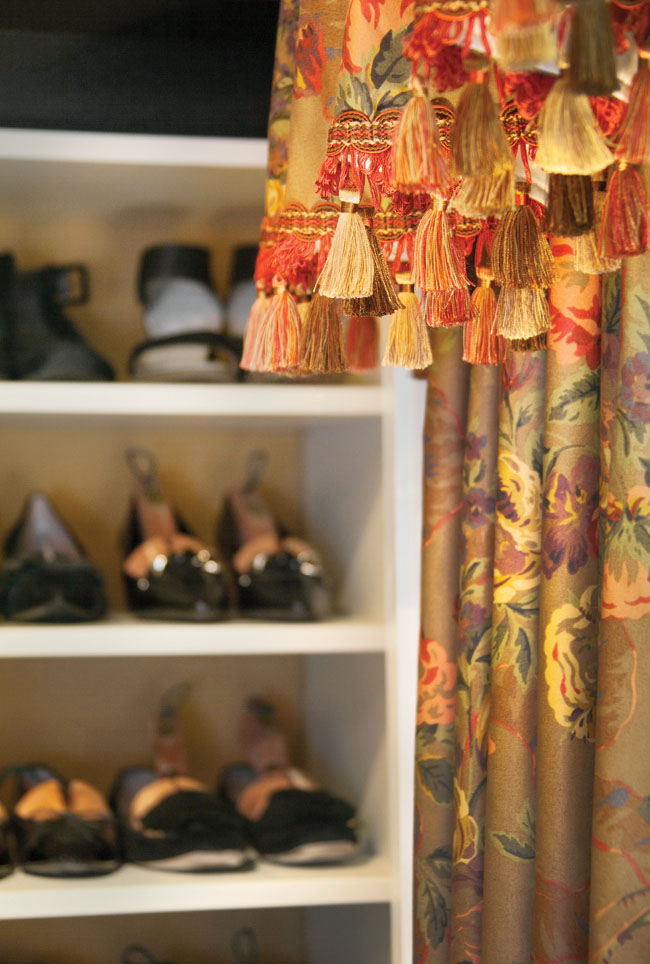 "Nadine has incredible taste," summarizes Ann. "This closet became a room, much like a salon or dressing boutique. It's a magnificent girl's room with a wonderful chandelier, color palette and beautiful accessories."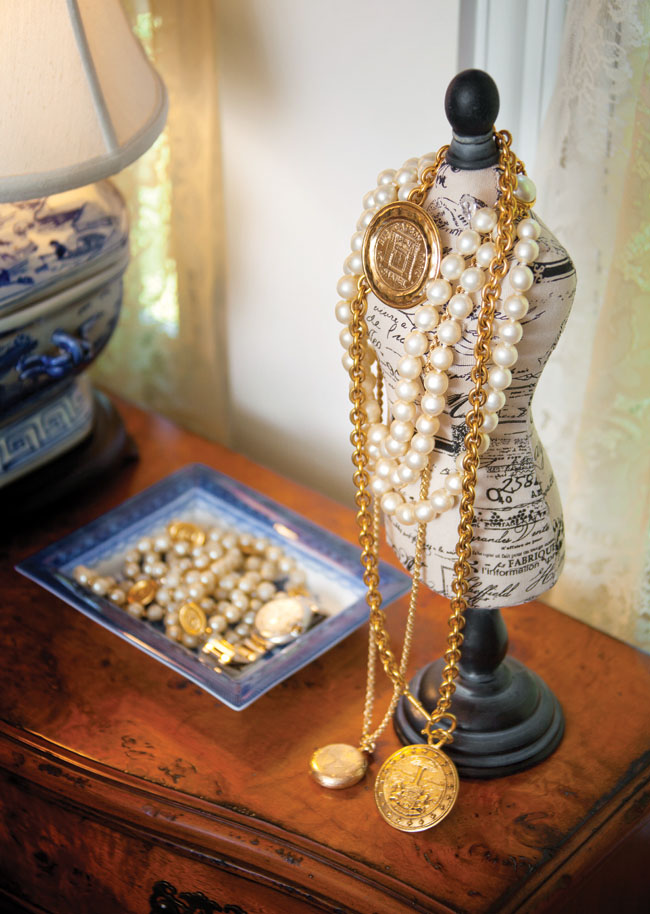 Ironically, now that Nadine has her dream closet, she is planning on selling her house in the spring to start her next life adventure. Until then, she will definitely utilize her beautiful dressing boutique. "I've really enjoyed the closet. It helps keep me organized and take better care of my clothes. I like having my possessions on display because I love them and enjoy seeing them. They are an investment that I did not want to shove on top of a closet. This closet allows me to see each item and not forget about them," beams the happy homeowner.