After living in several different states-and even a different country-Barbara and Arthur decided to settle back down in Pittsburgh. The only problem? They couldn't find a home where they could envision themselves long-term. They wanted something where they could grow old together without running into potential troubles like steep steps. So they decided to build a home. Working with builder Frank Madia, owner of Madia Homes, they were able to create the home of their dreams.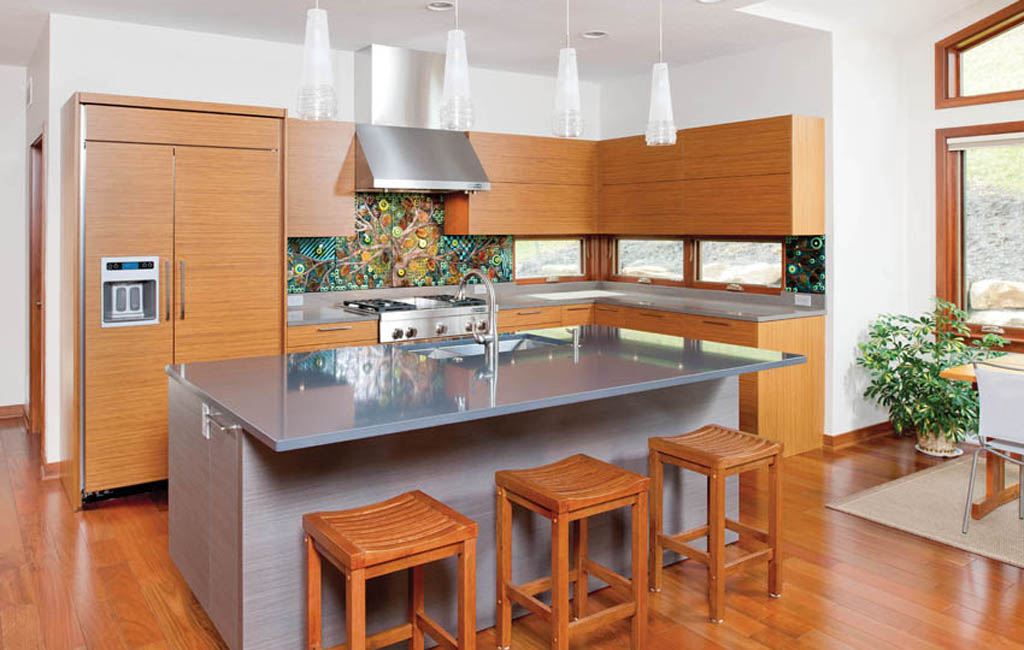 The kitchen came together after Barbara made a trip to Splash, where she met designer James Watts. "I went to Splash to select plumbing fixtures, but I started walking through their showroom and saw all of these beautiful ideas," she says.
Watts was instrumental in helping Barbara flesh out the final design for the kitchen. "She wanted the kitchen to have a sleek, contemporary edge," he says. "We have so many wonderful materials to choose from and once she explained her vision we were off and running."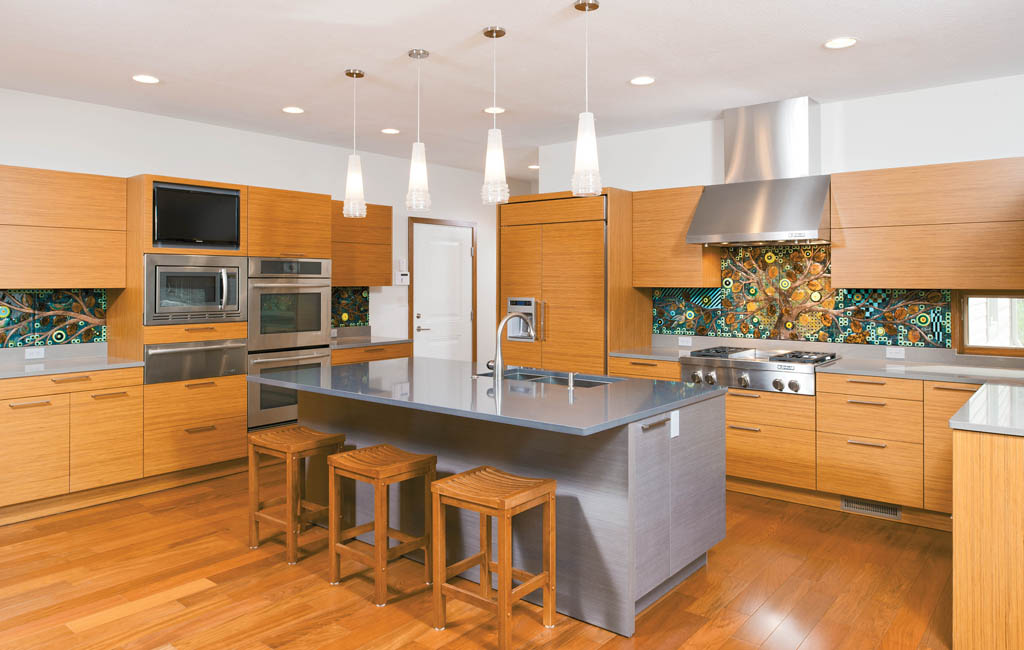 Minimalist teak veneer perimeter cabinetry topped with light gray Cambria countertops and stainless steel appliances establish the contemporary atmosphere. Barbara says the horizontal wall cabinets, which lift up, are more convenient than she could have imagined. "It's easy to put items away and nothing is ever hiding in the corners," she adds.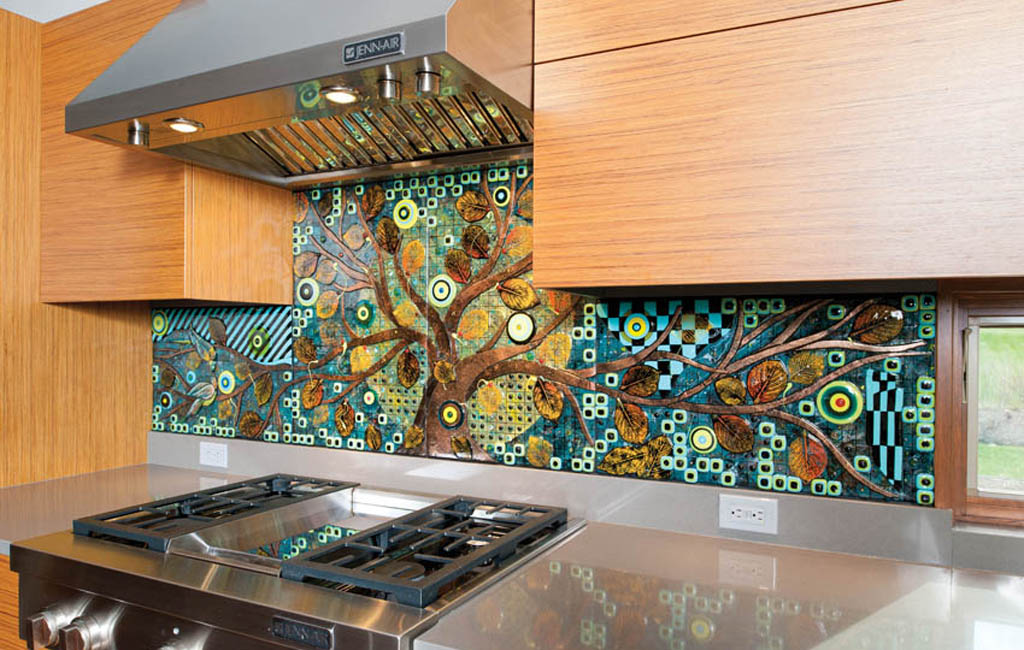 The gray island provides the perfect amount of contrast to the brown tones of the perimeter cabinets and hardwood floors. But it is the backsplash that provides the pop of color in the kitchen. Created by local artist Jeffrey Phelps, the one-of-a-kind glass backsplash is called Tree of Life Moonlight Sonata and incorporates a tree and moon, along with six birds, which represent Arthur, Barbara, their two sons and daughters-in-law. "He did a phenomenal job," Barbara says. "I told him I wanted something elaborate and he didn't disappoint. It is truly a piece of art."
Three small windows were also incorporated into the design of the backsplash, offering enticing views of the back yard. Watts suggested adding the elegant white pendant lights above the island, which stand out but don't compete with the bold colors of the backsplash.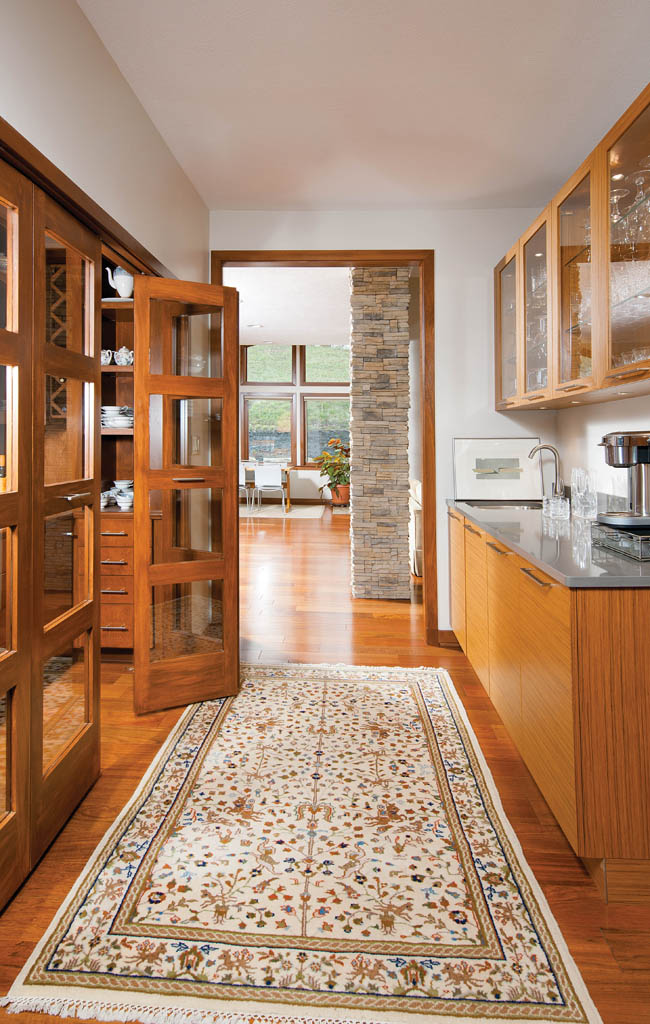 Barbara is also proud of the nearby butler's pantry, which holds all of her fine china as well as her dining table leaves and other entertaining and serving pieces. "When we were designing the house, I tried to think of ways to eliminate furniture. The butler's pantry has allowed me to do away with the china hutch in the dining room," she says.