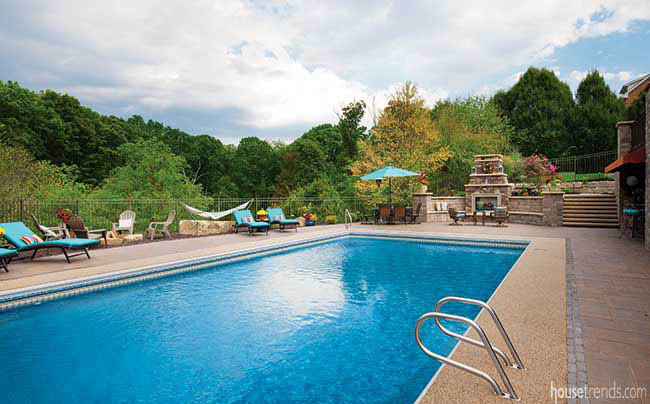 When Rich and Jackie Donato moved into their custom-built home in 2001, they were a family of two with a back yard that left much to be desired. "When we first bought the lot, it completely dropped off," Jackie remembers of the spot where her brother built their home. "Fortunately, it settled over the years."
As the lot settled, so did Rich and Jackie – adding son Richie, who is 15, and daughter Isabella, who is 14. "We've had everything in our back yard over the years from a play set to a garden, but we always wanted something more … we just didn't know if we had the space," Jackie says.
"We love a pool atmosphere, and we wanted to have a retreat at home."
Both Richie and Isabella are competitive swimmers, so it made sense that the family started their outdoor renovation by installing their pool two years ago. They wanted to let the pool settle a year, which made for an interesting summer.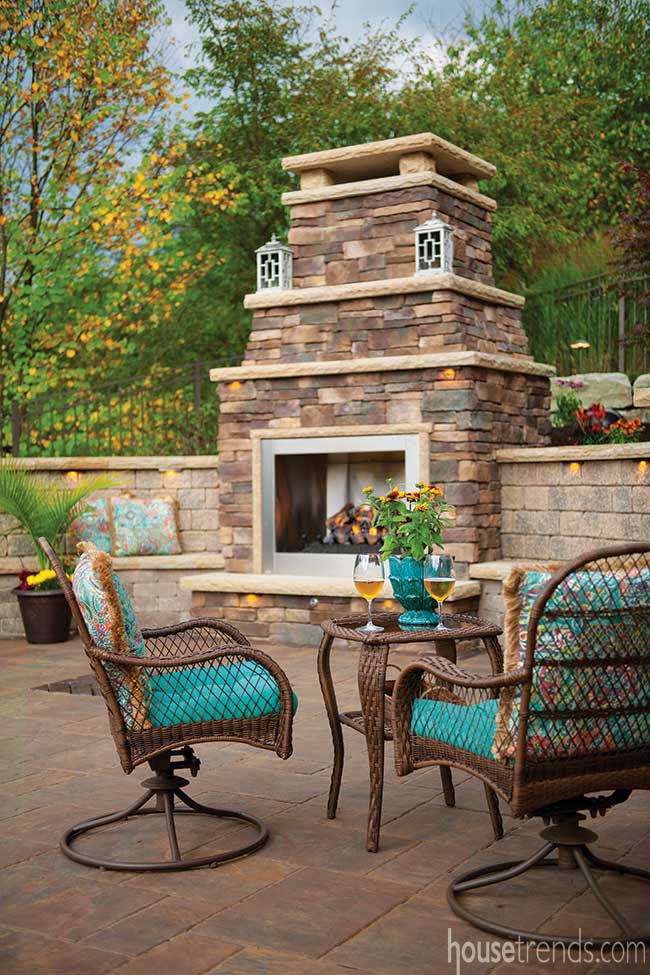 Brown back yard
While the family waited for their land to settle, they had to get creative to make the pool functional in a yard of dirt.
The homeowners put brown indoor/outdoor carpeting all over the back yard. "It was really funny, but it worked. It got us through – and allowed us to use the pool that summer. From a distance, it kind of looked like sand," Jackie says. "People would walk into the back yard with this puzzled look on their face like, 'Did they haul sand into their back yard?' It was definitely a summer we won't forget."
Jackie says one family member loved the outdoor carpeting—their Golden Retriever—Louie. "He would come out and lay on the carpet and thought he was in the living room."
After the summer of sand, the Donatos were ready to complete their outdoor oasis. They turned to the creative mind of Jawn Funyak of Funyak Landscapes.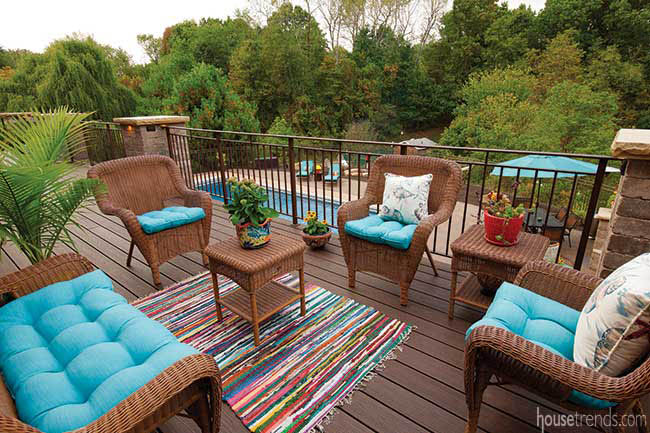 Dear Jawn
Funyak vividly remembers his first trip to the Donatos' home. "We showed up and there was just a big rectangular pool in their back yard with their original deck … and a lot of mud."
But Funyak wasn't intimidated. Instead he was excited to work with his crew to create the family's dream destination right off their own home. "The overall concept included year-round amenities like a fireplace, full-functioning outdoor kitchen and a fire pit that the family can use in the fall," Funyak explains of his clients' wish list.
Funyak's crew did everything seen in the outdoor living area – except the pool. "We're a one-stop-shop for hardscaping, decking and landscaping," he says.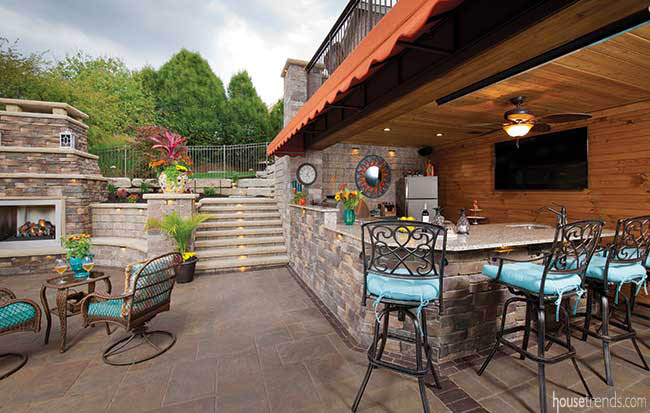 "We trusted Jawn immediately," Jackie explains. "He gave us a sense of comfort, and we loved his ideas.
"We wanted a place we could all be together as a family," she adds. "Every night from spring until fall, we have dinner outside."
While spring has been a little cantankerous this year, the Donatos are trying to be patient. "We have heaters under the deck to extend our seasons, and Jawn installed a system, so we can be outside in a rainstorm and not get wet."
Funyak took a low-maintenance approach, using Trex composite decking with the Trex RainEscape system. "We install the RainEscape while building the deck to give some weather-proofing as the water drains through funnels," Funyak explains. "It creates a completely dry space underneath, which allowed us to do a tongue and groove, western red cedar on the ceiling of the lower level." The system also protects the fans, lighting, television and heaters installed on the lower level of the deck.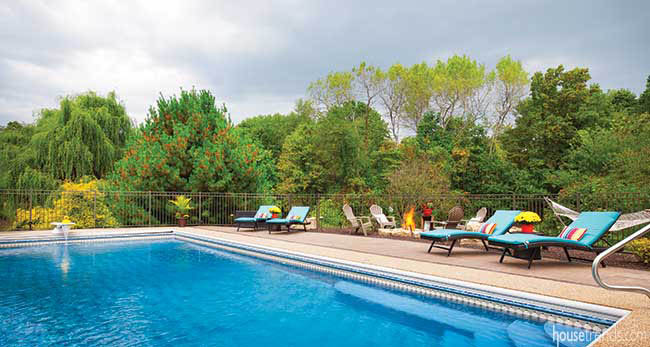 Space for everyone
"What kid doesn't like hanging out around a bonfire?" Jackie says of her teenagers. Instead of being located off to the side of the yard, the fire pit is an extension of the pool deck in an area of mulch. "That seems to be where the kids hang out most of the time." Their children enjoy having parties with their friends, and the family is happy to have them all at their home.
"We entertain quite a bit. We love having everyone here," Jackie says. "With our circle of friends and family, there are kids of all ages, and everyone gets along really well."
The adults tend to congregate around the bar in the kitchen area. "We wanted it to feel like our vacation home, so everything we would have inside, we have outside," Jackie says of the kitchen that includes an icemaker, cooktop, refrigerator and sink. "The only thing we don't have is an oven, so we cook everything on the grill, and we're still considering putting a smoker in."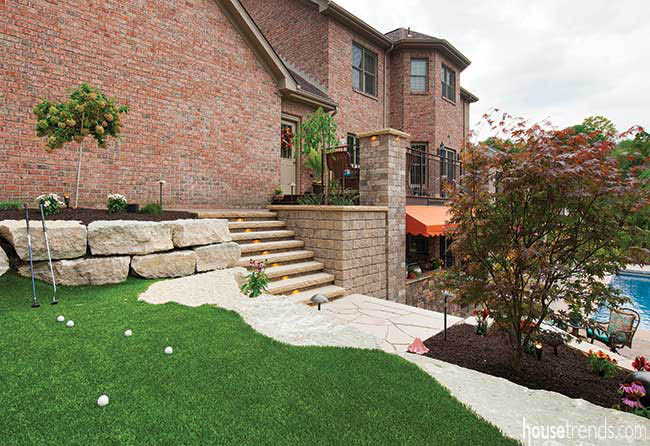 Even Louie has his own area, thanks to Funyak. Right off the mudroom of the home, before you walk down the stairs to the outdoor kitchen, is a K-9 area where Louie can use the facilities in as maintenance-free a way as possible.
"You can just hose it down," Jackie describes. "I don't know how he knows, but that's where he goes to the bathroom."
"Artificial turf is becoming more popular," Funyak says. "It doesn't get muddy, you don't have to mow and it's great for dogs. We install a lot of these for our clients as putting greens or areas for cornhole and bocce ball." The Donatos had Funyak install a cup in the area so they can use it as a putting green, even though they aren't huge golfers.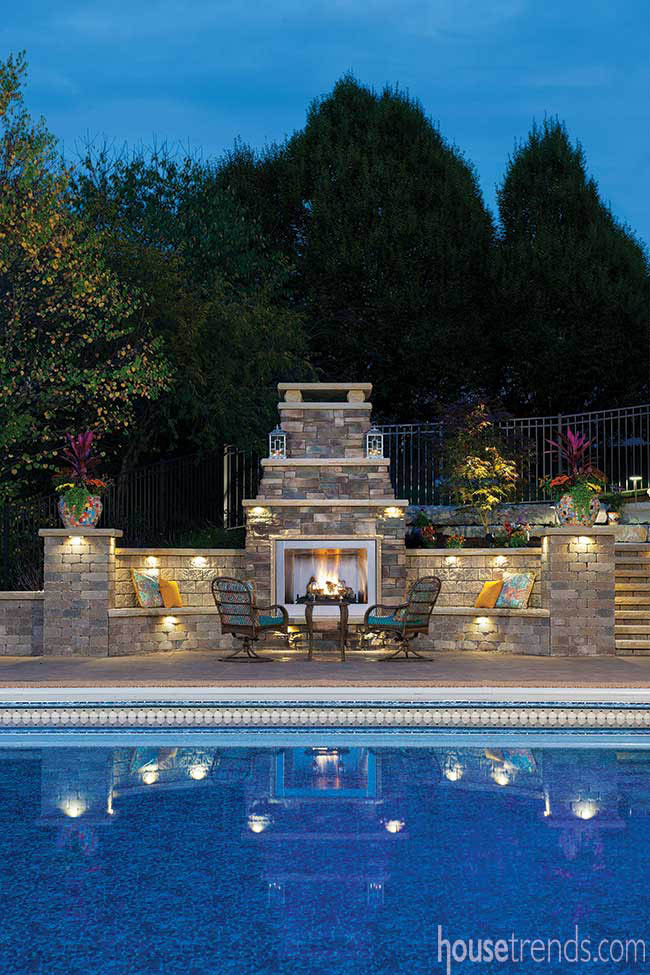 Chomping at the bit
The Donatos are excited to reinstate their family movie nights this summer. "From the pool, you can see the TV, so we'll have movie nights and watch from the pool or the lounge chairs around the fireplace.
"We are chomping at the bit to get out there," Jackie says. "We couldn't love the space any more. We got exactly what we wanted."
Resources: Contractor: Jawn Funyak, Funyak Landscapes, L.P.; Landscape designer: Josh Funyak, Funyak Landscapes, L.P.; Landscaping, deck construction, masonry, decorative stonework: Funyak Landscapes, L.P.; Landscape lighting: FX Luminaire, SiteOne Landscape Supply; Outdoor kitchen appliances: Fire Magic, The Fireplace and Patioplace; Electrical: Brown Oaks Electric; Plumbing: Levier Plumbing; Flagstone: Unilock Beacon Hill, Dragun's Landscape Supply; Pavers: Unilock Copthorne, Dragun's Landscape Supply; Natural cut sandstone: Raducz Stone Quarry; Decking: Trex Transcend and Trex RainEscape deck drainage system, Lowe's; Artificial turf: Southwest Greens of PA