Sometimes, "less is more," specifically when it relates to the development of eco-friendly landscapes. This bit of advice is exactly why the garden ideas put into place by Alice Siegel and her husband, John, created such a luscious landscape that is appealing to all.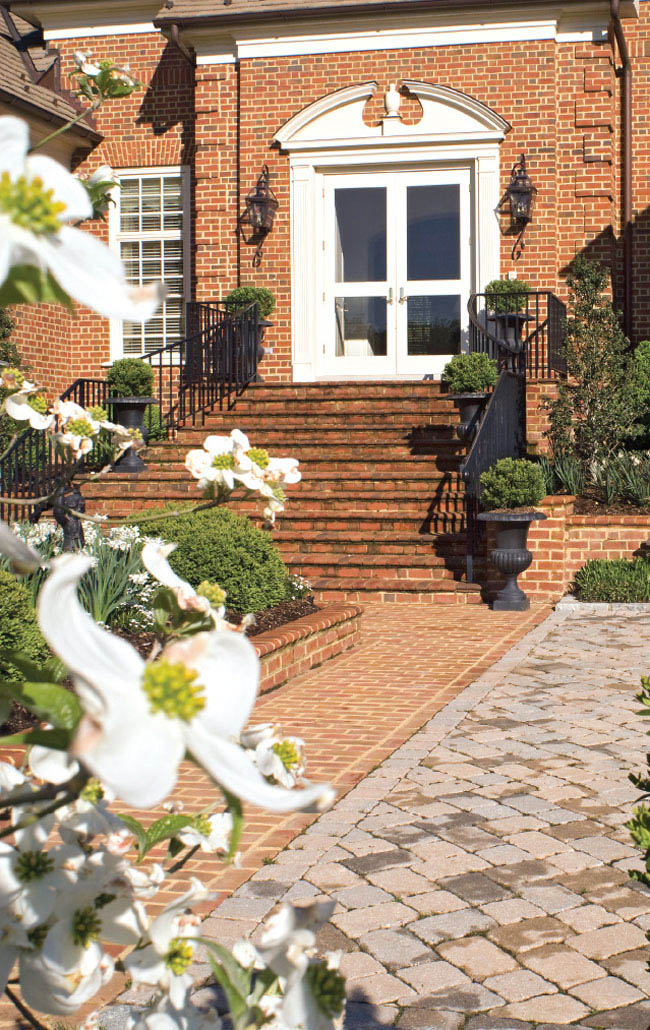 "We wanted to create a central Virginia traditional landscape that is compatible to its surrounding native environment," says Alice of the landscape grounds surrounding her home in the Lockgreen community near the James River.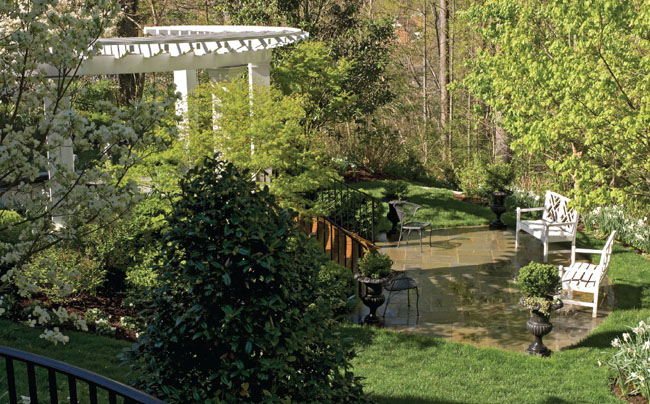 While Alice and John's goal sounds reasonable, their site contained almost insurmountable obstacles. Faced with severely rocky terrain, landscape architect David C. Gerstenmaier, president of Richmond-based Higgins & Gerstenmaier devised a plan to create layers of sloping terrain to serve as hosts to garden features and sitting areas. Presented with many challenges, the plan separates the steep slope into three terraces: one for entertaining, one for dining and one for quiet reflection in the woodland. Working with Jonathan Cranshaw of Ground Effects Landscape Construction, the blue stone terraces, water feature, brick wall and steps were installed.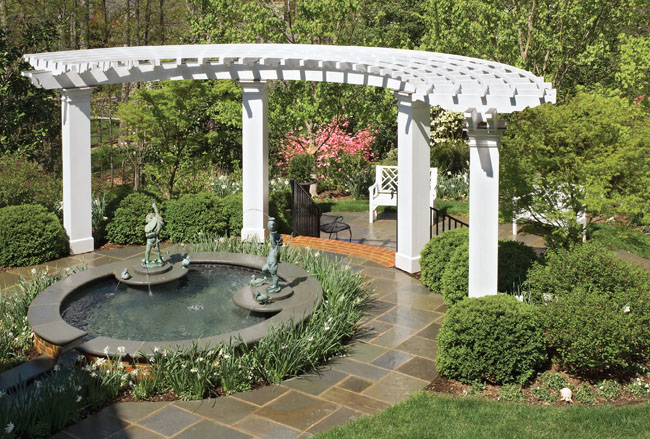 "After hundreds of truckloads of rock were removed and almost equal loads of useable soil imported, we moved forward with the project," says Alice. "I'm especially pleased with the water feature designed by Higgins & Gerstenmaier which includes a half-circle arbor. During my travels to Florence, I acquired this feature's statuary. I enjoy watching for and acquiring garden accent pieces but related to plant material, I prefer to acquire ideas and then, translate them into Virginia compatible plant material. When your goal is an eco-friendly site, you don't risk the site's environmental health by introducing foreign plant materials."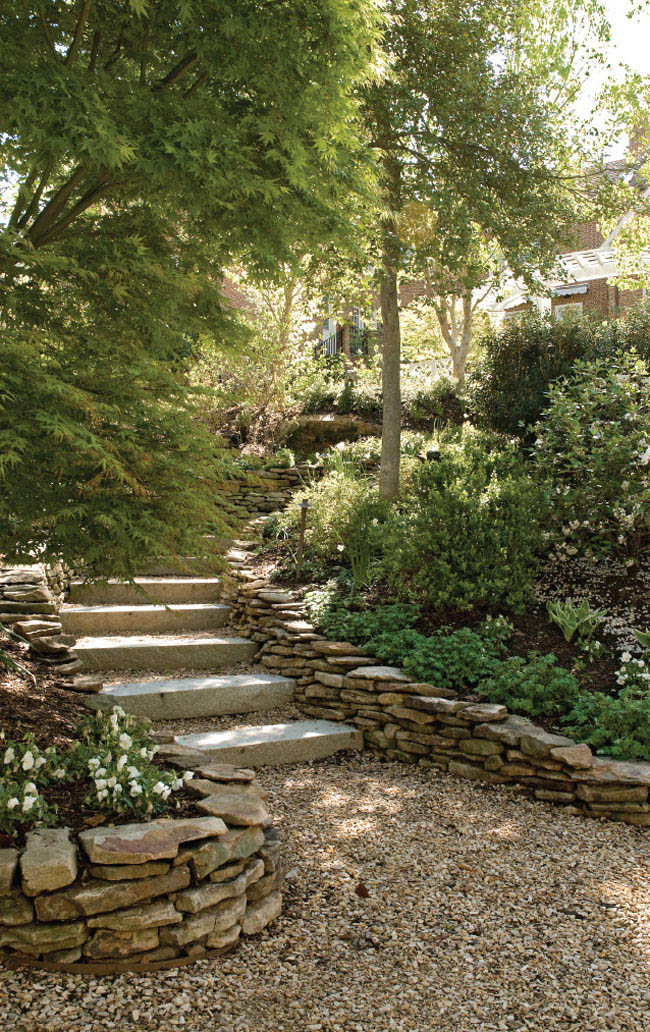 Equally challenging was the installation of pathways. To control water run-off and absorption, they used a tan colored crusher run stone, with steel edging on each side. To create the look and feel of stacked rock walls, they installed natural stone retaining walls.
As a focal point and to aid erosion control, a dry creek bed was installed. The use of stone for retention walls, steps and pathways also contributes to water movement control. Still, as Seward says, "One Japanese Snowbell died, and we went with a more wet soil tolerant plant, the Sweetbay Magnolia. It was helpful that Alice is a very experienced gardener and contributed input on plant selection and area development."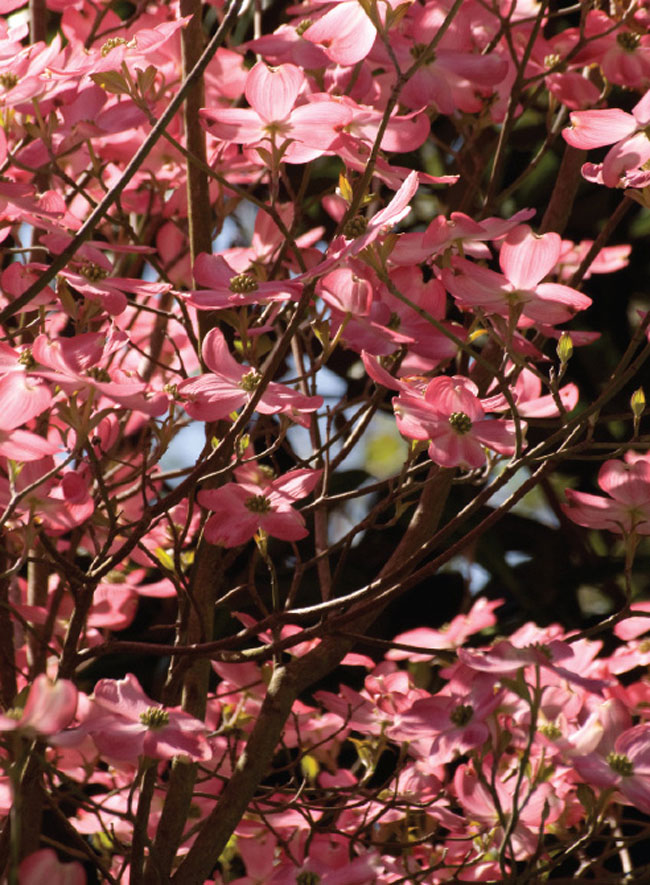 Daffodil plantings frame evergreen plantings and are installed along descending pathways. As the soil warms, so does the landscape palette. Along with a design that consists primarily of a white and green color scheme, splashes of blue-tone blooms emerge. Dwarf lavender lilac frame the garden's water feature, a blooming pink dogwood draws attention to the area's outer boundaries and lavender blooming rhododendron contrast against white blooming azaleas.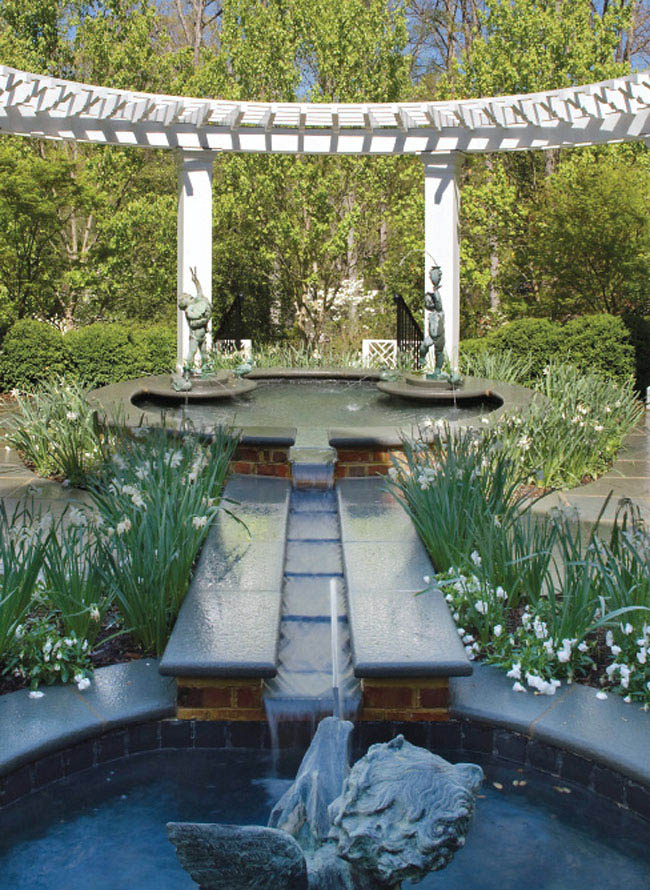 Alice says that, while the garden is a never-ending project, she loves the outcome. "I wanted to achieve a space that softens the transition from the hardscapes to the surrounding native vista, a space that complements rather than distracts. Seasonally, I work with David and Ian and come up with fresh garden ideas to renovate and renew the eco-compatibility of my garden and the results are very satisfying."