Inspired by the royal palaces of their home country, one couple's Thonotosassa residence is a love letter to both India and to each other. The husband-and-wife homeowners, who hail from Hyderabad, designed their Hillsborough County abode to usher in their 25th anniversary. The home design in the 2015-built, 8,400-square-foot, 5-bedroom, 7½-bathroom house elegantly embodies the couple's ethnic heritage and lifestyle. "We are from central-southern India and we have a very rich culture there with our temples, so we wanted to give our house that kind of a look," the husband says. "We were able to take that regal style and incorporate it into the décor here, and it ended up being exactly what we were hoping to achieve."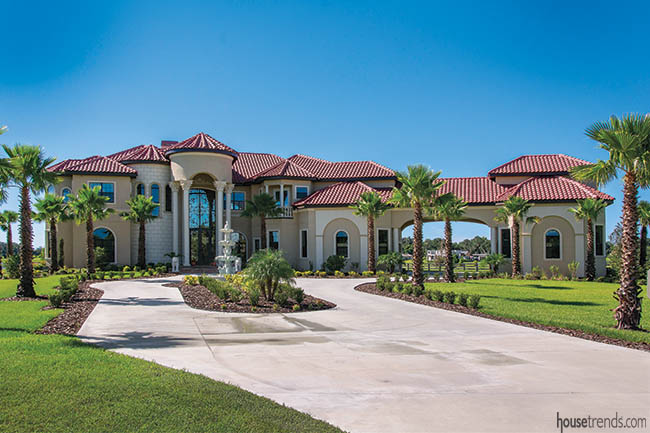 That end result was due, in part, to builder Jack Bartlett of Bartlett Custom Homes, who helped execute the couple's palatial vision. "Before you even pass through the foyer of the house, you're already oohing and ahhing," Bartlett says. "It is really spectacular."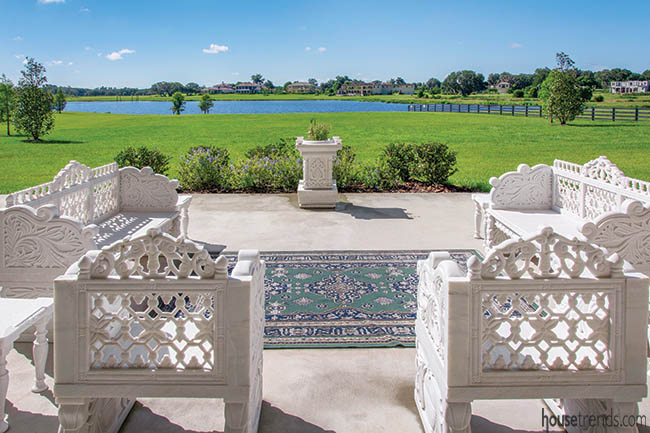 One of the initial requirements for Bartlett was to make sure the home fully embraced and showcased its lakefront setting. Every room in the house, the couple suggested, would need to have a view of the water.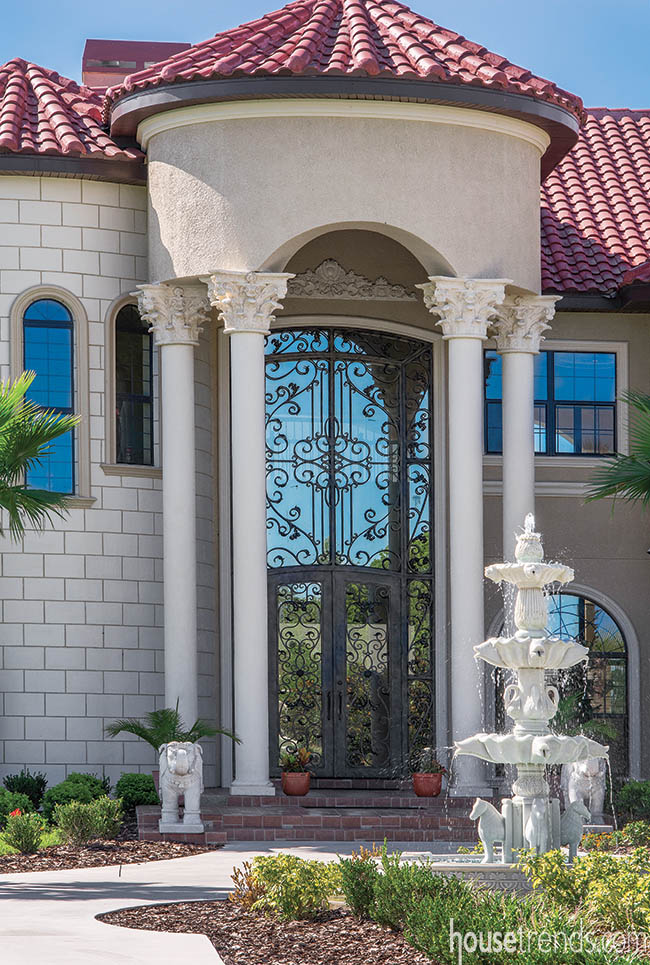 But the experience of the home would have to begin with an unforgettable first impression. So, now, when guests arrive, they encounter a 27-foot-high, 12-foot-wide front door imported from Mexico. This leads to an entryway with four marble pillars, an overhead dome, a Moroccan chandelier, and an intricate Indian-inspired floor design. The whole space epitomizes grandeur.
"When we started the project, the home just had this very regular entryway," Bartlett says. "Then, the owner brought me this picture he had of this really fancy front entrance with this unbelievable front door, and we found a way to make it work."
As the husband put it, "We wanted the wow factor as soon as you come in the front door."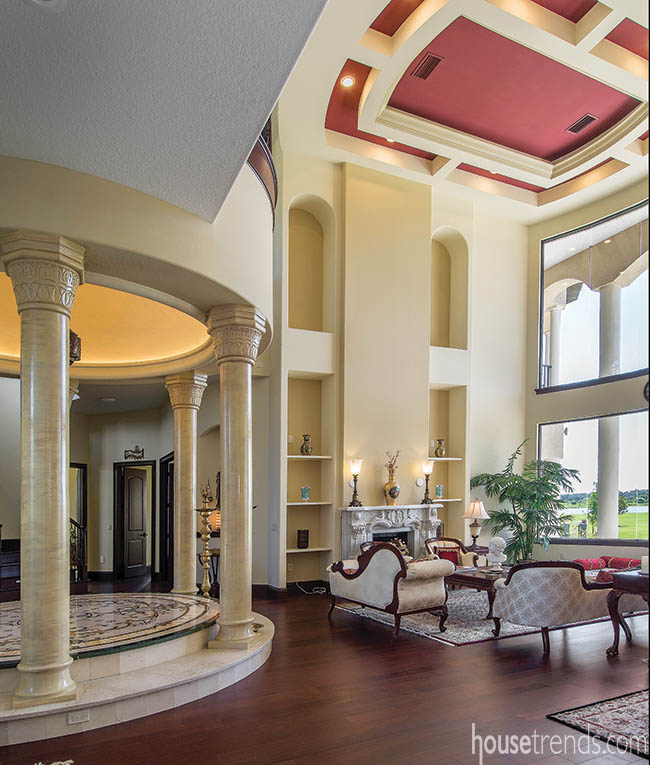 And they got it. The entrance sets the mood for a majestic walkthrough that opens to the great room and adjoining formal dining room.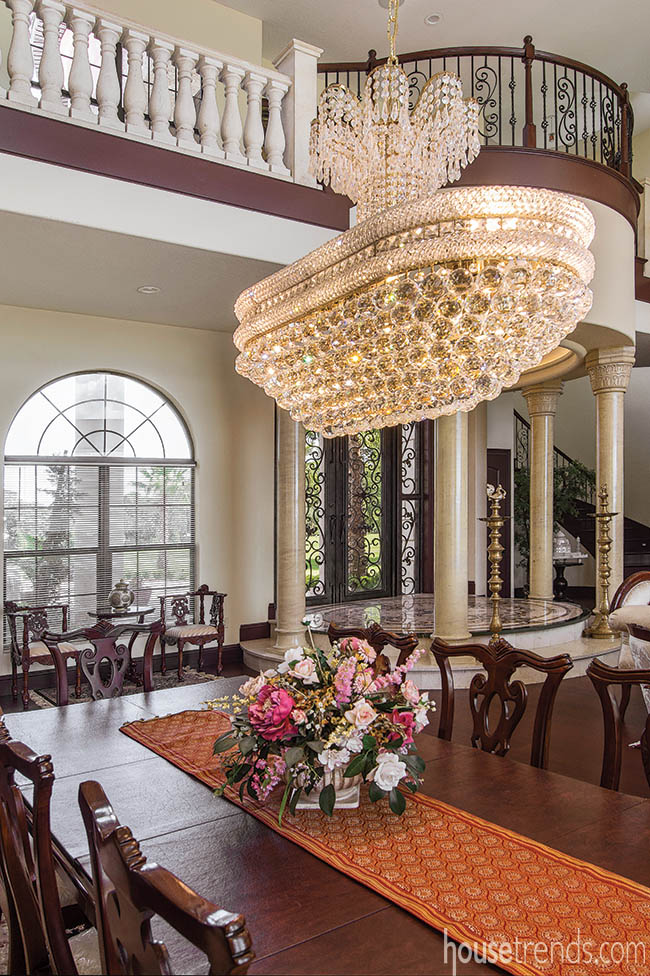 Sharing one large space, the two areas feature rich mahogany wood floors and spectacular views of the back yard. An eclectic assortment of furniture and imported light fixtures bring character and drama to the design.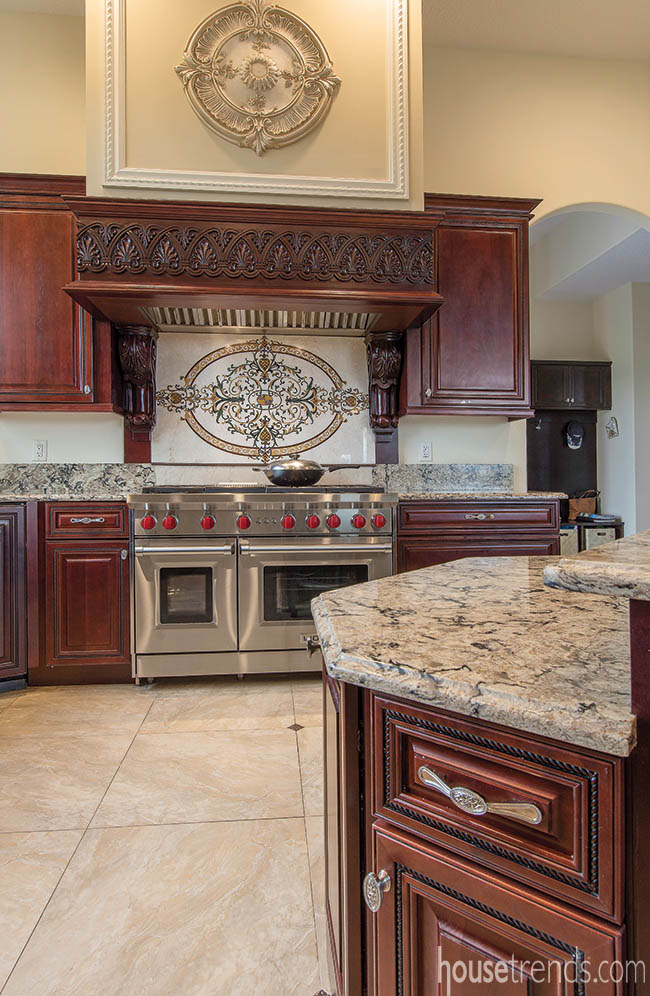 The wife, a graphic designer, was responsible for drawing up the interior layout. Creating a magnificent kitchen, for her, was paramount. "I wanted to make the kitchen look a little bit ethnic but also be useful and efficient, and have it be a really open space with lots of light," she says. "I wanted it to have a traditional look with all the modern amenities and gadgets, like the motion sensor faucet. The backsplash above the oven is a marble inlay that we got from India. We had several other accents imported from India to complete the look."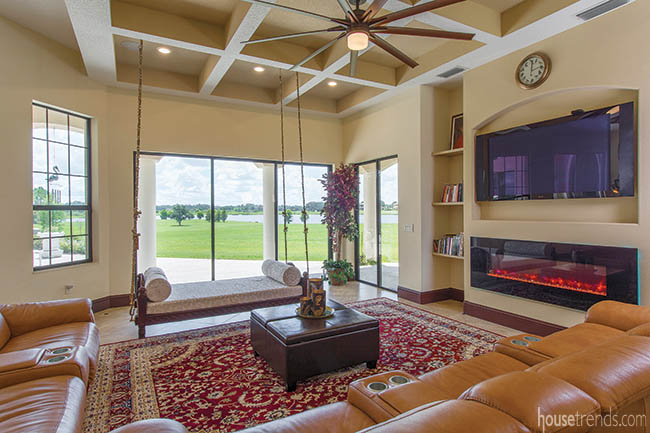 The family room—with its reclining sofas, hanging swing and vibrant Oriental rug—has an "east-meets-west" sensibility, the husband says. For example, the sliding glass doors provide a tranquil glimpse of the lake, "So you can sit in that room and either watch TV or watch nature," he says. He also wanted a bar area, with a varied selection of wine and liquors, that would allow him to entertain and mix drinks for his guests.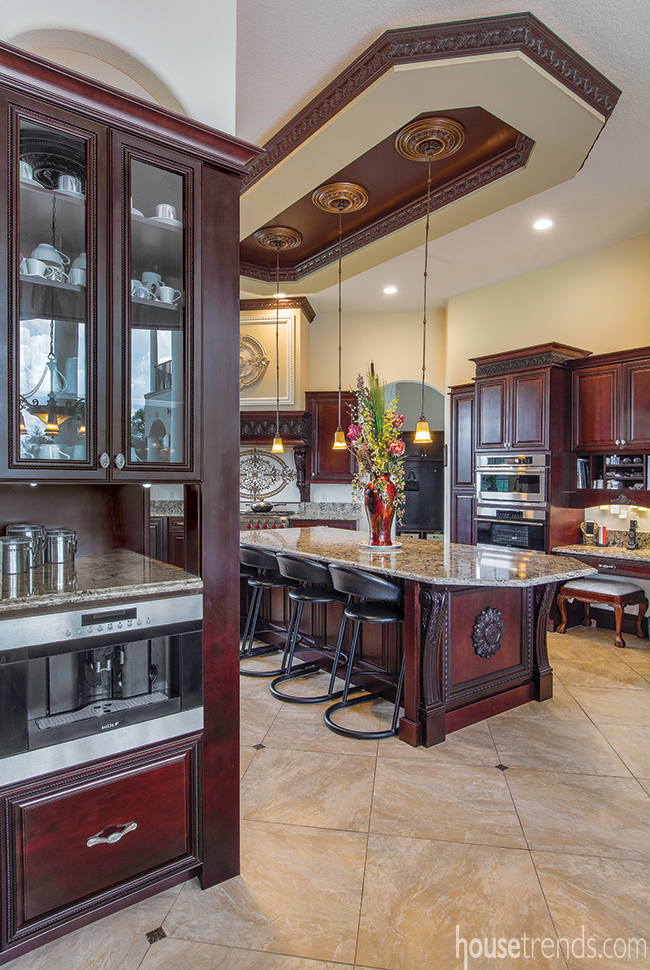 "One of my hidden hobbies is being a bartender. When I entertain guests, I want to touch their souls by knowing what they love the most," he says. "So if I'm able to touch people from that angle, that's what makes entertaining very gratifying for me. I think that's what really makes a house a home."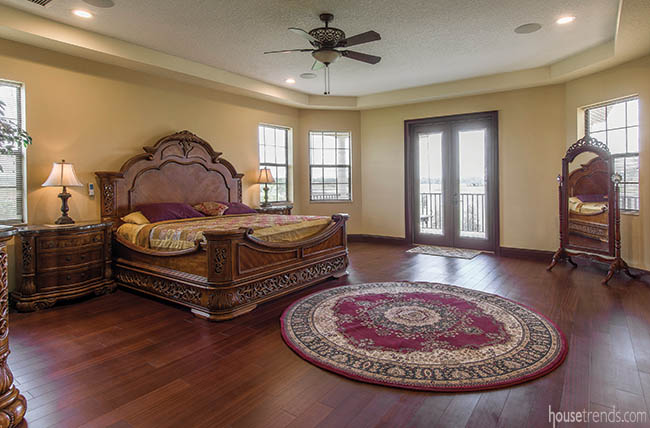 So does the couple's affection for each other, which is exemplified in the master suite with its home theater, intimate balcony and private spa (featuring opulent marble pillars and travertine walls).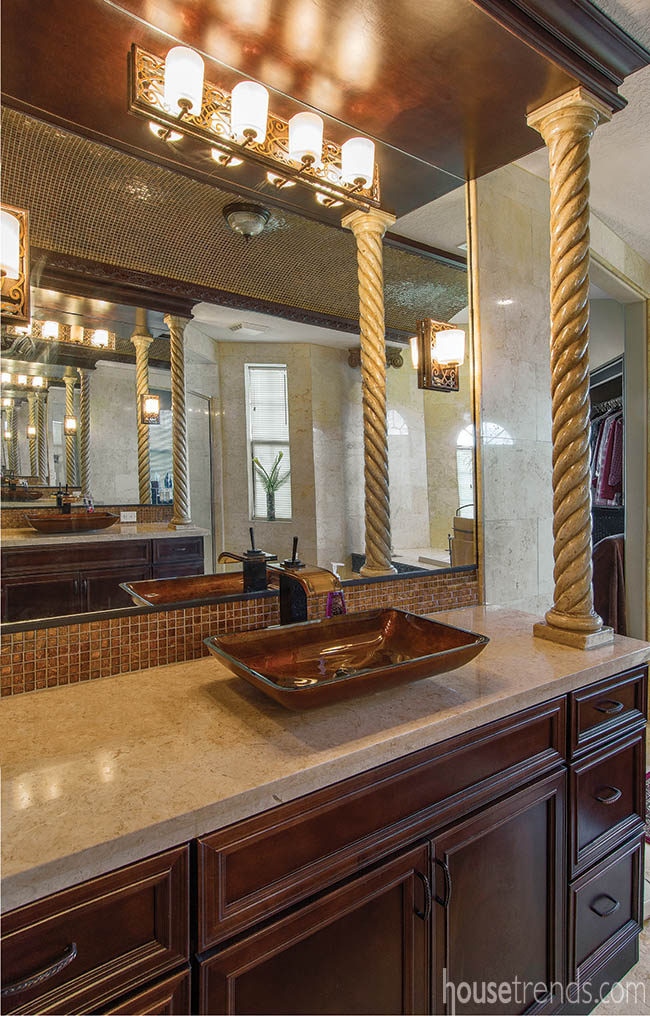 Pampering via design was easy to do with Bartlett at the helm. He always found a way to make the couple's lofty dreams materialize while still honoring their budgetary goals.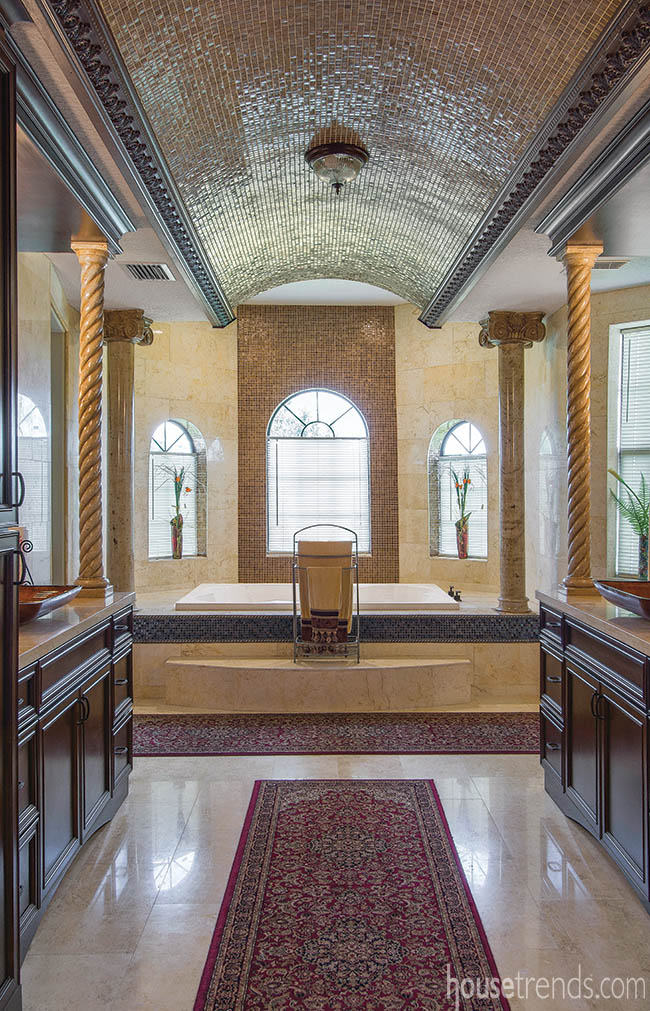 "We made it work. The husband would have a picture of a $10 million house and say to me, 'I want this or that in the house but I don't want to spend this money.' So we came up with lots of A, B or C options," Bartlett says. "We brought to his attention that we could save money in certain areas, like the pricing for columns or the fireplace. The homeowners did a lot of online buying and even shipped items over from India in crates on boats to save money."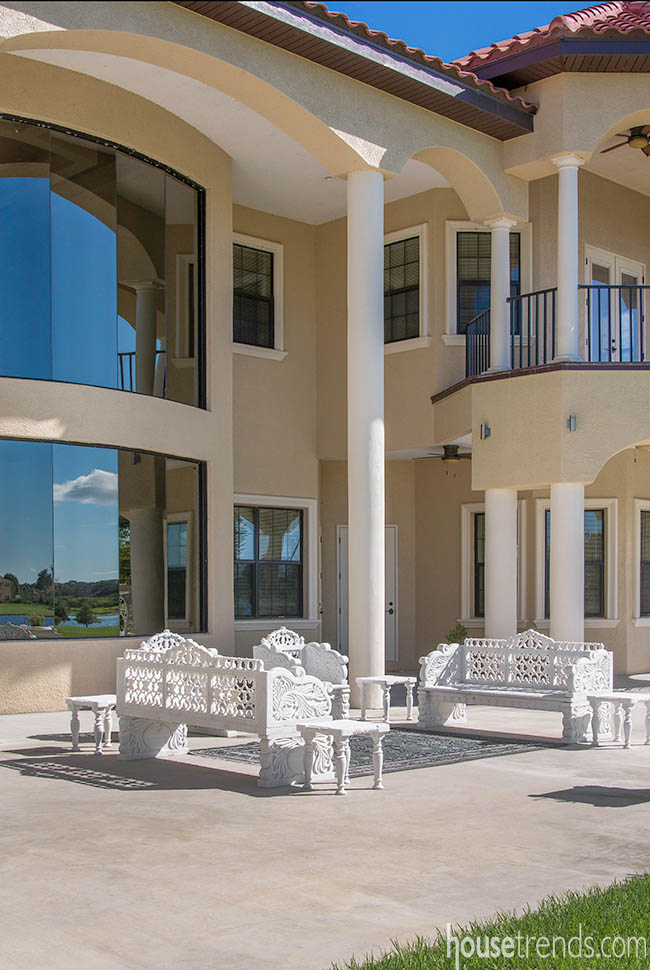 It took patience, resolve, and resourcefulness, but the homeowners and Bartlett crafted a masterpiece together.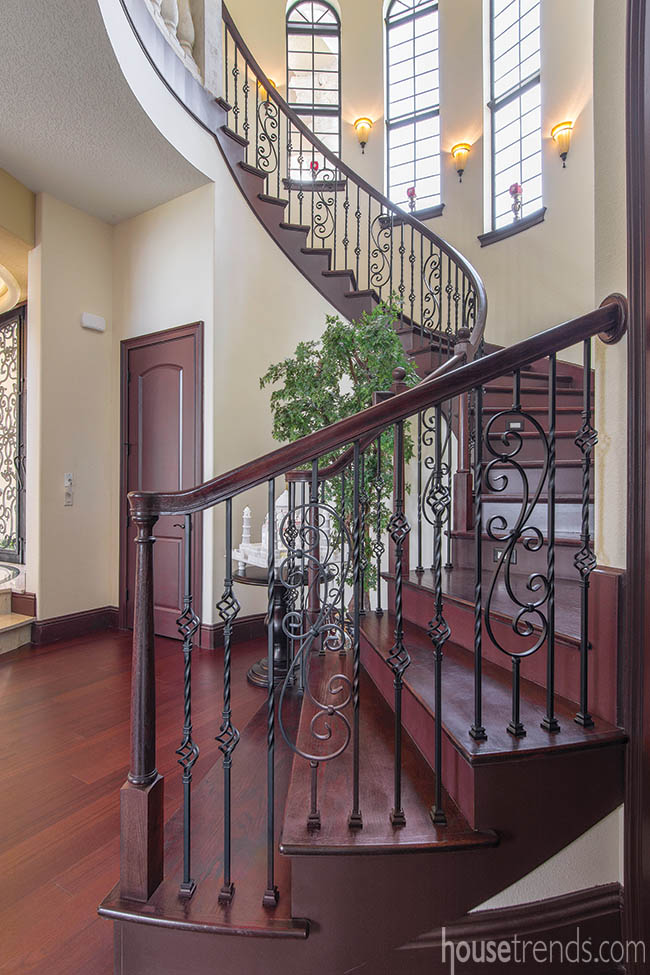 "They're really a great couple. They want to show their friends in India that this is their house and they're so proud of the home design, as they should be," Bartlett says. "And me? I have satisfied customers. That's really what it's all about."
RESOURCES Builder Bartlett Custom Homes; Kitchen cabinetry Amoroso Cabinets; Appliances Famous Tate; Front door Cantera Doors; Paint The Paint Store; Landscaping Hubbell Nursery