Just because a home has been meticulously designed and decorated doesn't mean it has to be handled with kid gloves. Colleen and Doug Haines spent countless hours poring over the plans for their new home design and even more time strategizing its finishing touches, but in the end they had one goal in mind.
"We decided this was going to be a home that was livable and where no room was off limits," Colleen says. "We wanted it to be a place where the kids, the dogs, Doug and I could use every inch of it."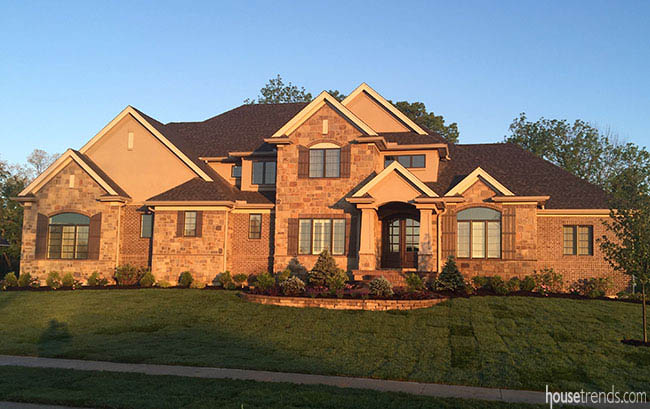 That's what the family has done since moving into their newly constructed Centerville house a year ago. In 12 short months, the house has been christened in big and small ways alike. From soccer team get-togethers, holiday gatherings and summer barbeques, to intimate family game nights and quick breakfast sessions at the kitchen island.
The Haineses say their home is exactly what they envisioned because they played an integral part in its creation from the very beginning. These homeowners came to the drawing table with visions in their minds and measuring tools in their hands to make sure each square foot was designed to fit their family.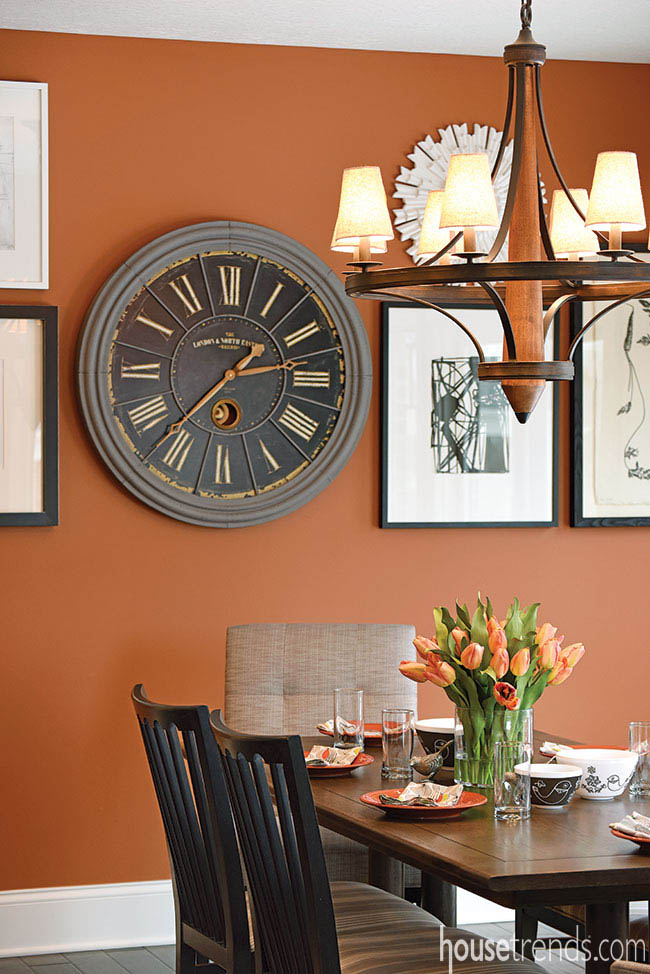 The Haineses chose South Dayton Builders to design and build their home and closely worked with them to make sure the plans would fit their goals. "We were very meticulous about sitting down with a scale ruler and taking notes, drawing furniture pieces to scale, and seeing how everything would look on the blueprints," Doug says.
It was a priority for the Haineses to create a home that offered an open feel with seamless transitions from one living space to the next. Drawing out rooms and placing furniture into it allowed the Haineses to see how much walking space would be available between each piece. This type of process led to some small, yet critical decisions.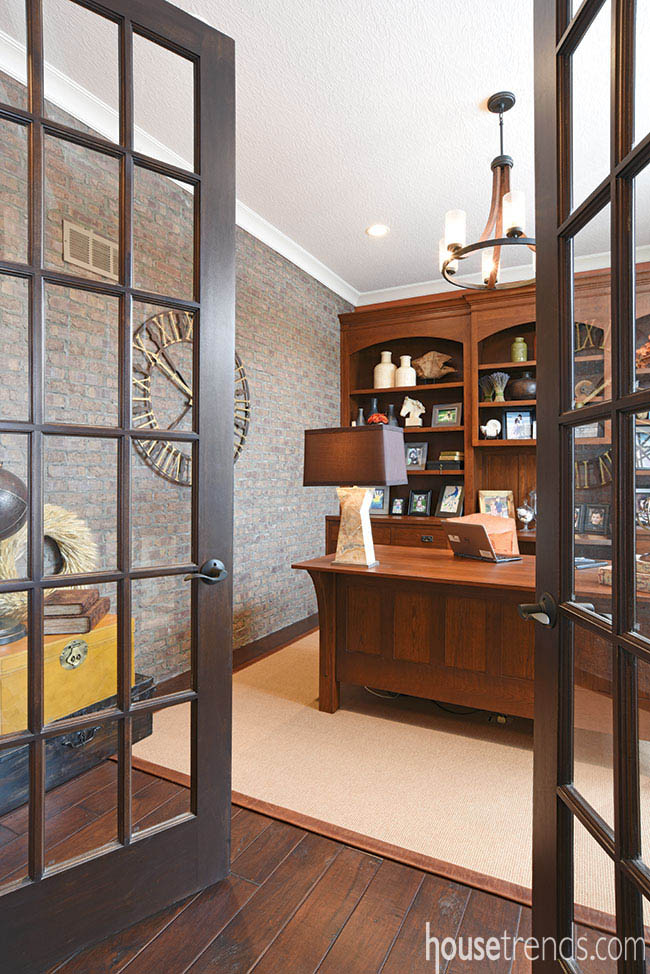 Colleen's study, for instance, felt too small after the couple decided to add large custom-made bookshelves. So, they chose to add 2 feet to the study, which ultimately added more square footage to that entire side of the home. The study now opens with French doors and features a custom desk and built-in bookshelves. Colleen's desk is nestled in the center of the room flanked by a rustic brick wall and plantation blinds on the windows.
Original plans also called for the master suite door to open directly from the great room, but Colleen desired an entryway that offered more privacy. As a result, a small alcove was created between the two rooms that features a chest of drawers and decorative mirrors to welcome them into their private space.
When you enter the foyer of the Haines' home you have a panoramic view of the main living areas, dining room, great room and kitchen.  Your eyes are drawn to the backdrop of the great room with floor to ceiling windows that overlook the wooded back yard.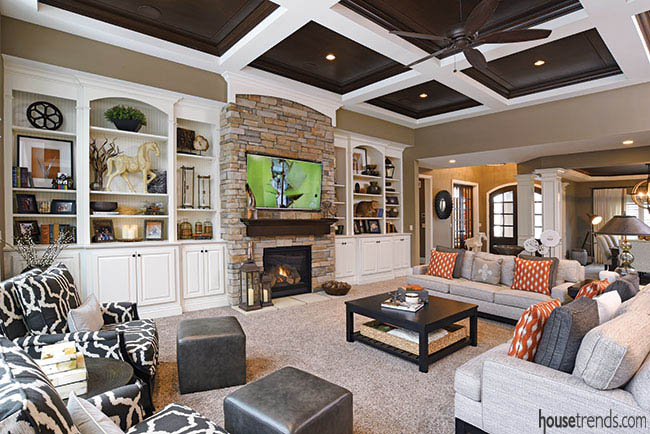 The home's centerpiece on the main floor is its great room where style and comfort collide. The rustic and modern mix of upholstered and wood furniture, accessories and texture define the space. The warmth of the room starts with the carpet and two couches with clean and modern lines to accentuate the stone fireplace, which is the focal point of the room. The fireplace is nestled between custom built-in shelving that features carefully selected metal and wood accessories, books, family photos and décor that speaks to the personality of the Haines family.
One of Colleen's favorite features of the house is the great room celling.  A coffered ceiling in a great room is not a new design idea, but the way in which it was accented added a unique touch. "Colleen had an idea of painting the wood beams white and adding dark wood to the inside of each inset," says Scott Dickey, owner of South Dayton Builders. The contrast draws the eye and also creates warmth to the 12-foot ceiling.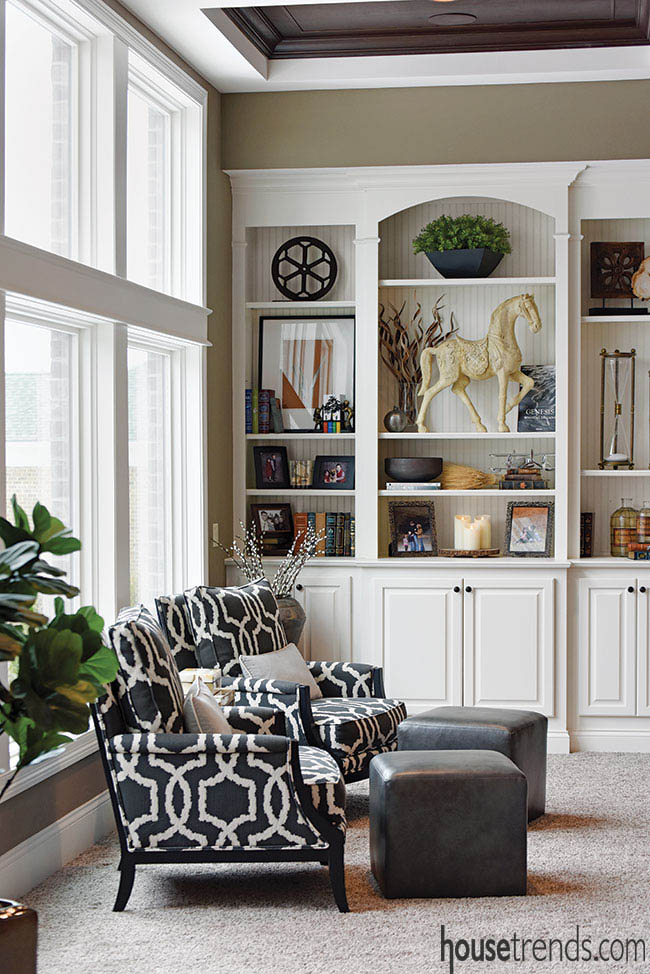 "We wanted our new home to have a great room big enough to hold two sofas so that we could relax together and talk after the kids were in bed," Doug says. "We also wanted the great room to be large enough where we could be cooking in the kitchen and someone could be watching TV, but still talking with one another."
The home's open design provided the space the Haineses desired, but it was the finishing touches in design, color and materials that provided the warmth they needed.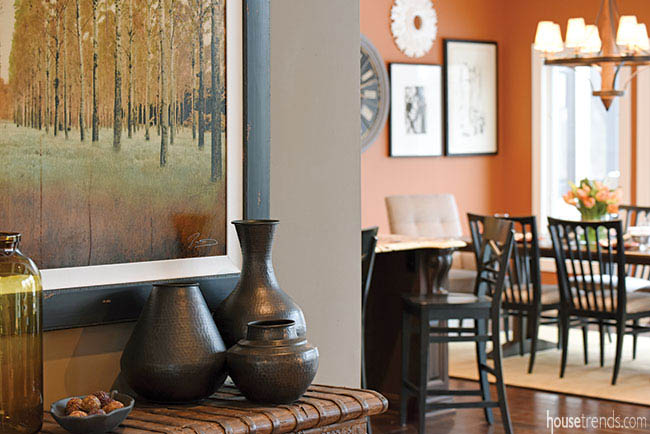 The Haineses wanted their home to feel cozy and inviting yet they were eager to shed the red, yellow and gold hues they had in their previous home.
"I wanted our new house to take on different colors and not to replicate anything we had before," Doug says. "We used a totally different palette. I am partial to blacks and grays and Colleen was partial to taupe."
Although their new palette was filled with cool tones, neither of them wanted the home to appear or feel cold. That's where the home's natural accents and materials—such as the stone fireplace and the brick wall—came into play.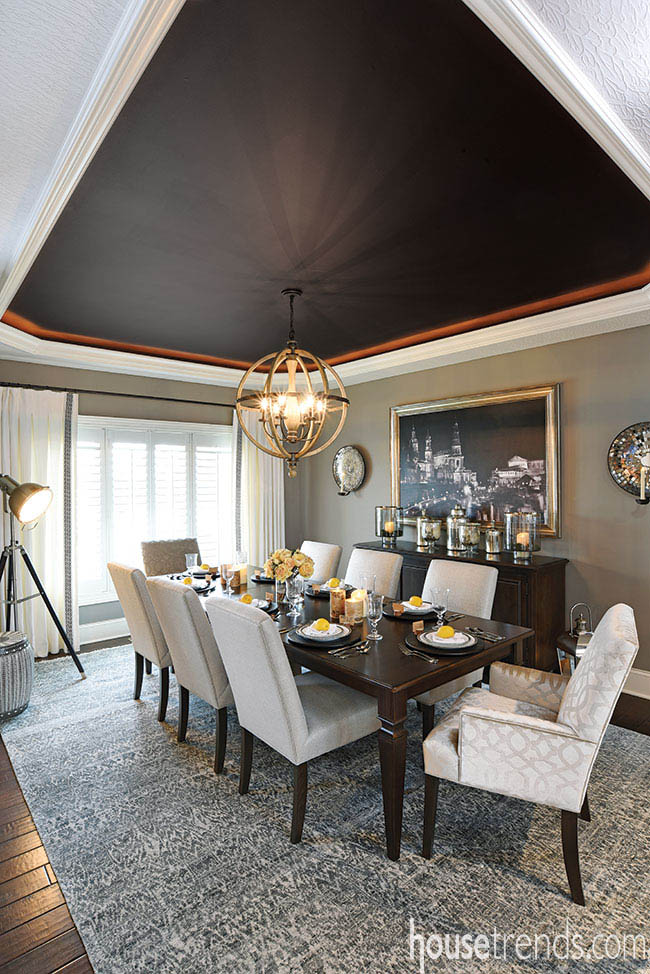 Kristen Plumer, an interior designer for Ethan Allen in Centerville, joined the Haineses to make sure the colors they loved would be reflected in the overall home design and would complement the permanent materials already inside the home. She chose upholstery fabric to pull out colors from the great room's stone fireplace and dining room chairs that coordinated with the home's warm hardwood floors.
"The different textures in the leather ottomans and area rugs, as well as the fabrics with geometric shapes, give the home a modern yet classic feel," Kristen says. "The goal was to choose fabrics and furniture that would make a statement, match what Doug and Colleen wanted in terms of color and comfort, but would still be very livable."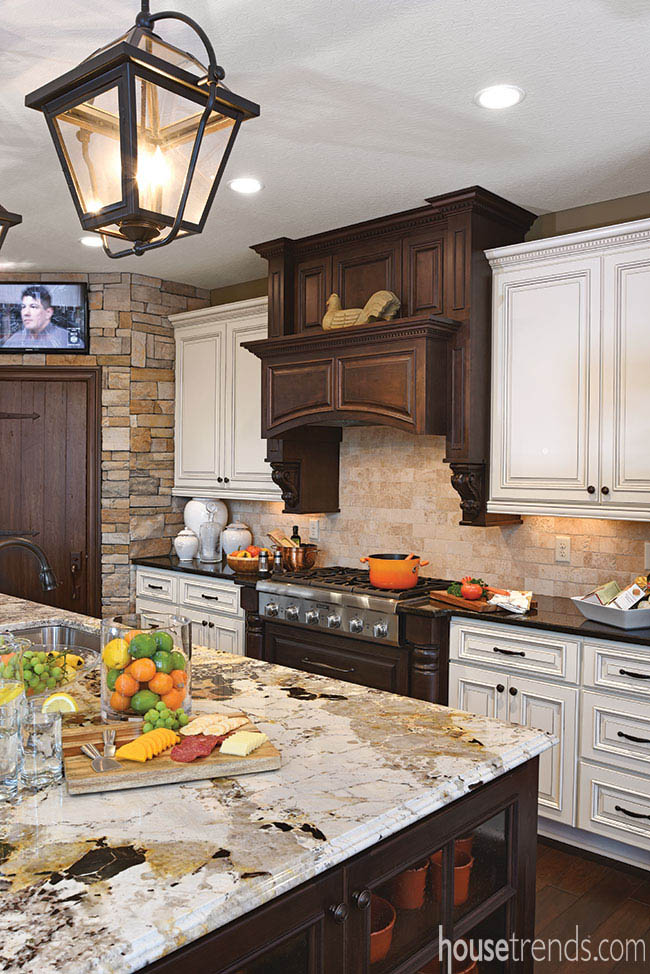 In the kitchen, where a splash of color brightens a highlight wall, a custom-built island stretches 10 feet long and 4 feet wide. The island's granite top has such unique movement in its design that Doug says he often finds himself looking at that rather than the TV above the pantry.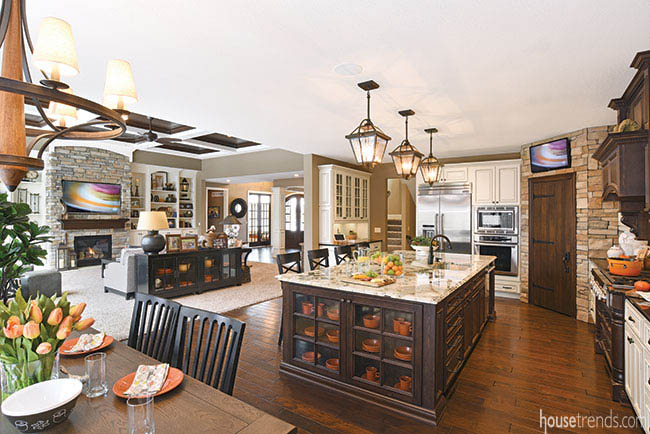 Other special features include additional island shelving on each end with seeded glass doors, bronze metal lanterns, and a weathered-wood kitchen table flanked by upholstered chairs in family-friendly fabrics. The pantry door is surrounded by stone shared by the fireplace, and its door was created out of a vision Colleen had for the builder.
"I told the carpenters that I wanted something that was weathered with metal accents and looked like it would fit on a castle seen in a Rapunzel movie," she says.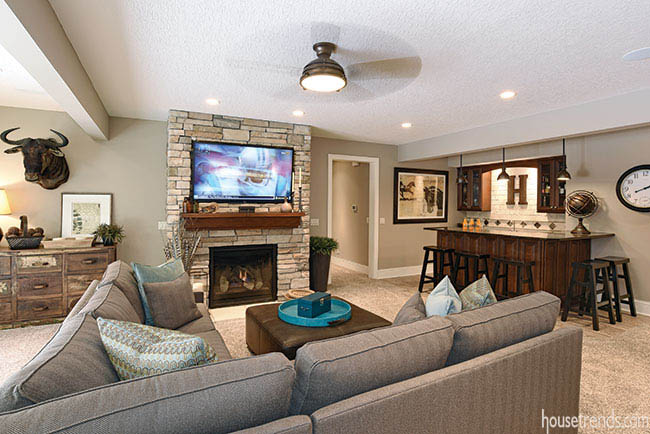 Sit down to enjoy a relaxing movie in the Haines' lower level and you may feel as if you are being watched. The room's stone fireplace houses a flat screen television and just to its left is a large head of a Blue Wildebeest gifted by a good family friend. It's an unusual design element that has become a family favorite in the home.
"We have a good friend who is a game hunter and he told us he had the perfect accent piece for our new home that had all the right colors," Doug says. "I never thought Colleen would put it up, but now we really like it and it has been a real conversation piece."
Willy, as he was named by the Haines' two children, seems to fit right into the home's color palette and like many of the home's other small details, he adds a personal touch of warmth. "It's certainly the most interesting item I've had to integrate into a home design," Plumer says, "He fit so well into the color scheme that we added a vintage chest underneath and a South African stamp art piece (from Willy's homeland) and created another unique area in their space."
A sectional sofa accented with colorful pillows provides a relaxing area in front of the fireplace. Combined with a large leather ottoman and many specifically chosen accessories, the sofa makes the area a great place to entertain and relax.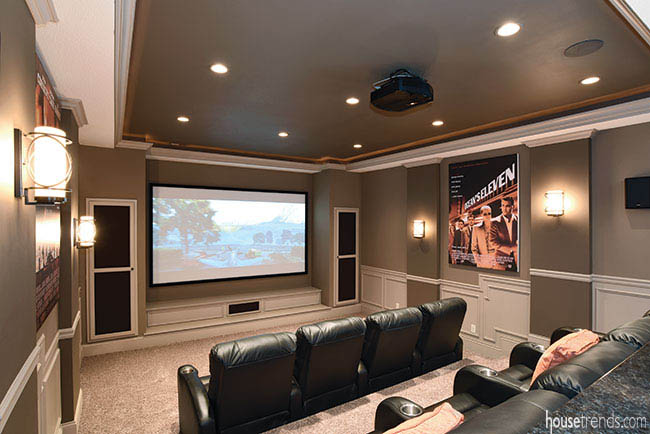 The main living space and adjoining bar provides another gathering area where the family can watch TV, while a theatre room separated by a stone half wall—complete with two rows of theatre chairs topped with comfortable pillows—offers a designated space for viewing movies.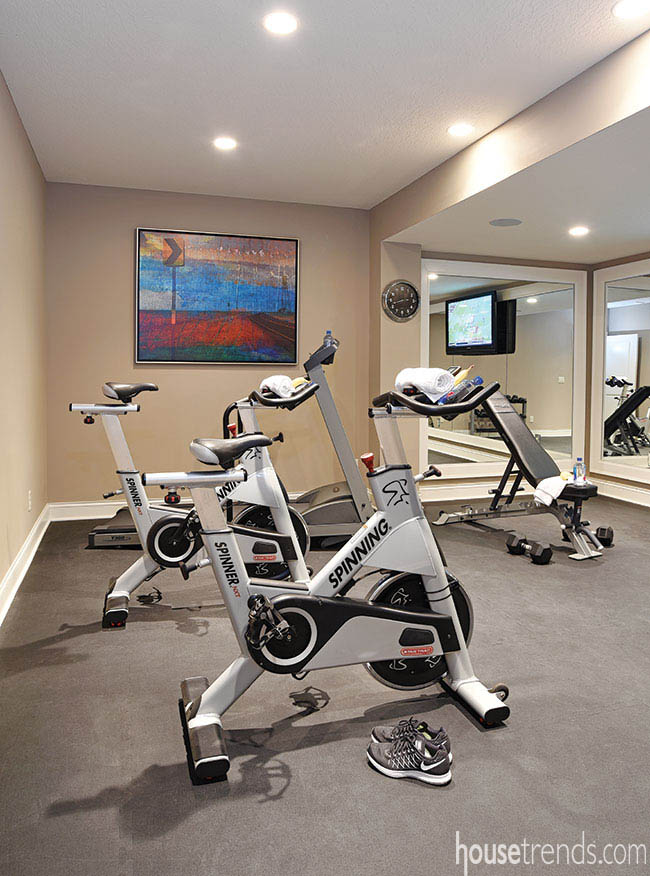 A workout room rounds out the finished lower level with mirrored walls, rubberized floors and several types of equipment for the active family. The couple also made sure to set aside plenty of unfinished space to house Doug's mountain and road bicycles.
Colleen particularly likes the fact that the stairs leading to the lower level are hidden from sight when guests enter the front door of the home. A separate set of stairs was also added from the basement leading up the garage. This private entrance turns the lower level into the perfect private space for out-of-town guests and also allows Doug to go in and out of the house with his bikes without having to go through the main living space.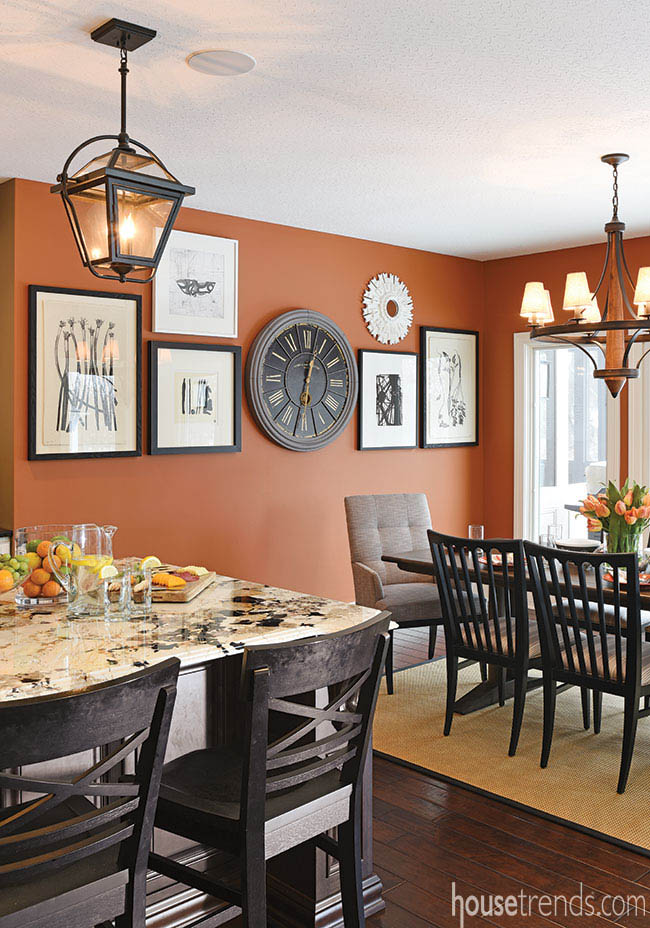 In the end, it's the personal touches that brought the home design to life. "The homeowners are great at documenting family trips and their life together with photos," Kristen says. "Those images created a window into their life and provided the inspiration for the interior design of the space as well as the finishing touches."
Resources: Residential designer: DT Design, Inc.; Builder and cabinetry: South Dayton Builders; Interior designer and stylist: Kristen Plumer, Ethan Allen; Design consultant for lighting, paint colors, and tile: Andrea Stewart, Interior Design Concepts; Fireplace: Dayton Fireplace; Furniture, accessories, and window treatments: Ethan Allen; Windows: Pella; Paint: Sherwin-Williams; Kitchen and master bathroom countertops: Konkus Marble & Granite; Kitchen and basement bar backsplash installation: Lou Pesente; Appliances: Thermador, Appliance Gallery; Sinks and faucets: Moen; Home theatre: Hanson Audio; Landscaping: Landscape Creations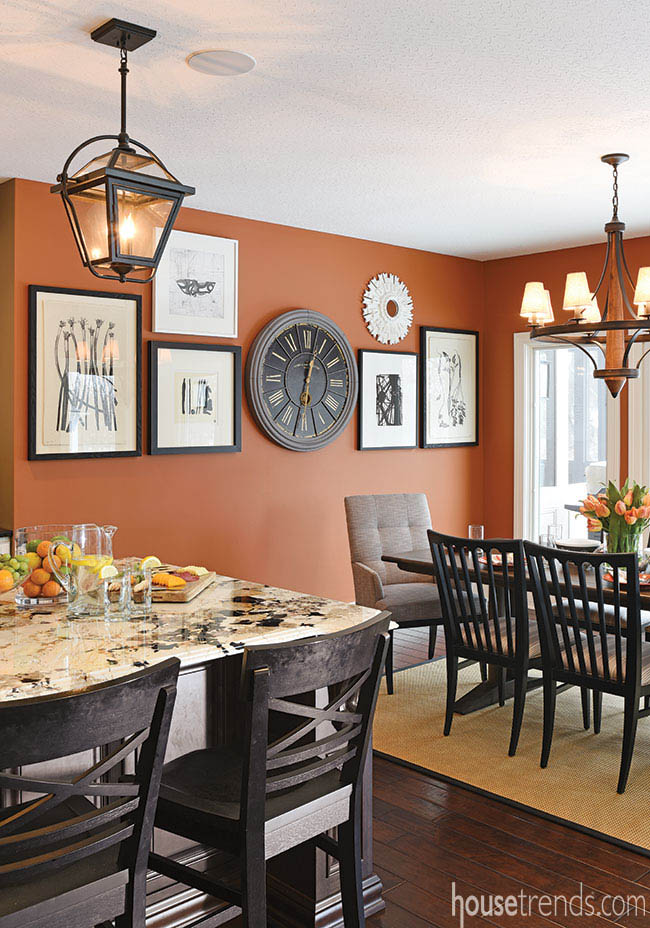 In the end, it's the personal touches that brought the home design to life. "The homeowners are great at documenting family trips and their life together with photos," Kristen says. "Those images created a window into their life and provided the inspiration for the interior design of the space as well as the finishing touches."