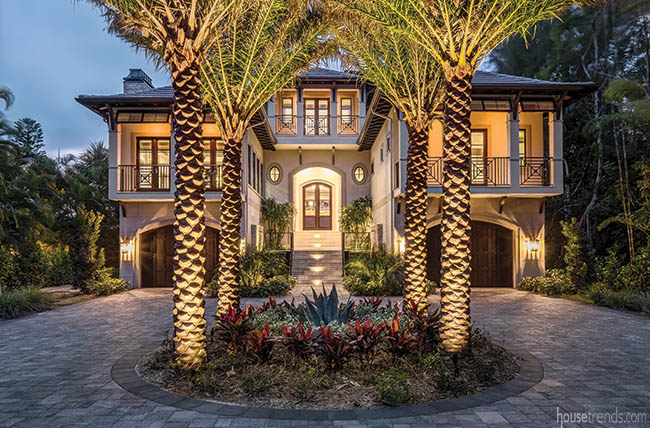 Written by: Jane Schreier Jones/Photos by: Dawn M. Smith
If you want to build a second home out-of-state, you have two choices: use talent from your hometown for the project or select from unknowns at your new site. For Cindy and Randy Welch of Beavercreek, picking a builder and a designer both from the Dayton area to spearhead a home design project in Florida proved to be the right decision. "Ohio people are terrific so we wanted to rely on them to do a fantastic job for us—and that's exactly what happened," says Cindy.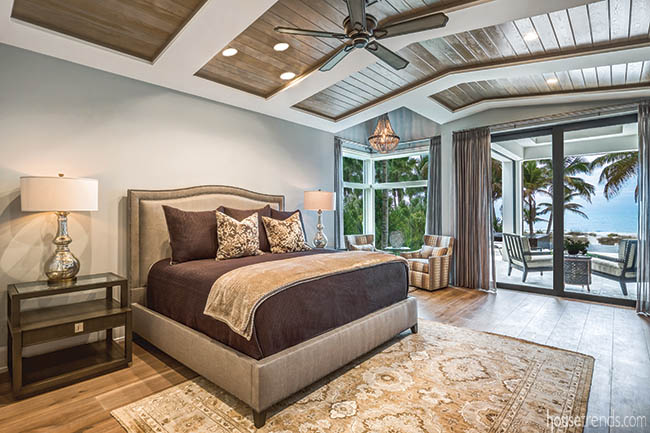 A great working relationship
In January 2016, the Welches moved into their new home on Longboat Key in Florida, developed with the talents of builder Gordon White of G.A. White Construction, architectural designer Jim Bauman and interior designer Debbie Sykes.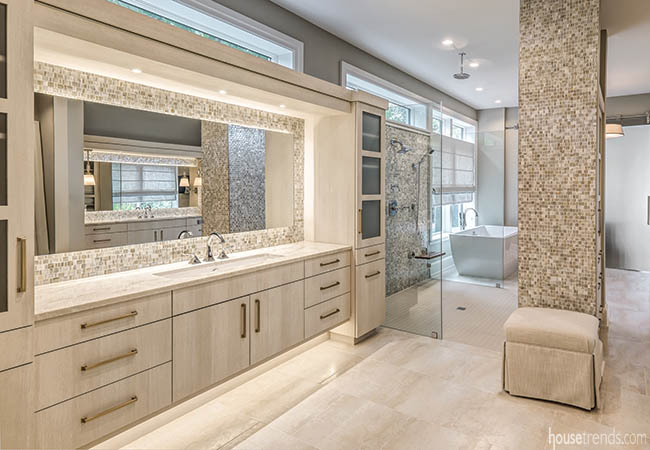 For twenty years, the Welches had owned various condos on Longboat Key and vacationing there was a way of life for them and their two sons. But the urge to have a home on the beach took hold and after looking at current offerings, the couple decided to build. They found a property they wanted, tore down the existing house and let the builder start fresh.
"Gordon is a neighbor and a friend and we love his work," Cindy says. "He has built in Florida many times so he was acquainted with the vendors in that area."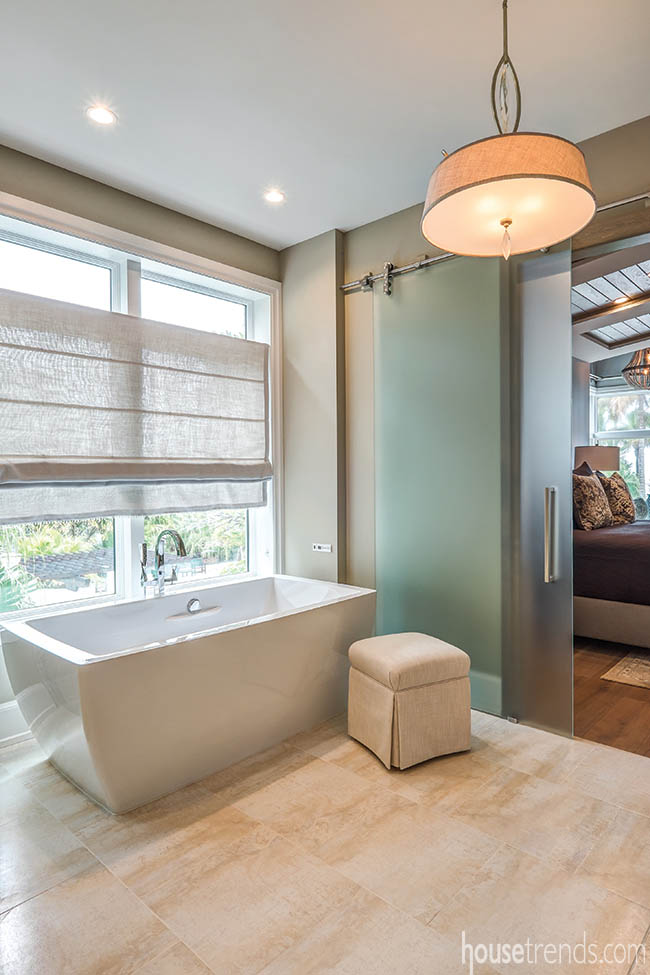 White says that building a house on ocean property has special challenges, including planning and permitting, but because of his experience these were easily overcome. He also credits his working relationship with Bauman. The pair have collaborated on several projects. This undertaking provided the opportunity to work together to create a unique style for this beautiful oceanfront property.
Sykes had been the interior designer for the couple's Beavercreek home and since she has also completed almost 80 out-of-state projects, the Welches didn't hesitate to ask her to be involved in their project.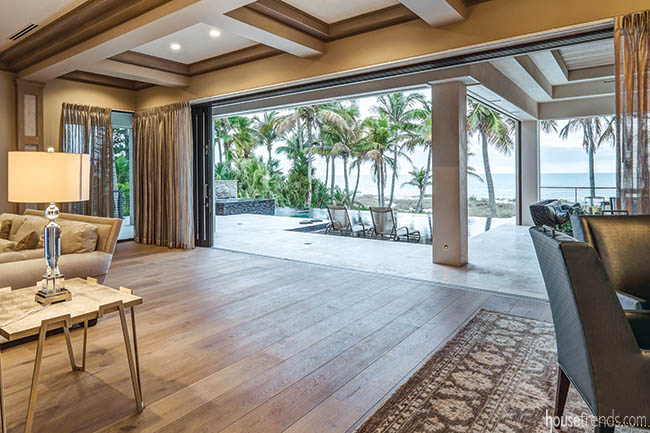 Embracing the great outdoors
The resulting 10,000-square-foot, beach-front home is a marvel. The couple says they are "big on comfort" and wanted an open and airy home with casual elegance. They're spending about 50 percent of their time at the Longboat Key home, including visits from their adult sons and daughters-in-law.
The main floor, located on the middle layer of the home, serves up a grand open space that houses the great room, dining room, gourmet kitchen and a pub. Other spaces on this floor include the master suite, den and guest suite.
"We wanted to present a uniqueness of design as soon as you walk into this home," says White. This is absolutely achieved. As you walk up the front steps and through the entry door, you are greeted by a dramatic view of the gorgeous interior, followed by a 32-foot wall of glass leading to an infinity pool and the inviting ocean beyond.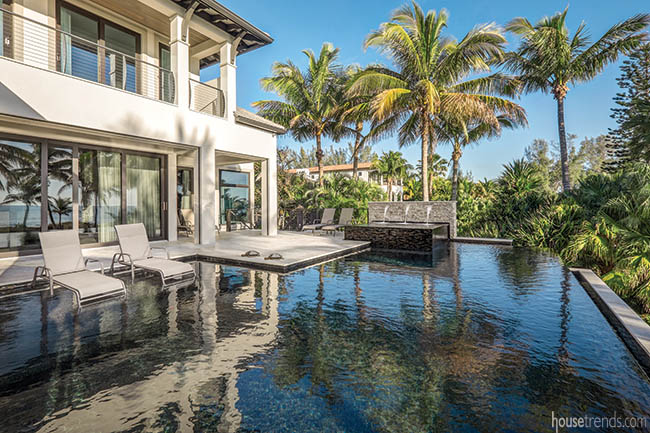 The elevated pool, with depths of four to six feet and a three-inch-deep sunning area for chaise lounge chairs, disappears over the edge to showcase the home's private beach and the Florida waters 100 yards away.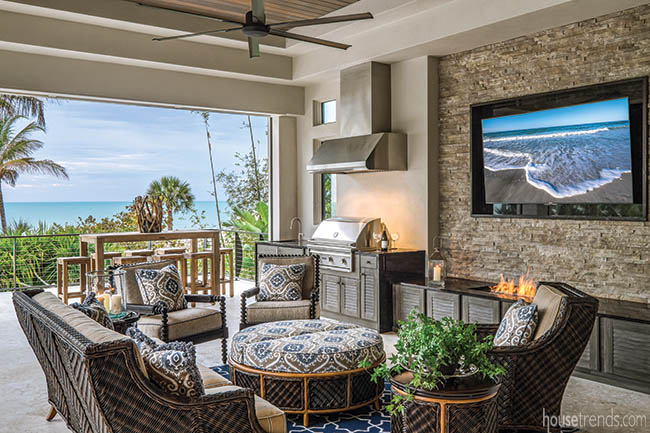 Around a corner, a fabulous lanai offers outdoor living conveniences such as an outdoor bar, built-in grill and refrigerator as well as impressive design elements such as a linear, open flame fireplace.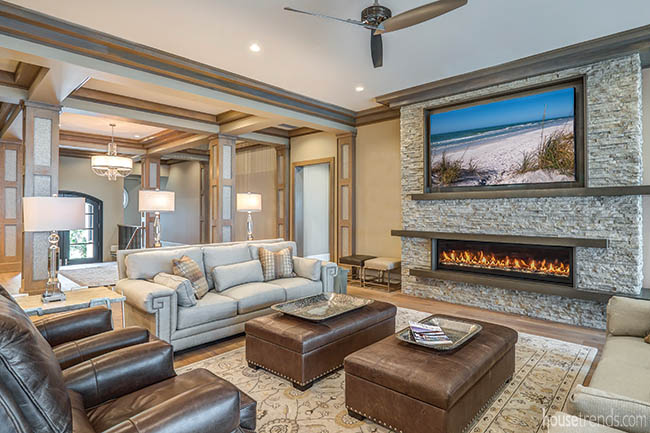 Sykes and the G.A. White team used their skills to suggest exterior selections—paint, roof, stone, pool tiles, and fountains, etc.—as well as all interior elements including furnishings, wall color, lighting, cabinetry, countertops, and plumbing. For furniture, Sykes and Cindy went on a buying trip to High Point, North Carolina.
"Having a designer in the Dayton area worked out well because while Debbie made three trips to the construction site, she was up here to work with us, showing us samples and working with us through the step-by-step process," says Cindy.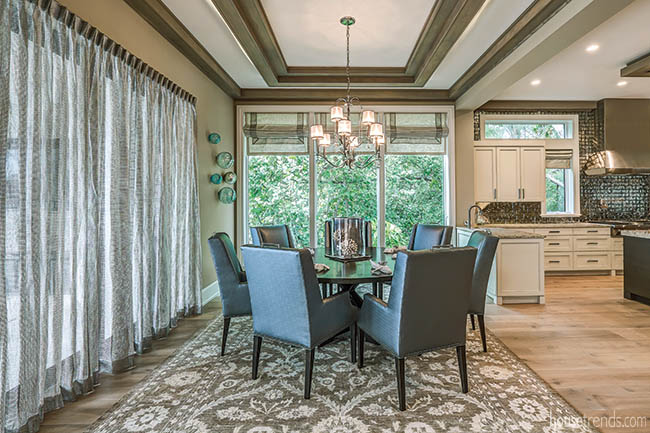 "The Welches wanted the home to be welcoming, comfortable and not pretentious. We created a perfect relaxing place with a quiet elegance," says Sykes. "The palette we chose, which includes cool colors with blue-grays and neutrals, is reflective of the exterior environment. The finishes and textures have an organic element inherent to the natural surroundings."
Delightful spaces
Cindy loves her new kitchen featuring an adjoining coffee bar. "When we lived in the condo, we ate out all the time. Now we never do," she says, enthusiastic about the Wolf cooking appliances, two Sub-Zero flush-door refrigerators, and an oversized island kitchen. On the other side of the custom glass see-through wine display is the pub Randy wanted, close to the front door and not banished to a lower level as in many Ohio homes.
The ground floor of the home features a pair of two-car garages, a full-size gym and steam shower.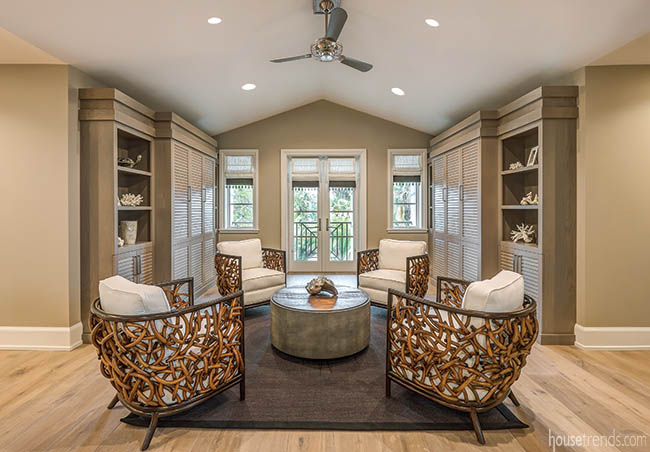 The top floor was designed for guests, with two VIP suites each with a balcony and bathroom. An open loft sitting area artfully hides two Murphy-style queen beds. Twelve overnight guests can be accommodated at the Welches' Longboat Key home, but the space was also designed with future grandchildren in mind.
"There won't ever be another house like this," concludes White. "From the garage door to mill work, almost every element of the house is custom designed."
"This is our forever home, and we love it," says Cindy. "Each year, we are spending more and more time here."
Resources: Builder: G.A. White Construction Residential designer: R.G. Design, Inc.; Architectural design: Jim Bauman; Interior designer: Debbie Sykes; Kitchen design: Eurotech Cabinetry, Inc.; G.A. White Construction; Landscape designer: Appel Horticulture Design; Lighting: Premiere Lighting Gallery; Paint: Sherwin-Williams; Furniture and accessories: Furnitureland South; Flooring: Legno Bastone Wide Plank Flooring; Window treatments: Kathi Goodwin, Plain and Fancy Fabric; Windows: Andersen, WinDoor; Fireplace: Majestic; Cabinetry: Artcraft Kitchens; Kitchen countertops: Cambria; Kitchen backsplash and shower tile: Hamilton Parker Company; Sinks and faucets: Kohler, Ferguson; Bathtub: Bain; Appliances: Sub-Zero and Wolf, Ferguson