Some folks are just born with an abundance of natural and raw talent.  Such would be the case with Seashal, the owner and designer of this extraordinary kitchen in McMurray. Moving from San Francisco's design district three years ago, Seashal, Jeremy, and their two children made the 3,000-mile move to be closer to family. Seashal doesn't have any real kitchen design experience or training, but she has a passion for it on the side. "I subscribe to all the designer magazines and am obsessed with home and garden television shows," she says.  "We also have a friend who's a professional designer and she takes me to High Point Market every year to get ideas."
The couple made the decision to completely gut their existing kitchen, keeping only the tray ceiling and oak floors intact. They partnered with contractor Dan Meade, owner of Prime 1 Builders, to turn Seashal's vision into a reality.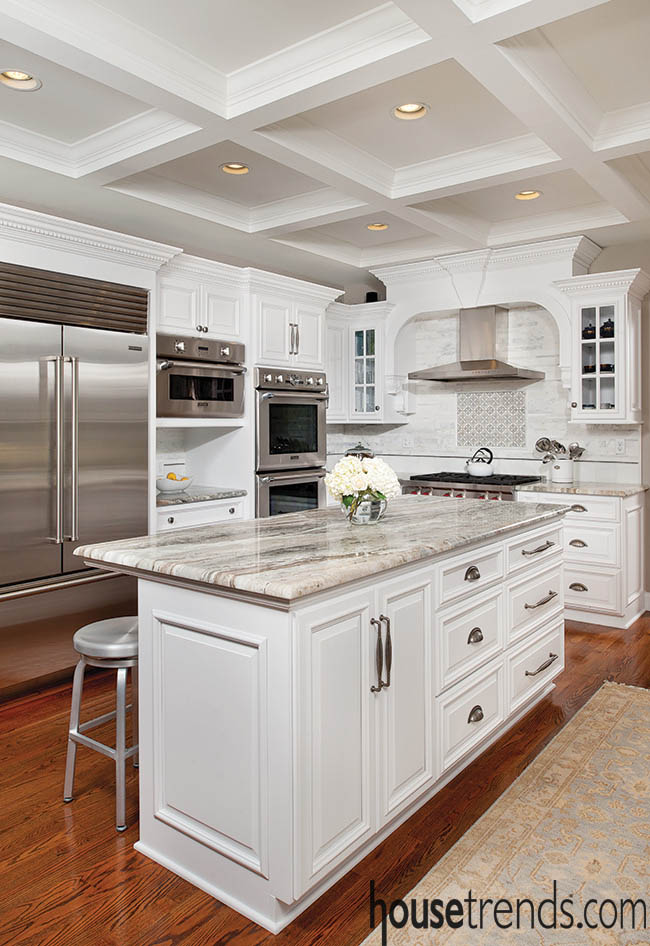 Seashal loves the look of marble countertops but opted for granite to keep things functional. "Marble was unrealistic because it stains.  I didn't want to have a kitchen where I'd be worrying if my kids had a play date and accidentally spilled something that would be permanent." She chose natural quartzite granite and loves the rich layers of color against white cabinetry. Moldings were designed with multiple layers so as not to appear too white.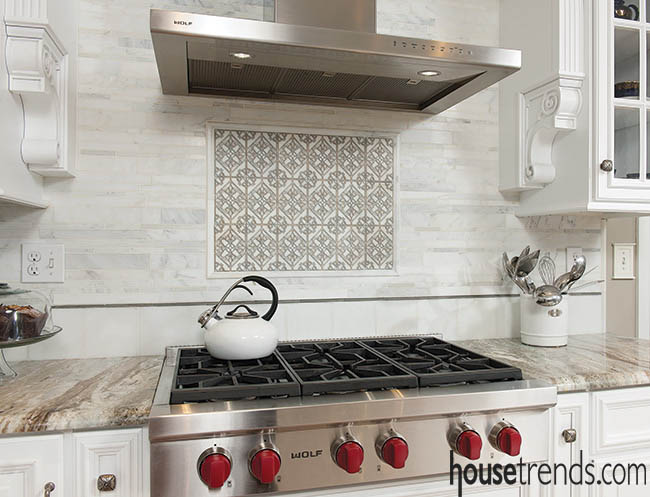 Seashal recruited a designer friend to help her in the selection of stones for the backsplash, and in the process was given the idea to add an antique pewter piece across the border. This proved to be the most difficult part of the installation because it had to be lined up perfectly. "Seashal designed a custom layout for the tile backsplash to complement the cabinetry and granite," says Meade. "A backsplash like this is made of many layers and requires a lot of patience and careful placement of the tile to put it all together."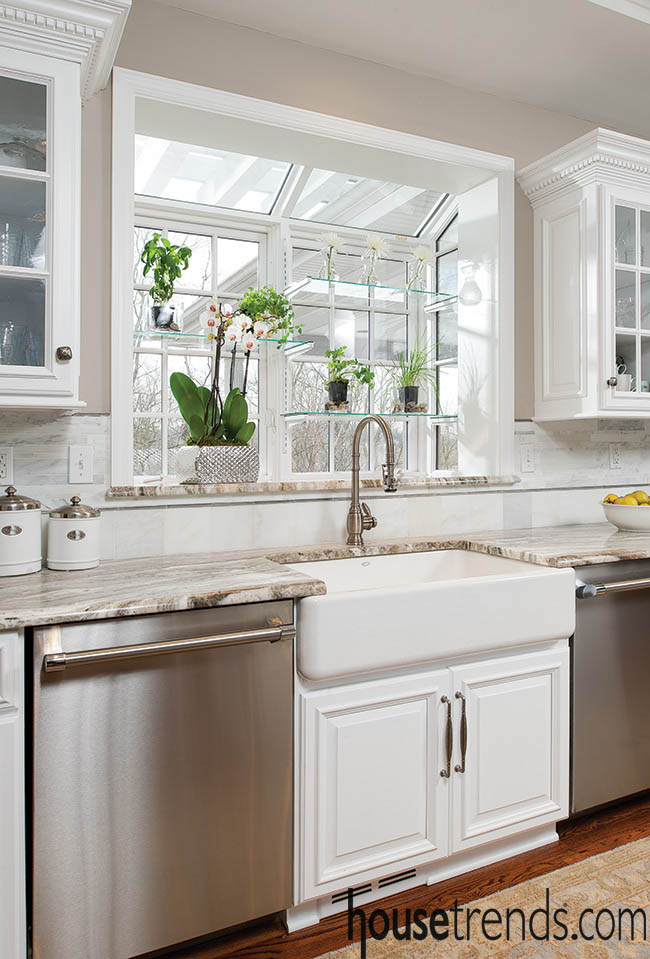 Projecting out 16 inches, a custom-made garden window was designed to let in lots of natural light and to grow plants all year long. Originally hesitant due to cost, the owner decided to add it, which made a dramatic difference in the overall look of the kitchen. Made of mahogany and lined with glass shelves, Seashal can grow fresh herbs for her family without having to leave the kitchen. "The new window had to be sized to fit in the existing kitchen opening which had many constraints to work around," explains Meade. "Only a handful of manufacturers make these, and it took four carpenters to lift and install it in the wall."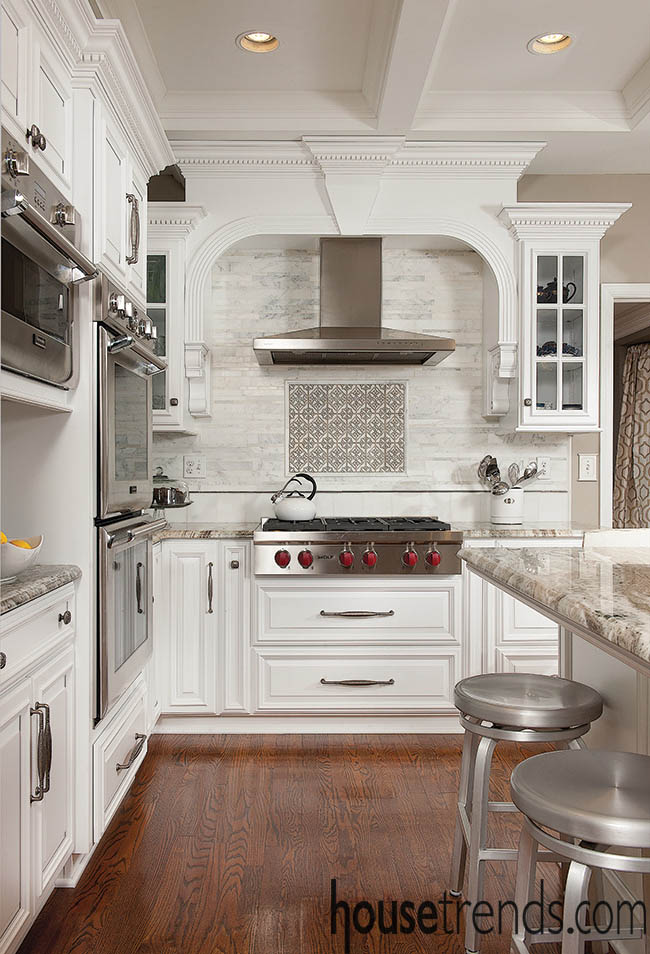 Seashal would best be described as the "Martha Stewart" of her neighborhood, always cooking three meals a day and using homegrown ingredients. Fruits and vegetables from her garden are frozen so that she'll have them all winter. In keeping with family tradition, everything from bread and jam to sauces and pies are made from scratch. Canning and freezing have been a family tradition for generations, and this busy lady prepares dilly beans, beets, bread & butter pickles, and even apple pie in a jar to have throughout the year. Anything that can't be found in her own garden is picked up at the local farmers market, one that she personally organizes for her community. She purchases her meats from a local farmer, and will buy part of a cow or an entire lamb. This way, she will always know how the animal was raised and cared for.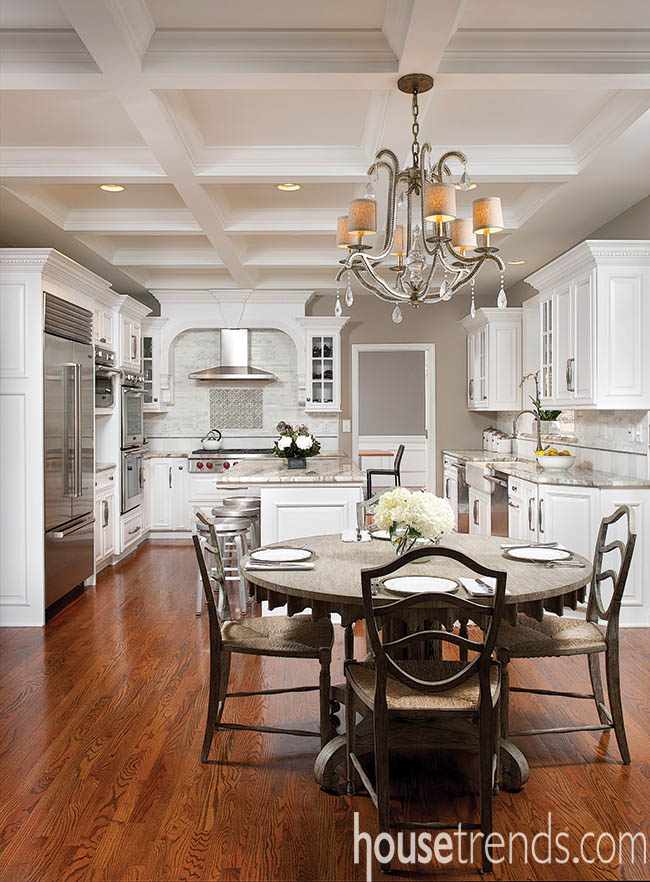 "There's always good smells coming from this kitchen," Seashal says. "The kitchen design is not only beautiful, but it's functional, and I absolutely love baking and cooking in here."