For 15 years, DeeAnn, her husband, and two young daughters lived in a two-bedroom ranch on a secluded parcel of land off a country road in Grove City. Space was tight, especially since DeeAnn home schooled the girls from kindergarten all the way through high school. The couple's goal was always to build a new home on the property, but life seemed to always get in the way.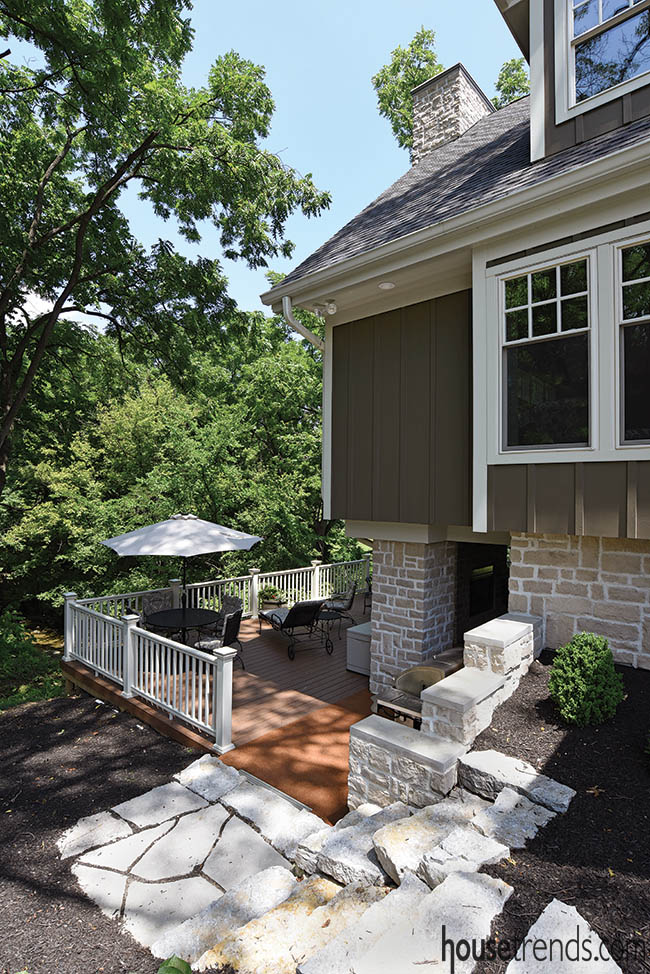 When DeeAnn's father passed and it made sense for her mother, Jacqueline, to move in, they converted the attached garage into another two bedrooms and 1-1/2 baths. The family enjoyed the additional elbow room for a few years until they heard that their neighbors, who had lived in their home for 48 years, were ready to sell their 1950s ranch. Deciding it was finally the right time to make a move, the couple purchased the additional acreage, bringing their rural spread to a total of 18 acres.
While both houses sat in the midst of lush privacy, the new place was positioned ideally to take advantage of a nearby babbling brook. There was also a pond on the front side and an expansive, tree-bordered field to the rear.
"It's the perfect setting," says DeeAnn. "We're close enough to the city, but in the country and quiet. This location just had everything we really wanted."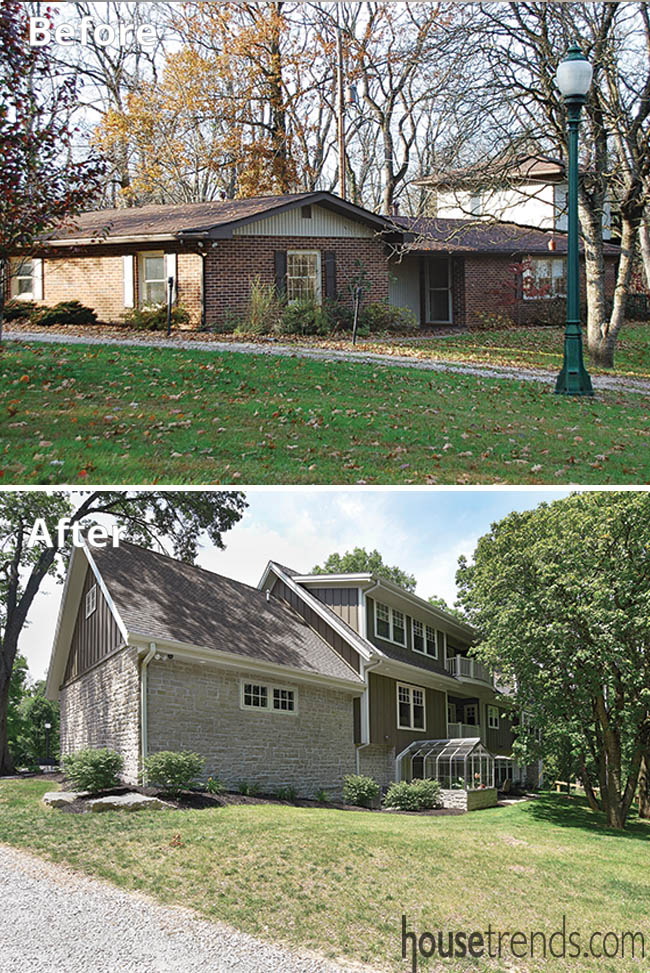 The family's goal was to remodel the existing ranch to include a couple of bedrooms and a suite for Jacqueline and add upper floors to include the main living area, the master suite and a third-story loft.  All of these changes were to be made while keeping in mind the importance of the views from each of these spaces.
However, the project took a surprising turn when the remodeling team at J.S. Brown & Company came on board.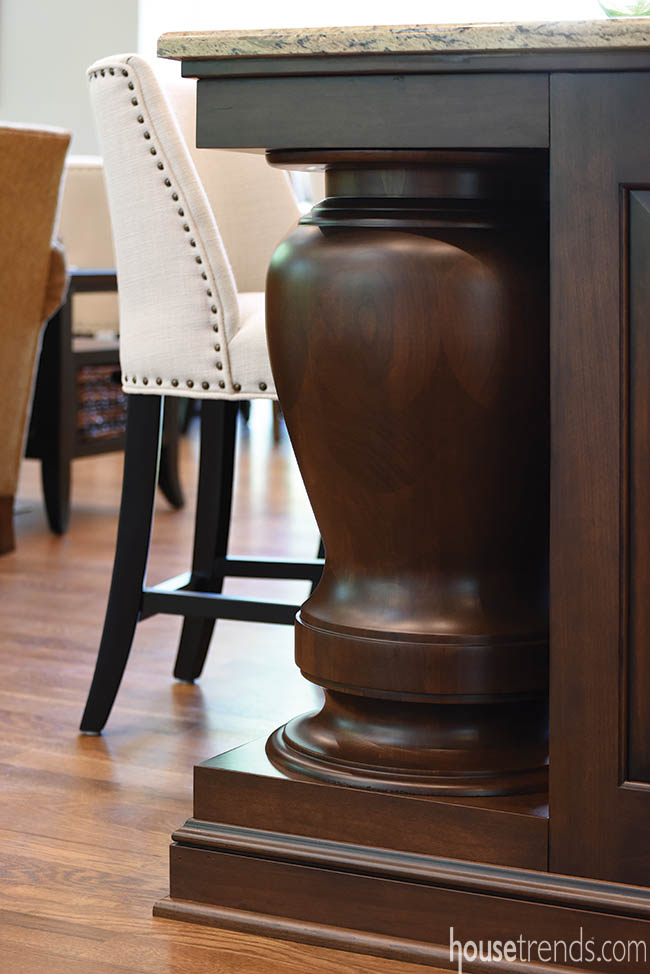 "Whenever I look at a project, I look at everything," says owner Jeff Brown. "We call it 'looking at the job globally.' I looked at the views. All of them are great, but the way the house was facing was the least attractive vantage point."
Brown's suggestion to "turn the house around" and add two new levels with the front facing a new direction became a winning solution on several levels.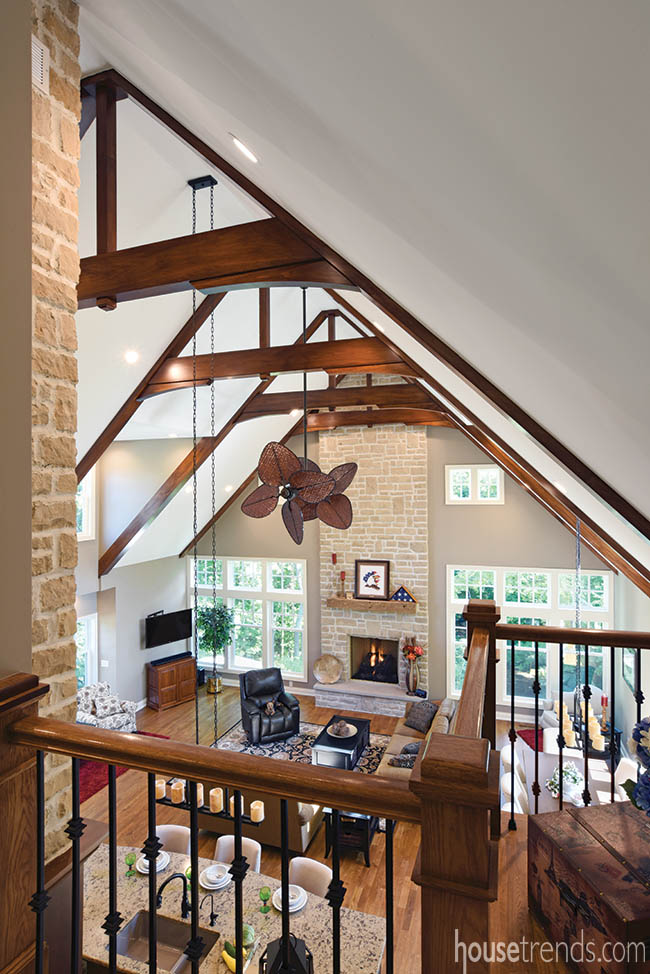 In essence, this configuration created two ground level living arrangements, depending on whether one was entering the home from the bottom of the hill—the original front door—or the top of the hill—the new front door.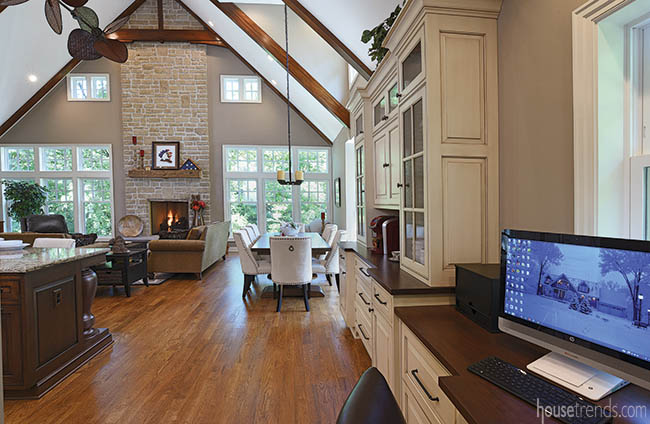 The fact that the earlier front of the home was completely above grade allowed for a ground level apartment for Jacqueline that featured lots of windows and a separate entrance. "I wanted to accommodate my mother being in the basement without having a basement feel," says DeeAnn. "As much as she wanted to be with her family, she needed her privacy."
With an eye on their own future, the couple designed the main floor to include everything they will need to stay in this house for many years. The kitchen, main living areas and master suite are on this level. There is a small closet designated for a stackable washer and dryer and an attached two car garage just a few steps away. "There will not be a lot of stairs as we get older," DeeAnn says.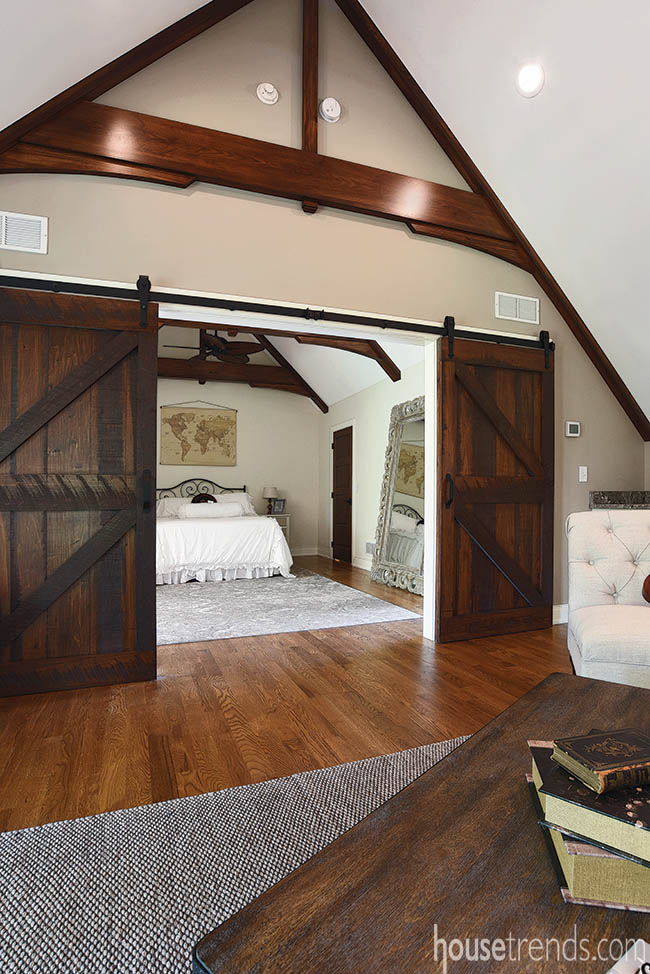 One daughter, who recently married, will live in the old house as she earns her PhD at OSU.
Her younger sister lives in the loft which features a bedroom, a separate sitting area, a kitchenette and space for her piano.
"Since she decided to stay at home for college, we gave her, her own dorm room," says DeeAnn. "Although I have to admit, it's nicer than most."
During their school years, the creek, the pond and the overall property served as great classrooms for the girls. "We see all kinds of animals out here," she says. "Deer. Geese. Snapping turtles. Not too long ago we saw a mink next to the creek bed."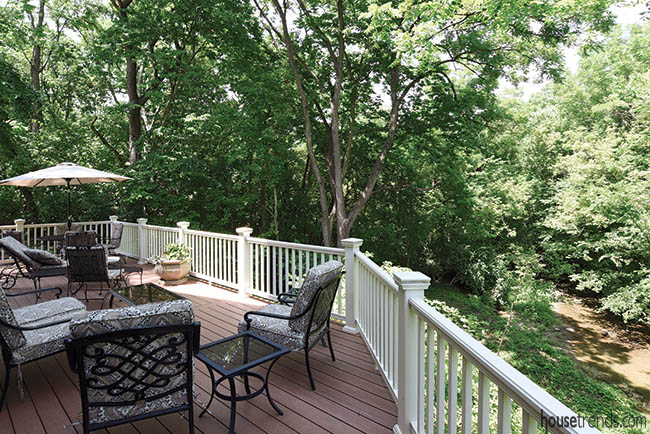 The creek also came in handy for the remodeling team during the renovation process. Because the rear wall of the existing ranch was built into a hillside, rain water would occasionally drain into the home. When contractors regraded the site to prepare for the flipped positioning, they were able to divert the flow of water to the adjacent creek.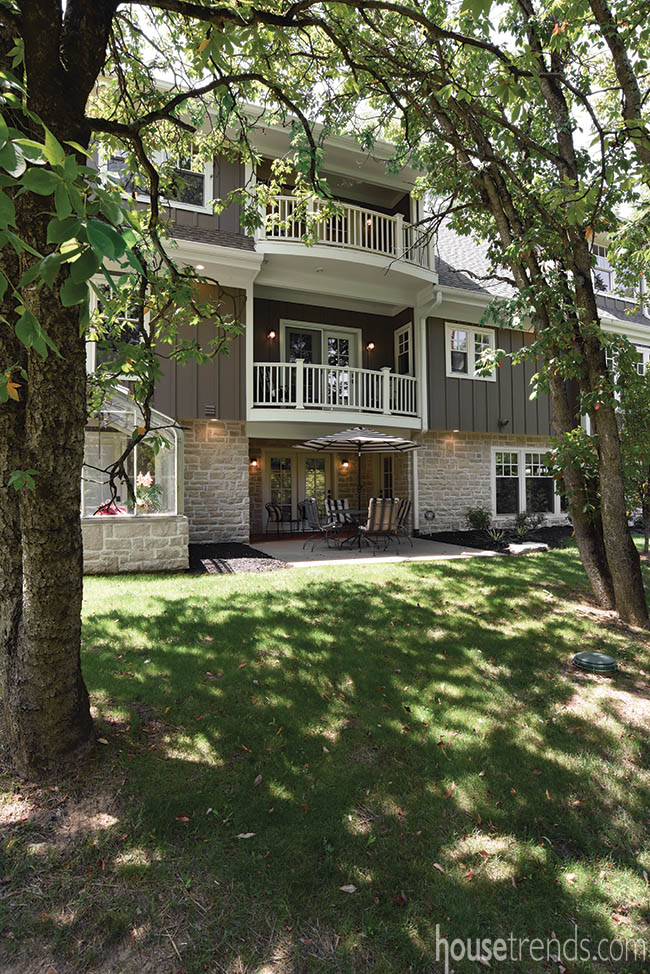 "Once I got into the demo, I was expecting to keep more of the foundation walls," says Brown. "But one of the footers was suspect. Once we opened it up, it was bowed so badly that the foundation was barely sitting on it. Obviously I am glad we did that. Now, nothing is suspect."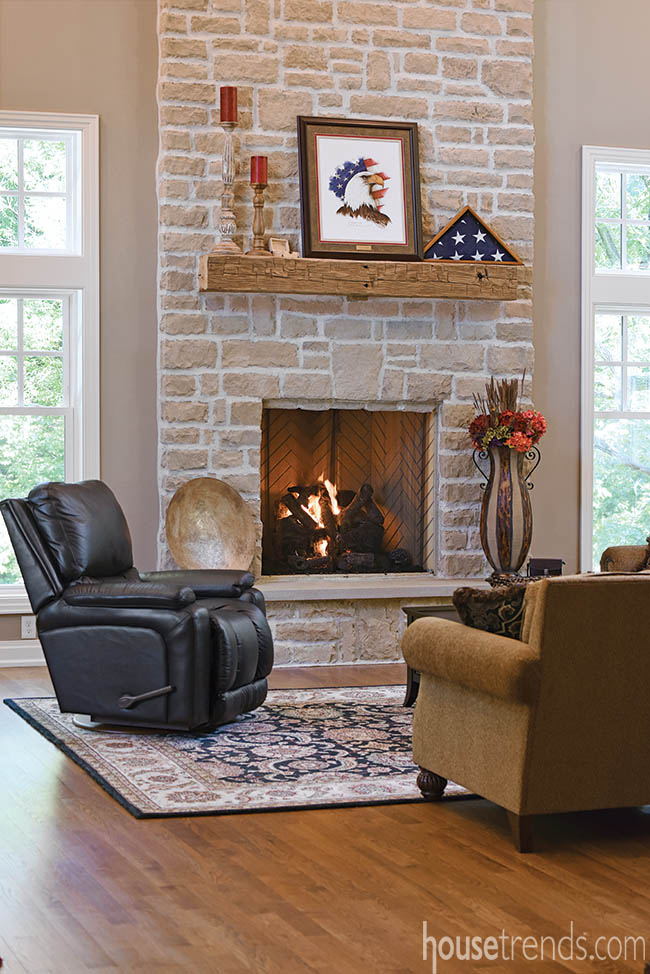 As general construction plans were underway, DeeAnn began to work with the designers at J.S. Brown & Company. Monica Miller, CMKBD & CR, was instrumental on the creation of the master bath. After living without a tub for 15 years, DeeAnn says her family was determined to get a soaking tub in this house.
"Even the girls will jump into it," she says. "A tub was definitely something we missed."
Kate Pfriem, J.S. Brown & Company's selections coordinator and interior designer, worked with the family on the kitchen, laundry room, paint selection and a myriad of details such as door knobs and cabinet pulls.
"You just don't realize how many details there are," says DeeAnn. "There were a couple of times I got frazzled, there were even a few tears, but once I made the call to Kate or Monica, I felt better."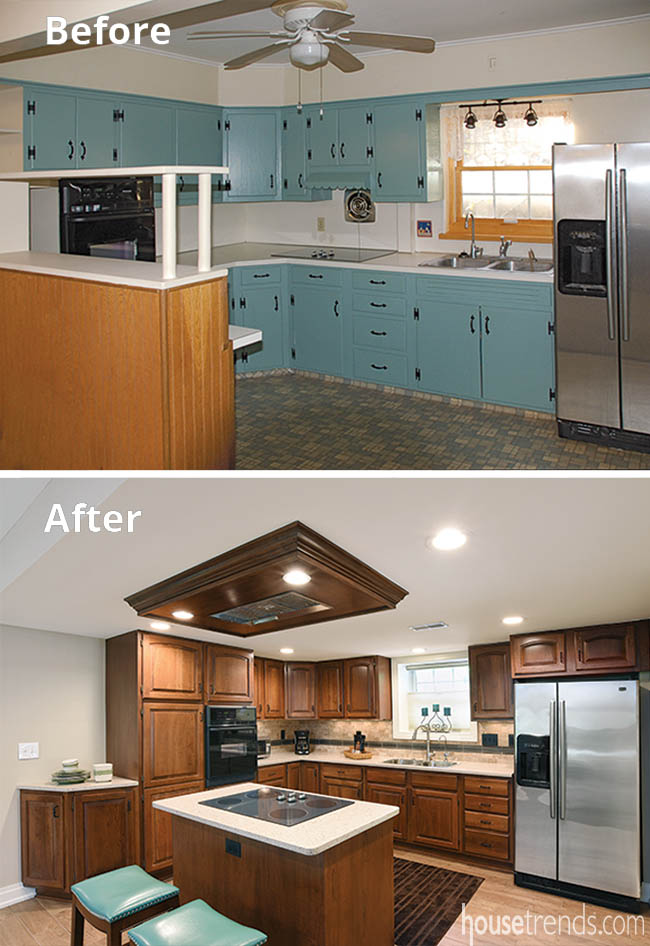 Just recently, a few more tears—this time, happy ones—were shed when the couple's first-born daughter married under a giant oak tree on the edge of the property. Over 150 guests gathered beneath a white tent for a reception on the front lawn on a warm July afternoon.
Wedding plans consumed the family's free time for months, but now DeeAnn is ready to move on and add a few more touches to make her home reflect the family inside.
"Everything, I keep saying, starts after the wedding," she says. "I like to cook and this is the first time that I feel like I have a kitchen where I want to cook."
I love how tall the ceiling is and the long stone treatment above the range hood draws my eyes right up to the wood beams overhead. I also like how cabinet panels hide the appliances, making them blend into the overall design.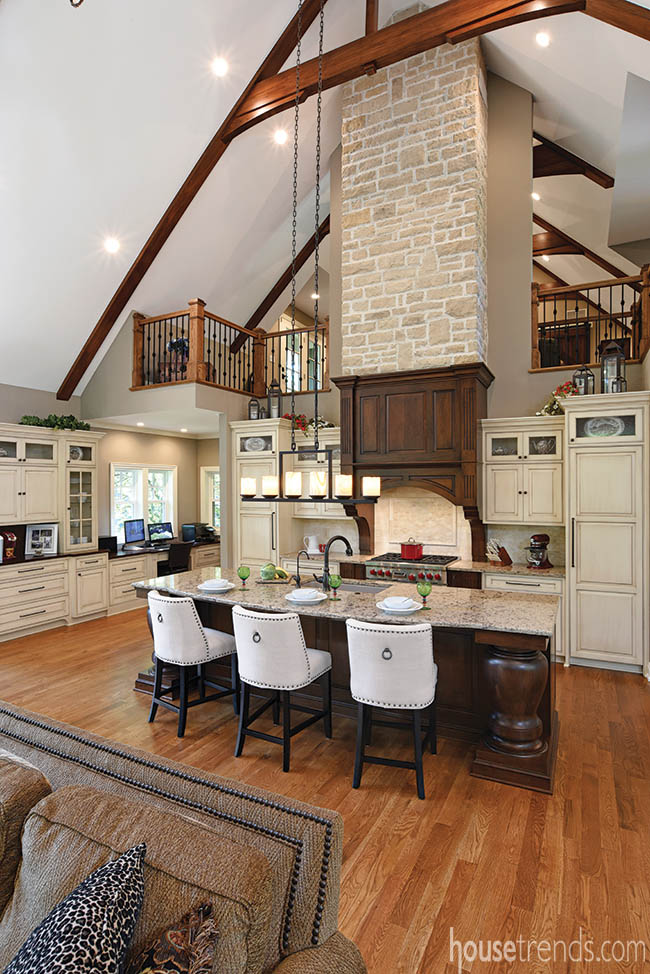 The first event the family hosted in their new home was on December 24, 2015—move-in day.
"As the contractors were walking out of our home after installing shower doors, my husband's family walked in with armloads of food. So Christmas Eve was our first big event here. There were about 30 of us," DeeAnn says. "It was our goal to be in by Christmas and J.S. Brown made it happen."
Now that the extended family has come and gone for the recent wedding festivities, DeeAnn is ready to focus on putting her family's own stamp on their new home, but she admits to being a bit of a novice when it comes to interior design.
"We're still determining our style because I never really had a home that I felt was mine enough to decorate," she says. "Until this one."
Resources: Architect: Pat Manley, Manley Architecture; Builder: J.S. Brown & Company Inc.; Interior designer: Kate Pfriem, J.S. Brown & Company Inc.; Landscape designer: Bud Gard, Yard Solutions; Lighting: Ferguson; Paint: Family room in Morris Room Gray, Lower level in Urban Putty, Exterior in Dark Bronze, trimmed in Almond, all from Sherwin-Williams; Fireplace: Heatilator, The Hamilton Parker Company; Kitchen designer: Jeffrey S. Brown, J.S. Brown & Company Inc.; Bathroom designer: Monica Miller, CMKBD & CR, J.S. Brown & Company Inc.; Cabinetry: Combination of custom and Shiloh through J.S. Brown & Company Inc.; Countertops: Cambria quartz and natural granite, Konkus Marble and Granite; Sink and faucets: Kohler, Ferguson; Appliances: Asko dishwasher, Sub-Zero refrigerator, Wolf range and microwave drawer, all from hh Gregg; Railing system, interior doors and trim, beams:  Sommers' Wood-N-Door; Custom barn doors: J.S. Brown & Company Inc.