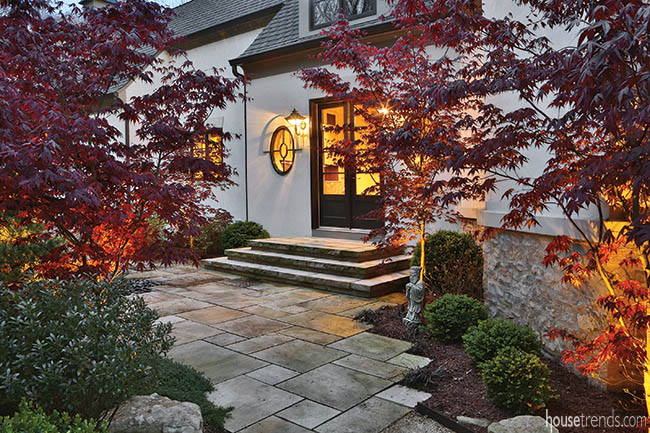 An old black and white photograph of the homeowner's mother standing in front of a broad veranda with bold, white columns sparked the design inspiration for one couple's new home in Powell. Verandas hold fond memories for the husband who was born and raised in India. "My parents' home had wide verandas, so this feels like home," he reflects while sitting on the spacious columned veranda of the home he designed with his wife. "The veranda was the anchoring piece. The house followed."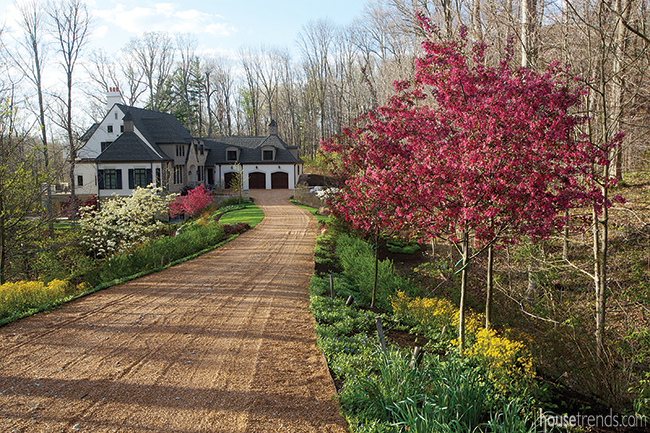 The setting for the couple's new home honors her Irish upbringing. "Growing up near the coast, my wife wanted to be close to the water. The lot on the Olentangy River with rolling terrain would remind us of Ireland's undulations," he remarks of the rugged lot they selected. Its landscape posed some challenges, including two ravines requiring extensive retaining walls to create a driveway, a setback requirement from the Olentangy River flowing along the back of the lot, and a host of variances and approvals needed from the township, not to mention all of the lawn care in store for the future. Despite all of its requirements, it was their desired lot. "I pushed for it, it really spoke to me," she recalls.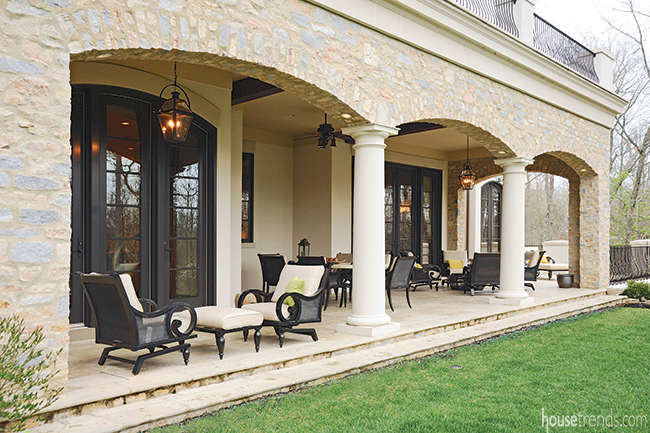 To build the home, they chose Bob Webb Group after seeing and admiring their work over the years. The rear veranda is an integral part of the home's main floor with its ease of accessibility from several different rooms. The kitchen, gathering room and great room all provide their own access to optimize dining and entertaining on the veranda. His study and her master bathroom have doorways to the veranda as well for reaching the backyard retreat. From almost anywhere on the main floor, the veranda is just a step or two away.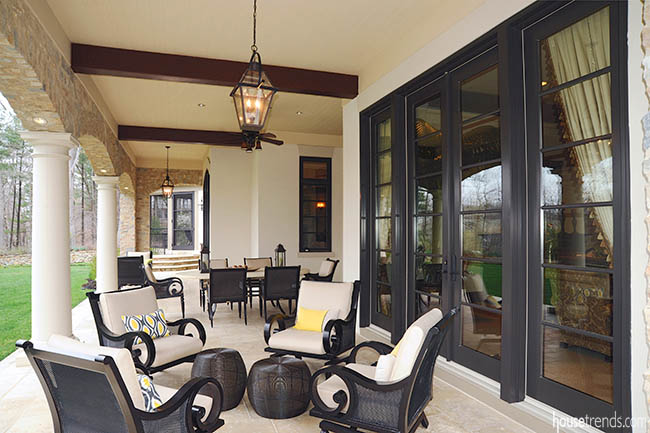 With all the decision-making and two years of construction behind them now, the couple now enjoys every inch of their new home, which due to the patio lights is usable any time of the day. "The final outcome did turn out the way we envisioned," he comments. "With a top class architect, builder, designers and subcontractors, we have no regrets and would not change anything." As far as the veranda goes, "April to October, that's where we spend more time than anywhere else in the house," she says. "It's my favorite room," he concludes.