Written by: Lyla Haggard/Photos by: Joe Traina
Color seems to have a supernatural power to lift spirits, calm nerves and create everything from a peaceful environment to a lively and bold atmosphere. When Nicole DeBartolo and Chad Chronister purchased their South Tampa house they knew they wanted to transform it into a happy and energetic home.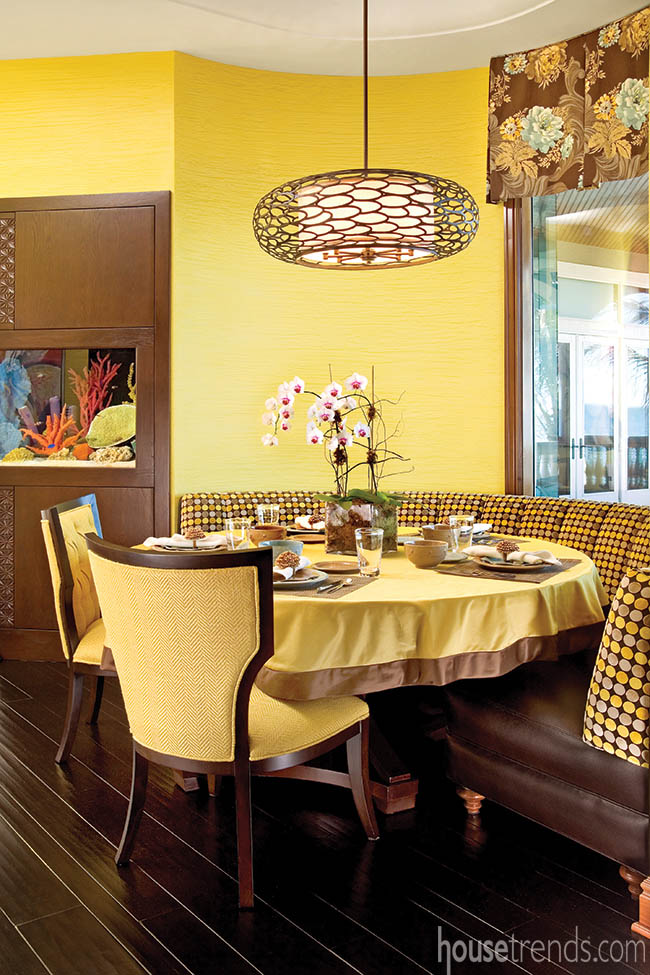 A chic remodel
With views of Tampa Bay on three sides, this 10,000-square-foot house is a stunning illustration of how a change in décor can create an entirely different atmosphere within the home, one suited to the lifestyle of this young couple and their seven-year-old son Asher.
The family was living in a lovely traditional brick home on a golf course, but, says Nicole, "That didn't make sense because neither of us golf. We wanted to be by the water and this house was the perfect location." They knew, however, that they would have to do a lot of work to convert it into their "happily ever after" home.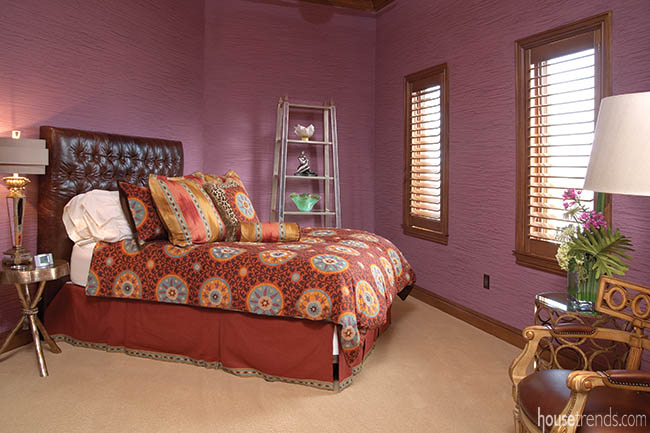 Nicole called on interior designer George Mazas, of Mazas Design Gallery, to guide her in this renovation, since he had worked on her previous home and with her parents' home as well. "There was no better choice for us. We knew that George would have no problem making our project perfect. His work just speaks for itself," she says.
In fact, Mazas was an ideal choice because he knew the house very well, having designed the interior for the prior owners. "It was a little unusual, although not the only time I've done it, to un-do something I had created for different owners. But this was simply a case of a young couple with different tastes who wanted a completely different feel to their home," he explains.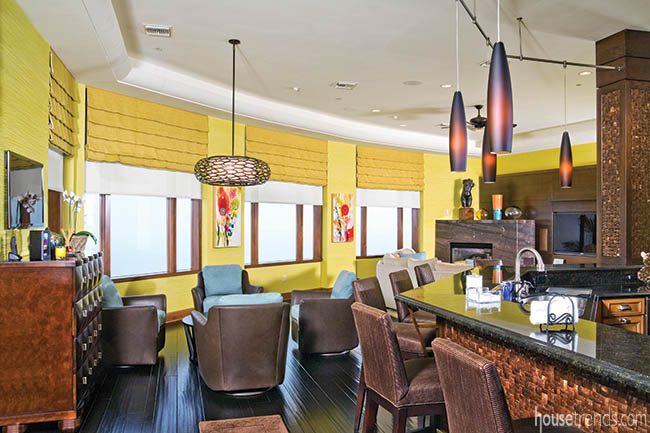 Combining color and texture
The existing French Baroque décor was ornate, with elaborate fireplaces, columns and moldings. Mazas describes the new décor as soft contemporary, with clean lines, a variety of textures and—most importantly—lots of color. "I wanted the décor to express this couple's joyful sense of being alive," he explains. "Nicole was not afraid of using color…fuchsia is a daring, bold choice for even a contemporary home, but it really manifests their energy and zest for life." Adds Nicole, "We wanted the house to represent where we are in our lives…and that's happy. It's a very happy house."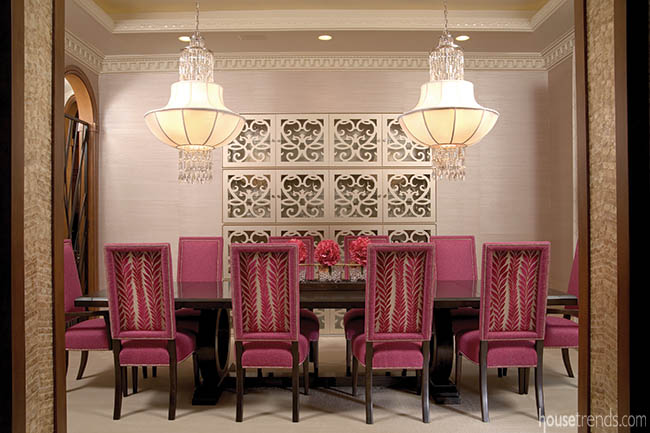 The exuberance of this family is evident upon entering the home. To the right of the foyer is the dining room, where brightly upholstered chairs—with an intriguing, herringbone-inspired pattern on the backs—introduce the use of fuchsia as an accent color throughout the house. An Italian display cabinet on the far wall and the vibrant "Exotica" painting, by Leila, at the end of the table give a contemporary feel to the room. Dramatic chandeliers give a feel of elegance for more formal entertaining.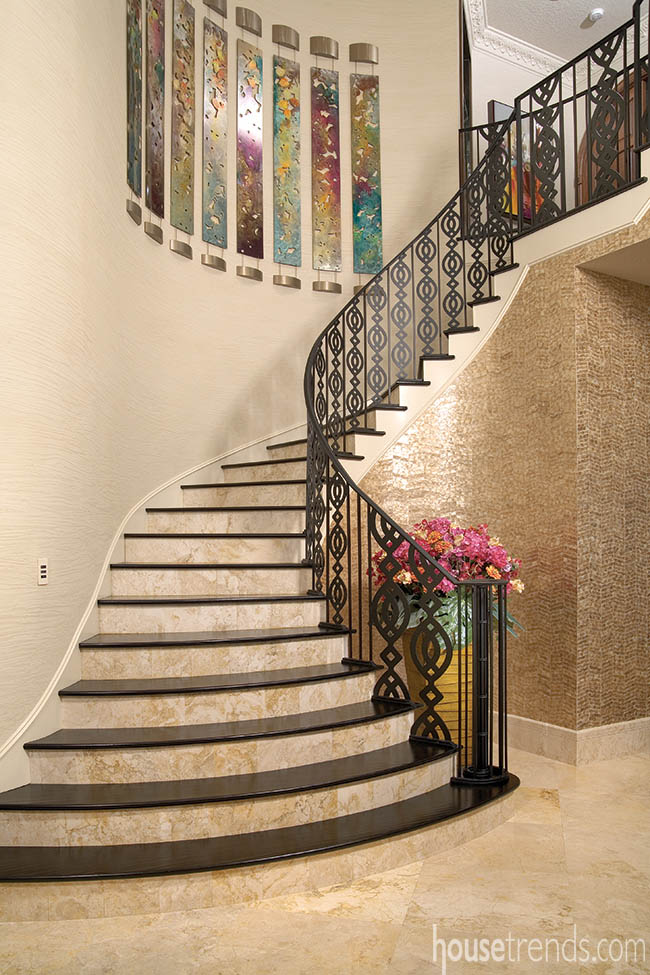 Most walls in the home were resurfaced with a raked plaster finish containing marble particulate. Several plaster columns were replaced with ones made of wood and mother-of-pearl. Above the curved staircase with a graceful wrought-iron rail leading upstairs, a striking arrangement of seven narrow mother-of-pearl rectangular wall tiles picks up the touch of shimmer in the columns and walls.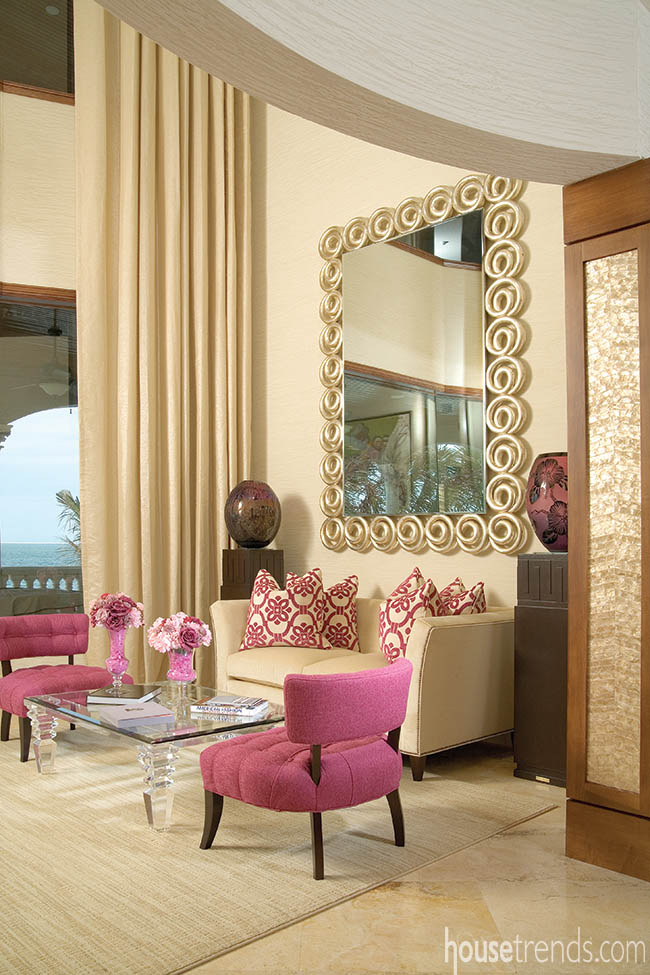 Cheerful gathering spaces
Straight ahead is a small seating area with water view, which was formerly used as a living room. Like many homeowners, Nicole and Chad seldom used this area, preferring the family room instead. Mazas suggested that it be converted into an after-dinner conversation area where guests can enjoy a relaxed coffee or liqueur. The custom designed oak and stainless steel bar is a featured piece in the room; it faces a small settee located under an impressive brushed chrome framed mirror, which reflects the bay view and gives a larger sense of space. Two side chairs, also upholstered in fuchsia, continue the colorful theme.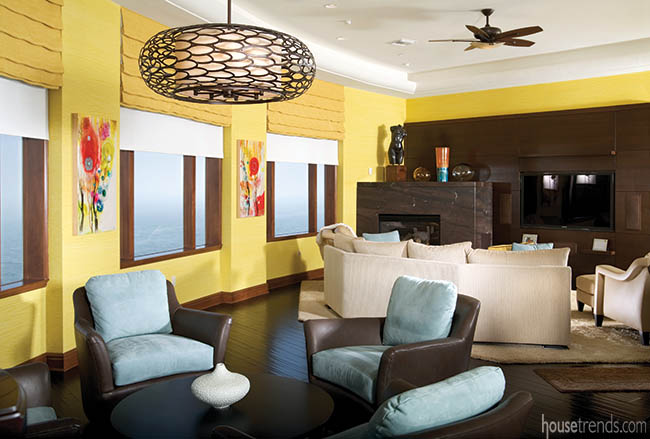 The kitchen, family room and pool area are where the family spends most of its time. Mazas redesigned the area to accommodate the couple's lifestyle, bringing the outside inside. Floor to ceiling windows and doors bring the pool area and the bay beyond right into the house. "It's the perfect set up," says Nicole. "Barstools, seating area, big couch, two flat-screen TVs, and a table that seats eight. It's our hangout room where we all congregate."
"Neither of us cooks, but we now entertain a lot," notes Nicole. "The double Sub-Zero refrigerator and large Viking range are perfect for parties." For the kitchen, Nicole also chose a Dacor dishwasher, two additional refrigerator drawers, and a Sharp microwave drawer. Mazas was able to keep the cabinetry intact, updating it with more contemporary hardware. A new, brushed stainless steel hood above the range has clean lines and a more modern shape. Columns made of coconut shell, a backsplash of soft aqua glass tiles and a giant salt water aquarium give the feel of Florida life.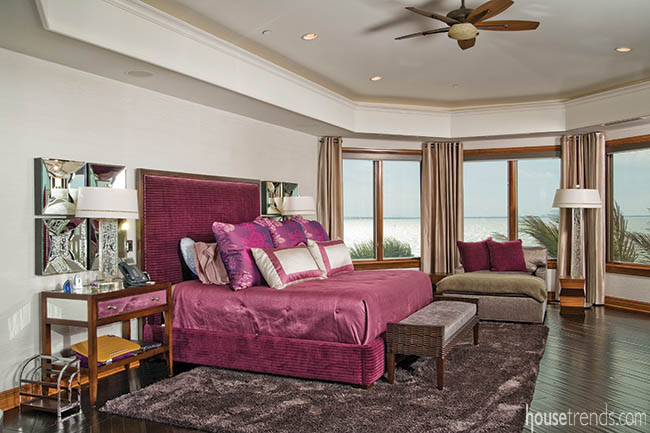 Mazas found the master suite to be his greatest challenge. Formerly dark in tone, it now has a serene, almost Zen-like feel. The master bedroom has water views on three sides, with motorized window treatments that control the Lutron blackout shades (which were also installed throughout the rest of the house) for restful afternoon naps when desired. A spacious two-room his-and-her closet accommodates all Nicole's needs. "Finally, a perfect closet for both of us. Everything is laid out just right, and I don't have to steal space from Chad," she laughs.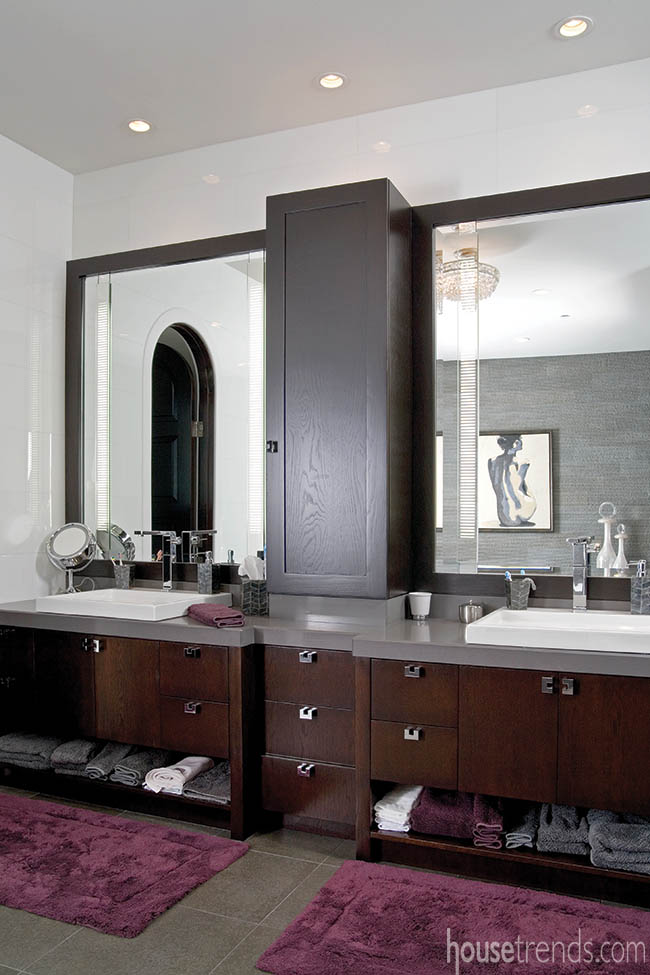 The master bath was completely redone to create an in-home spa. The shower has walls textured with contrasting milk glass and slate tiles and features rainhead shower heads, body sprays for pressure points, steam, speakers for music and a deep bench on which to sit. An electric window fogs up immediately to insure privacy.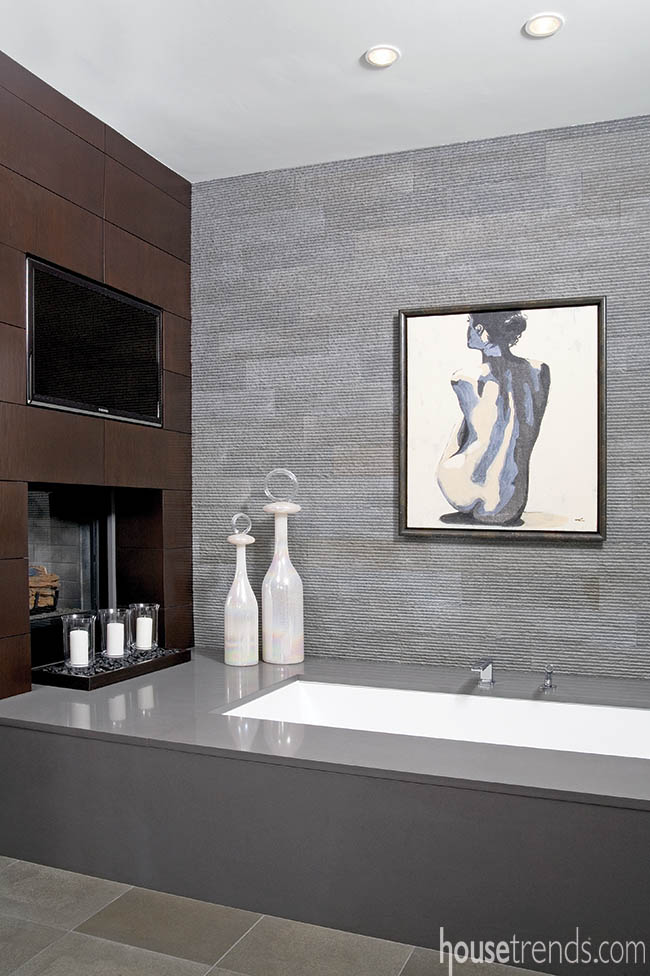 The spa tub not only has the typical water jets but is also installed with a system of colorful LED lights that can be adjusted for chromotherapy treatments in which the color of the water changes to suit the bather's mood, with Asher pointing out his favorite is blue. A fireplace at the foot of the tub adds to the atmosphere of this truly unique experience.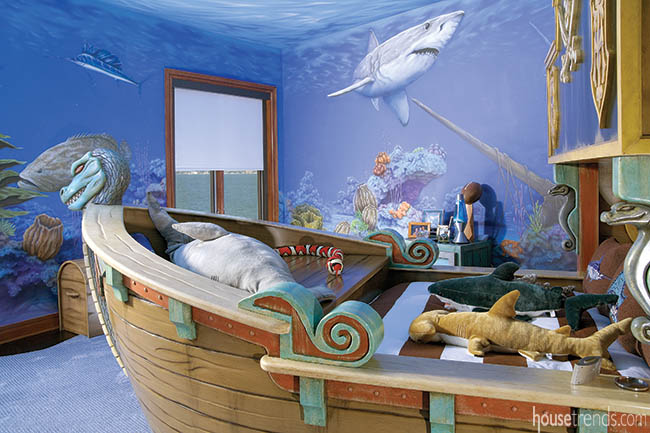 Fantasy comes to life
A completely different environment was created for Asher's bedroom by Tampa artist Jason Hulfish, who specializes in fantasy-themed children's rooms. "I love to design a room the way a kid would want it, not as a parent or adult would," Jason explains. "I just think BIG—not small and cutesy—and kids love it!" There's no doubt that this pirate's den is designed for an imaginative boy.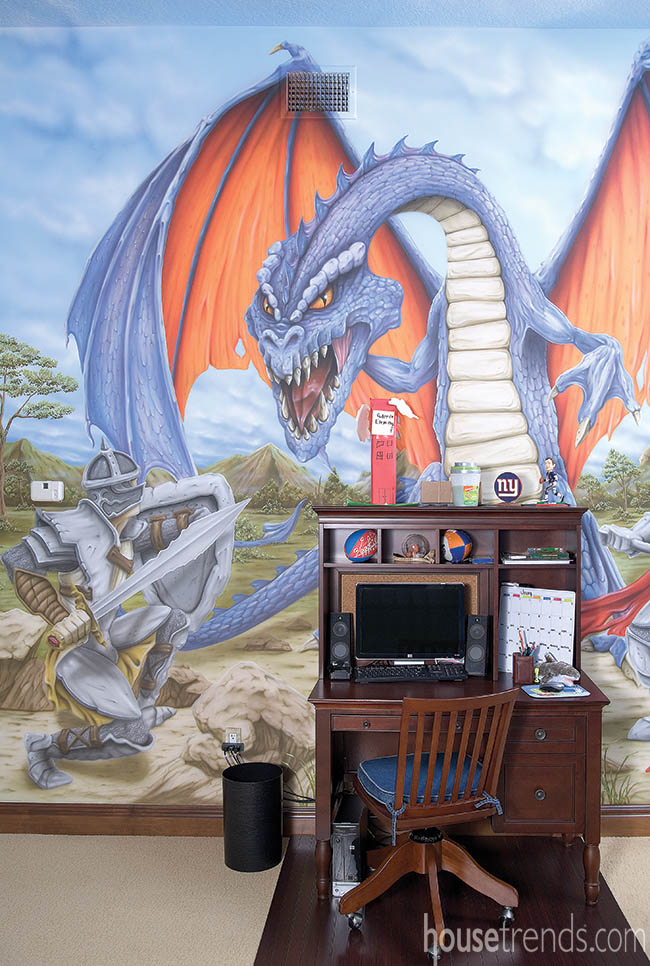 Asher has a thing for pirates, dragons and fish, so Hulfish painted walls and ceiling as though underwater, with giant shark and other fish swimming around a custom-built pirate ship/bed. "I built this bed to be safe and functional but also to look cool," he says.
The project was challenging, not just to build but to design in such a way that it could be taken apart to get it up the stairs, through the 30-inch doorway (the narrowest in the house) and then reassembled in the room. At the foot of the bed, the dragon, which weighs about 60 pounds, is made of eight pieces of wood laminated together and then hand sculpted.
Hulfish points out that, "Kids may not remember a lot of things, but they always remember the house they grew up in. I want my clients' children to have the kind of room where all their friends like to come over and hang out."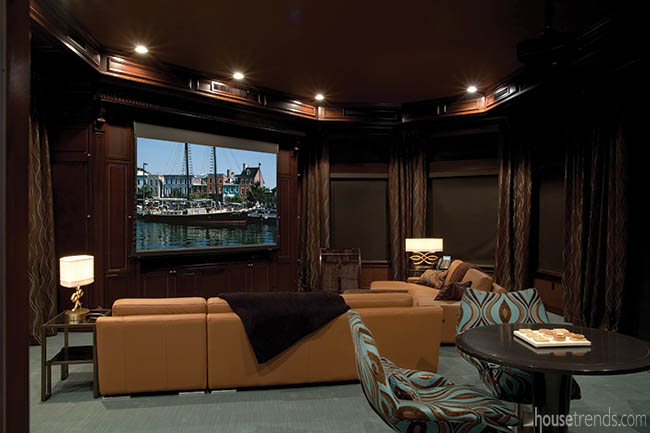 Joyful surroundings
The remainder of the residence also includes several guest bedrooms, a playroom, media room, long veranda and outside kitchen poolside.
Mazas encourages homeowners to consider a new look for their homes. The important thing is to find an experienced designer who can guide owners in the myriad of decisions that arise. "Nicole was an ideal client. She's not only intelligent and artistic, she knows what she wants. That makes it easier for us to work together," he says. "It also helped that she is so gracious and full of joy."
Resources: Interior designers: George T. Mazas and Stephan Grgic; Furniture, window treatments, wallcoverings, lighting and accessories: Mazas Design Gallery; Child's bedroom and play room: Jason Hulfish; Cabinetry: Venus Cabinets; Stone and granite: Europa Stone; Plumbing fixtures: Ferguson Kitchen & Bath Gallery; Paint and art finishes: Ted's Wallcovering and Art Finishes; Wood flooring: Oakleaf Hardwood Flooring, Inc.