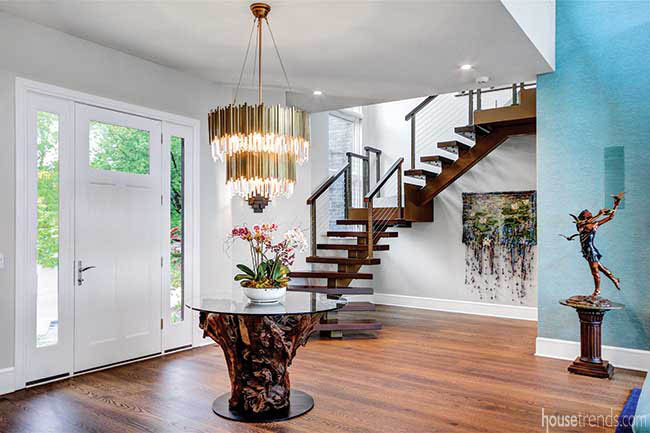 From a whisper of the lightest shade of powder blue, the attention-grabbing slabs of navy, so dark it looks black at first glance, the whole home has been dressed in this calming color. "Blue is my favorite color," says homeowner Michael. "But also, in the winter, on the lake, it's very gray, so I wanted a mix of color in the home so it didn't look so sterile."
From the moment you step through the door of this Avon Lake home your heart rate drops in accordance with the relaxed atmosphere, all the while your senses are gently stimulated as you try to take it all in—the dazzling lighting fixtures, the accessories carefully collected over a lifetime, and, of course, the stunning view framed by the expansive windows. "I'm a big diver," says Michael, "so everything ocean-related is what I love."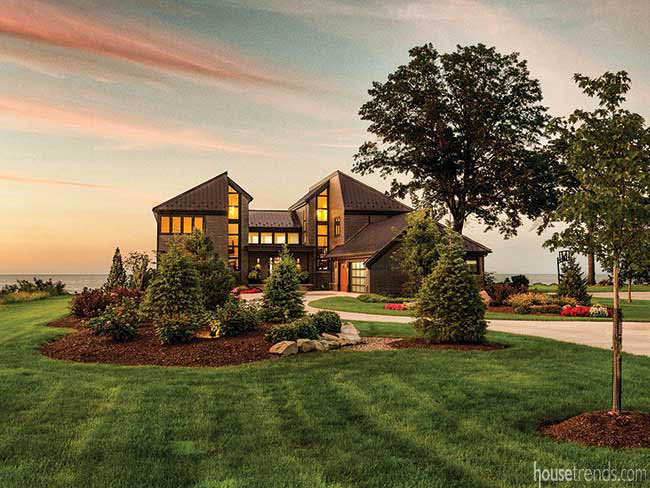 Designed for a crowd
With an expansive portfolio of new workplace structures that he was intimately involved in the design and build of, Michael knew just what he wanted when it came time to building his own home—a 12-month process that was wrapped up in March of 2017.  Helped along by designer Barrie Spang of Sapphire Pear, the dynamic duo created a colorful oasis that puts a new, positive twist on feeling the blues. "I saw her work and she does a nice job," says Michael on his decision to work with Barrie. "I wanted something different." And that is exactly what he got.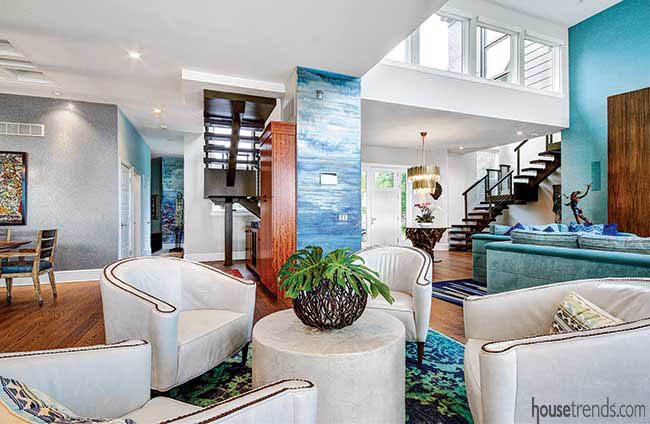 An avid entertainer, he realized that an open floor plan would be most agreeable to his lifestyle. Indeed, while Michael is cooking in the spacious kitchen, guests can flit between the sofas in the living area to the casual conversation pit and then on to the culinary space itself. "It's used all the time," Michael says of the conversation pit. "People sit there all the time when I'm cooking, and it's a good place to sit for morning coffee."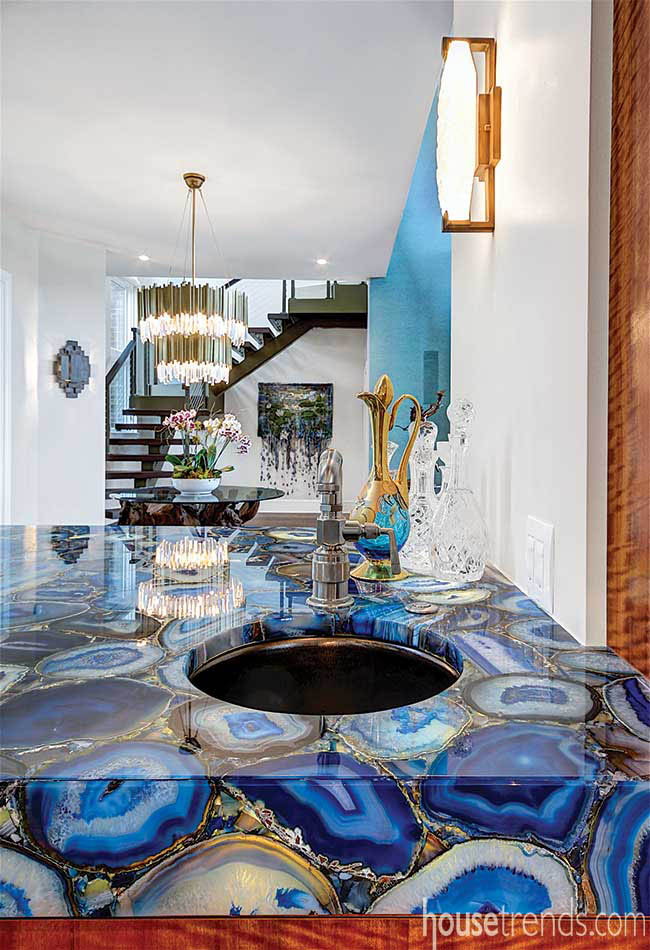 Knowing that some separation is key to an open design concept, a bar was strategically positioned just a little ways past the foyer. Covered in a gorgeous blue agate interrupted only by a perfectly circular sink, the bar offers plenty of storage space for entertaining essentials and creates a slight pause in the design.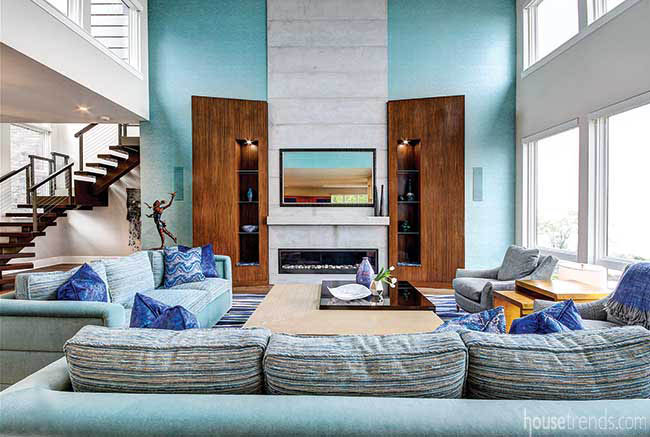 Though the owner prefers entertaining outside whenever possible, he made sure to include plenty of indoor details to keep his guests as comfortable as possible. The ceilings in the great room, for instance, stretch a generous 20 feet in the air, lending a luxurious, roomy ambiance to the space. A gas fireplace, often used by the homeowner during the colder months, carefully counteracts the high ceilings, creating a delicate balance of coziness. "I love the great room," says Barrie. "I just love how grand it is, but yet so comfortable."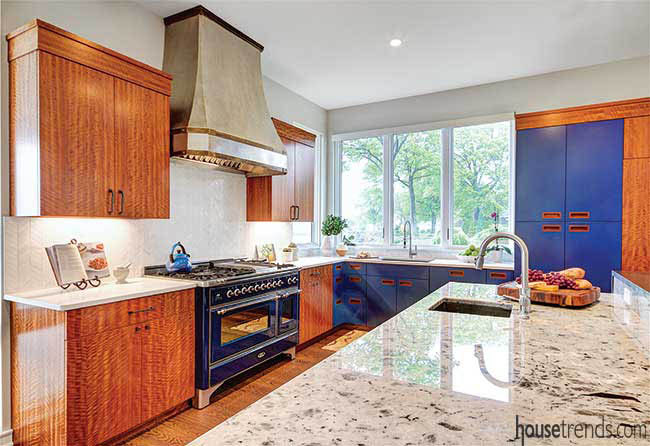 Cooking up a storm
The blue theme continues over to the kitchen where vibrant cabinetry catches the eye. Pullout drawers open to reveal a plethora of spices and cooking utensils as the owner admittedly tries his hand at any kind of recipe. A wine aficionado, Michael keeps a quaint wine storage space close at hand, diligently pairing bottles with complementary meals. The leathered countertops see plenty of wear, holding dish after dish of the homemade delicacies. Fond of textures, Michael included a variety of materials throughout the space. "I wanted a lot of different plays on wood," he says. "So, I have oak, cherry, birch, redwood—a lot of redwood, actually—and zebrawood."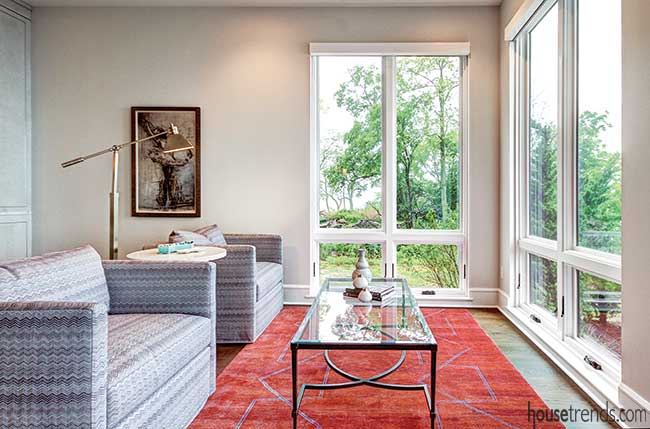 The vibrant area rugs scattered throughout also help to provide some texture to the space. Hardwood floors run through the whole home so Barrie says they used the rugs to distinguish certain spaces. "I feel like the rugs were really important to designate certain areas and add texture."  She continues on to point out that while most of the rugs are new or custom pieces, she was sure to include ones that Michael already owned into the design. Woven of colorful reds, greens and creamy neutrals, the rugs tie in to the preferred color scheme with a hint of light blue here and a splash of navy there.
Feeling the blues
The private sector of the home also emulates the owner's signature color. An avid scuba diver and determined non-admirer of the seasonally gray Cleveland weather, he strived to create a bright atmosphere that radiates positivity, and a home that focuses on the view. "I wanted to be able to see the lake from every room in the house," he pauses. "And I can."
With an expansive bed positioned toward a wall of windows and an otherwise simplistic design, the master suite is no exception. A cozy seating area just steps away is the perfect place to welcome in the morning.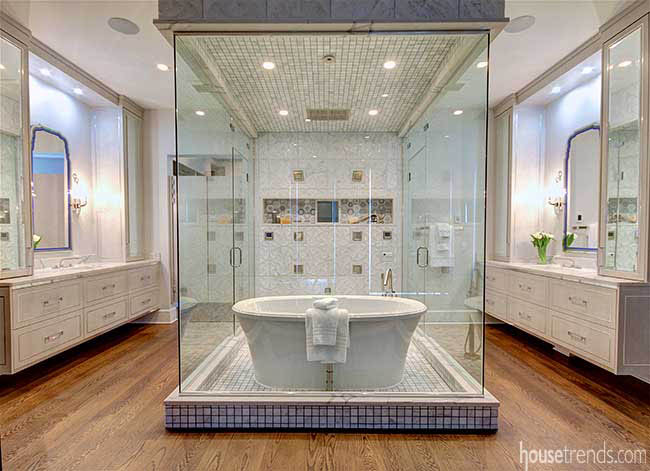 The master bath offers everything in the way of luxury, from the heated floors to the steam shower to the bathtub with a heated back. Ever practical, it also features a heated mirror that doesn't fog up and allows Michael to easily shave.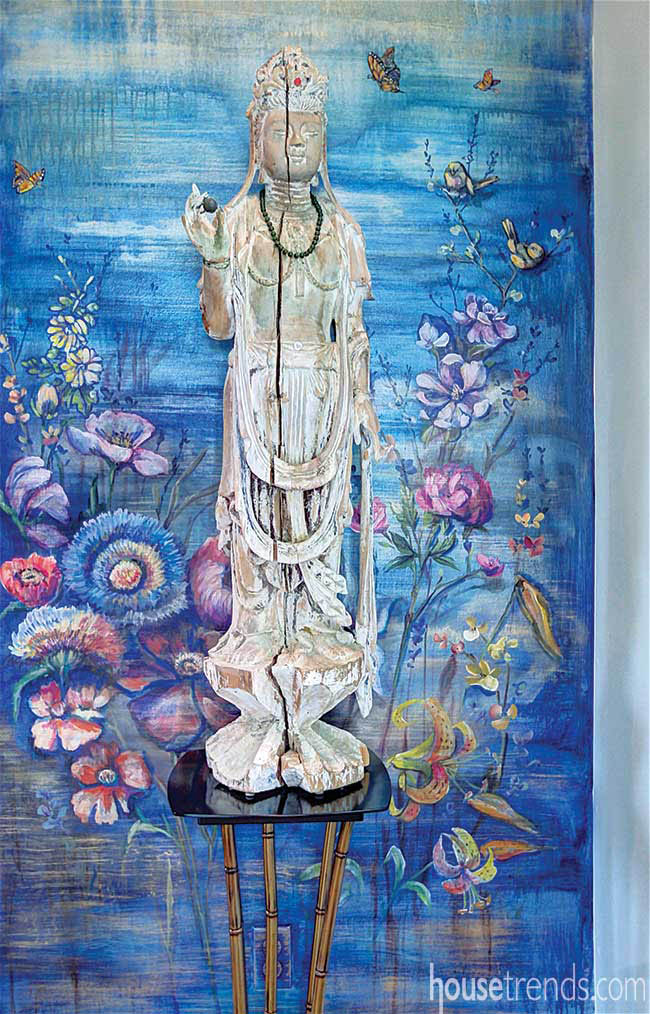 Designed with entertaining—and the future—in mind, this lakeside abode includes a handful of guest rooms and attached baths. Rooms that can be easily converted as the years march on, tailored to fit any changing needs. Currently decorated with everything from a retro secretary desk to storage shelves displaying various knick-knacks, these cozy suites are sure to put any guest at ease.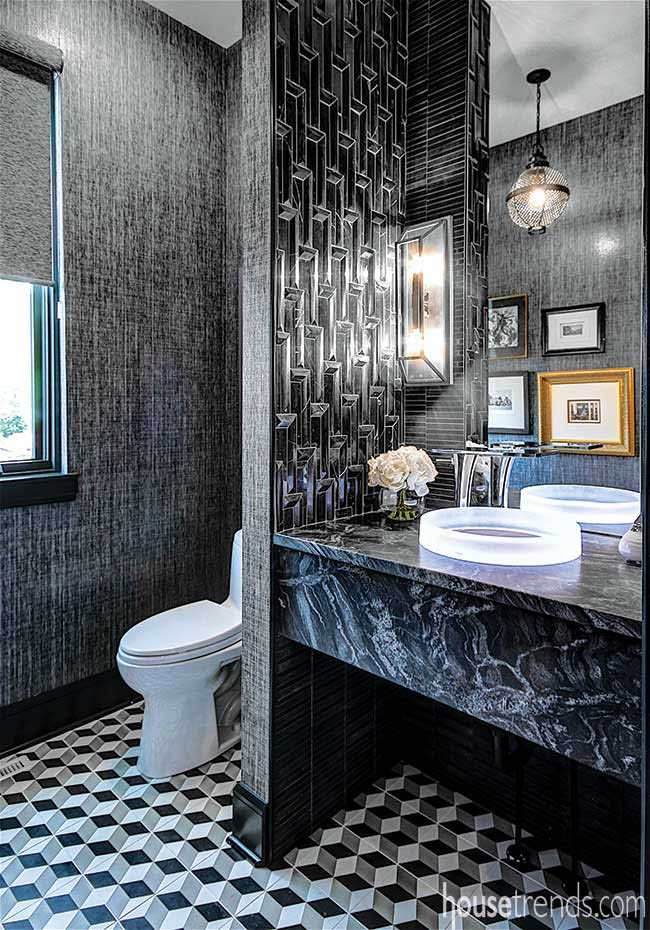 Making waves
Veering from the expected, a striking black powder room is a standout. Dominated by hefty slabs of marble and concrete, the chic space boasts textured wallpaper and a dramatic illuminated sink. "I wanted something completely different in that room," he says. "And I wanted a play on marble; there's really no marble in the house other than that."
The sink was the starting point of this room, Barrie explains, and they built the rest of the design around it.  "I wanted the powder room to be dramatic," she says, "and I knew from the beginning that he was open to unusual, dramatic ideas." That something different came in the form of this illuminated sink, a bright feature spotlighted even further by the dark design. "That was another reason that I wanted to go so dark," she continues, "because I figured it was a great way to highlight this beautiful sink that lit up."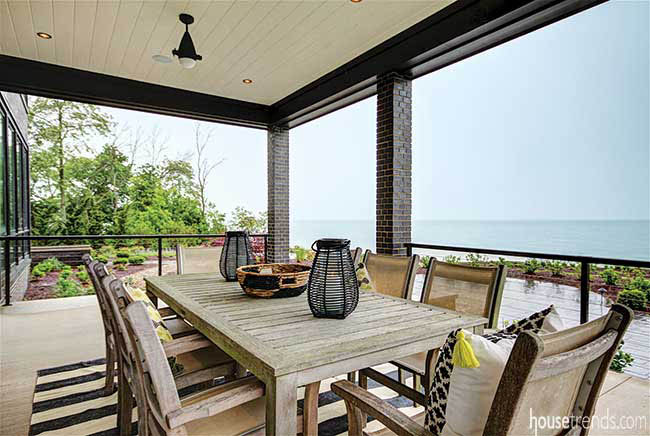 Taking the party inside
Admittedly, Michael prefers entertaining and spending most of his time outdoors on the patio, where he and a handful of friends or family can gather on the cozy furniture and watch the peaceful movement of the water. But, when the cold weather rolls in and forces them to close the patio doors, they troop inside to a different kind of blue, to a home so perfectly crafted that the owner has a difficult time picking a favorite feature. "The view," he decides. "It's just an incredible view. But the kitchen is so user-friendly. Everything here, for me, was perfectly placed."
Resources: Designer: Barrie Spang, Associate ASID, Sapphire Pear; Architect: Mike Cloud; Builder: North Coast Design Build; Flooring: Oak; Cabinetry, built-ins and ceilings in kitchen, dining room and master bedroom: Woodworks Design; Countertops: New Stone Age; Kitchen backsplash: Thomas Brick; Sinks: Kohler; Franke; Faucets: Grohe; Dishwasher: Bosch; Range: Ilve; Refrigerator: Liebherr; Lighting, wallcoverings, furniture, accessories: Sapphire Pear; Garden: Schill