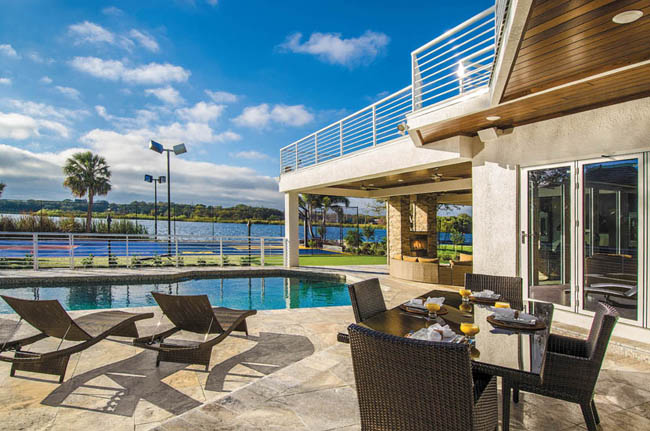 With two young children and 13 years of residence in this home, Bruce Murphy and his wife Lisa had decided it was time to upgrade the back yard. Five years ago, they began renovating the inside of the home room by room, and now it was time to move outdoors. Situated in Safety Harbor between Tampa Bay on one side and Alligator Lake on the other, they wanted to make an outdoor living space that provided a fun place for the kids to play as well as a relaxation and party area for the adults. And, as a house divided between loyalties to Michigan (him) and University of Florida (her), this was a project that allowed them to have some fun with this theme.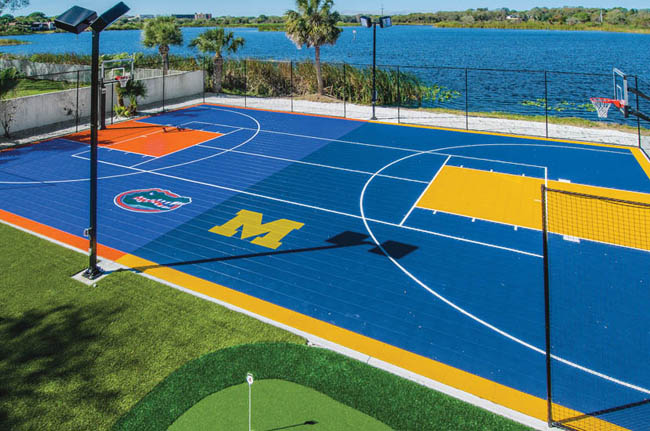 Walking out the rear of the home shows three distinct areas of this project. The most colorful, eye-catching part is the large, 70-foot long sport court that fronts the water in the left corner of the property. Basketball hoops flank either side of the court which features a big yellow Michigan logo on a field of blue on one side and the bright orange and blue colors of the Gators on the other half.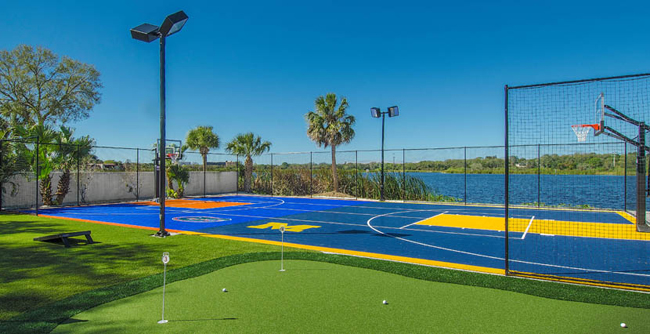 The court features containment fencing, a 10×10-foot rebounder net, two basketball hoops and two double watt lighting systems to light up the courts for nighttime competition. Also in this area is a putting green and a Cornhole green complete with custom-painted Cornhole boards featuring, you guessed it, Michigan and Gator logos.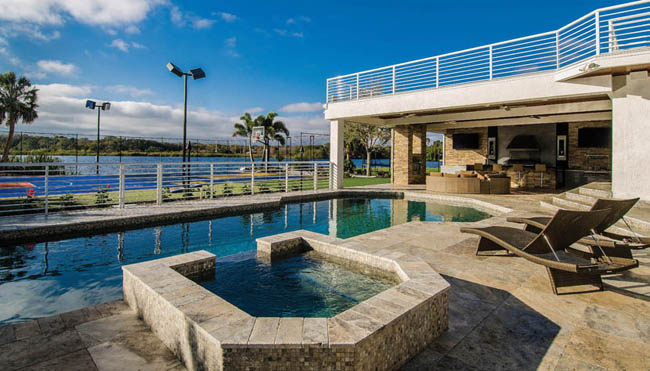 As part of this project, the existing pool was upgraded with travertine mosaic tiles around the waterline and a new pool deck of travertine pavers which tie in with the floors of the nearby outdoor kitchen.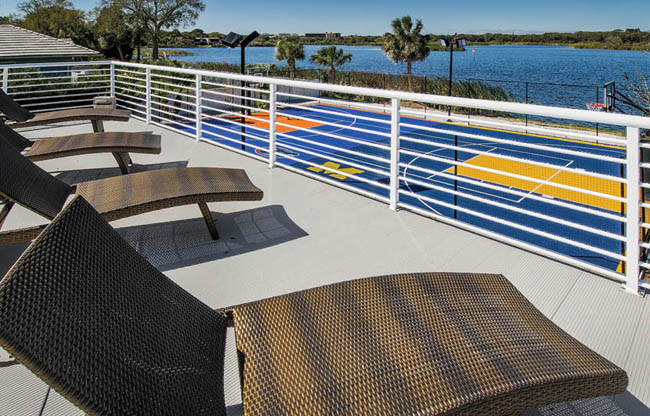 So how did a simple sport court request evolve into a full backyard makeover? "A customer of mine who was a friend of theirs referred me to them," Mike Johnson of Sport Court says. "They called me and said they wanted a sport court after seeing one at their friend's house."
As they chatted, Bruce revealed he was a serious golfer, so they discussed adding a putting green. That's when Lisa said she had always wanted to add six to eight feet to the living room. Bruce then chimed in that he always wished for an outdoor kitchen. In the end, Bruce and Lisa retained Johnson for the sport court and games area and, after interviewing four general contractors, they chose Brian Ross of Lindross Remodeling to be their contractor. A relationship that worked out well all around, as Lindross ultimately oversaw not only the outdoor kitchen, but also the renovation of the pool area.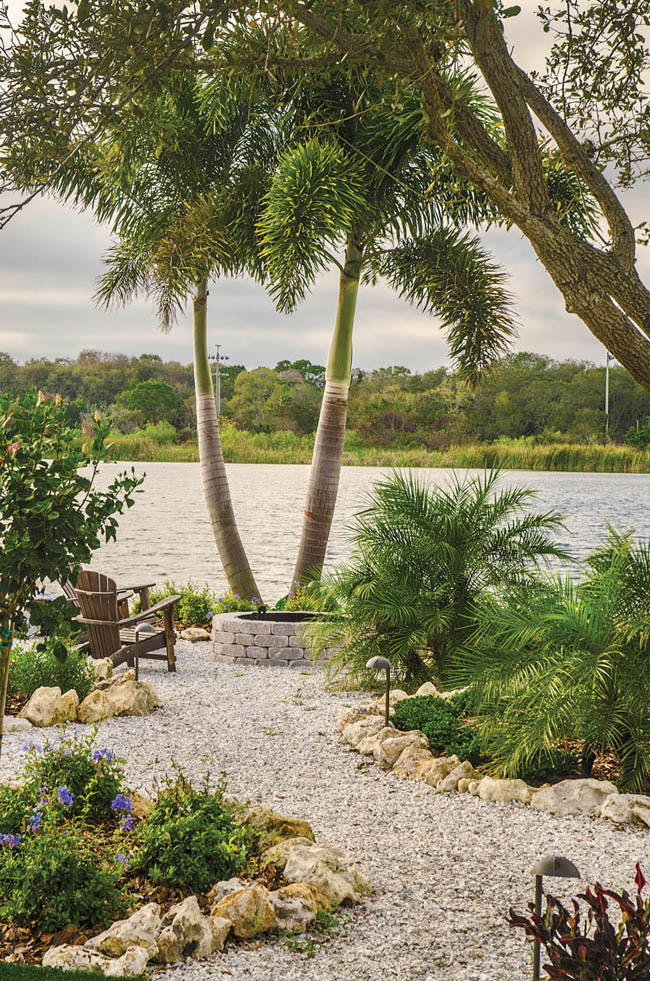 Re-landscaping was also done around the pool and court areas with a waterfront seating area and in the front of the home. With all this work going on, project manager Dan Roth was on site all day, every day keeping an eye on things. "He practically lived there," Brian laughs.
"This project grew and grew and grew. It just kept morphing," jokes Bruce. "It started with the sport court which morphed into the kitchen, which morphed into redoing the pool. Then we said we might as well redo the landscaping while we're at it, which morphed into redoing the driveway with pavers. Then my wife said she always wanted a water feature, so we added that to the driveway as well. After all that, we're staying here for a while!"
"This project grew and grew and grew. It just kept morphing," jokes Bruce. "It started with the sport court which morphed into the kitchen, which morphed into redoing the pool. Then we said we might as well redo the landscaping while we're at it, which morphed into redoing the driveway with pavers. Then my wife said she always wanted a water feature, so we added that to the driveway as well. After all that, we're staying here for a while!"