Kitchen countertops are generally the focal point of the home kitchen. While granite is still a popular choice for homeowners, many other materials, both natural and manmade, are gaining ground in kitchens across America. Though by no means exhaustive, the list that follows outlines some of the trendiest options in kitchen countertops.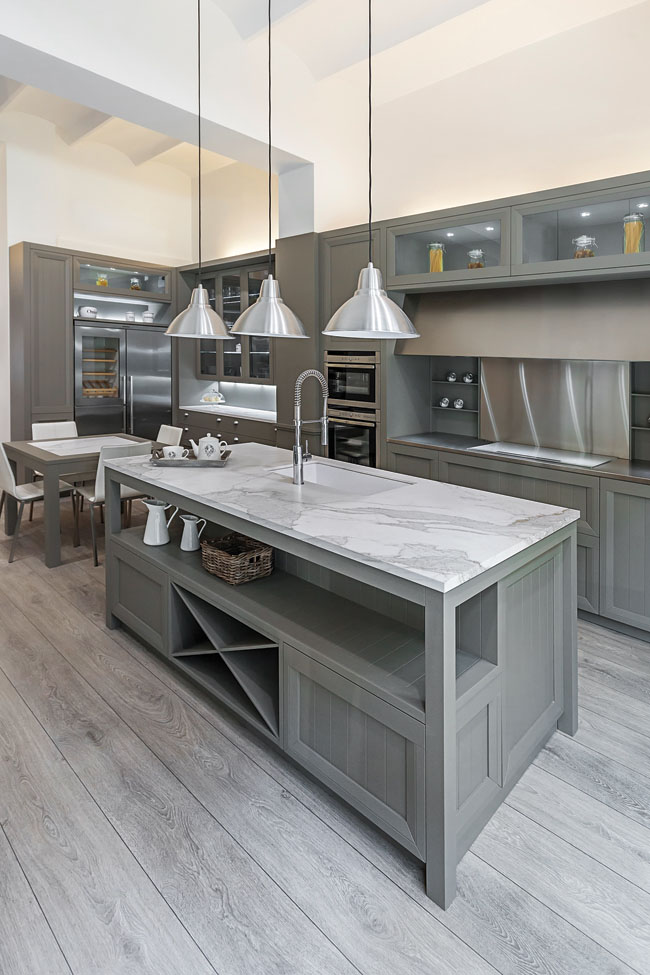 While porcelain slab isn't brand new, it is becoming more popular as a choice for kitchen countertops. Though it has the look of natural stone, porcelain is easy to clean, is heat resistant, scratch resistant and, as a bonus, can be placed over an existing countertop. It is also a great choice for outdoor kitchens, though it is suited for the indoor life as well.
Unlike granite, which needs to be resealed after several years, this step is not required in the case of porcelain.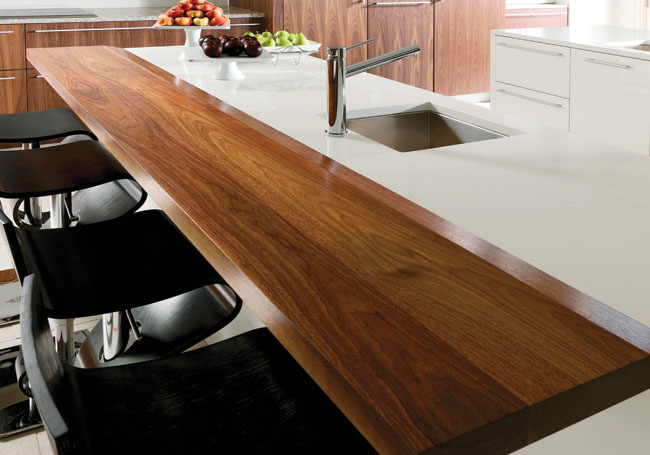 A veritable forestry of variety is what makes wood a popular choice for kitchen countertops. From walnut to Bolivian rosewood to hickory to maple, the choices are countless, and the price per square foot is equally varied.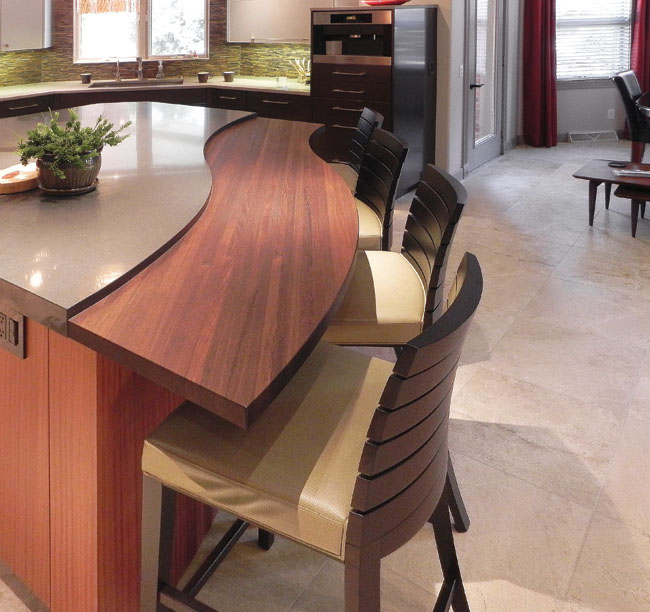 While wood has been around for a while, it's only recently becoming more standard as a kitchen countertop choice.
For Grothouse Lumber in Allentown, Pennsylvania, one reason for this upsurge in popularity is likely the Durata Finish that they've developed, which, with a one-time application, makes the wood waterproof and maintenance-free; any guest that spills red wine on the wood surface will be reassured that no permanent damage will result.  Plus the wood will not flake nor become brittle, and with the finish, the wood will not expand and contract.
The island has become the focal point of the kitchen, with seating around the perimeter. "People like to sit at wood; it's warm to the touch and more inviting than stone," says Grothouse. "Often, people will use a wood countertop with other finishes around the perimeter to allow the island to stand out on its own."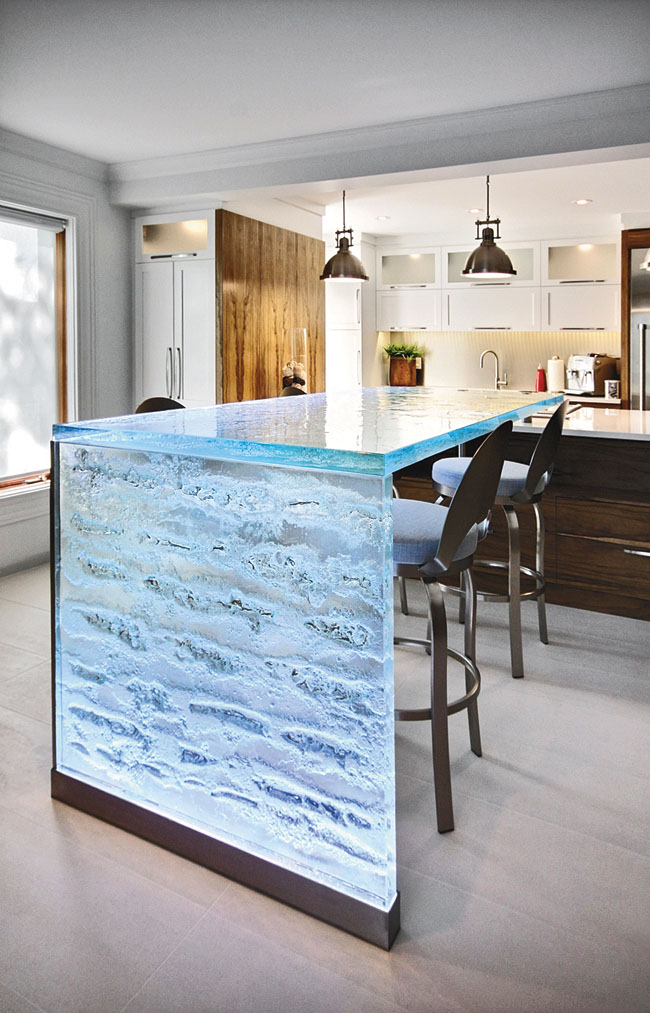 For those looking for a non-porous and low maintenance countertop, glass is a desirable option, though it can be expensive. "Because glass is a solid surface cast in a single piece, it has no cracks or weakness, unlike natural stone. Glass requires no annual sealants and can be easily cleaned with any commercial glass cleaner or with simple soap and water," says Bertrand Charest, president and co-owner at ThinkGlass in Quebec, Canada.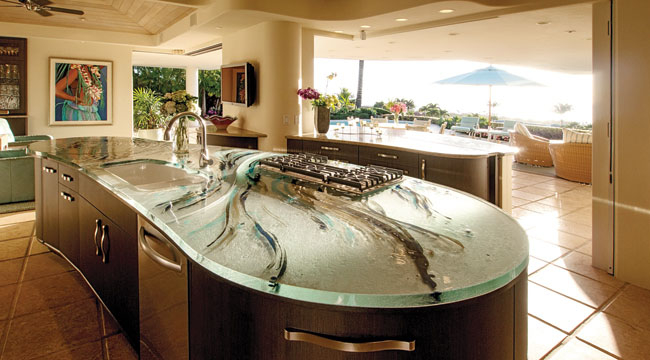 Durability is another key advantage, as glass will not change its appearance under sunlight, with age, or with exposure to the environment. It can also endure high heat without scorching. "The textured finish underneath also masks fingerprints, common wear, and allows scratches to go unnoticed," says Charest.
Plus, options for illuminating the glass surface with an LED light can give any kitchen a more dramatic effect, as well as ThinkGlass's innovative glass side panels, which scatters light in a continuous flow.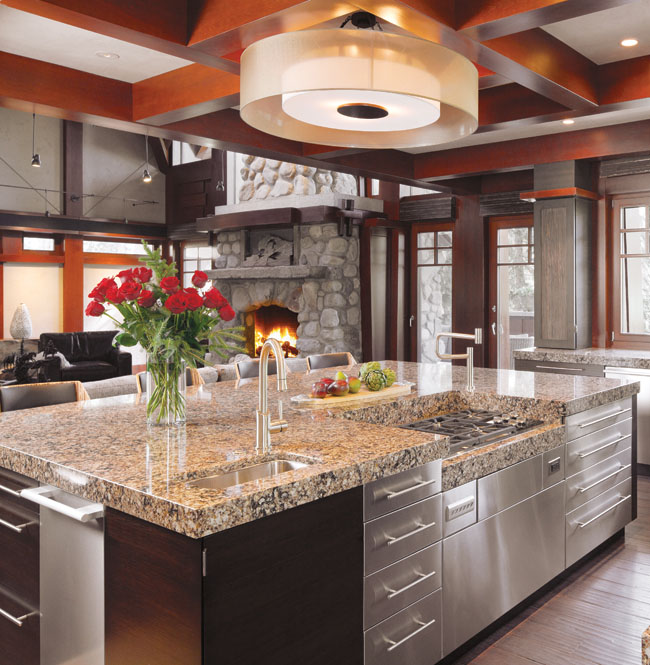 Quartz is also giving granite a run for its money. Though quartz is made from natural substances, it can be engineered for a custom and flawless look.
Manufacturers such as Caesarstone, Cambria and Silestone are creating rich, custom colors and designs. Cambria, based in Minnesota, has exclusive mining rights to a quartz mine at an undisclosed location in Canada, explains Summer Kath, Cambria's Director of Business Development, who also oversees product development. "Quartz is one of the most abundant minerals on earth," she says. It is also one of the hardest minerals on earth and therefore, can make a mighty strong countertop.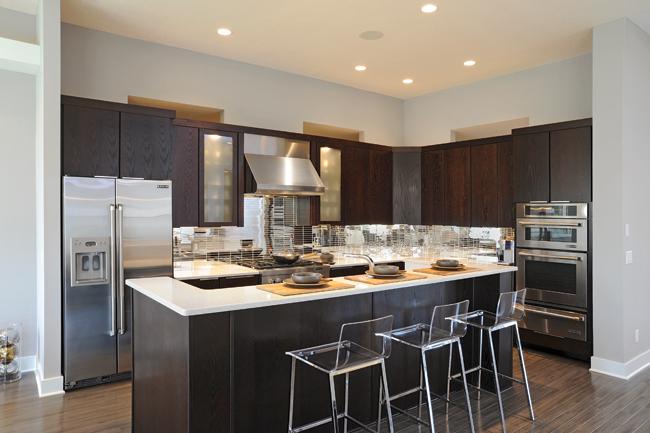 To create a quartz slab, varying sizes of quartz are mixed with pigment and resin, and then baked in an oven. After it is baked, the slab is polished, for a quarried stone look but one that is easier to maintain. "From an aesthetics perspective, we get to control it, which is amazing," says Kath.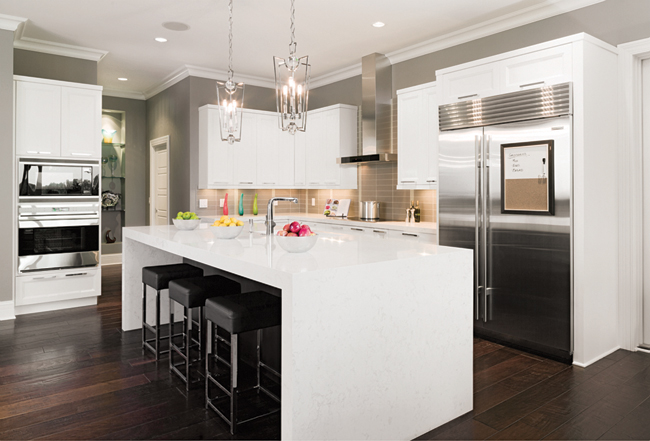 One major advantage to quartz is that it is nonporous, making it safe for kitchen usage. It is also stain-resistant and sealing it is not required. Cambria also offers a warranty with their product, making sure all of their fabricators are certified as well.
Kath believes that the reason that quartz has experienced a surge in popularity over the last decade or so is self-education by consumers through the Internet and other sources. "Twenty years ago, granite was all the rage. At one point, it was extremely expensive. It's beautiful, but it will spot. Quartz has gained in popularity because homeowners are able to have that stone look that they want without the headache, the maintenance and they have peace of mind," she says.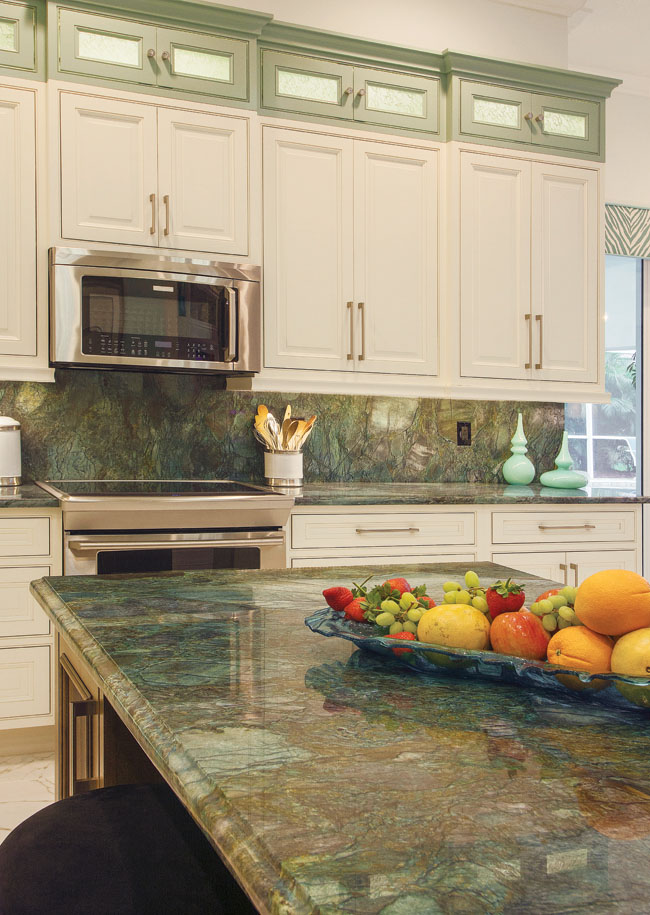 Not to be confused with quartz, though the two substances are certainly similar, quartzite is also a common alternative to granite. "Quartzite is a metamorphic rock that is formed from sandstone. It can be exceptionally strong, dense and very high performing (non-porous, scratch resistant)," says Carol Payto, marketing director at Mont Granite based in Solon, Ohio.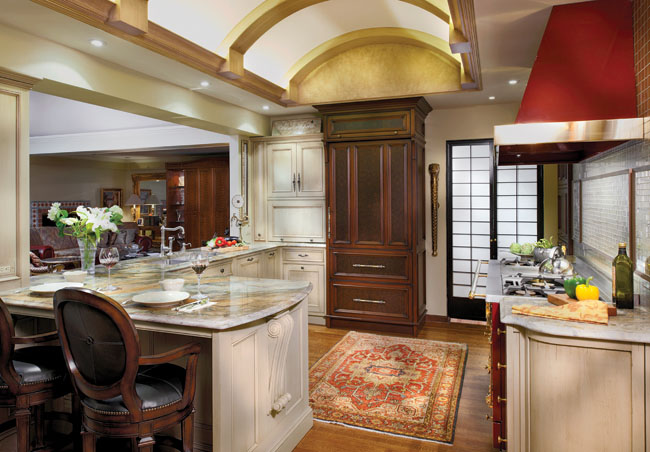 "Quartzite has definite appeal to designers and homeowners because of its marble-like look combined with the durability of granite. It is a recognized choice for contemporary kitchen countertops. Quartzite's dazzling pallet of colors and elegant movement appeal to the most selective customers," she adds.
In addition, quartzite is a low maintenance choice for kitchen countertops; it is heat resistant and practically stain resistant. "Quartzite is extremely dense, as dense as granite, sometimes even denser. The reason it is getting popular is that is has a more solid look, which is difficult to find in granite," says Yash Lunkad, owner of Stone Mart in Columbus, Ohio.
Countertops come in all shapes, sizes and even materials, it doesn't matter what kind of home you live in or what kind of lifestyle you lead. Are you a busy household that needs an easy to clean counter space between meals and homework sessions? Or perhaps a couple of empty nesters after for a more sophisticated look? No matter what type of person you are there's always room for perfection in the kitchen. Check out the many professionals listed below who can help bring you the best countertops available that suit your lifestyle.