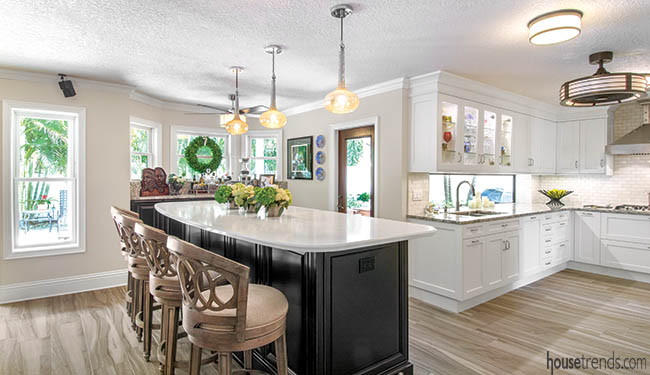 When the grandchildren visit Bridget and Phil Esposito's Tampa home, they head straight to the kitchen for family taco night. Gathering around the massive island in the center of the room, the relatives chat, eat and laugh for hours. "The kitchen is where we all hang out. And when I was a kid growing up, that's where everybody hung out, so that's what we wanted," says Phil, who is a former professional ice hockey player and co-founder of the Tampa Bay Lightning.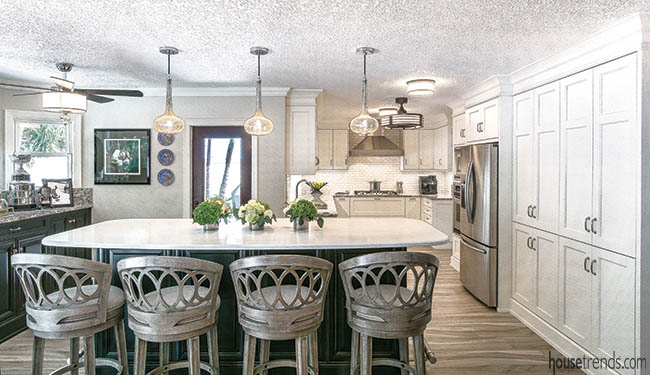 Built for cooking
The Espositos bought their 2,365-square-foot, three-bedroom, two-and-a-half bathroom residence in 1999. They recently finished their second (and final) round of kitchen remodeling with longevity in mind. From the beginning, Bridget says they knew they wanted white cabinets and clean lines for the kitchen. They enlisted George Gobes, president of Park Avenue Designs in Tampa, to create their new kitchen design.
Contractor Larry Bedgood of Bedgood Construction and interior designer Karen Giunta collaborated with Gobes on the project. Some of the wowing features include the two-toned cabinetry, glass backsplash overlooking the outdoor living area, metal range hood, subway tile backsplash and granite countertops.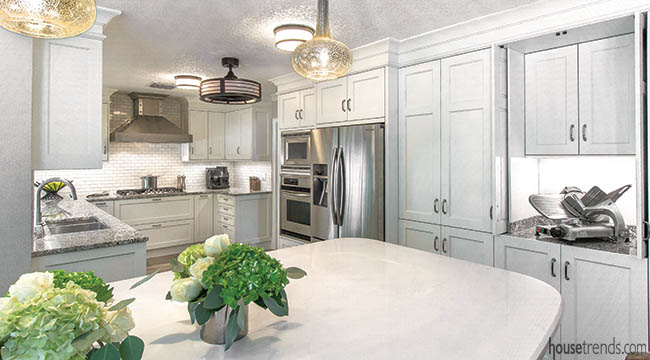 "My husband does a lot of cooking," Bridget says. "We also have four grandsons and we have them over a lot, and the bar area serves them well."
Some of the other pluses are the built-in drawer dividers, spice rack pullouts on either side of the cooktop, undercounter lighting and footrests on either end of the bar.
"The first time we remodeled the kitchen, it was white Formica and dark wood. The kitchen had terra cotta Mexican tile that was original to the house," Bridget says. "During the first remodel, we didn't pull up the floor. This time, we did, and the floor is now tile but it looks like wood. Our kitchen before was dark and we had a single window over the counter. The new window lets in a lot of light."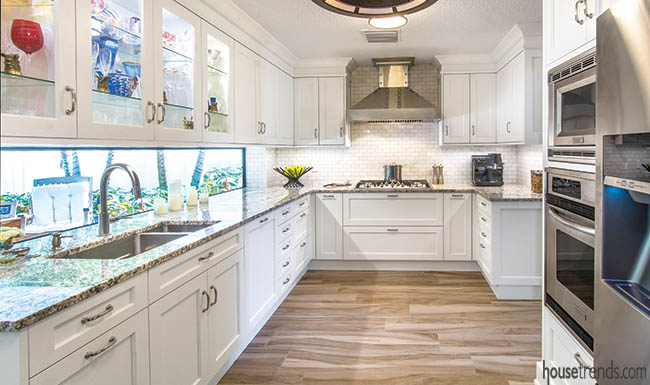 A timeless design
Reflecting on the original canvas with which he had to work, Gobes recalls "most kitchens are not great but this one was horrible; it was ugly and dark." The current kitchen, as Gobes describes it, is "a classic white English style."
"I tend to do classic designs. I'm not a trendy designer. People have asked me if white is out but I've sold 20 white kitchens this year, all similar in door style and design," Gobes says. "I believe in that European, timeless design approach. The fact that it's a timeless style is what gives it value."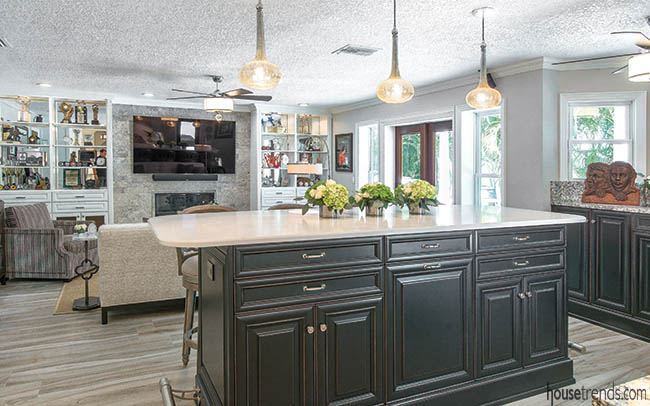 To achieve this, Giunta suggested removing the backsplash behind the sink. The entire wall was taken out and replaced with a ten-foot-long window overlooking the patio. Phil wanted the island to be 42 inches high, which is bar height, with stainless foot rails "so that, when you're standing there with a cocktail in your hand and eating hors d'oeuvres, you can have your feet up on the bar rail," he says. There is a Carrara marble backsplash in a subway pattern, and a metal hood with straps and rivets for effect. Phil has a deli-style meat slicer, so Gobes recommended a pocket-door cabinet to hold it (it looks like two big pantries when the doors are closed).
"I enjoy the big island. I do a lot of cooking in there and I love it, and everything is so perfectly laid out, unless Bridget is home and cleans and I can't find things," Phil says with a laugh. "I like to make pork chops, spaghetti and meatballs, pasta e fagioli, veal piccata and meatloaf. My brother-in-law makes salami and pepperoni, and I slice it all on my meat slicer in the kitchen. I'm not a formal person but, when we eat, we eat in the kitchen. When people come over, that's where we sit and have a few drinks. It's the place to be."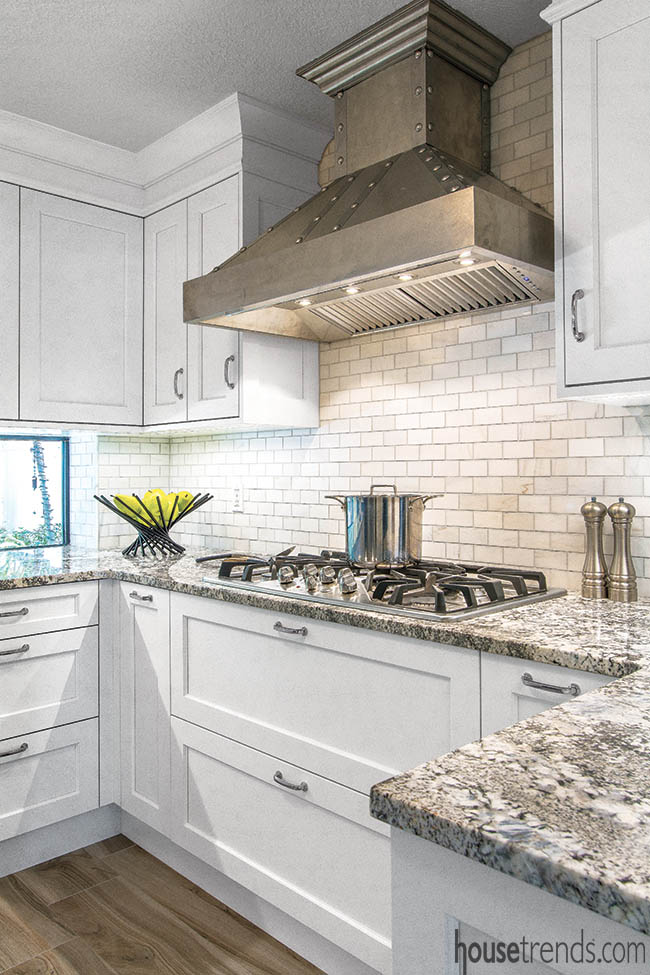 Family-friendly attributes
Phil says much of the kitchen's value lies in the chef-centric, family-friendly aspects of the design, and his wife agrees.
"I have to say, when you remodel, you'll almost always have a mistake happen. This time, I didn't have one mistake, not one. That's how much we loved working with George," Bridget says. "I think the kitchen's style is timeless and classic, which is good because this is definitely going to be my last kitchen."
Resources: Kitchen designer: George Gobes, Park Avenue Designs; Contractor: Larry Bedgood, Bedgood Construction; Interior designer: Karen Giunta