Built in the 90s, a Westerville kitchen was showing its age. New buyers were ready to take the space from a traditional style to a lighter, brighter, slightly more contemporary look.
When the owner came to see cabinetmaker Dan Cook of R.D. Cook, she had "a well thought out plan that showed really good taste," Cook says.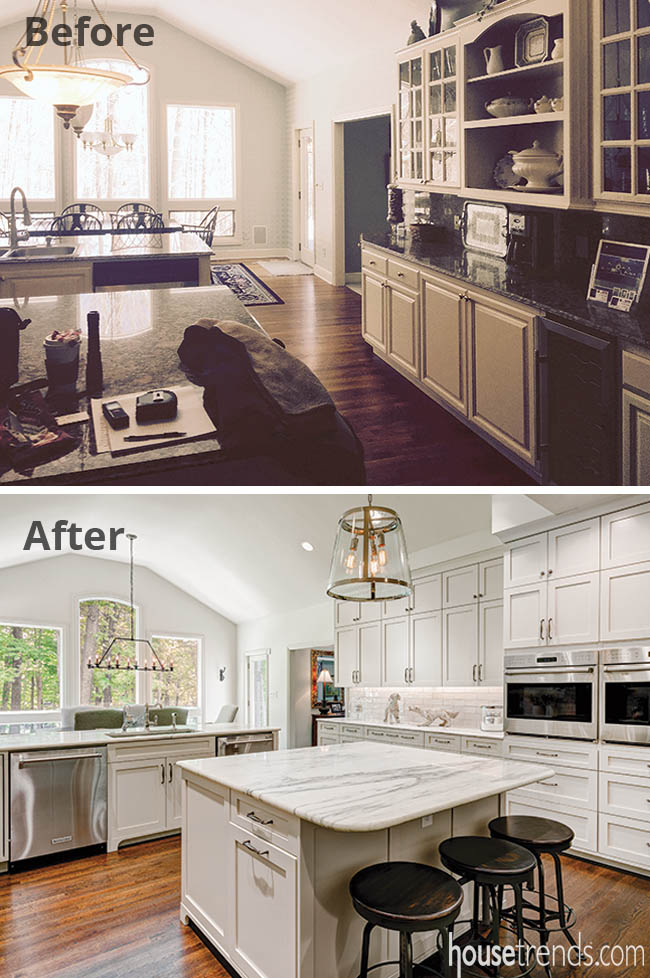 Although the creamy white color of the new cabinets is similar to the originals, that's where the similarities end. Floor-to-ceiling walls of cabinetry with minimalistic Shaker-style doors replaced more traditional doors and lots of open shelving. White Carrara marble tops the counters replacing a dark granite. Cream subway tiles sparkle as a backsplash and the walls, trim and ceiling are all painted a matching white, giving the whole space a bright new outlook.
While the before space also featured a peninsula and an island, the footprint was reworked to improve the flow and functionality. "The new space appears much more open," Cook says. "It really is striking when you are standing in the middle of it."
RESOURCES Custom cabinetry Dan Cook, R.D. Cook Co.; Wolf ovens, gas range, and range hood Heartland Home; Dishwashers KitchenAid; Microwave drawer Sharp; Sink Julien; Island light Murray Feiss; Backsplash tile Café by Walker Zanger; Marble by Vermont Imperial Danby honed; Plumbing Andy's Affordable Plumbing; Electric Detail Electric; Misc construction Pavlas Construction; Hardwood floors Vic's Floors; Painting Danny's Pro Painters