Pam and Steve's house in Vandalia has gone from almost-a-nightmare to a dream home, and a major factor is the quite fabulous kitchen remodel. "The day we closed on this house in 1997, we saw our first cockroach and it was one plague after another," Pam recalls, with a lightheartedness only possible this far away from those early years. "We tackled the problems one at a time with fix-ups, remodeling and landscaping."
On their 20-year wedding anniversary, the couple decided for their 25th anniversary, they would remodel their "one-person kitchen," a space where no one could open the oven if someone was standing at the sink. But the remodeling evolved into more when Steve had a radical idea: convert the screened-in patio to a large, working Italian kitchen where family and friends can cook, eat and be together. He floated the idea with Pam, who liked the notion, and the planning began.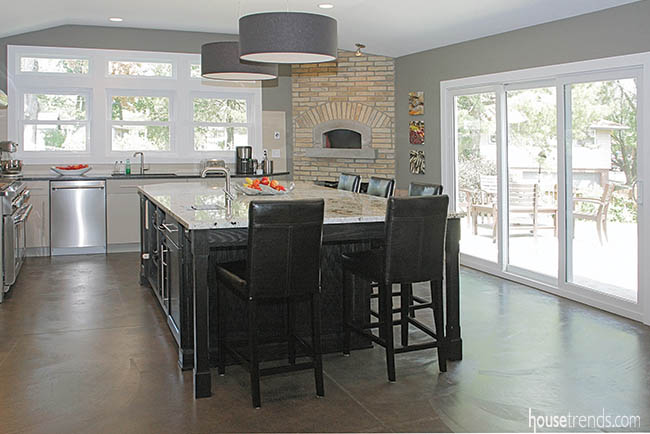 Today, the newly built kitchen is open and spacious, boasting 380 square feet. It features a clean and modern aesthetic, mixing in industrial and warm contemporary materials. The artful blend of brown, black, gray and white tones helps to establish a sophisticated and welcoming space.
Steve's drawing of a sunny open floor plan got a green light from general contractor John Schilling of JOS Contracting. Schilling and his crew made the project so smooth that it was actually fun, the couple reports. Ground breaking was in March and by July the family was using their new kitchen.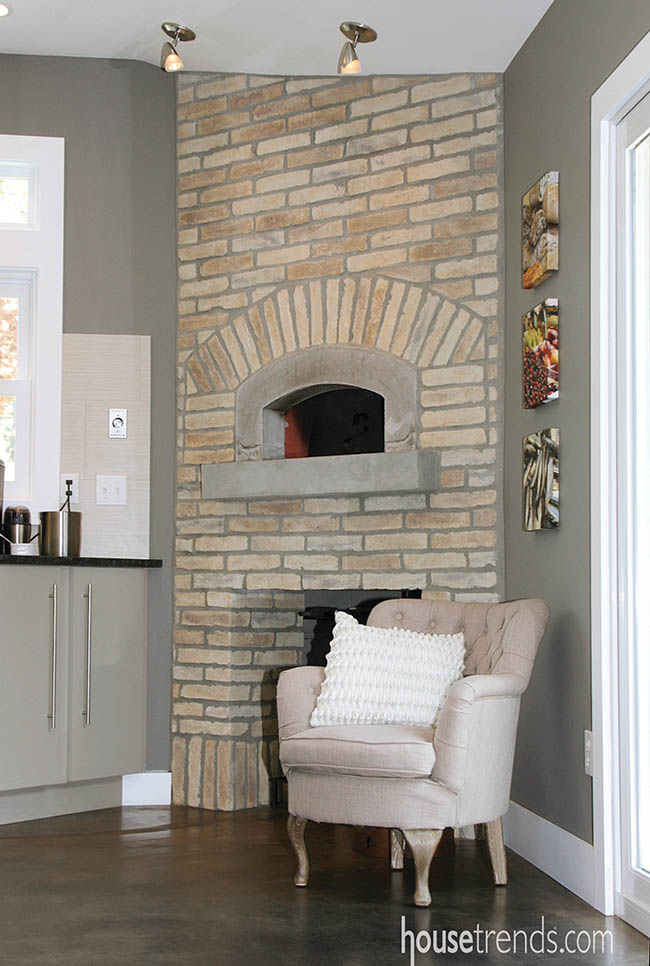 From the start, the couple knew that an Italian wood-fired pizza oven by Mugnaini would be a focal point of their kitchen. Ryan Coning of Oncite Enterprise, Ltd. did the masonry to install the oven and the family is delighted with the results.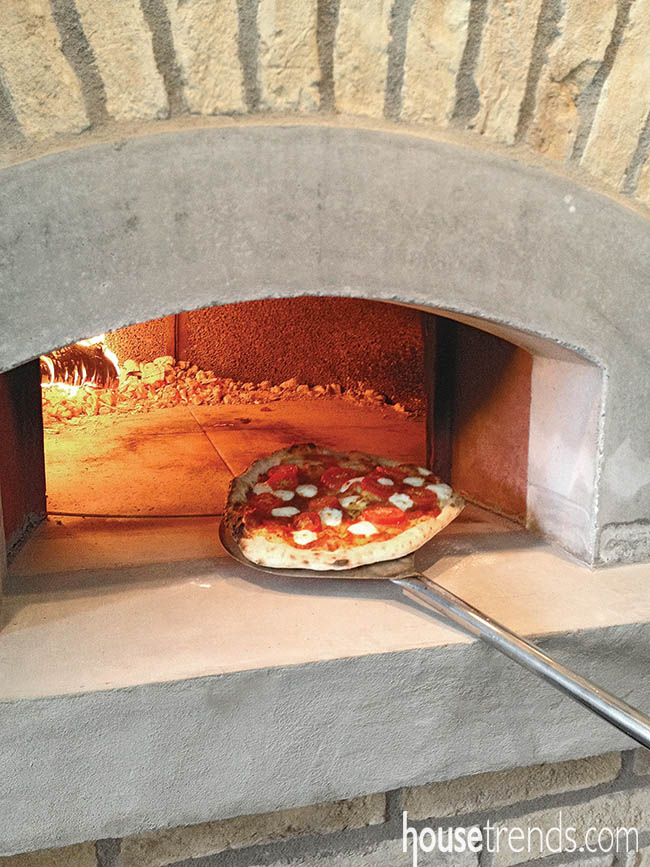 "One night we roasted a whole vegetable dinner in the oven. We have a Tuscan grill to cook steaks, fish, whole chickens," Pam says. "We bake bread in it—and, of course, pizza."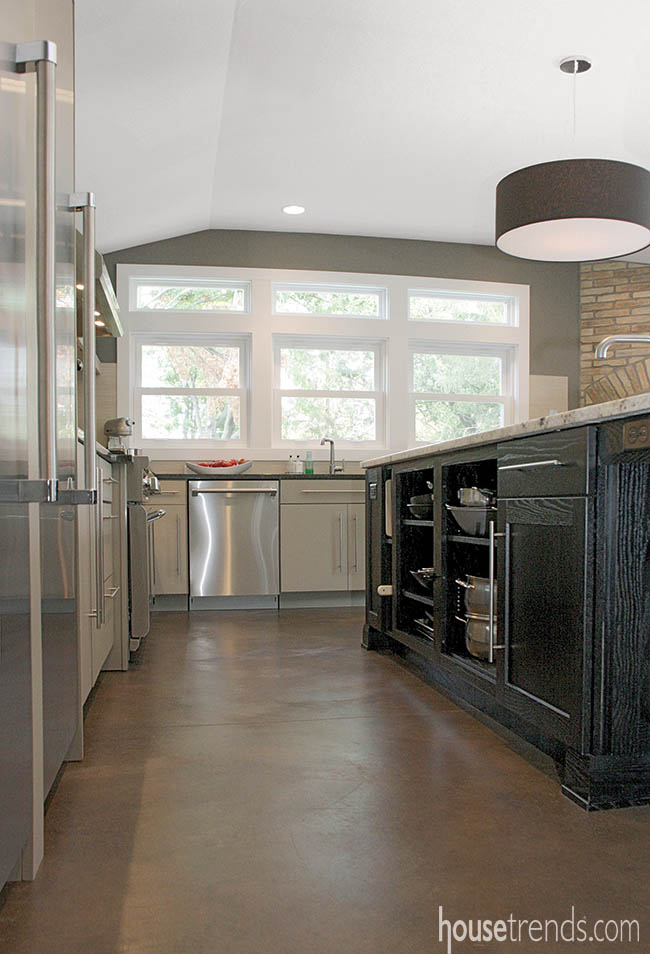 The couple wanted an acid-stained concrete floor, not just as an homage to the room's patio origins; in fact, it wasn't possible to use the existing floor. "We like the look of concrete," Pam reports, "but no one can show you an exact sample of what yours will look like since it is a natural process that is unique each time. It was the most unnerving part of the project—but the most rewarding."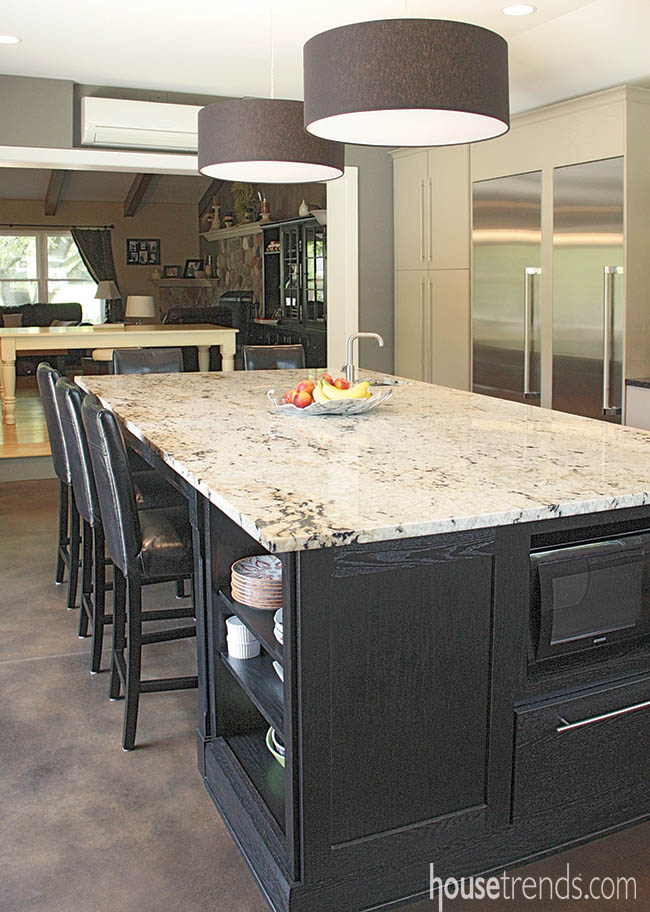 As Schilling was busy with construction, Steve and Pam met with Aaron Mauk of Mauk Cabinets By Design, located in Tipp City.
The couple knew they wanted "plain, simple and clean lines" in all aspects of the kitchen's looks. As we made our kitchen selections, we realized we liked the no-frills look even more," says Pam.
Working with Mauk, Pam and Steve chose Steel Gray granite countertops and taupe colored painted oak cabinets for the perimeters. The island is topped with lighter Delicatus granite and black painted cabinets.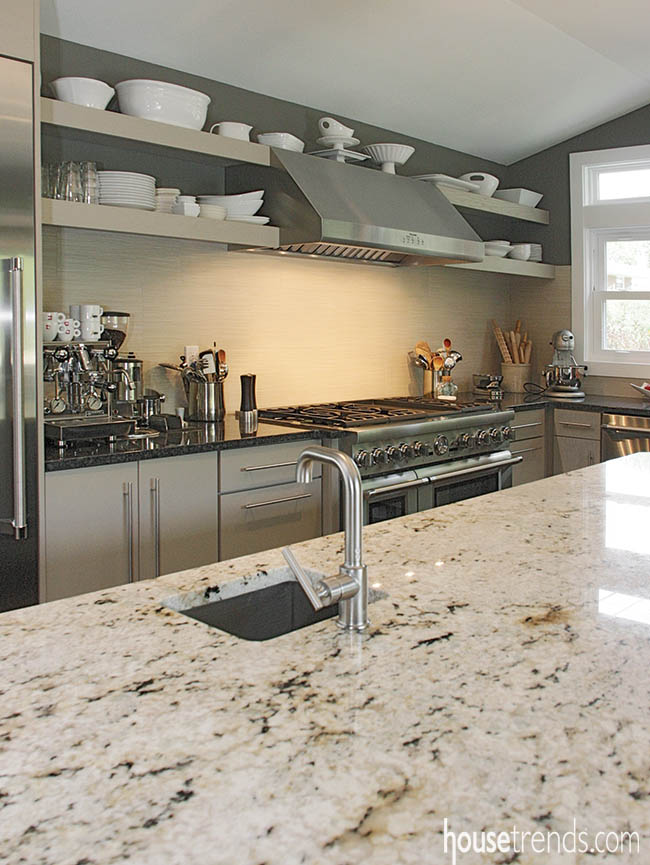 Another distinctive idea: Pam envisioned having some open shelving. Instead of closed cabinets above the counters, open shelves house her dishes and serving pieces. On the island, the cabinetry closest to the stove is sans doors as well. "I was always leaving cupboard doors open when I cooked, grabbing this and that item. Why not just leave the doors off and have open shelving?" Pam says. "This really adds to the commercial feel of the kitchen."
Now a year later, Steve and Pam remain pleased with their 25th anniversary present. "When I look at the kitchen and remember what this house was when we moved in, I can't help but think we never ever thought we'd have anything this nice," Pam reflects on the kitchen remodel. "We are truly blessed."