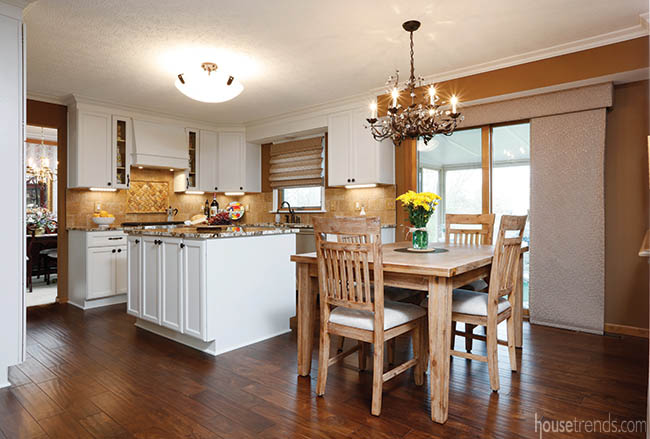 Written by: Lauri Gross/Photos by Hal Stata
Some people meet the neighbors by offering cookies. Patty and George Kalan tried a dumpster instead.
"Put a dumpster in your driveway," said Patty, "and everyone stops by!" Patty and George have lived in their Strongsville home since it was built in 1990, and in those 27 years, they have known plenty of neighbors but when the demolition began for their new kitchen, the crew put a dumpster in the driveway and it was like moving in all over again.  Curious neighbors, both old and new stopped by, and more than a few might have been inspired to re-do their kitchen now too. For years, Patty, a surgical nurse, and George, a retired systems engineer, put off remodeling their kitchen. Eventually Patty realized, "We had stopped entertaining, except for family. The kitchen was so dated. It was an eyesore." An avid cook and baker, Patty added with a shudder, "It had wallpaper with ducks."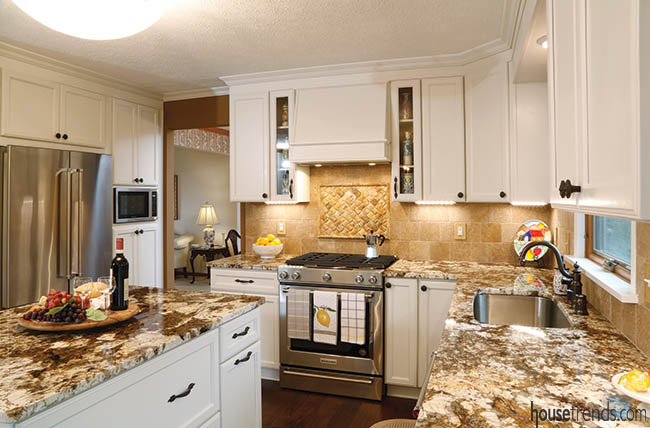 The journey begins
To begin the journey to a new kitchen, the Kalans began interviewing contractors, starting with Calvetta Brothers Construction, who had installed carpeting for the Kalans on a previous project. "We expected to get three estimates," said Patty, "but we stopped after Calvetta. We knew they were right."
In mid-December 2016, Patty and George first met Austin Calvetta—one of the owners of the family-owned business—to talk about their kitchen. "We didn't know what we wanted," said Patty. Austin helped them begin to envision a direction.
Next, the Kalans met Calvetta's interior designer, Taylor Lavigna, who served as project manager for Patty and George. "She never told us what she wanted," said George. "She made suggestions. She had a feel for what we wanted."
Taylor said, "Patty and George were a delight to work with. They were very excited about this project. They were very easy to work with and that made my job easier."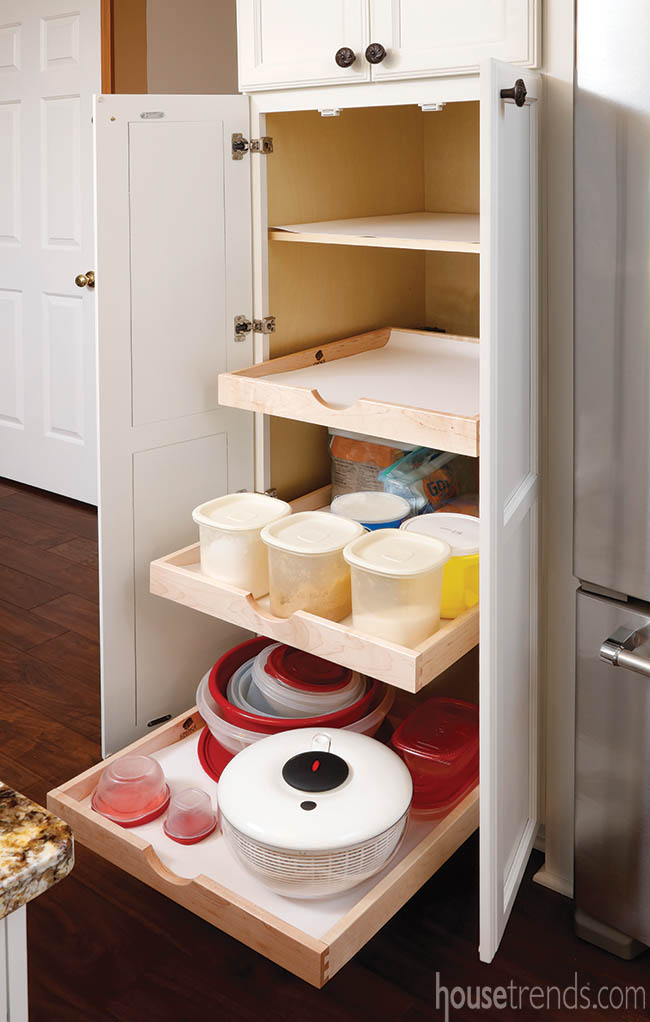 Hitting the shops
In February, Patty and George began shopping with Taylor to find the elements from which to build their new kitchen. Although the effort was not simple, George said, "We were very confident that when we chose something with Taylor, we knew it would be spot on."
Taylor said her job would not have been possible without Caryn Calvetta by her side. "Caryn is the backbone of all our construction jobs. She handles scheduling and other technical issues to make sure jobs run smoothly."
Patty said, "We took pictures of things and sent them to Taylor for her opinion and Taylor had a way of letting us know her feelings."
Taylor added, "Patty wanted something clean and simple with a slight rustic flare. We kept it classic and avoided things that would go out of style."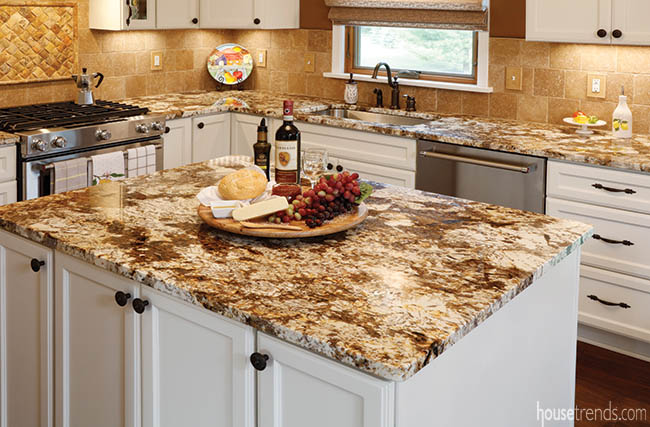 In all, the process of choosing the counters, floor, cabinets, plumbing, light fixtures and special touches required time, visits to many retailers, and plenty of pow wows at Calvetta's showroom but still, it was smooth. According to Patty, there was not much obsessing. "The selection was easy," she said.
George agreed and said that, for instance, they were confronted by dozens of shades of granite to choose from but did not despair since, "Taylor went with us to choose everything. We trusted the businesses Taylor recommended and we knew that they could help if there were any problems."
Taylor said, "They upgraded to fun Arizona brown granite that added a lot to the design."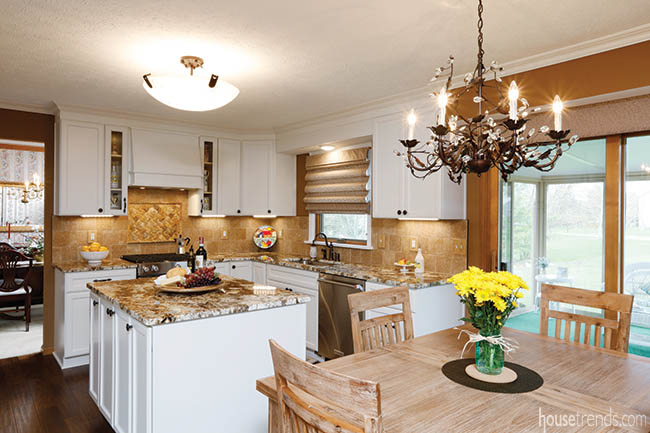 Patience rewarded
Two months after the real work began, Patty and George moved into their new kitchen from the temporary one they set up in their unfinished basement with a microwave and frozen meals Patty had cooked ahead of time.
Patty and George love everything about the finished kitchen, starting with the Manhattan walnut hardwood floor. "We did the floor first," said George. "It was so gorgeous and now we had workers coming and we worried about the floor and whether the appliances would fit but Calvetta did the fine tuning and made everything a perfect, custom fit."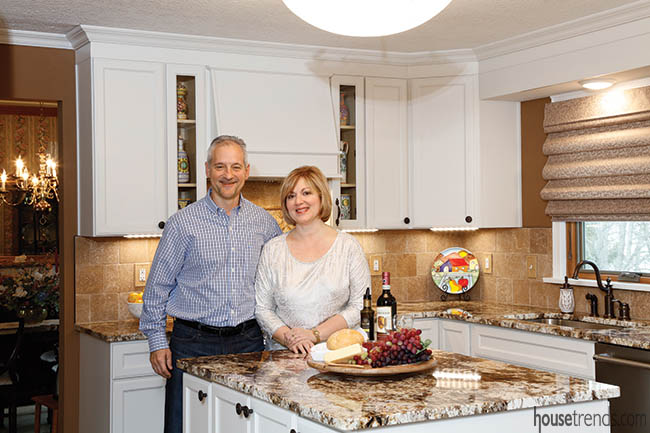 The white cabinets from Choice Cabinets in Bedford Heights include many details Patty and George love. Patty points out the tall, narrow glass-front cabinets that flank the range. On each shelf, a pretty ceramic piece is perched. Patty and George found them at Solari in Rocky River. With a nod to her Italian heritage, Patty said, "We tried to work in as much Italian detail as possible."
Taylor added, "I always add custom touches in a kitchen and Patty wanted to display Italian pieces. Balance is important and I thought glass on the sides of the range would give nice balance."
Patty continued showing some of the features she loves. "There is a big drawer in the island that holds pots so you avoid bending down to get them. The trash is hidden behind a cabinet front. The baking sheets fit in a tall, thin cabinet near the cooktop. There is storage on both sides of the island, a built-in microwave, slide-out drawers in the tall cabinet next to the fridge and a custom-made hood."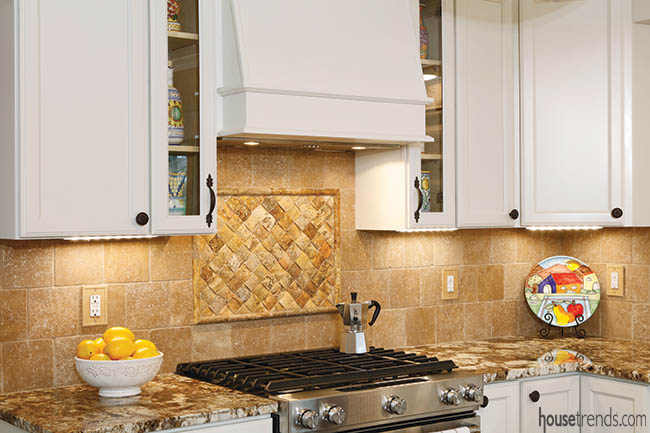 A tile mosaic provides a focal point above the range. "Taylor came up with the pattern," Patty said. "We thought it blended well and a little contrast is good."
Reflecting on more details, Taylor said, "We had so much fun picking out knobs. They have a sunflower image sculpted on them that coordinates with the chandelier above the kitchen table. I think lighting and hardware are the jewelry of the outfit for a kitchen and it makes that difference, and makes it special and personal."
By the time the kitchen was done, Patty and George had already sent "Save the Date" cards to about 25 out-of-town family members for their annual Memorial Day picnic. The Kalans have hosted this event for about 15 years (minus a few during which there were family weddings instead). This year, Patty is calling it "The big reveal." The guests won't be disappointed.
Resources: Home builder: Golden Falcon Brothers; Designer: Taylor Lavigna, Calvetta Brothers; Contractor: Calvetta Brothers; Cabinetry: Choice Cabinets; Flooring: Downtown Series-Manhattan Walnut, Urban Floor; Countertops: Arizona Brown granite; Countertop fabricator: Granex; Backsplash: Travertine, Calvetta Brothers; Sink: Stainless steel; Faucets: Moen; Dishwasher, refrigerator, oven: KitchenAid; PAINT: Walls: Toasty, Ceiling: Reliable White, Doors: Snowbound, Sherwin-Williams; Lighting: Cleveland Lighting; Hood: Elica