Sam and Jennifer are engaged to be married. Along with planning a wedding, they took on the challenge of renovating their first home together. Sam and Jennifer lived in their condo three years before embarking on any major projects. "We wanted to figure out what we wanted the space to look like," Sam explains. "We took our time to make sure we got it perfect."
Sam and Jennifer were first drawn to their condo by the location. "The layout of the building is awesome with great bay windows right over the channels and boat docks," Sam says. "The size and structure were perfect, but the materials were dated. It had plenty of potential, though."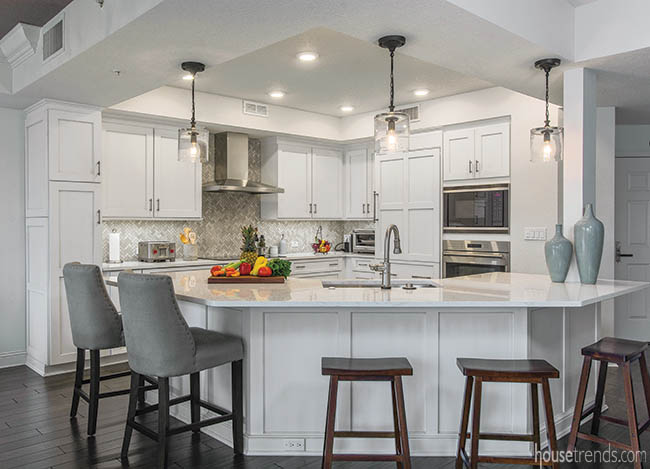 While home renovations can test the strongest of relationships, Sam and Jennifer agreed on a lot. "We wanted clean lines with organization, but we wanted some more traditional, rustic appeal," Sam describes. "We like metal, so there are some industrial pieces. But we didn't want it to look like a warehouse."
The couple was referred to a contractor. On one of their initial meetings they told them they wanted all new appliances, so the contractor referred Sam and Jennifer to Ferguson. "We picked out our appliances, but we were having a difficult time working with our contractor, so Ferguson referred us to Artisan," Sam says of meeting Ralph Mills and his team.
It was perfect timing that Artisan was finishing a renovation in the same building just in time to start on Sam and Jennifer's unit. "Ralph took us upstairs and showed us Mike's place," Sam says. "While our aesthetics are totally different, it was obvious that the craftsmanship was beyond excellent."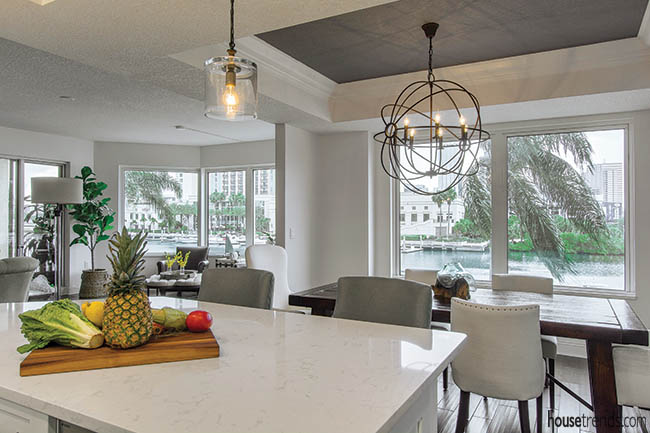 Mills makes it a point to travel coast to coast to as many design shows as possible to keep up on the latest trends. This allows him to help each client bring their own design wishes to life.
While Mike and Nancy decided on a galley-style for their kitchen, Sam and Jennifer wanted to open the space. "There was a huge, terrible, massive wall where the kitchen counter is," Sam describes. "The kitchen was closed off, which was the driving factor for us doing this whole renovation. We had no view of the water from our kitchen.
"Jennifer and I aren't professionals, and Ralph has a really great eye, so he steered us in the right direction when we were heading off course."
Sam and Jennifer wanted to be able to sit at their counter for a late night dinner after work, but they needed a little extra counter space for entertaining. They decided on a wide, u-shaped island with a stainless steel sink in the center.
Sam admits he is not the chef in the family. "If Jennifer didn't have her job, she'd be on the Food Network," he says. "She makes amazing braised short-ribs and mashed cauliflower."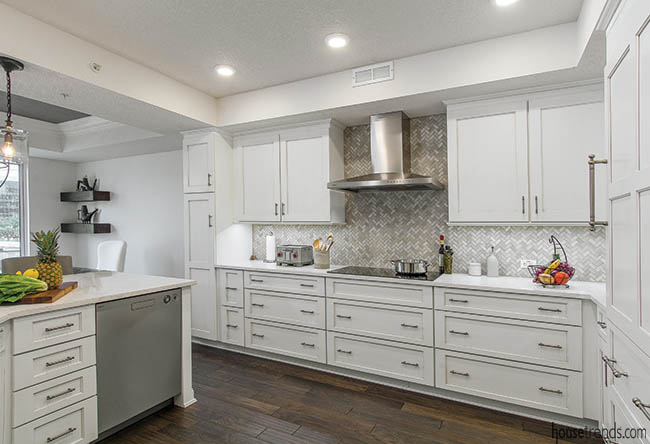 One of the challenges of renovating in a high-rise condominium is that gas is not allowed, so the couple decided on an induction cooktop. "These projects are unique because the plumbing drains and electrical supplies make it most difficult to provide new opportunities with the designs our clients seek today," Mills explains. "However, we meet their expectations each and every time."
The cooktop is highlighted by a unique backsplash that Sam admits was a last minute idea. "The guy was installing the bathroom tiles in that herringbone pattern in our shower," he says. "And it looked like it would work great in the kitchen."
Sam and Jennifer, like Mike and Nancy, moved out for three months and let Ralph and his team go to work.
"The working conditions in high-rise projects make it necessary to have a host of good and clean crews to represent our company, the building and our clients," Mills says.
"Ralph is the best in Tampa Bay," Sam says. "Excellent work, a structured calendar and follow-through were just a few of the highlights of our experience. The quality of our renovation is exceptional."
Resources: Kitchen designer: Ralph Mills, Artisan Design; Cabinetry, sinks and faucets: Artisan Design; Countertops: Torquay Cambria, Artisan Design; Appliances: Asko dishwasher; Wolf induction cooktop, convection oven and microwave; Sub-Zero refrigerator, Ferguson