At Thanksgiving last year, Kevin and Michelle Steele hosted 150 guests in their Dade City kitchen, cooking three turkeys and two hams in the revamped 2,800-square-foot space.
"There was room for everybody that day. Everyone had their own stations and no one was stepping on each other's toes, which was wonderful," says Michelle, who shares her home with husband, Kevin, and their three young children. "We had every burner going while we were preparing the food. On the griddle, we had bacon frying. Everyone just loved it."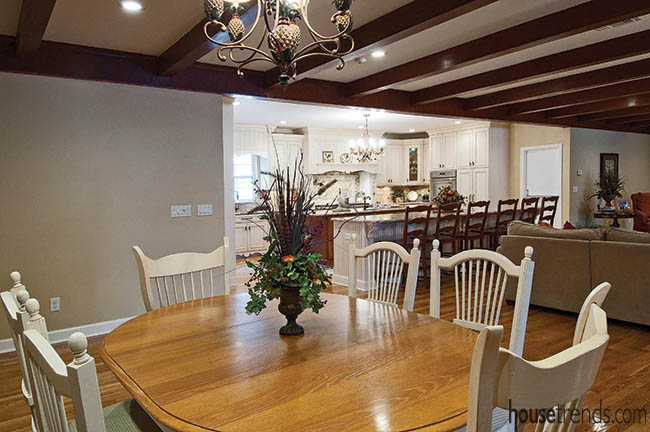 That wasn't always the case in the Steele kitchen. When the family moved into the 6,200-square-foot house in 2005, the cooking area was dark and cramped, and a 25-foot wall blocked the view of the den. For Michelle, who is an avid chef, the closed-in layout interfered with her baking and cooking pursuits.
"I always knew I wanted a country, French-inspired kitchen with a lot of space and convenient features. I wanted a kitchen that would be warm and inviting but also beautiful," she says. "It needed to be family-friendly because we have three children (ages 4, 9 and 12). I'm a stay-at-home mom and Kevin owns a software company, so we rarely ever go out to eat. I need a lot of room to cook."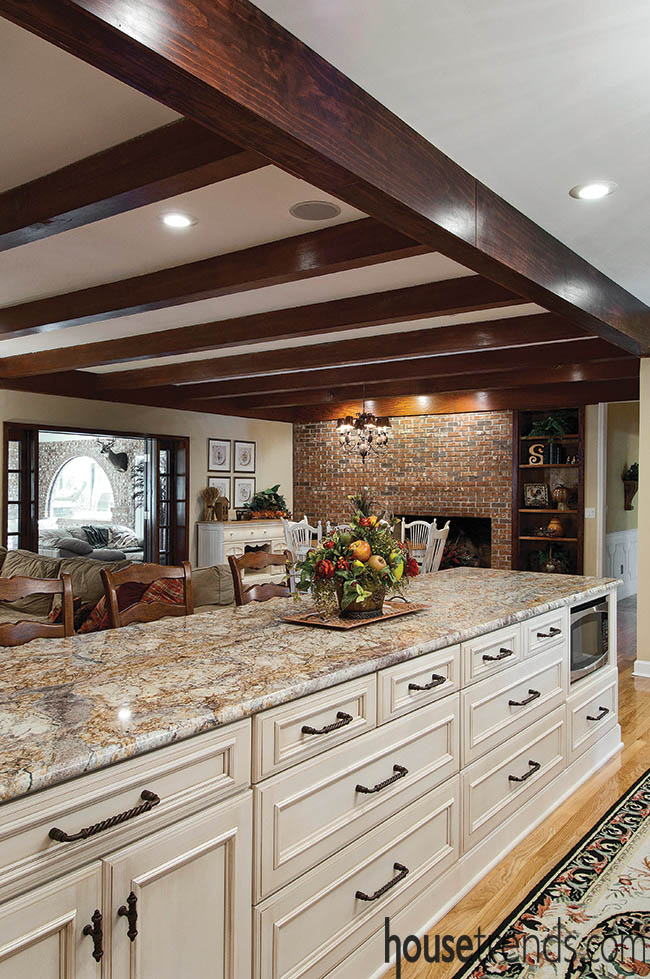 Michelle spent six years envisioning a full overhaul, but it wasn't until last spring that she hired designer Jeff McNabb from Tampa's Kitchen Creations. McNabb specializes in creating luxury-grade cabinetry, and his company handles everything from drafting the plans to selling the materials to installing the individual pieces.
"The remodel was definitely a collaborative effort. This is a very large room and it lends itself to seemingly endless designs," McNabb says, who began demolition in May and completed the project in September. "Kevin and Michelle were very involved and, with our guidance, we were able to develop a design that is both beautiful and functional."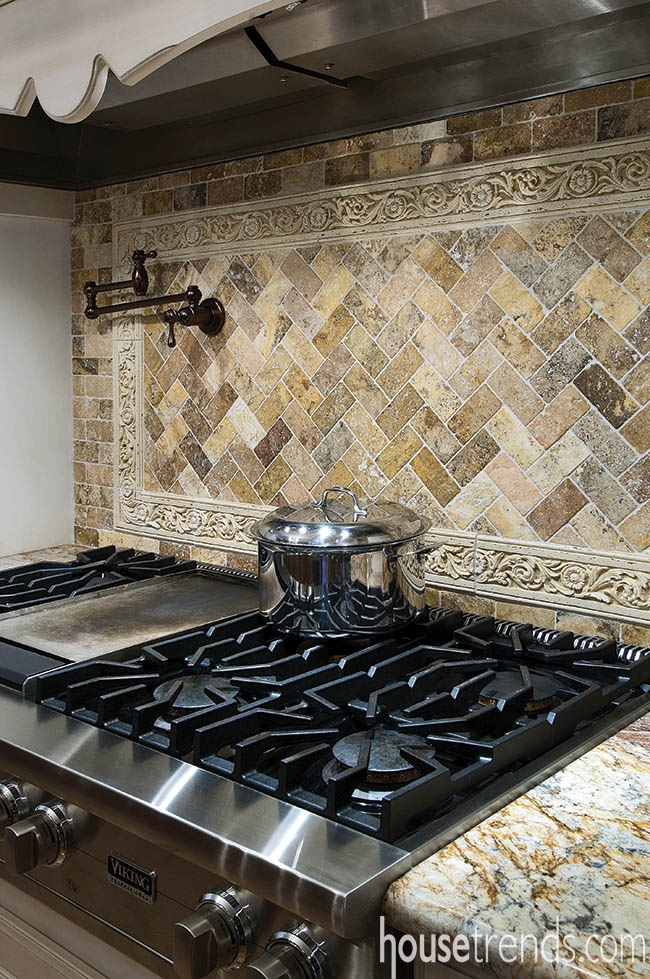 From the wood-beamed ceilings to the heavy stone backsplashes and ornate corbels, the kitchen is now an example of solid regality. With Typhoon Bordeaux granite countertops by Stone Specialties, maple wood along the kitchen's perimeter, white cabinets with an espresso glaze and rustic cherry on the center island, the room has an old-world ambiance without feeling cold.
"I knew I wanted certain features like crown molding, and I wanted a huge hood with a gas range and a Viking cooktop," Michelle says. "But it was very important to me not to have that quality like we couldn't enjoy ourselves in the kitchen. It had to be practical so I could bake my cakes and cookies and make my chicken marsala, lobster and lasagnas in there."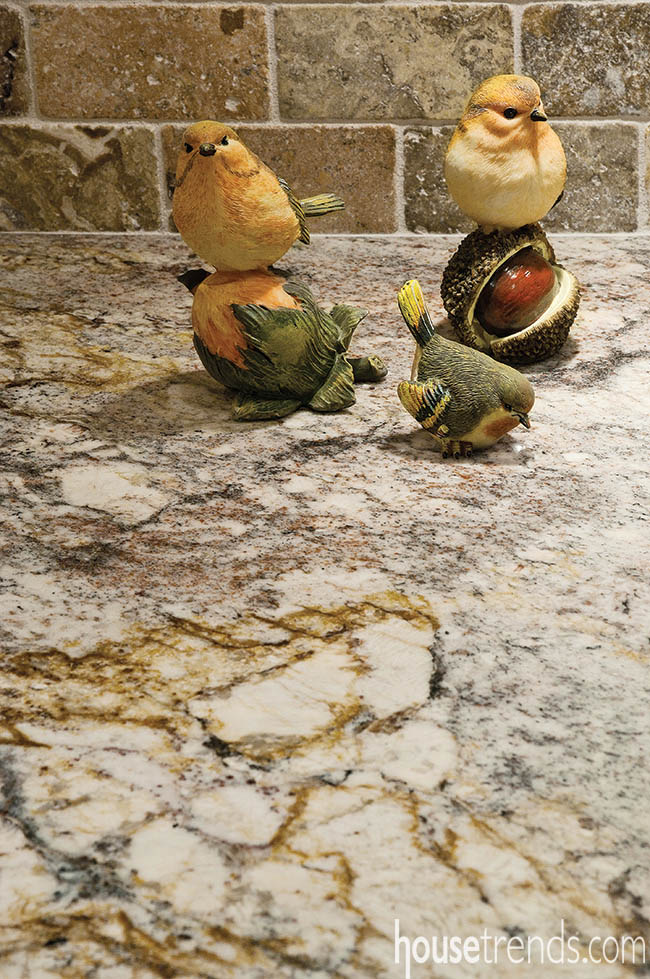 Practical it is. The sleek counters—with their marbled brown, gray, black and off-white swirls—are easy to clean.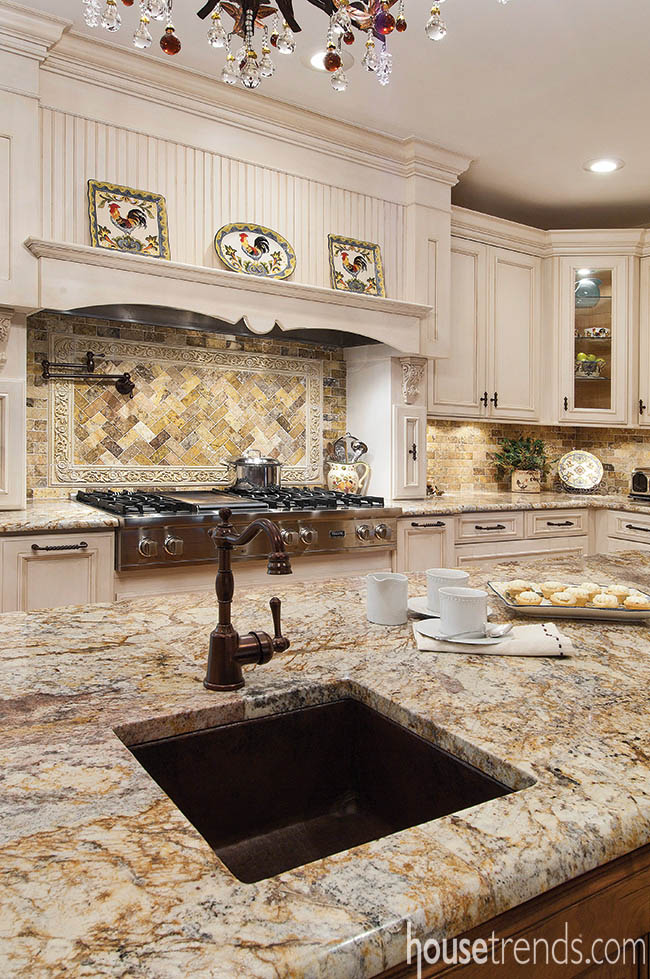 There are two giant islands, tumbled marble accents and thick, patterned stone backsplashes. Eight barstools allow visitors to converse with the cook while waiting for hors d'oeuvres.
In the heavily distressed center island is a prep sink, a base recycling center, a swing-up mixer shelf and decorative turned legs (these legs coordinate with the acanthus and pilaster moldings by the sink and valance). The mixer is one of Michelle's beloved amenities.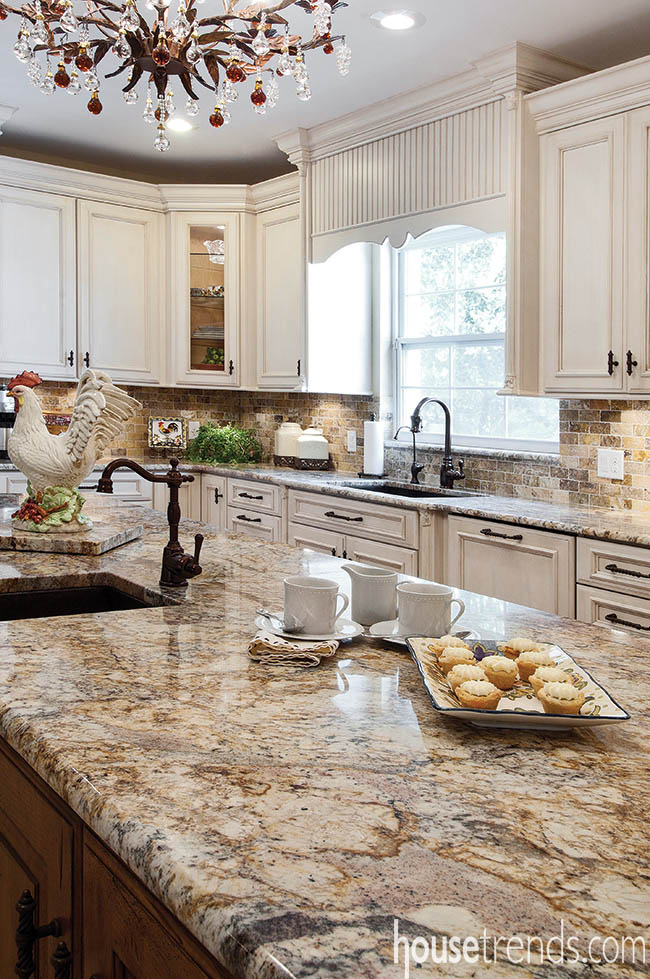 The pantry and oven cabinets are 102 inches tall, and there is a massive 84×60-inch mantel hood and several 42-inch-wide drawer banks. These accommodating details come in handy during the holidays when the Steeles assume their roles as entertainers.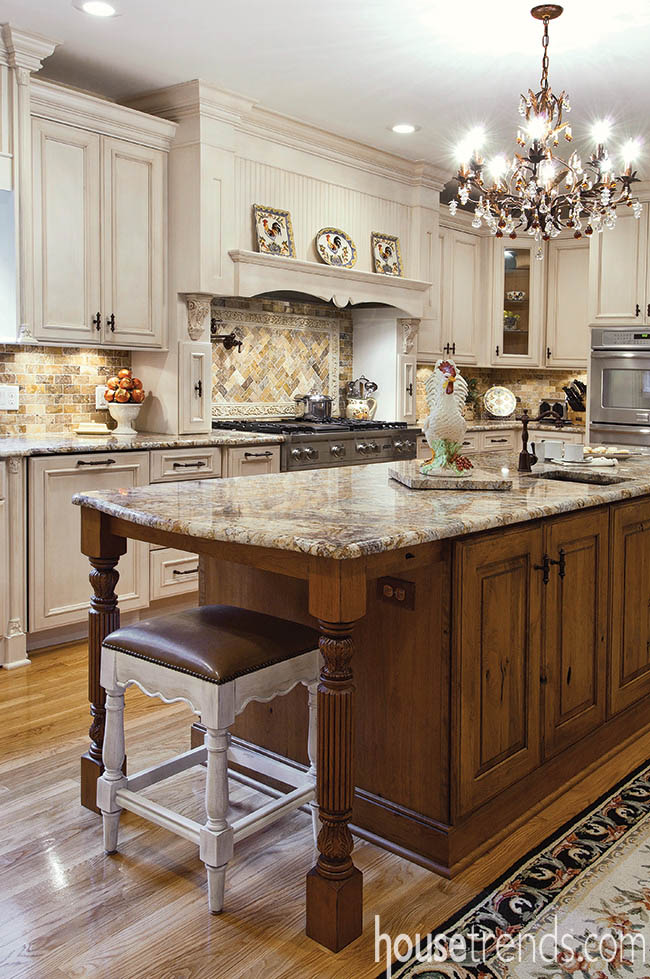 "At Thanksgiving, for example, some people would be mixing mashed potatoes while people at the other end were using crock pots," Michelle says. "The ovens and refrigerators are at different ends of the room, so we never run into anyone. The kids can be sitting on the barstools, making cookies, while the adults cook. It's really everything I've ever wanted or needed. It's a joy to be in here every day."