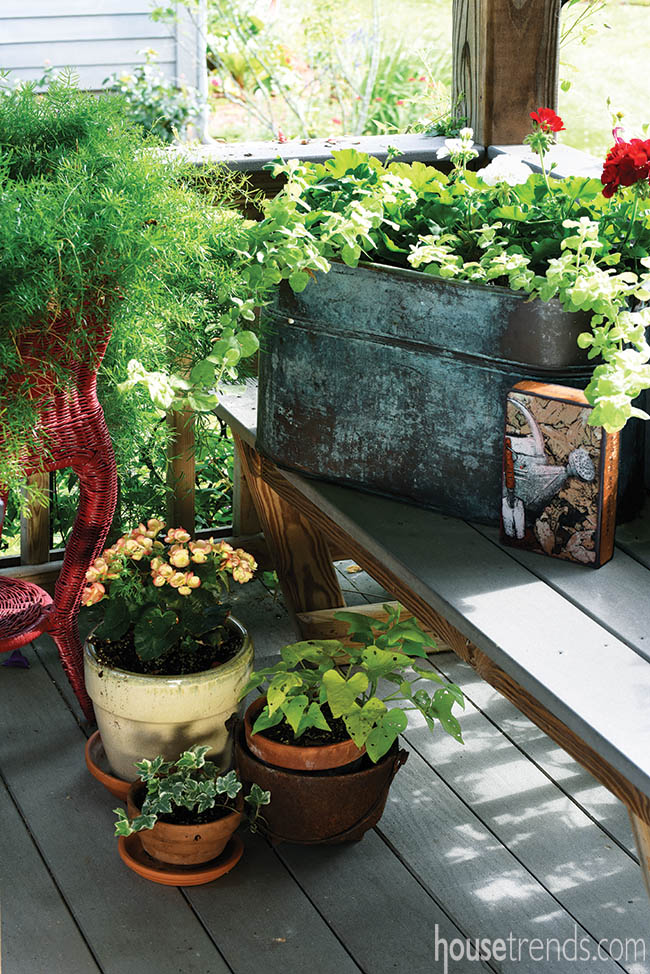 A gentle lake breeze sways catmint and pink yarrow as bees float among them. Sunshine bathes purple smoke bushes while cranesbill geraniums and Annabelle hydrangeas enjoy some shade.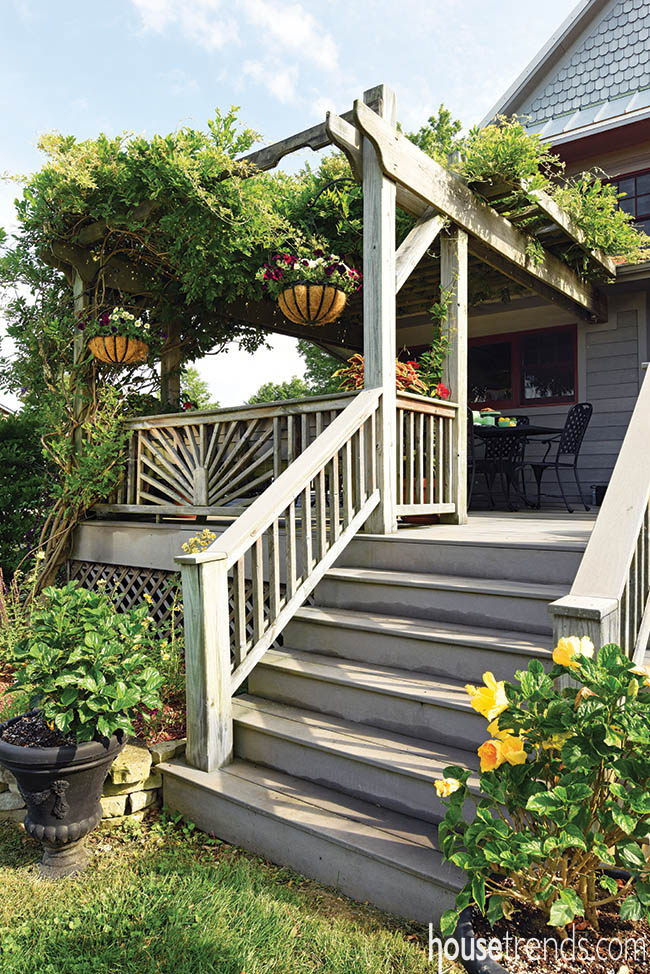 It's a tranquil setting and picturesque scene enjoyed by homeowners Dr. Thomas Wortham and The Reverend John Kauffman, who built their Thornville home and garden paradise for retirement in 2009.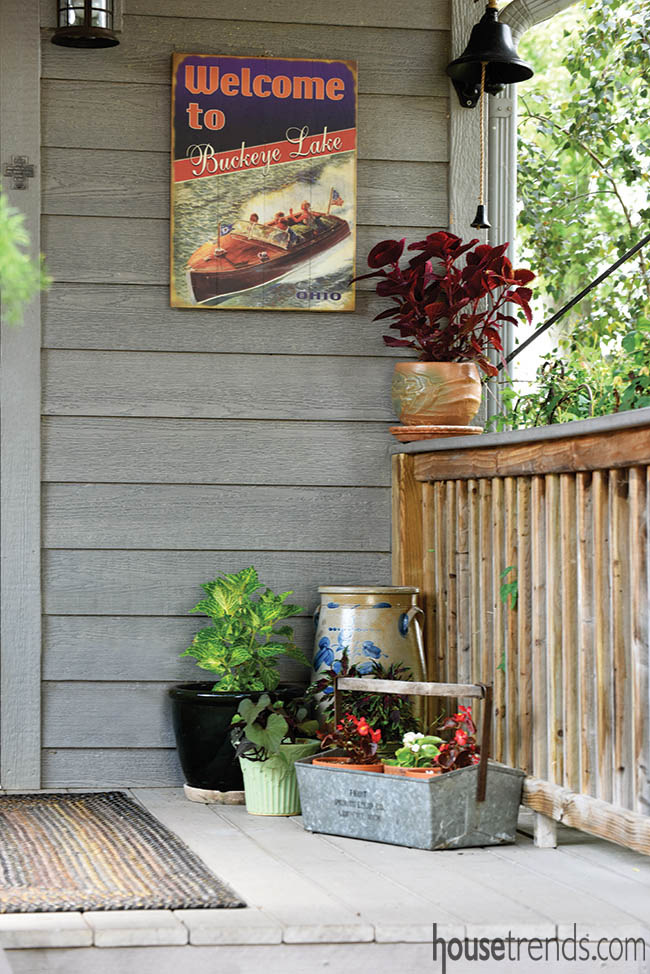 The two designed the home with architect Clyde Gosnell, who helped Tom and John realize their vision for "a gentleman farmer's house circa 1910," explains John, and for the home to fit in with its surroundings.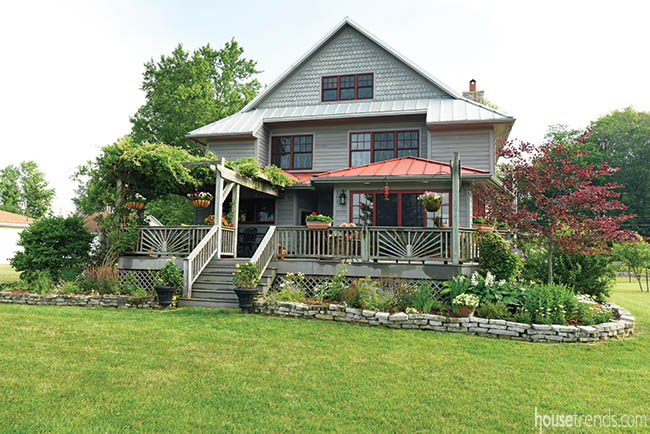 The 3,600 square foot, three-story house is artfully designed to look modest and older than it is. "We told Clyde we wanted something in the Ohio vernacular country style, and to look like it had been here already," Tom adds.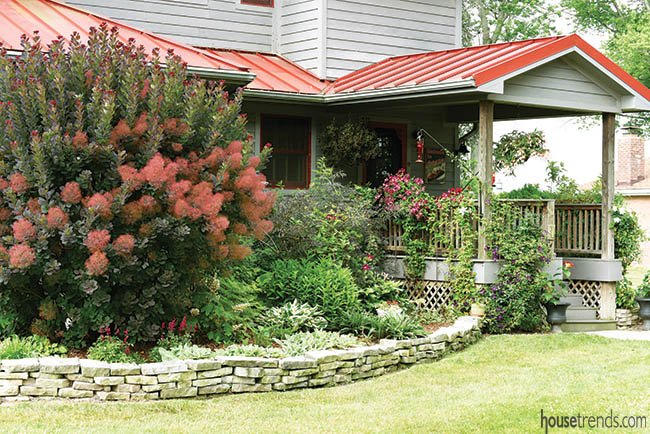 Warm and welcoming
Muted red metal gable rooftops and gray composite siding complement the home's natural surroundings. A wraparound back porch and extensive flower gardens help create the charming country cottage exterior.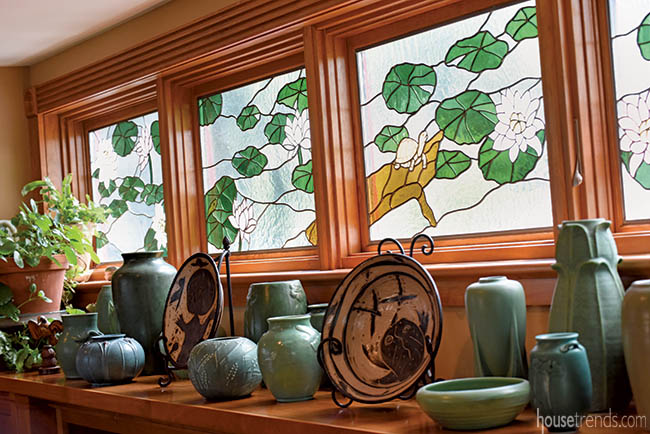 The interior style is warm and comfortable with natural wood tones, built-in bookcases, and open living and dining areas displaying Spanish colonial era paintings and stained glass windows—designed by John's cousin Andrea Helf Reid of Franklin Art Glass.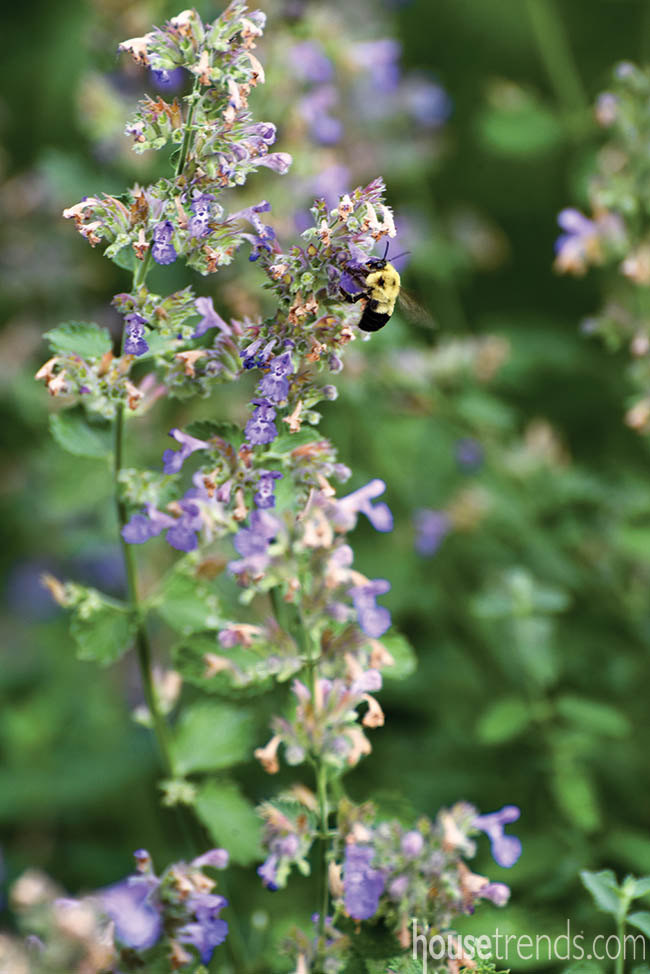 A master gardener, John built the stacked stone beds surrounding the home and did most of the planting himself.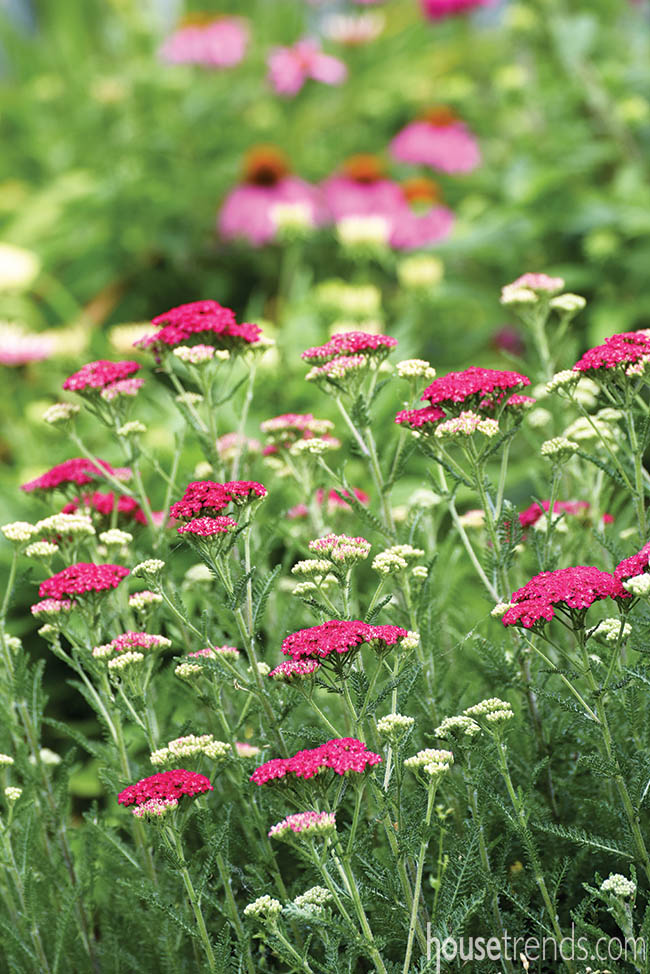 He chose a variety of pollinators and cultivars for the gardens to attract bees and butterflies. "I got everything started, and Laura Burchfield of HRH Landscape in Circleville helped me refine it," explains John. "She has a great eye."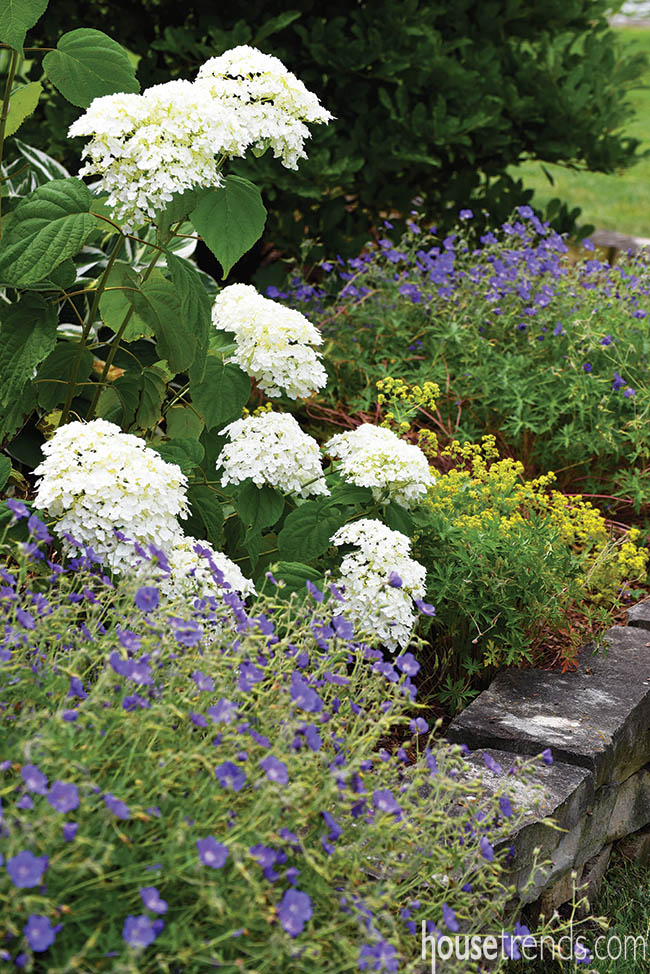 Back to Ohio
John is originally from the Columbus area, and after a career in social work and ministry, he and Tom chose to retire here from the West Coast.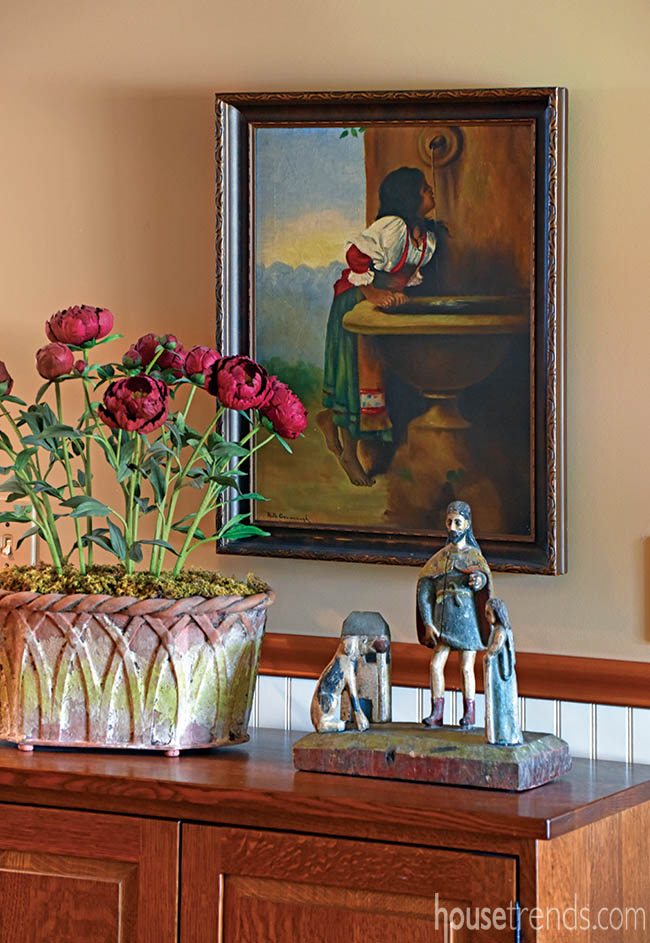 Coming to central Ohio from Los Angeles was no problem for Tom who desired to be in a variable climate.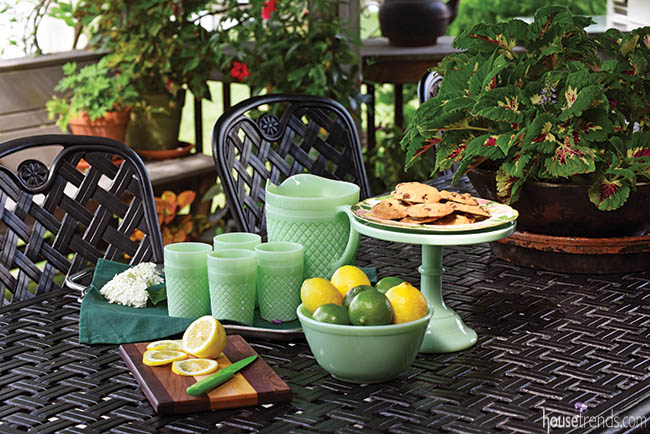 "I told John I wanted to live where there are four seasons after we retire," he comments. "The seasons never change in southern California. I didn't want to be like a friend of mine who said 'I went to Los Angeles when I was 25 years old, and one day I woke up and I was 63.'"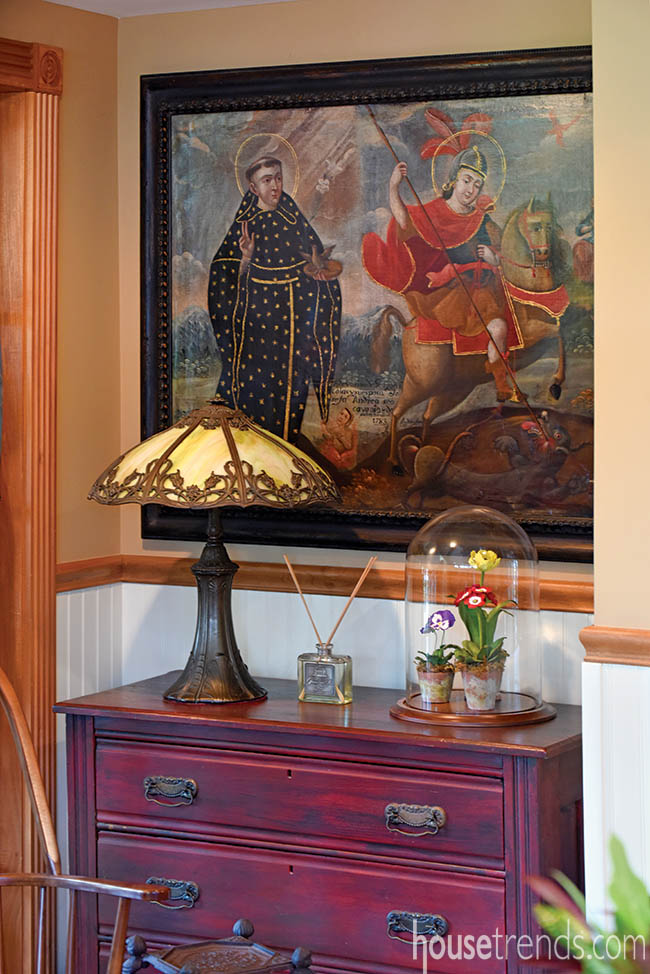 Tom was a professor of American Literature at the University of California Los Angeles (UCLA) for 40 years.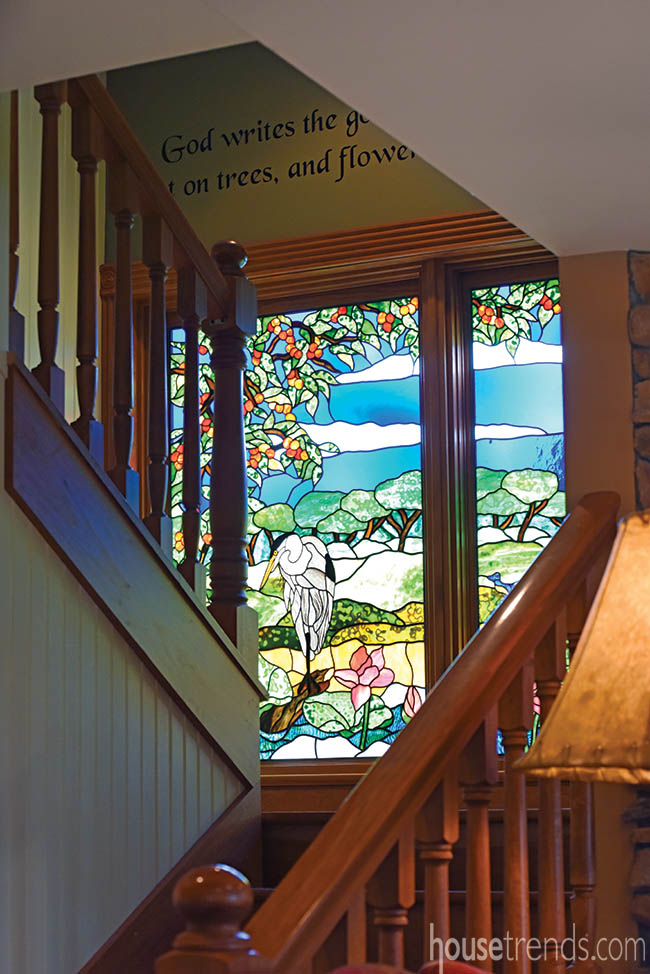 The second floor library gives Tom's treasured book collection a proper place, a collection he says they pared down considerably before moving.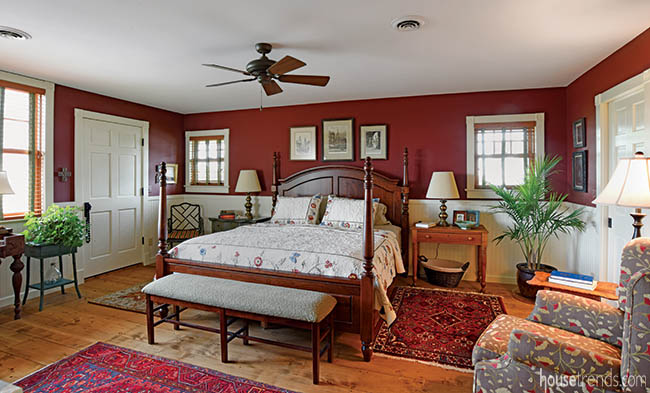 "We had about 7,000 books, so I had to part with some of them," Tom laments.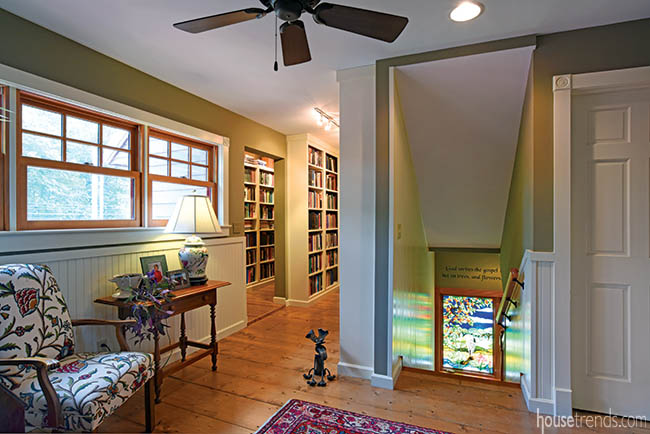 A loft on the third floor is home to Tom's Mark Twain collection—a large part of which is on display currently at the Robbins Hunter Museum in Granville.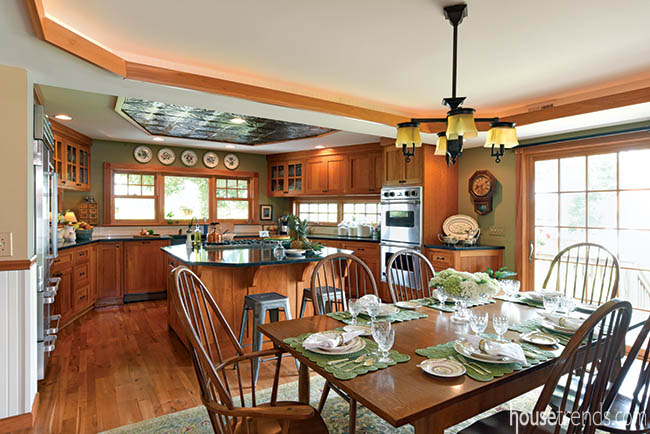 Spend a day by the lake
As active members of the arts and gardening communities, including BalletMet in Columbus, the Robbins Hunter Museum in Granville, and Dawes Arboretum in Newark, Tom and John use their home for entertaining everyone in their lives.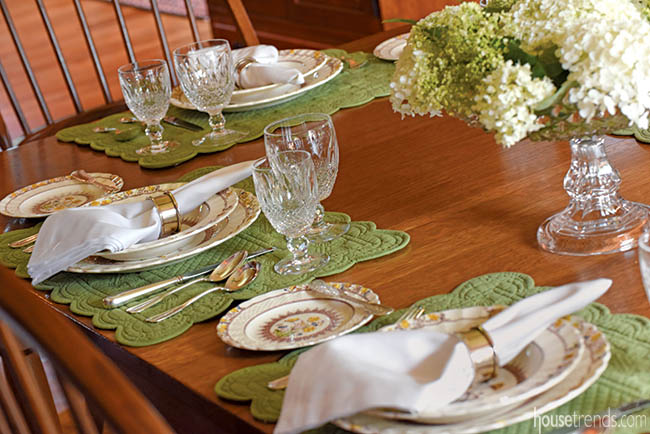 "We've hosted charity events here and love to entertain our family and friends," says John. "We want to share our house as much as possible."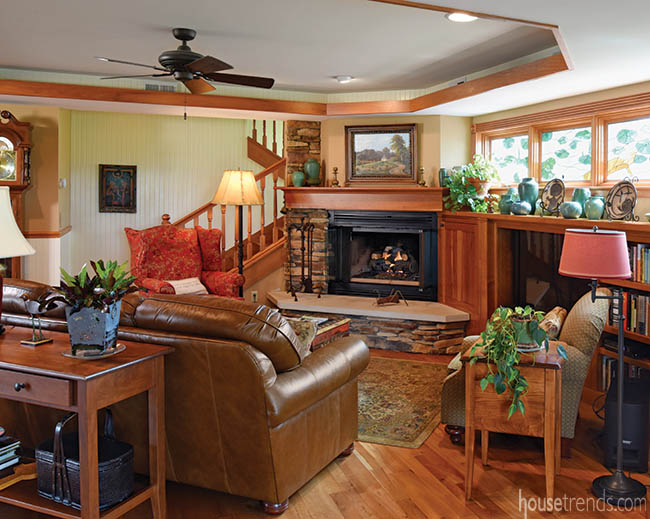 The serenity and charm of the home are a direct reflection of the hosts, who cherish the opportunity to share it with others.
John concludes, "We wanted to create a place that was welcoming."
Resources: Architect: Clyde Gosnell; Builder: Troyer Builders of Somerset; Landscape architect: Laura Burchfield, HRH Landscape, Circleville; Stained glass: Franklin Art Glass; Cabinets: Yoder Cabinets of Plain City; Furniture: Oak Creations in Millersport, Apple Tree Auction Center