When I take a look around my neighborhood, I see the same plant palette and landscape ideas repeated over and over: Red maple, ornamental pear and crabapple trees; Boxwoods, yews, and burning bushes; Daylilies, hosta and rudbeckia. While these well-adapted favorites may be attractive and reliable, it's downright boring to see the same plants used so repetitively.
Our dry summers and unpredictable winters can be hard on landscape plants, perhaps leading people to think that only a few dozen tough species can be reliably grown here. This attitude leads to the over-planting of narrow selection plants. It's time to break out of the mold and plant something different!
We asked plant experts from our local parks and botanical gardens to recommend some foolproof plants that are not so common. These plants are rock-solid selections for our climate, yet a bit out of the ordinary. And although they may be less well known, they are available at better plant nurseries. It's well worth seeking them out to add a little variety to the landscape.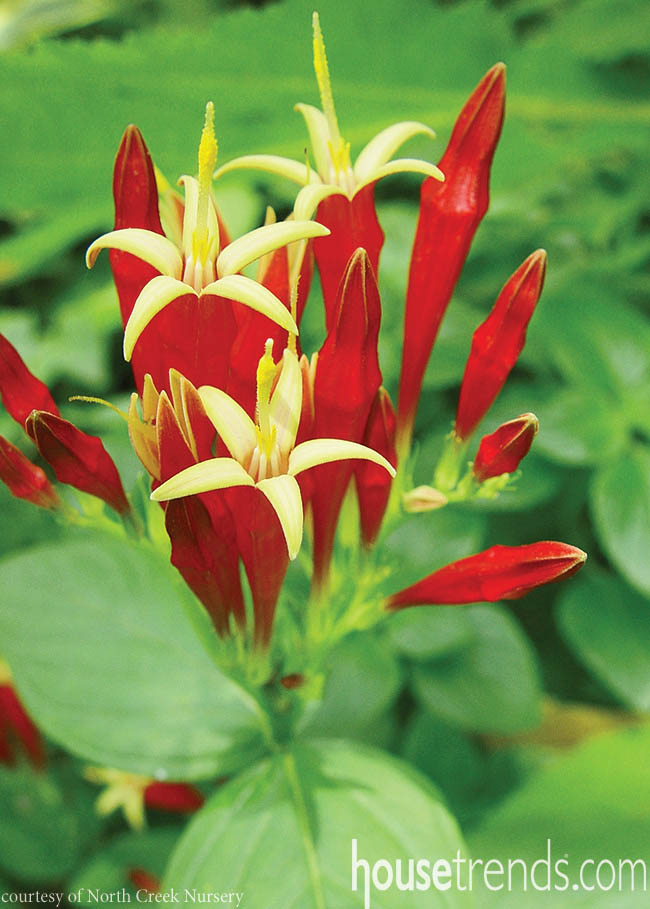 Indian pink (Spigelia marilandica) is a native perennial that will do well in full sun to part shade. Attractive foliage is topped by brilliant red trumpet-like blossoms with bright yellow tips spilling out. "This is a real show-stopper in late spring, with occasional flowers later if dead-headed. We always get comments about this plant from our visitors," says Chris Jensen, horticulturist at Wegerzyn Gardens MetroPark in Dayton.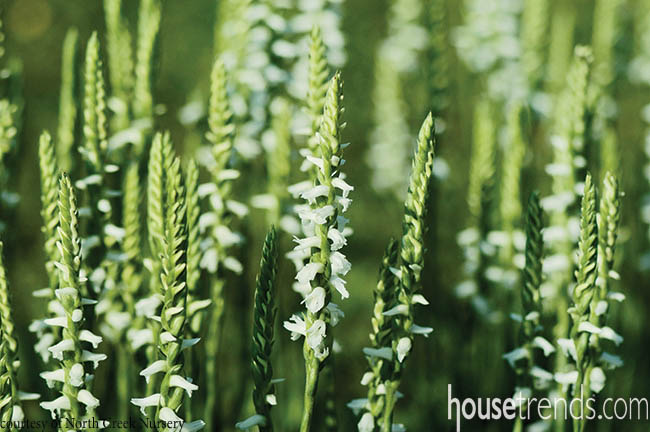 Chris also recommends nodding ladies' tresses (Spiranthes cernua var. odorata). This is a stunning native orchid for moist to wet soils in sun or a little shade. It has foot-long spiral spikes with small white bell shaped flowers that are charmingly fragrant. It spreads slowly by underground rhizomes to increase its size. Fabulous, and definitely not ordinary!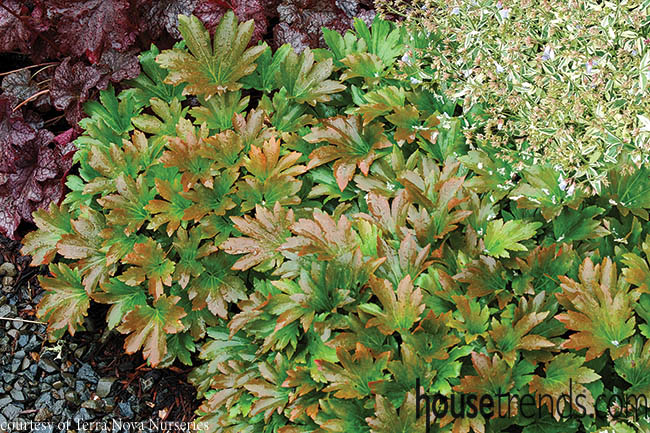 Crimson Fans mukdenia (Mukdenia rossii 'Karasuba') is grown primarily for its foliage, in part or light shade. It makes a two-foot clump with small white flowers. In fall the fan-shaped leaves turn bright red with green centers. "It is very attractive, and although described as preferring moist soil, it has done much better for us in dry areas, once established," says Chris.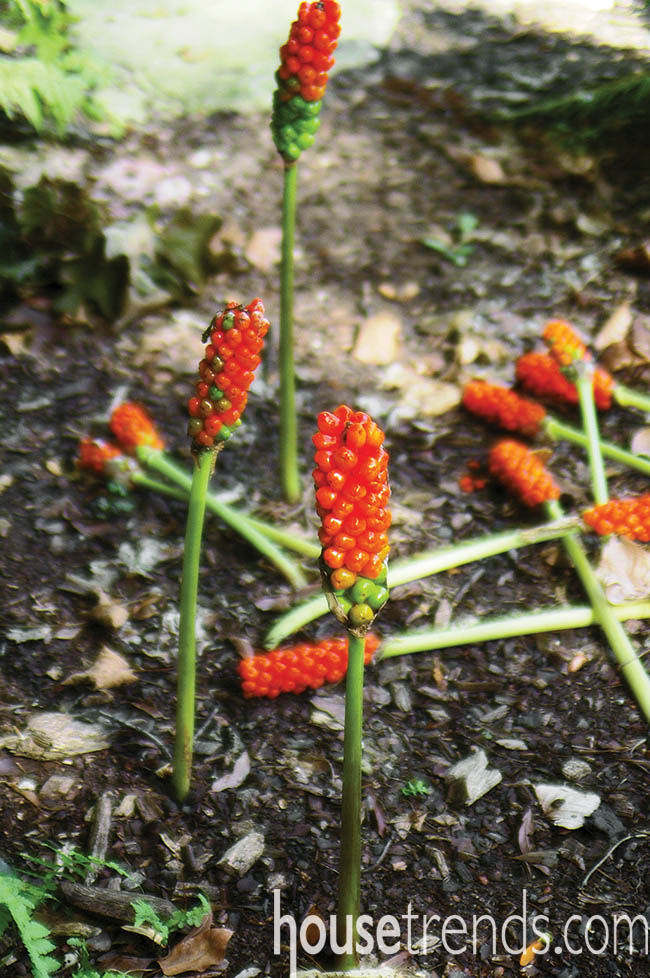 Another splendid plant for part sun or shade is the Italian arum (Arum italicum 'Marmoratum'). "It sends up an abundance of arrow-shaped leaves that are dramatically patterned with silver in late summer. They look like they should turn to mush with the first frost," says Chris, "but stay great looking all winter! In early summer they send up white peace lily-like flowers, followed by spectacular red berries. Then the plant disappears until the next late summer."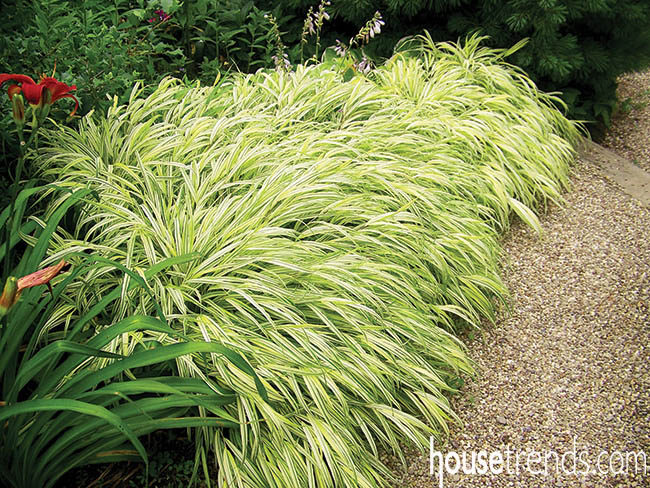 Golden Hakone Grass (Hakenochloa macra 'Aureola') is a fine textured grass for the shade, and a favorite of Steve Foltz, director of horticulture at the Cincinnati Zoo and Botanical Garden. "It has golden yellow foliage on an 18-inch tall by two-foot wide plant. It mixes well with other shade plants like hosta, epimedium and hellebores. This is one of the nicest shade plants for the garden," he says.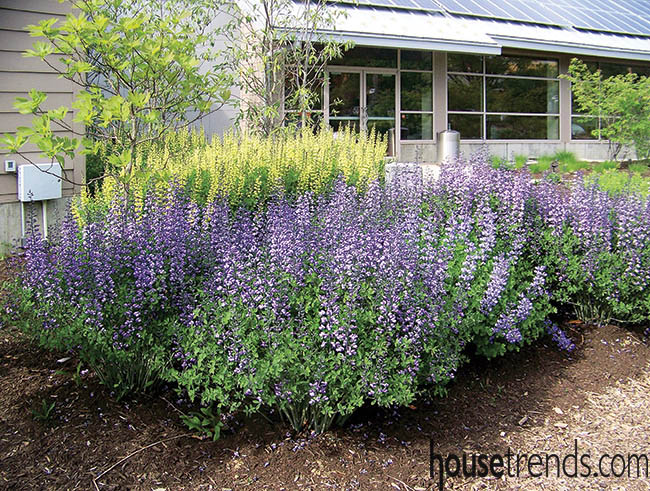 Purple Smoke blue indigo (Baptisia 'Purple Smoke') is an outstanding perennial for the full sun garden. It features pale smoky blue flowers in spring. After the flowers fade, you are left with an attractive grey-green, fine textured plant with interesting seedpods. "It's one of the best baptisias on the market," says Steve.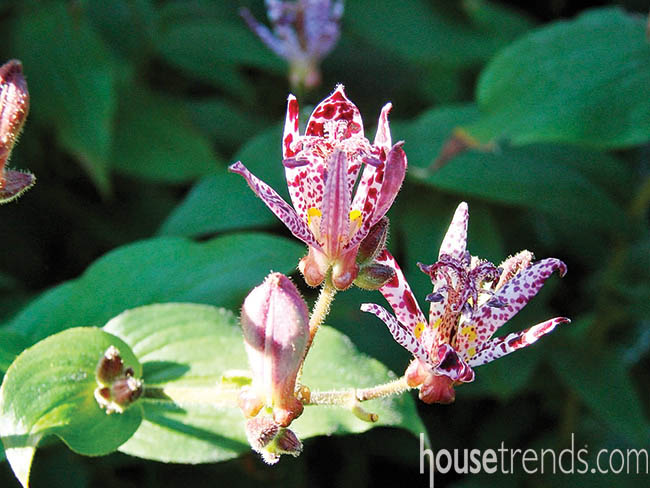 Sinonme toad lilies (Tricyrtis 'Sinonme') are pretty perennials that send up mysterious, orchid-like blooms in the fall, a time when most plants have finished blooming for the season. "Some forms of Tricyrtis have not been hardy here, but 'Sinonme' has done well for us," says Kathy Burkholder, horticulturist at Ohio State University's Chadwick Arboretum and Learning Gardens. Plant them in shade and moist soil, near a patio or pathway, where you can look closely.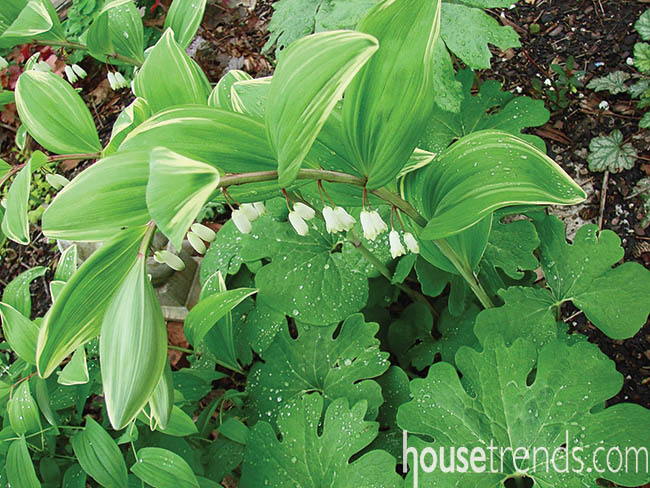 Variegated Solomon's seal (Polygonatum odoratum 'Variegatum') is a classic perennial beauty for the woodland garden. Arching burgundy stems gracefully carry the white-edged foliage, which is beautiful in cut flower arrangements, too. In spring, white bell-shaped flowers dangle in pairs and give off a delicate lily-like fragrance. Kathy notes that this plant tolerates dry soils under the tree canopy, where it will spread slowly to form a colony.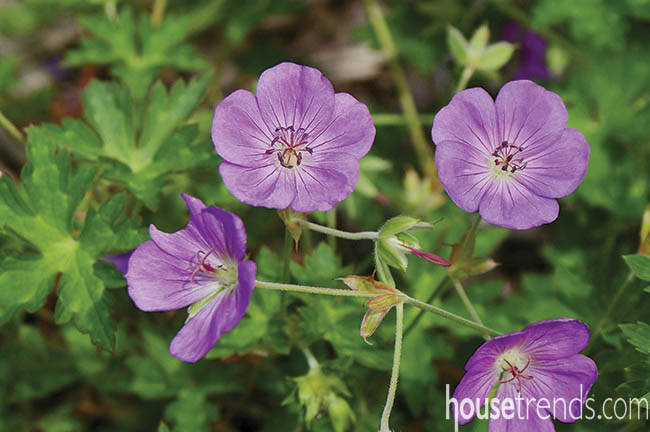 The Rozanne geranium (Geranium 'Rozanne') is an easy, carefree, spreading herbaceous perennial. Attractive, deeply cut green foliage turns reddish-brown in fall. It is topped with beautiful, large blue flowers from early summer to frost. "This is the most prolific blue-flowered geranium, blooming from June through October in our gardens," says Kathy. "It is disease and pest free, and deer resistant."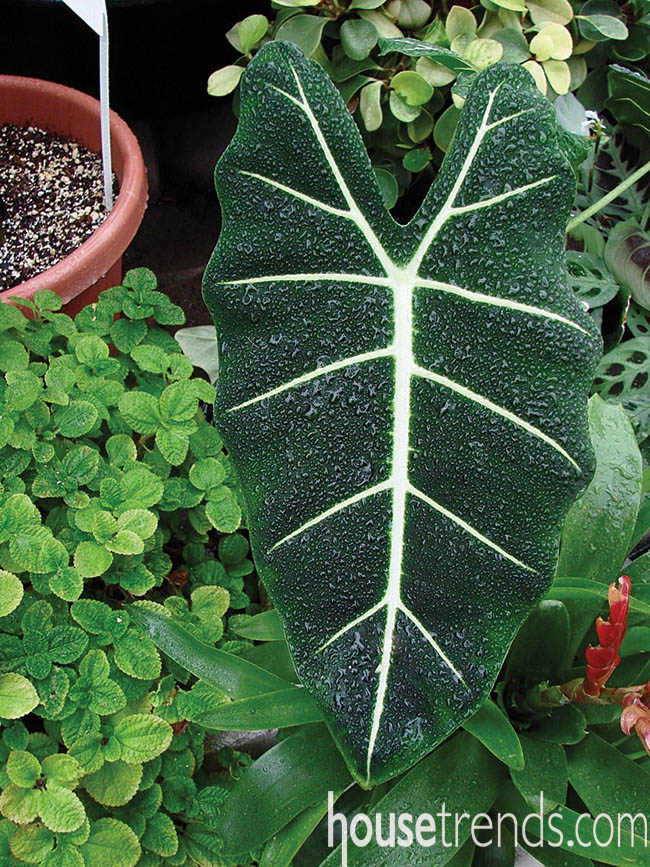 Kathy is excited about the increasing popularity of the various plants we call elephant ears (Colocasia, Alocasia, and Xanthosoma species). These annuals are the drama queens of the garden, having boldly colorful foliage or huge leaves with a tropical feel. Some forms do well in sun, while others prefer shade. They are all nice as accent plants in containers.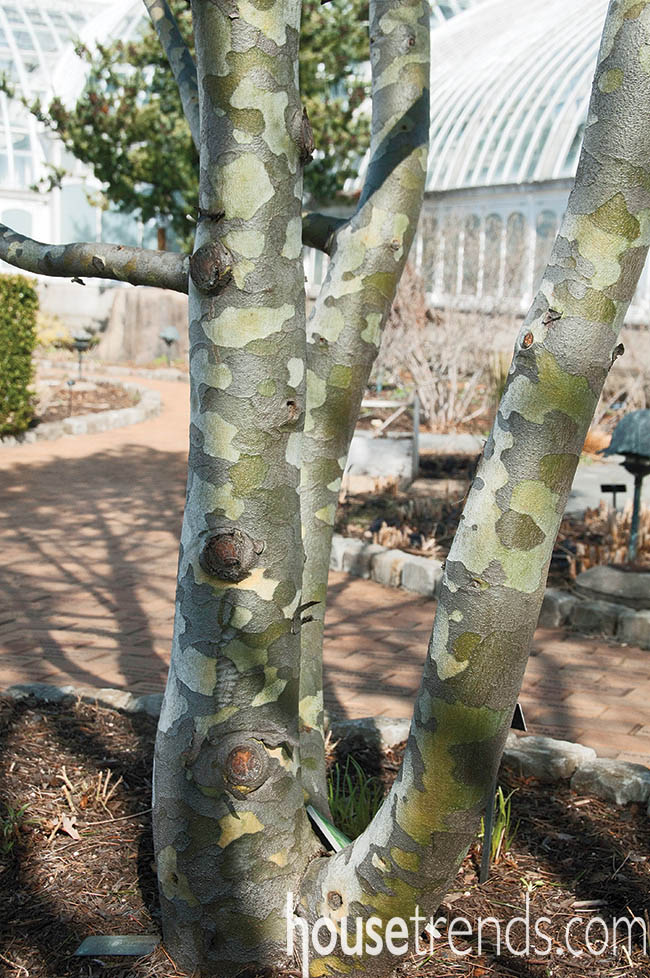 Margie Radebaugh, the Director of Horticulture and Education at Phipps Conservatory and Botanical Gardens, recommends the lacebark pine (Pinus bungeana). This is a slow-growing conifer which can eventually reach fifty feet in height. Over time, its exfoliating bark reveals a patchwork of white, olive, light purple and silver, providing all-season interest.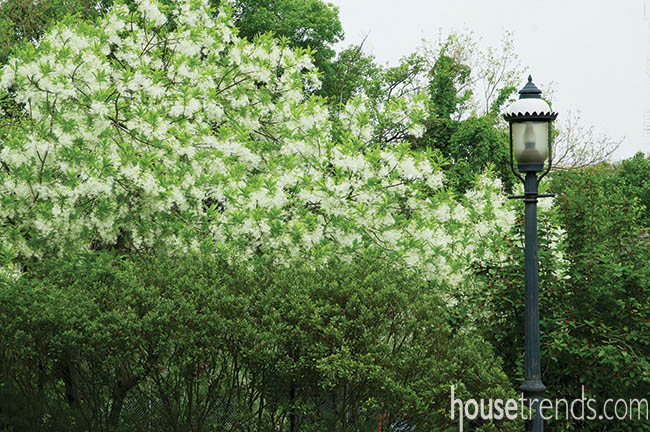 According to Margie, one of our finest spring blooming multi-stemmed trees or large shrubs is the fringe tree (Chionanthus virginicus). Also called old-man's beard, this plant is native throughout the Southeastern states. The snow-white flowers are produced in loose, terminal six-inch-long panicles that have the ethereal look of puffy white clouds. Flowers are followed by blue-black fruit that attracts birds.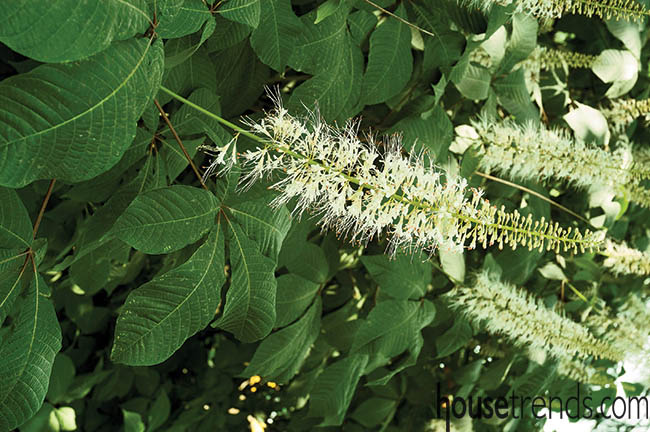 Margie also recommends the bottlebrush buckeye (Aesculus parviflora). This is an extraordinary suckering shrub reaching eight to twelve feet in height. Medium to dark green summer foliage turns yellow-green in fall. The majestic white flower panicles are up to a foot long in late June to July. Plant this native shrub in moist, well-drained soil enriched with organic matter in full sun to shade.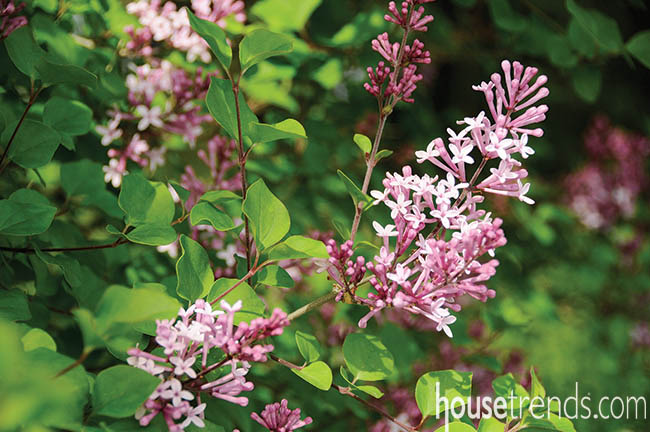 The Palibin lilac (Syringa meyeri 'Palibin') is a small, compact lilac that reaches just four to five feet in height, making it exceptionally useful in small gardens. It blooms heavily, starting at a young age, with reddish purple buds opening to light pink, very fragrant flowers. "And," adds Margie, "unlike most lilacs, it is extremely resistant to mildew!" It prefers full sun or very light shade, and average, well-drained soil.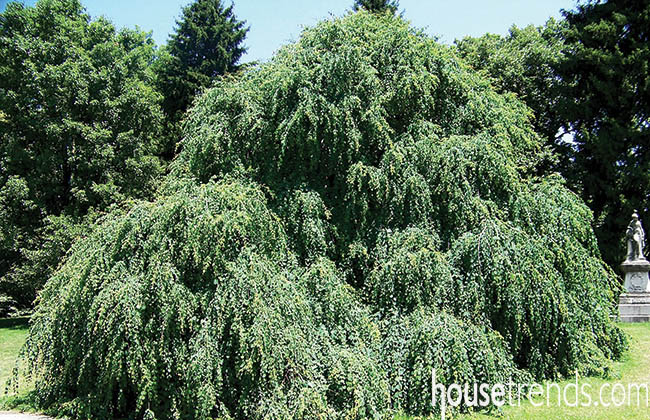 Amazing Grace weeping katsura (Cercidiphyllum japonicum 'Amazing Grace') is a graceful weeping tree for the landscape. Fall color is pale-yellow and emits a burnt sugar smell as the leaves fall. It prefers good, well-drained soils and the ability to water during periods of drought. "This is one of the least known, yet best weeping plants around," says Steve.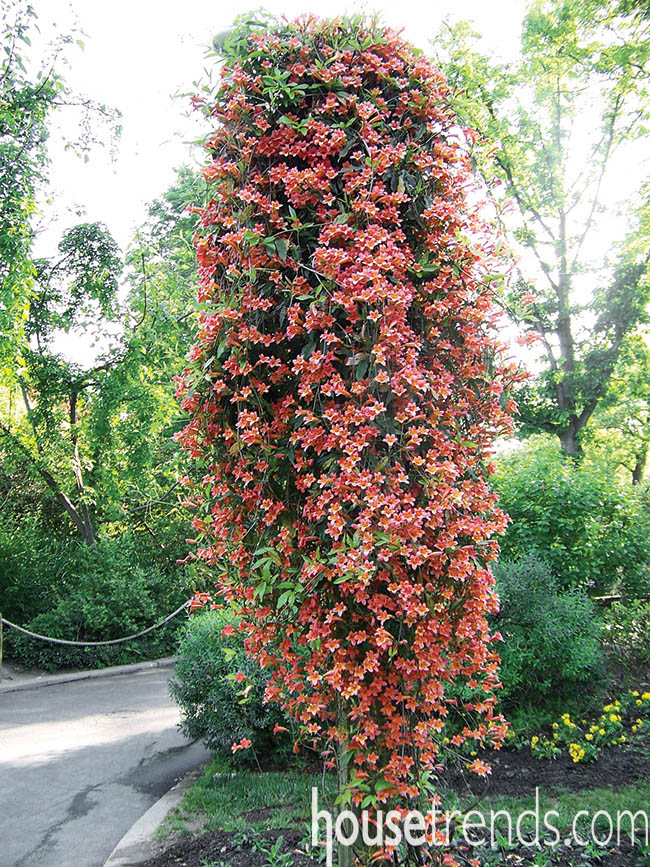 Steve also recommends the Tangerine Beauty crossvine (Bignonia capreolata 'Tangerine Beauty'). The foliage is glossy dark green and mostly evergreen. The flowers appear from late April to mid-May. "This native vine grows in shade in the wild but prefers full sun in the landscape," he says. "This is one of the lesser known native plants in our collection."