Paul didn't really want to buy the 1950s ranch along Brightwaters Boulevard in St. Petersburg. The home featured a mishmash of various designs, from a Victorian-era dining room to a Spanish hacienda-inspired kitchen. "It started as an 1,800-square-foot bungalow and went through many metamorphoses over the years," Paul says. "Every owner added their own touch to the house. While they expanded the size to around 4,000 square feet, nothing flowed."
In late 2012, Paul was out walking his two Labrador Retrievers, Buddy and Parker, when his realtor called, suggesting that he at least take a look at the house. "He picked us up and took us on a tour of the house," he says. "The dogs raced right through the front door and out into the back yard. I saw how much they loved it so we bought it."
Over the past two years Paul and his partner, Tom Silver, have renovated the majority of the living spaces throughout the house. Perhaps their largest undertaking to date was the kitchen and master bathroom remodels.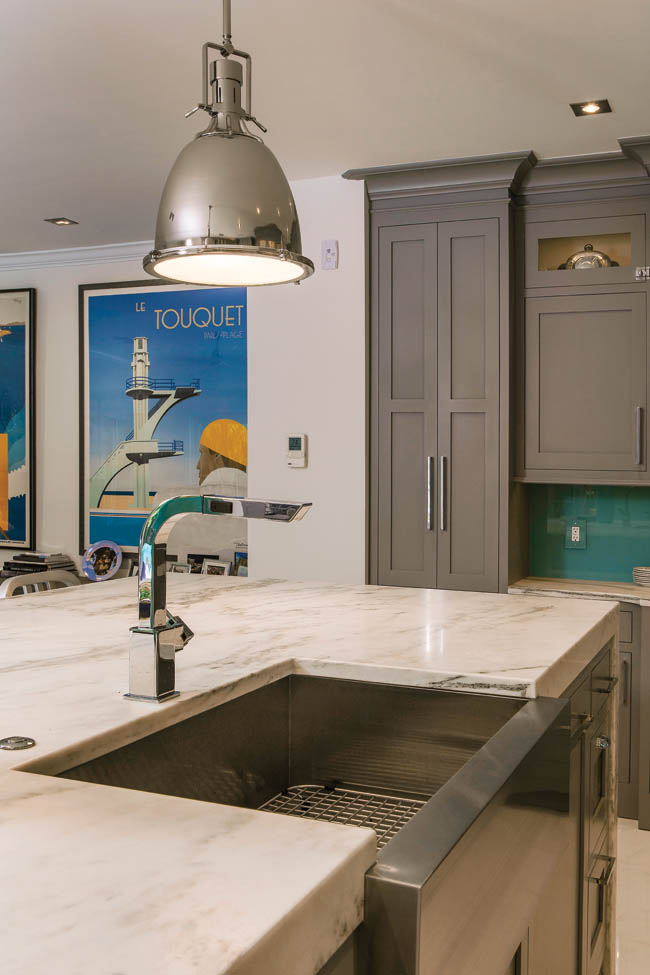 Paul and Tom had already purchased the stainless steel farm sink before the kitchen renovation even started. "It was the jumping off point for us," says Paul. "The sink's clean lines and heavy gauge contemporary stainless steel construction signified the modern aesthetic we wanted to achieve."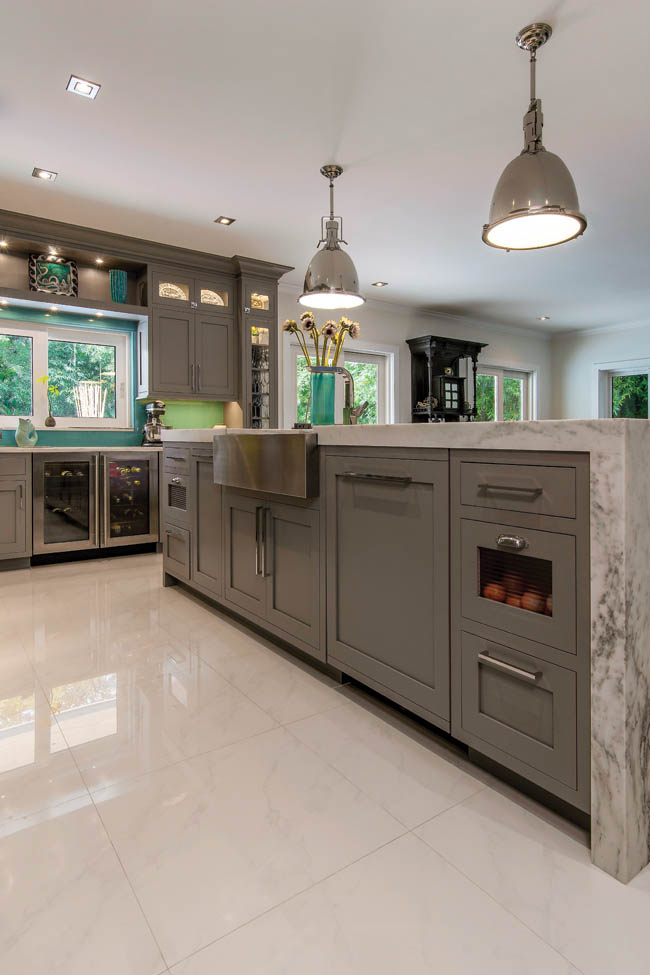 Purchasing the sink first also provided direction for countertop fabricator Exceptional Granite and for Doug Amoroso at Amoroso Cabinetry when it came to designing the kitchen layout. "It made it easier for the fabricator to understand how to cut the stone countertop and Doug was able to situate the cabinetry around the sink," says Paul.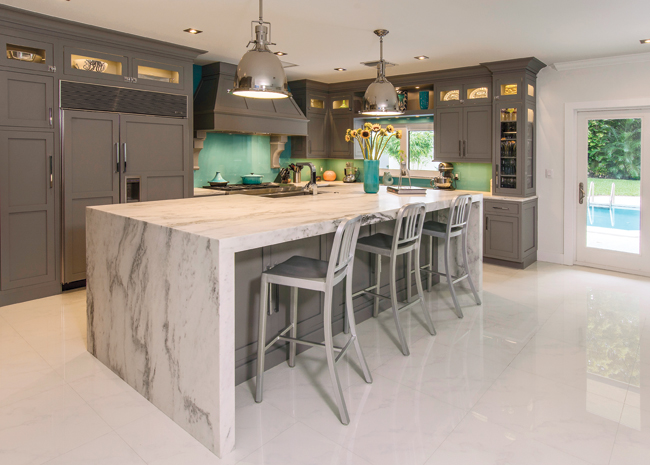 The homeowners hired Amoroso to help them remodel the kitchen in their previous home, a condo in Signature Place, and they believed he would be able to take their ideas for this new space and run with them. The color of the cabinetry was a very important element. "I had a vision of what I wanted this kitchen to look like and I knew that the dark custom Battleship Gray hue of the cabinetry would establish the overall look in the kitchen," says Paul.
The maple cabinetry features inset doors and minimalistic crown molding and trim. A row of glass-front cabinets runs along the top, brightening up the two outer walls. "This is a fresh, modern take that more homeowners are opting for today," says Amoroso. "People aren't picking fancy door styles or heavy moldings. They are tired of being overwhelmed and they want a space that relaxes them.  A clean, simple design is much more relaxing."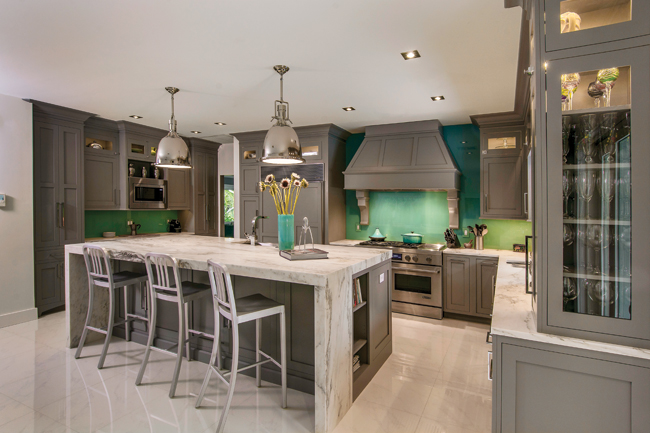 The custom peacock blue glass backsplash offers the perfect pop of refreshing color. Paul and Tom point to the blue hue of their six quart Le Creuset French oven as the inspiration behind the color choice. "I cook in that pot all the time, it seemed like such a natural choice," Paul says.
The ¾-inch glass backsplash was custom cut by Largo Glass and then taken to an auto body shop where it was spray painted multiple times with an acrylic paint. "We put it on a flatbed and transported it here," says Paul. "There aren't any seams because each wall is covered with one large piece of glass."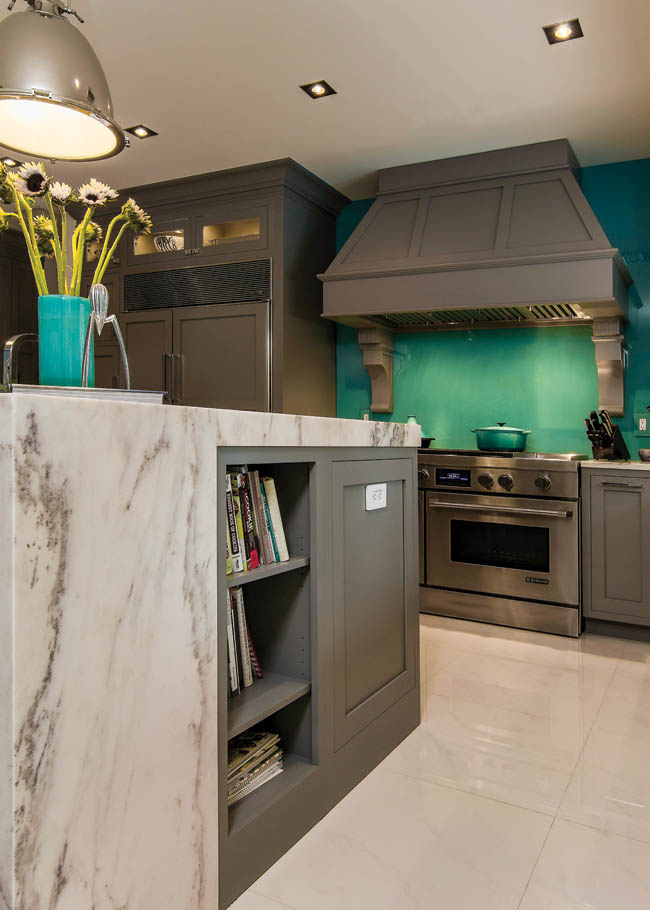 The oversized, 10×5-foot island pulls the entire kitchen together. Rather than the standard 36-inch cabinet base, Paul asked Amoroso to install a 41-inch bar height island. This design encourages guests to walk up and congregate around the island. Now, Paul and Tom can be preparing dinner and still be a part of the conversation when they are entertaining.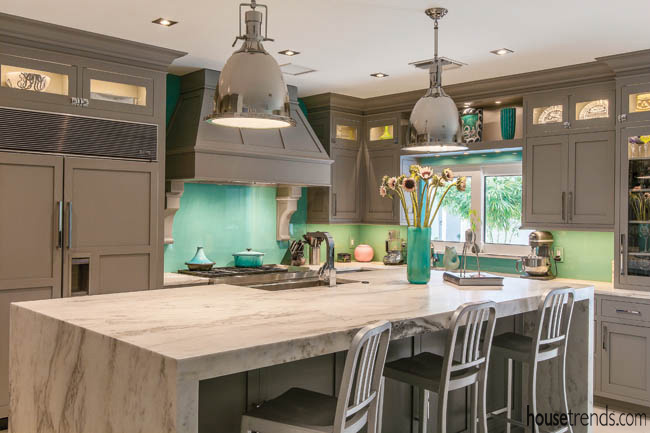 The couple chose to top the counters with honed Vermont Danby marble. "The finish is great," says Paul. "I can drag a skillet across the island without leaving a mark and spills easily wipe up, even red wine or tomato sauce."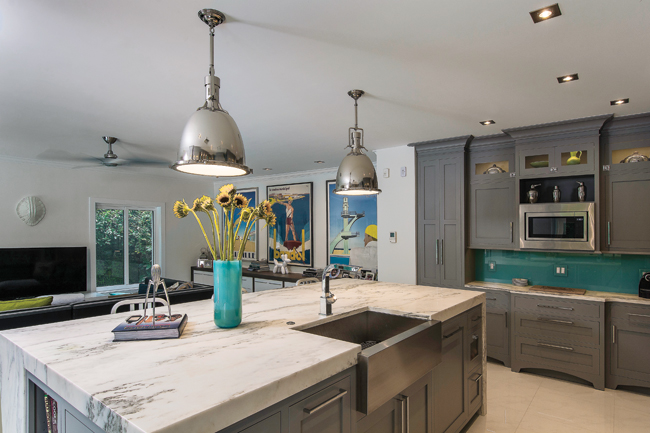 A pair of chrome pendants from Restoration Hardware tops off the space. The headlight design of the fixtures makes a statement and accentuates the stainless steel appliances and sleek cabinetry hardware. "This is a great kitchen, both functionally and aesthetically," says Paul. "We are always spending time in here, either enjoying a meal together or with guests. You will find someone hanging around the island at least two nights a week and that is a great feeling."