Shortly after they were married, Tammy and Kevin McCarl took on the task of determining where they were going to live. Before saying "I do," Tammy resided in Monroeville, while Kevin had a home in Cranberry Township. During their conversations, something kept leading them downtown. "We both love the city," Tammy says. "We were coming downtown all the time, for business and social events. It just seemed natural."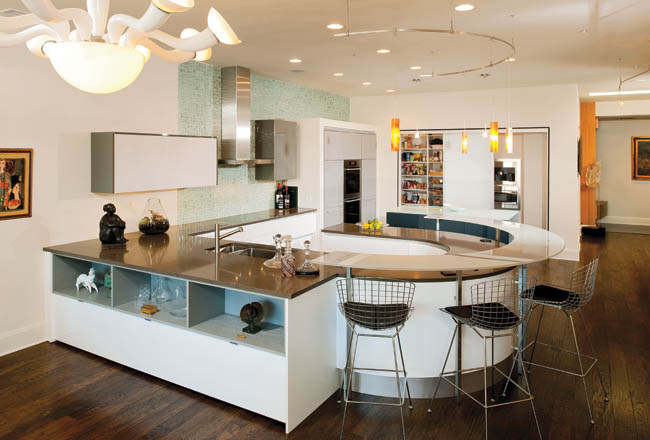 Tammy, an avid art collector and antique dealer at Mahla & Company Antiques in the Strip District, took on the task of creating a unique home that speaks to both her and Kevin's passions. She started this process by completely renovating the kitchen, which originally had a traditional décor. "I wanted a contemporary, Italian-inspired kitchen," she says. "I envisioned the kitchen to be the centerpiece and I wanted it to be a wonderful backdrop for artwork."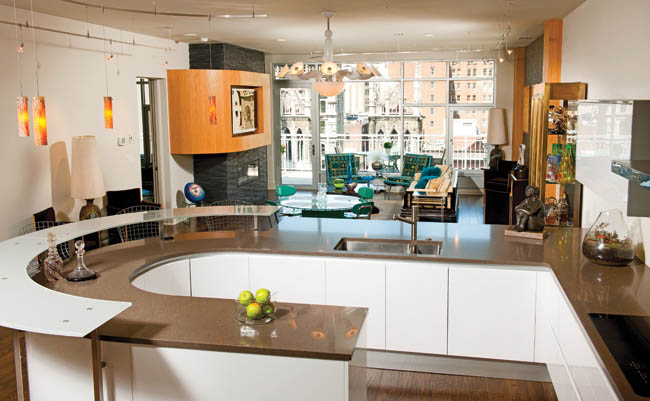 The McCarls enlisted the help of April Spagnolo, CKD, of Kitchen and Bath Concepts. The highlight of the new kitchen is the Pedini cabinetry. "Tammy loved the curved radius cabinets as soon as we showed them the custom options Pedini offers," Spagnolo says.
Boasting a mix of Silver Oak, aluminum, white and gray lacquered cabinets, all topped with Amazon Gray quartz counters, the McCarls' kitchen also offers an abundance of storage. "The pantry and wall cabinet, which also houses a microwave and built-in coffee machine, is four feet wide," Spagnolo says. "There are double drawers along the cooking wall. The amount of storage space is amazing. This feature really allows them to keep a clean, clutter-free kitchen."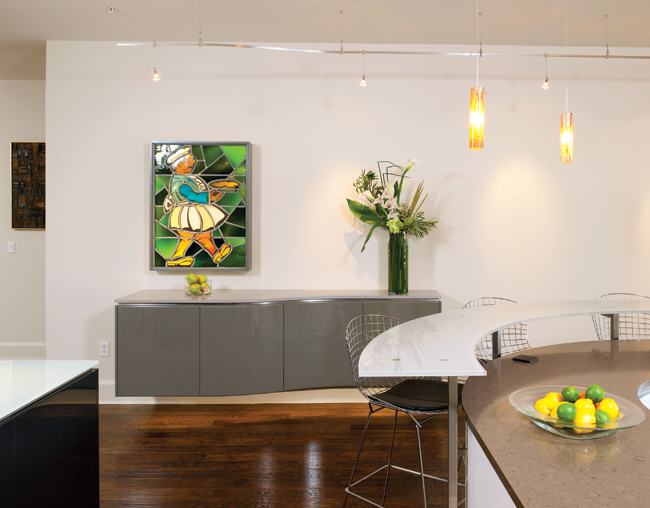 The floating credenza along the opposite wall keeps with the overall theme, thanks to the Silver Oak drawers and curved front. "It mimics the 70s vibe that I love so much, as you can tell by the rest of our house," Tammy says.
Located above the credenza is one of Tammy's favorite pieces-a stained glass baker she purchased in New York. "It came from an old St. Louis bakery and probably dates back to the 1900s," she explains. "I love it and it just fits perfectly in here."
Resources: Kitchen designer: April Spagnolo, CKD, Kitchen & Bath Concepts, LLC; Contractor: RDC; Millcraft Industries, Inc.; Kitchen cabinetry and radius glass countertops: Pedini; Kitchen countertops: Vangura; Rex Glass & Mirror; Kitchen & Bath Concepts; Backsplash: Glass tile, Ceramiche Tile & Stone; Kitchen sink: Franke, Seymour's; Kitchen faucet: KWC Ono, Seymour's; Appliances: Miele dishwasher and double ovens; Wolf cooktop; Sub-Zero refrigerator; Faber hood with stainless steel cover from PMI; Supplied by Hilmon Appliance; Kitchen lighting: Tech Lighting, Archetype Design; Living room wallcovering: Phillip Jeffries Granite Stone; Fireplace and waterfall: Napoleon Quality Fireplaces; Fireplace, television and water feature design: Randy Snell; Stone and porcelain tile: Ceramiche Tile & Stone; Bamboo Fireplace veneer: Winfield Designs; Fireplace cabinetry: Mapletree Furniture Makers