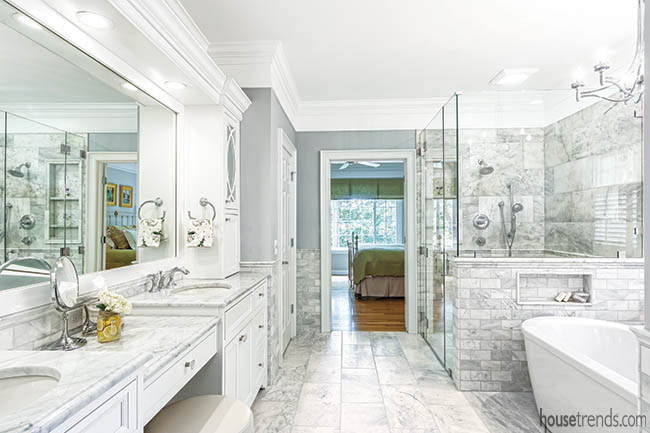 When Don and Danielle McCloskey built their house in late 1999, it was their dream home. "It was our first go at building a house, and while it was our dream house – there were some things we didn't get to do because we were trying to stay under budget," Don says. "Over the years, we have completed three major projects – the most recent being our master bathroom." In 2009 the McCloskeys finished their lower level, and in 2015 they built a carriage house—but this year the couple decided to do something solely for themselves—create a luxurious, spa-like retreat in their master suite.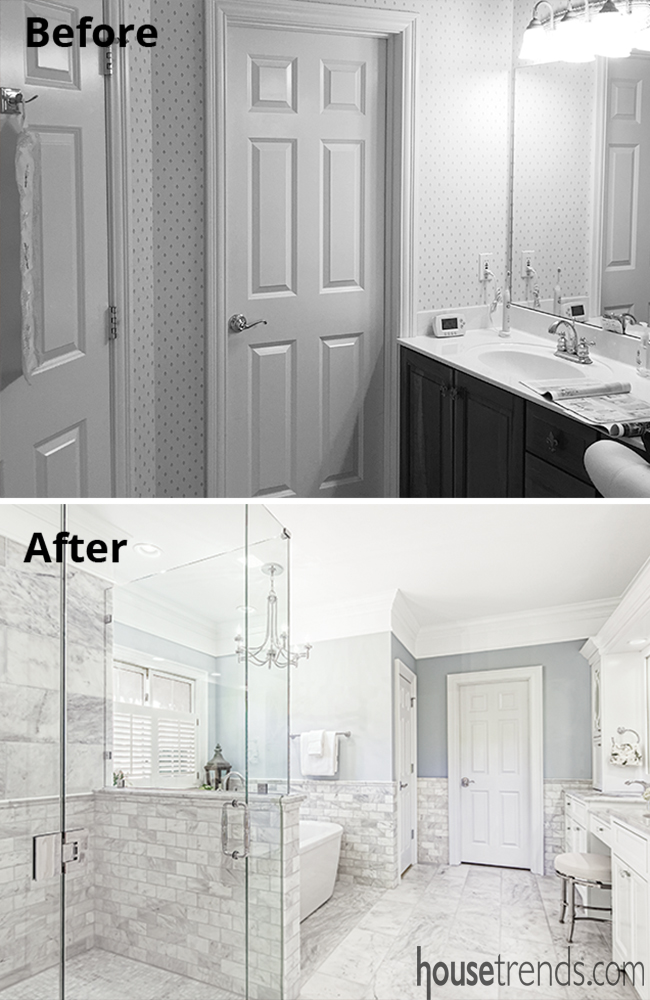 Ready for a facelift
"The bathroom was more dated rather than needing to be completely reconfigured," Don says. "So we decided to do it right this time."
The McCloskeys turned to someone they knew they could trust to transform their master bathroom from plain to polished. Several mutual friends referred Jim Deen, president and senior designer at Kitchen Kraft, to the McCloskeys. "We would actually see Jim and his family at the swimming pool of our country club," Don explains. "We like doing business with friends. Plus, we knew he did wonderful work."
"The shower and water closet walls were both set on angles, so we wanted to straighten them out," Deen describes of the renovation. "We wanted to get rid of the tub that was set in a huge deck and replace it with a free-standing tub. The angles and brass just screamed 90s."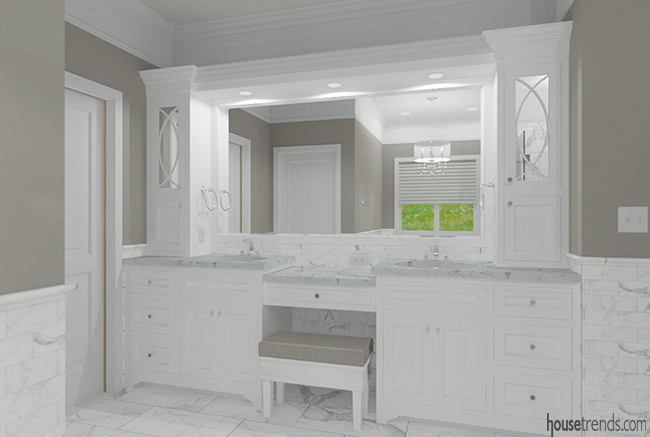 Computer-aided reality
Deen says he begins every renovation project the same way. "First, I listen. I ask my clients what problems they're trying to solve. I am a designer, but if we don't solve the existing problems then what's the point?"
"Next, I give them my advice on how I would accomplish their goals. If we're all on the same page, my team takes lots of measurements and photographs…and I go back to the office to create the 3-d drawings."
These three-dimensional drawings, created with the latest and greatest computer aided design software, give prospective clients a space to mentally step in to. "We have the best software in the industry," Deen says of the renderings that look amazingly similar to the finished projects. "It is a huge tool for our clients to visualize."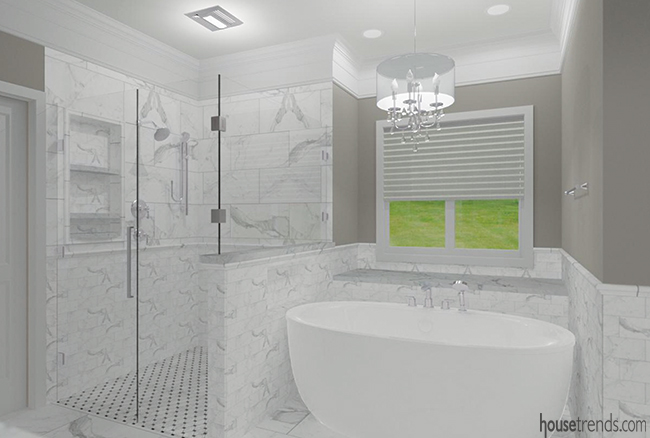 Deen takes these renderings, along with selection lists and pricing, to a second meeting with his clients. He points out that at this stage the clients have made no financial agreement with Kitchen Kraft. "We do all of the design work at no charge, where most firms want money up front." Deen says approximately 80 percent of prospective clients decide to move forward with their projects at this point, the McCloskeys being such clients.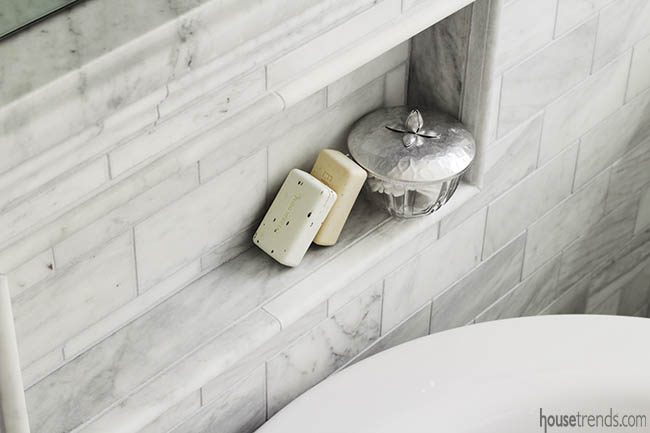 "Jim nailed it right off the bat," McCloskey says of those initial renderings. "He listened extremely well, and we had no changes to his original design. He included recessed shampoo niches in the shower and next to the tub. We didn't even have to ask, he somehow just knew we wanted them."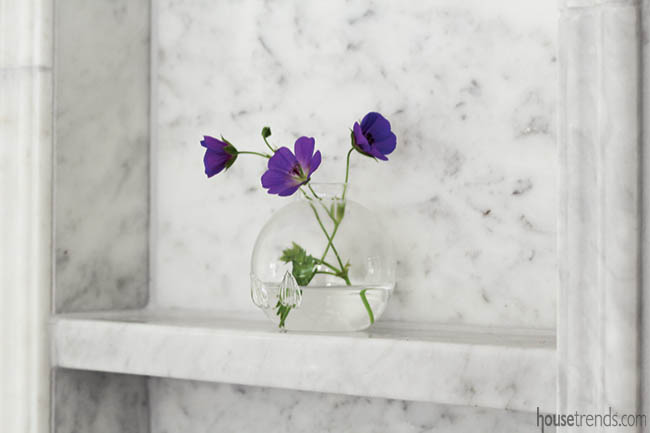 Authentically marble
"When we went to meet with Jim that first time, we knew we wanted to brighten the space with white cabinetry and we knew we wanted the look of marble," Don says. "We knew we wanted a marble countertop, but we weren't sure we'd be able to use marble on the rest of the project and stay within our budget. We were okay though, because we knew there were pretty good porcelain look-a-likes."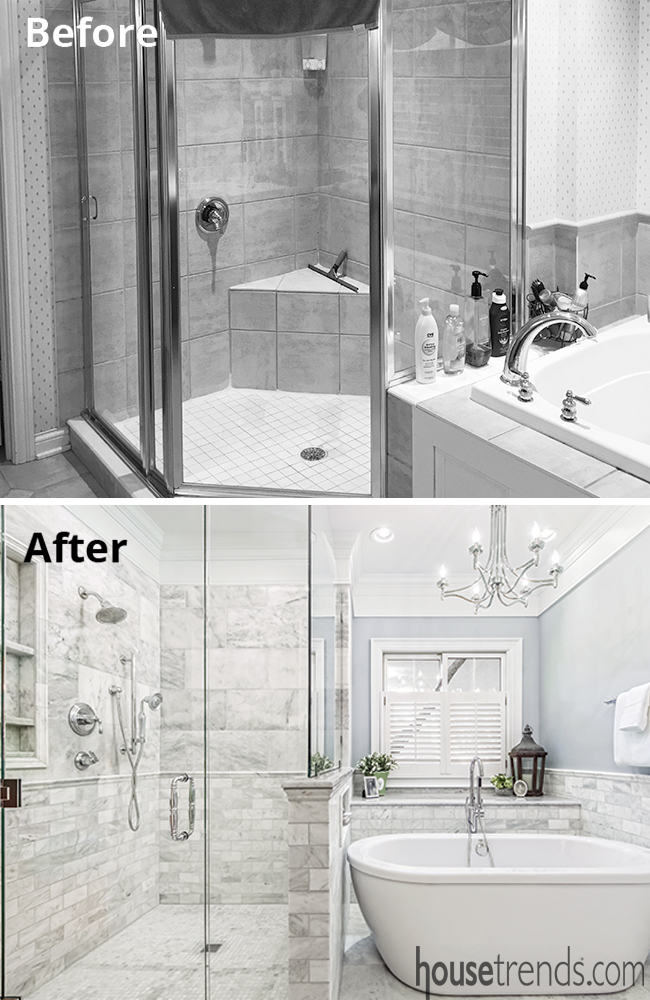 And this project would require a lot of tile. The floor, entire shower and half of the walls were to be covered. So the homeowners selected a porcelain tile for the project. It came to their attention that one of the porcelain selections might actually be more expensive than marble, so they had the entire job re-quoted.
"It turned out that to use all marble, it was only going to cost around $500 more than had we used porcelain," Don explains. "So we decided to splurge a little and get what we really wanted."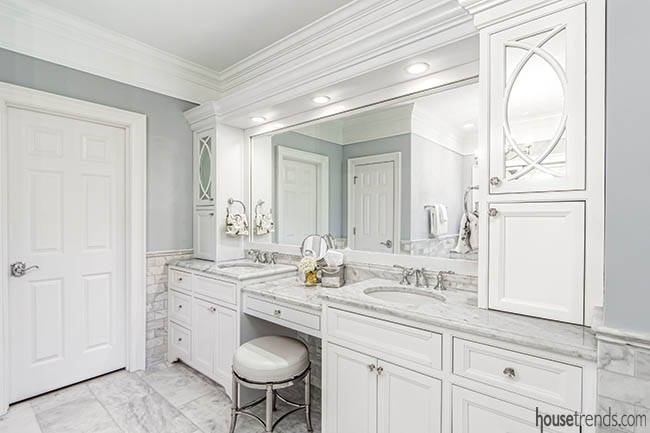 Timeless in a timely manner
The McCloskeys moved upstairs into a guest bedroom during their eight-week renovation. "We let Jim and his crew have free reign downstairs," Don says of their main floor master suite. "They did such an amazing job. It went so fast, I hardly remember it."
Resources: Designer/contractor: Jim Deen, Kitchen Kraft; Cabinetry: Holiday Kitchens, Kitchen Kraft; Fixtures: Kohler shower, American Standard bathtub, and Craftmade Lighting: Ferguson; Countertops: Honed Carrara marble, Perrotta's Marble Shop; Sinks and faucets: Kohler, Ferguson; Tile: Honed Bianco Venatino Marble, and zero-entry shower floor: Hamilton Parker Company; Other: Custom frameless shower door, Buckeye Custom Glass