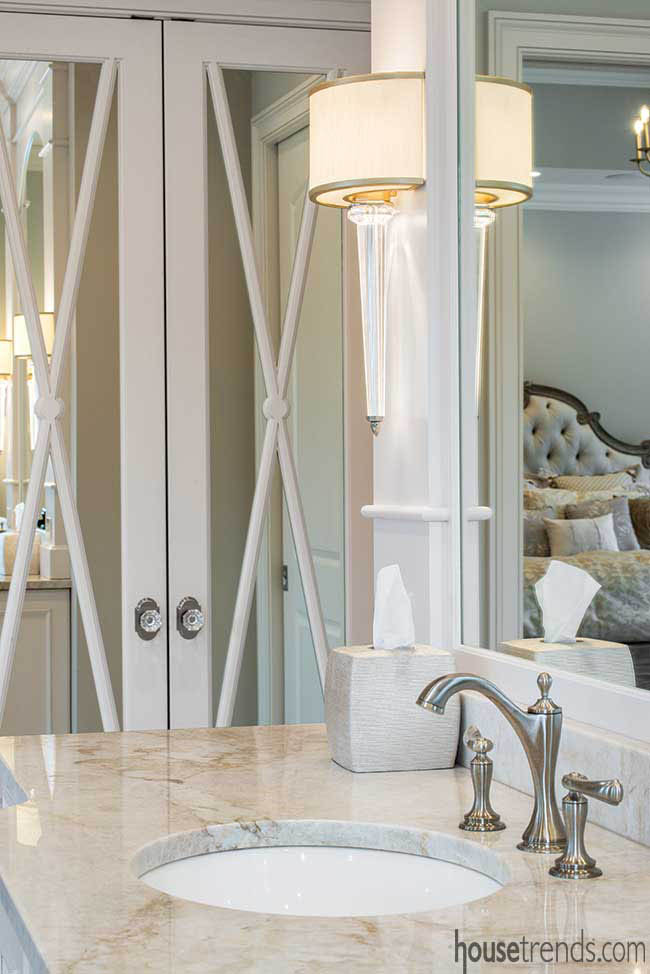 There was a time when his and hers simply meant a longer-than-normal bathroom vanity interrupted by two sinks…one for him, and one for her. Elbows still bumped, and you can bet that the coveted counter space was the root of many an argument at the dinner table. As the times have changed, though, so has our concept of bathroom design. Why settle for just two sinks, when you can have two completely separate vanities? In fact, why not just carve this shared area into two different spaces that merge to give the illusion of being one beautiful room? And that is exactly what one Bath couple did. "You can never have enough counter space. Now I've got my space and he's got his space," the wife says happily.
"She wanted a lot of storage space," recalls Darlene Somrak of Somrak Kitchens. Part of a collection of skilled professionals who worked on this new home, Somrak's crew was tasked with creating the perfect vanities for a homeowner who knew just what she wanted. "She always had pictures, even that first day," says Darlene of the two-year project.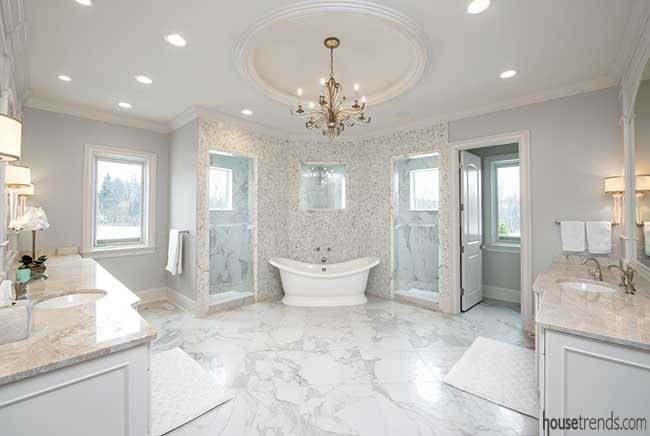 Let the light shine in
It's a daring move—letting so many windows pepper the walls of your bathroom. Where most people would use textured glass or thick window treatments to obscure any view that nosy neighbors might have, this couple balked tradition and left their windows completely unadorned. It helps that their property is fairly private, extensive enough to allow for this family to spend time paintballing and four-wheeling in their own back yard. The shoulder-height windows let in the abundance of natural light that the wife craved. "I didn't want the shower to be dark," she says. "We have four windows in the shower. It's great, we really don't even have to turn lights on, except at night."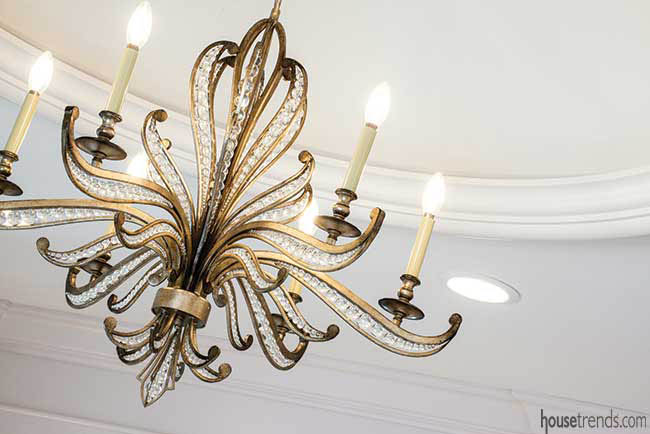 Not wanting to rely solely on natural light, the homeowners included strategically-placed light fixtures; Corbett sconces, for instance, bookend the vanities, offering a little more light to get ready by. Helped along by Denise Krejci of Leopold's Fine Home Furnishings, the wife carefully selected fixtures that wouldn't take away from the spa feeling that they were going for, but would perhaps add a little bling to the space. A beautiful John Richard six-light chandelier dangling in the middle of the room does just that. Not just restricted to the lighting, the homeowner subtly added a little bit of glitz and glam here and there. Crystal handles glitter on both the water closet and linen closet, the latter accessorized with mirror-front doors.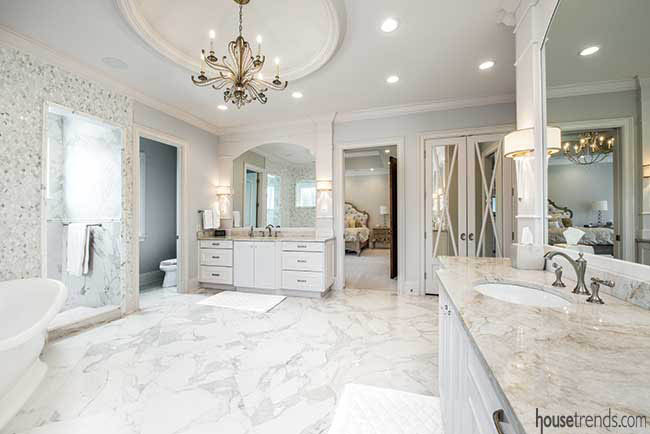 Washing the day away
The shower itself was designed with two in mind. Dual entrances flank either side of it, each leading to a specific set of showerheads that the owners can program to reflect their own preferences, choosing everything from temperature to which combinations of sprays they would like (showerhead, rainhead, or body sprays). "My husband and I can have our own settings and can turn it on by a remote control before we get in," she says.
Worried about cold feet against the Calacatta tile, they went ahead with a heated floor, both in the shower and out, that can be easily manipulated from a control mounted on the wall. Keeping a further eye to their comfort, they decided to add a towel rack just inside of the shower openings, far enough away from the spray to remain dry.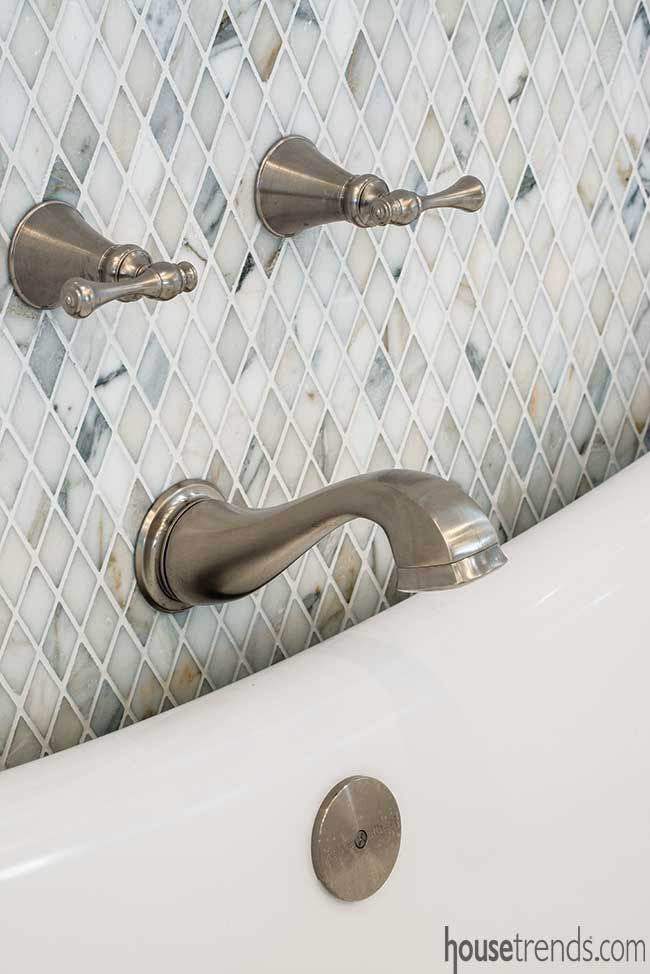 Nestled snugly into a nook created by a feature wall, the eight-foot-long bathtub serves as a striking focal point. The wife admits that they don't use the tub much, but says that the wall is one of her favorite features in the space, "There was a lot of discussion about how that wall would work," she laughs. Stretching from the floor to the ceiling, and serving as a barrier to the shower, the striking wall is made of Calacatta marble laid in a diamond shape and gives a little texture to the calming space.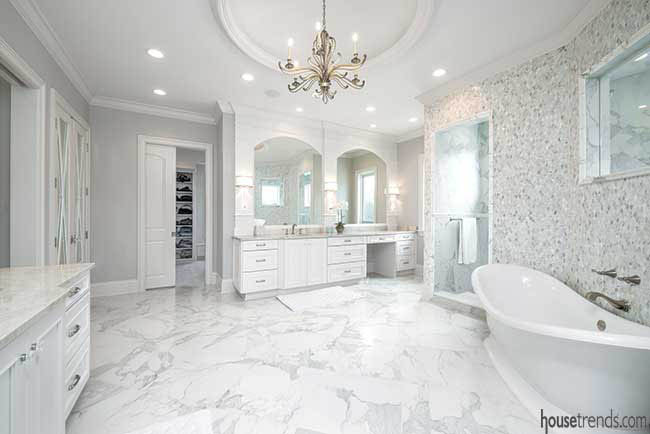 Elbow room
Located across the room from one another, the vanities give this happy couple plenty of leg—and elbow—room for maneuvering and getting ready for the day. Looking to add some interest to the light cabinetry, Denise says they added a little bump to the front of both vanities. "It jogs out on an angle when you get to the sink base, and then it jogs back in," says Denise. "Rather than just being a straight vanity, we wanted to add some character and bump it out."
Though both are topped by a gorgeous Taj Mahal granite, the two vanities offer subtle differences that reflect their respective users' lifestyles. Both have plenty of storage underneath and a generous amount of counter space, but hers also features an area where she can sit down to do her makeup. His boasts a reverse osmosis system, a filter that turns the water into drinking water. "Since we have well water we put them in the kitchen and most of the bathrooms," says the wife.
The whole home took about two years to complete, a wait that was worth it as the owners now have their dream bathroom, among other rooms. Although the wife admits, "The master bathroom is one of my favorite rooms in the house." With music piping softly through speakers and a variety of design features included to maximize comfort and increase relaxation, it's not exactly hard to see why.
Resources: Designer: Darlene Somrak, Somrak Kitchens; Denise Krejci, Leopold's Fine Home Furnishings; Contractor: Steve Moore; Cabinetry: Brookhaven cabinets, Somrak Kitchens; Flooring: Calacatta radiant floor heat, Virginia Tile; Shower: Calacatta radiant floor heat; Countertops: Taj Mahal granite; Sinks: Kohler; Faucets: Brizo; Lighting: John Richard six-light chandelier, Corbett sconces