There is no end to spectacular in this spacious and pristine home spa. When Brendan and Kaetlin broke ground on a 10-acre property in Peters Township, they knew from the start that their master bathroom would be the one room in the house that spared no expense. "We had always had a dream of building our own home, especially with some property," says Kaetlin. "In our previous house, we had a poorly designed master bathroom. We finally decided to look for a property to build our dream home when we couldn't find a way to make the master bath exactly what we wanted."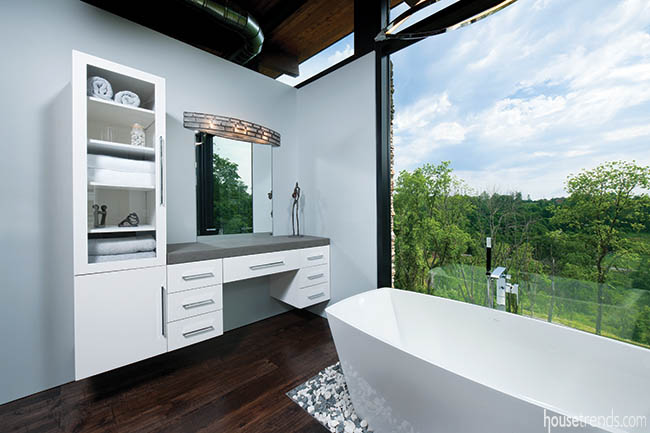 Secluded sanctuary
The couple worked with architect Mali Torriero, owner of Luca Construction and Design, and Maria Fairbanks, designer at Splash, to help them with the design ideas and construction. "The bathroom came about from the design of the entire house," explains Torriero. "With them having such a secluded site, there weren't any restrictions for privacy, which allowed for the floor-to-ceiling corner window." The corner window is stacked three levels high, from the basement to the third floor, and overlooks a panoramic view of nature at its best. "It's an incredible feature," says the owner. "Whether it's deer or landscape, there's always something beautiful to look at."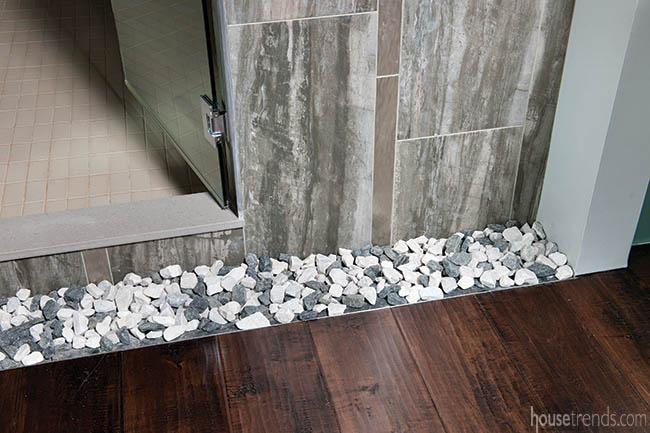 With a mountain modern bathroom being different than the traditional Pittsburgh style, Fairbanks loved being able to think outside of the box. "I was able to really challenge my design ability," she says. "They really knew what they wanted and were able to make selections quickly and with confidence." The designer's expert eye for color was fundamental in achieving the overall effect. "Maria understood the serene effect that we wanted to achieve," says Kaetlin. "She was great at pulling colors together and helping us with the cabinetry." The couple wanted natural materials and clean lines to define the room, so Splash designed the cabinetry with two words in mind, "spa-like and minimalistic." White walls and cabinets give a clean and crisp feel.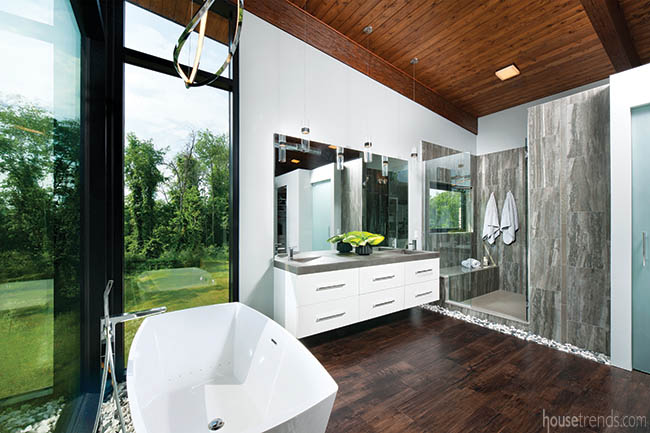 With a heated backrest and air bubble massage, the freestanding tub allows for an amazing soak with a spectacular view. Poured cement countertops were stained, and go with the natural vibe of the room. "Concrete evokes a natural feel yet can be formed to have a modern presence," points out the architect. Kaetlin relishes her own secluded makeup station. "It's very nice because my husband can be on one side of the room while I can enjoy that space as my own private area." Wood floors flow in from the bedroom, allowing for continuity of the entire master suite.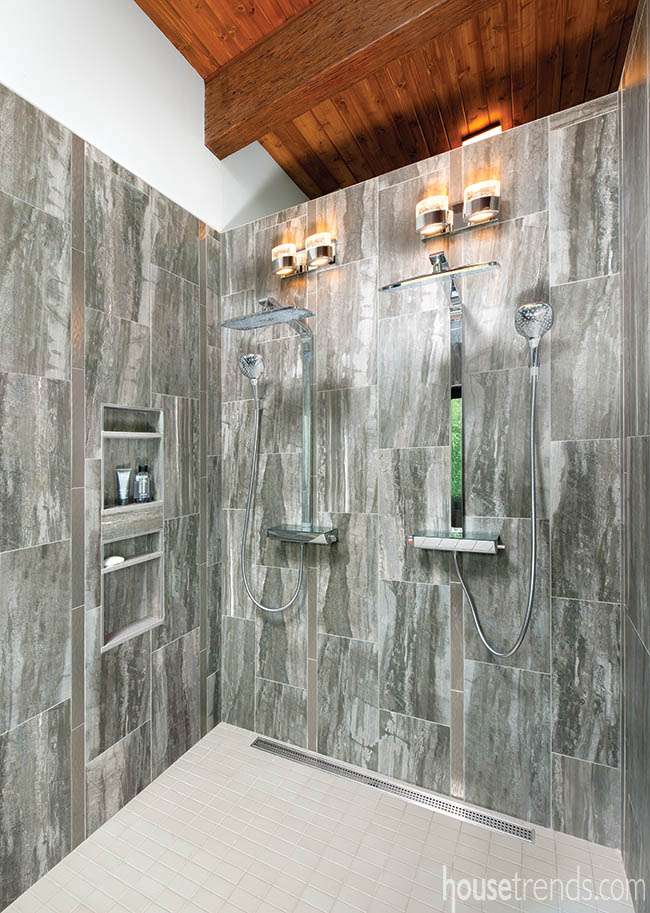 The walk-in shower is Kaetlin's favorite part of the bathroom. "It's just a nice big open space, and a great place to talk or plan the day." A picture that she found on Pinterest was the inspiration behind the pebbles lining the base of the bathtub. The couple thought it would add to the spa-like quality of the bathroom, so they decided to line the shower with them, too. "Mali was incredible; she took what we pulled from, be it Pinterest or other sources, and she created a vision for us," tells Kaetlin. "She would be as involved as we wanted her to be, but was always steadfast in keeping with the overall design."
With several showerheads, they can have more than one showering at a time. "We have three kids, and although we gave each kid their own bathroom, they all prefer to shower in ours each night," laughs the owner. "This is the communal bathroom, and it's a big party in here every evening."
Tile on the shower walls is porcelain and framed with a metallic accent tile that Brendan picked out. Lighting in the shower looks like little canisters filled with bubbling water. There is plenty of built-in seating for anyone who has to wait his or her turn for one of the waterfall showerheads.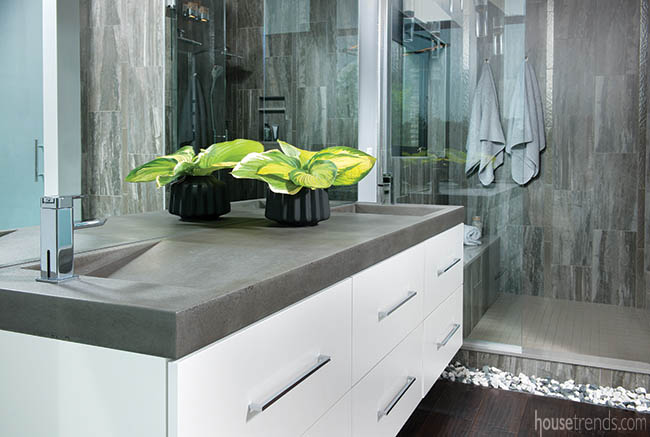 More than a bathroom
The overall goal of the project was to create a master suite which mimicked a mountain modern style home, where spaces flow together and the floor-to-ceiling windows blend the lines between the living space and nature. The room has an ever-changing scene because Torriero designed the house based upon the position of the sun to the master suite. A typical morning involves the owners enjoying a cup of coffee in the bathroom while gazing out the window at all of the natural beauty. "We spend a lot of time in here," says Kaetlin. "It's pretty much how we begin each day and how we end each night."
Resources: Architect: Mali Torriero, Luca Construction & Design; Builder: Nello Construction; Bathroom designer: Maria Fairbanks, Splash; Concrete countertops and sinks: Outlaw Studios; Cabinetry: Touchstone Fine Cabinetry, Splash; Bathroom faucets: Moen 90 Degree, Splash; Shower plumbing fixtures: Hansgrohe Showerpipe, Splash; Tub: BainUltra Charism, Splash; Mirrors and shower door: Rex Glass; Hardwood flooring and tile: Rusmur