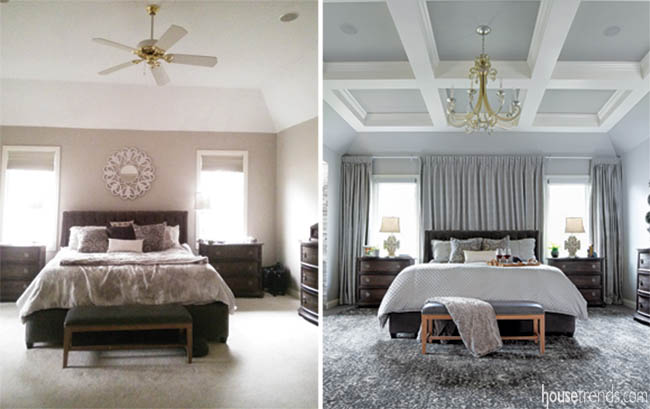 The gentle play of early morning light among prisms of the chandelier and across recesses of the coffered ceiling in her master bedroom beckon Davia Stevenson to wakefulness daily, reminding her of why she and her husband, Eric, moved within walking distance of their former home.
"At this stage in our lives we want our home to be peaceful, and for us that means having daily contact with nature," says Davia, who has lived in the Highland Lakes neighborhood of Westerville since 2001. "We love this area – we have many friends here, and it's where we've raised our two boys."
Once the couple's sons were on their own, they decided that a home with a first-floor master suite backing to a lake of the Lakes Golf and Country Club would better meet their needs, now and in the future.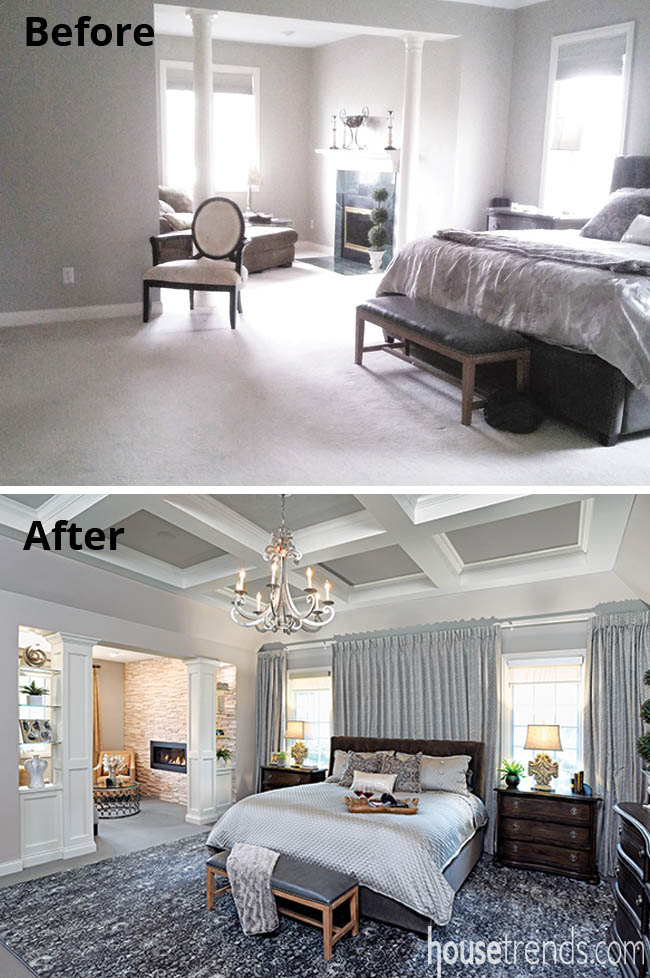 "Although I'm a bit eclectic, I'm also driven by function and mood, so I wanted something fluid and open with a blend of traditional and modern features. It had to be big enough for us to continue hosting large family gatherings – including extra bedrooms upstairs – but not require us to climb stairs daily," she notes.
Three years ago, the Stevensons found a 5,000-square-foot, 1990s-era traditional stone and stucco two-story house just a few blocks away. They immediately contracted with Dave Fox Design-Build Remodelers to update and refresh, gutting the home and reconfiguring the kitchen and master bathroom.
"At that point, I knew I wanted to do more with our master suite, but wanted to live with it a while first. Because our property backs up to a lake, which is part of the Alum Creek Reservoir system, we have an absolutely stunning view – which is my husband's most cherished part of our new home. That's what we wanted to accentuate."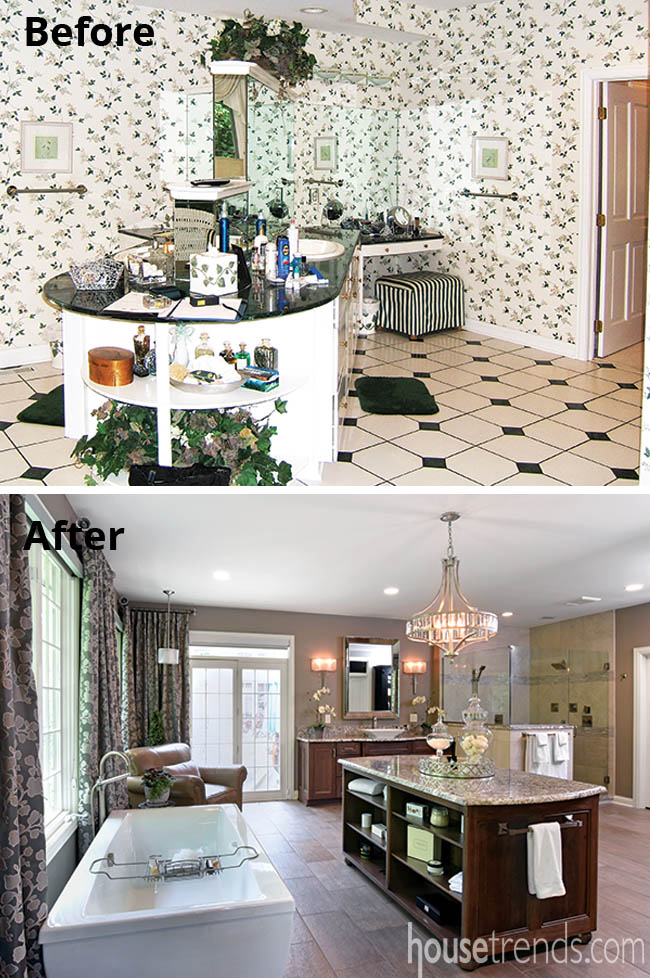 "Davia and I were able to break up the vastness of the space by creating more than one focal point," Sorenson notes. "The armchairs serve as an anchor near one window, and of course, the Neptune freestanding Saphyr tub – directly in front of floor-to-ceiling windows – makes a tremendous statement," she adds.
Dominating the space is the 7×3-foot island, topped with Bianco Antico granite to match the countertops of the his-and-her vanities. Open on the side facing the tub, the island is functional, with shelving to hold towels, bath bombs and similar accouterments.
The color scheme reflects Davia's taste for nature's palette. Hickory Wood cabinetry with cinder stain complements the Hamilton Parker tiles – a cotton hue in the shower, with tobacco on the flooring. The floral pattern on the privacy drapes is understated.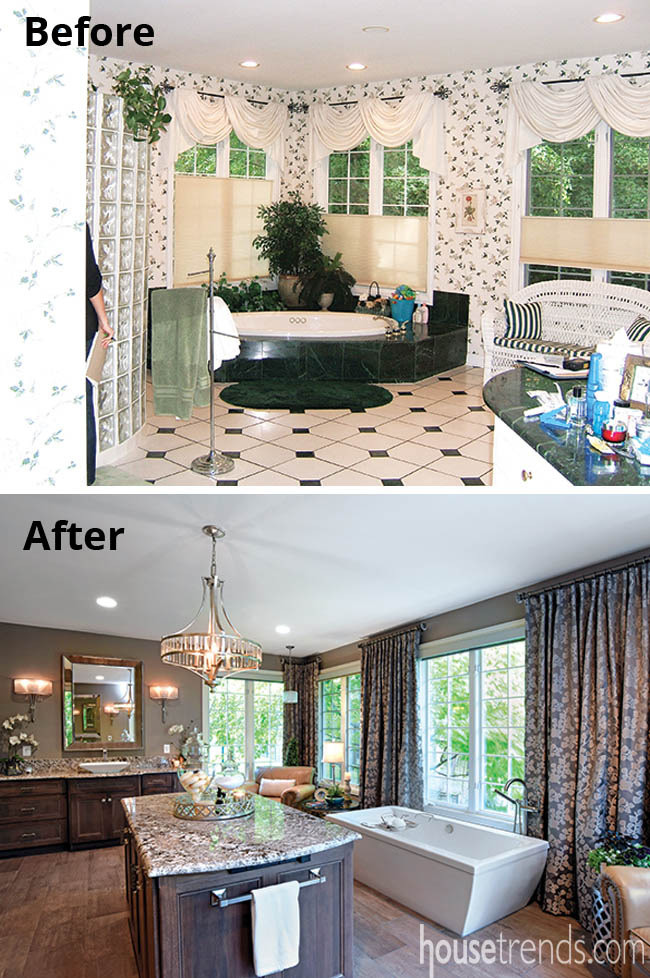 Nature in view
Davia explains that she and Eric have agreed on every aspect of the renovation of their master suite – except one.
"I would say that my favorite part is the sitting area within the master bathroom where I like to have my morning coffee while watching the sun come up over the water. He probably most enjoys the fireplace in the sitting room just off our sleeping area," she says. "However, we are definitely in full agreement about the importance of relaxation, as we both have high-stress careers."
Davia is a counselor who helps people sort their struggles all day, and Eric is a financial advisor and a franchise owner. They both find travel very relaxing and wanted their master bath to reflect the spa-like features found in high-end destinations.
Wendy Sorenson, CR, CKD, design consultant with Dave Fox, notes that the sheer volume of the couple's master bath presented an exciting challenge. At 20 feet by 20 feet, the difficulty was creating a space that is both functional and intimate, while focusing attention on the spectacular view of the lake.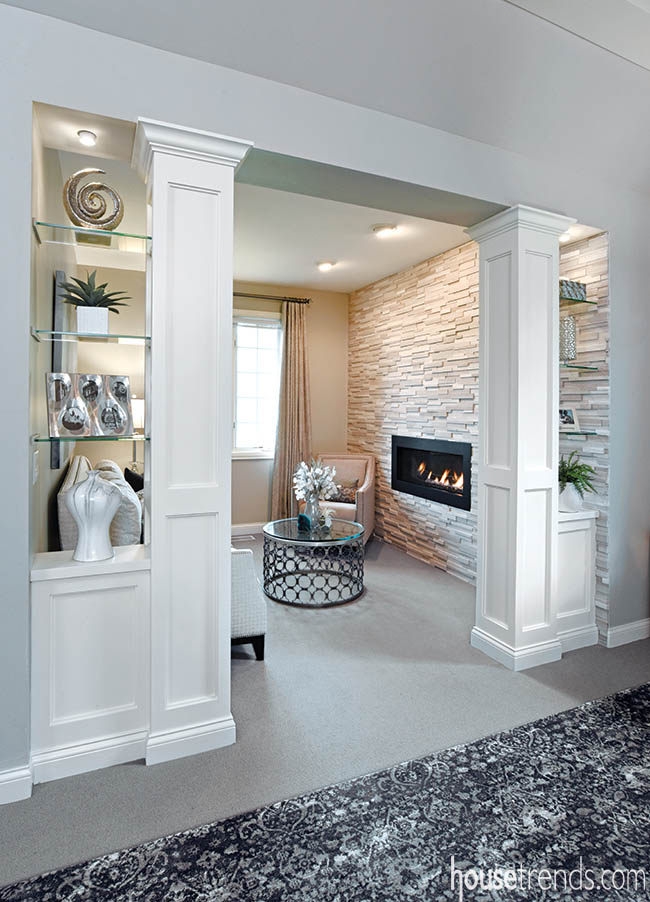 Sitting in style
"Because Davia and Eric wanted their master suite to be a true retreat, the sitting room really needed more than a makeover," Sorenson says. "The austere twin pillars at the entrance to the sitting area really did not define the space and felt cold – we wanted to create a cozy space that, although still part of the suite, had the feel of being separate," she explains.
By narrowing the opening with paneled columns and low shelving that complement the coffered ceiling, the space immediately became more cozy and welcoming. The white birch, honed Realstone installed across the entire hearth wall, creates a sleek, modern backdrop for the Hamilton Parker 42" Rave fireplace.
"I looked and looked for just the right sofa before deciding that such a special space deserved a custom piece, which Peggy Snyder Interiors helped me obtain, along with custom bedding and window treatments that Designs by Teressa helped me accessorize," Davia notes. Sable-color Masland Glamorous carpet extends from the sitting area throughout the master bedroom, with a custom graphite rug from Stanton Imagery setting off the sleeping area.
"Eric and I could not be happier with our master suite. It's everything we wanted, and working with Dave Fox again was so easy and stress-free – just the way we like it."
Resources: Contractor: Dave Fox Design-Build Remodelers; Designer: Wendy Sorenson, CR, CKD & Courtney Burnett, CKD; Carpentry and project manager: Mike Tenney; MASTER BATH: Kohler Tresham toilet, Delta tub filler, Moen faucets Ferguson; Tub: Saphyr from Neptune; Tile: Wood 2 from The Hamilton Parker Company; Cabinets: Hickory with Cinder stain from Custom Wood Products; Countertops: Bianco Antico granite from Stonemart, fabricated by Konkus Marble & Granite; Frameless shower door: Eastway Supplies; BEDROOM/SITTING AREA: Accessories: Designs by Teressa; Sofa: Peggy Snyder Interiors; Chandelier: Currey and Company, Northern Lighting; Fireplace: Rave 42" with Realstone Systems White Birch Honed tile, The Hamilton Parker Company; Carpet and custom rug: America's Floor Source