If your interior design is lacking the level of happiness you desire, look no further than the color yellow. Associated with the joy of sunshine, this uplifting shade can energize every room of the house while providing a feel-good ambiance sure to put your guests at ease. Here's our take on this up-and-coming color and its potential to brighten your space.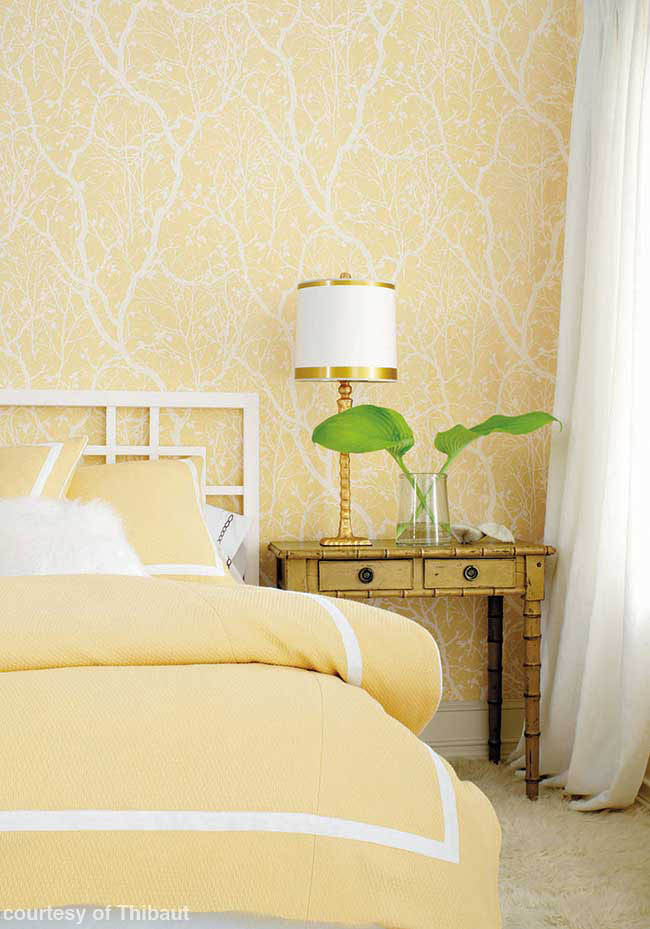 A whimsical guest room is taken to the next level with this bright wallpaper from Thibaut Design.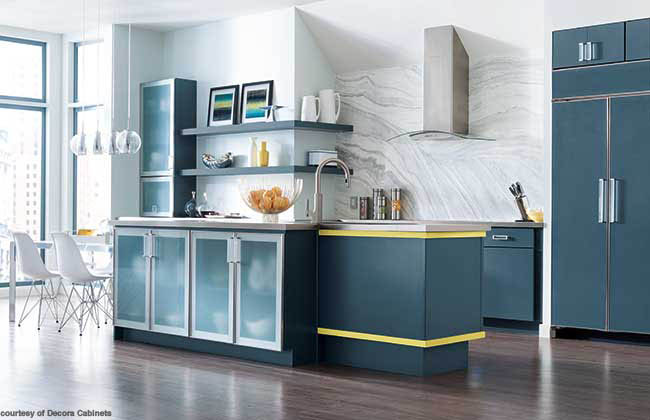 Combining yellows with darker hues creates a modern look.  A splash of color is displayed as yellow cabinet strips on Decora Cabinets.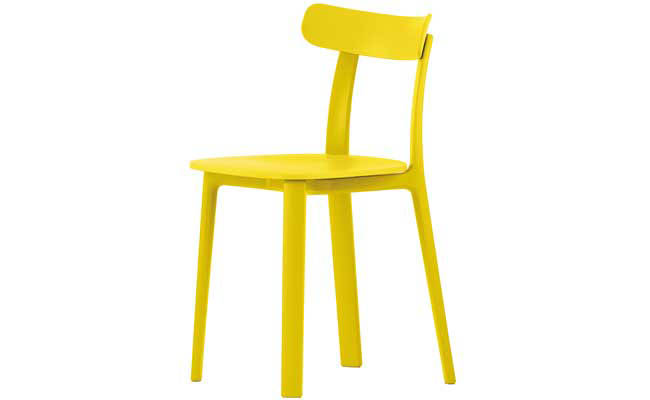 If neutrals make up the bulk of your color palette, use the element of surprise to your advantage by incorporating bright seating options like this yellow chair from Vitra.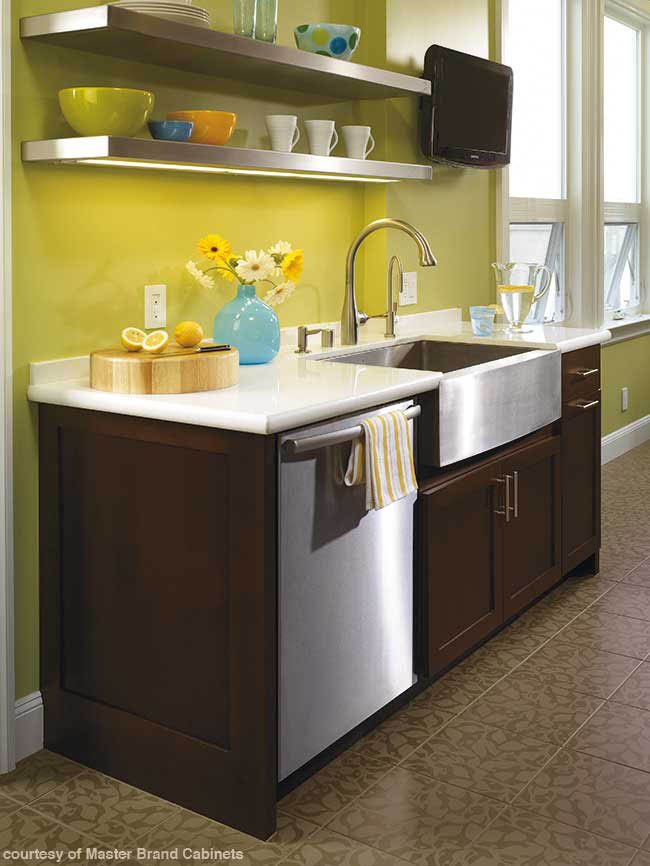 Yellow paint and surrounding décor brighten the look of these dark wood cabinets from MasterBrand Cabinets.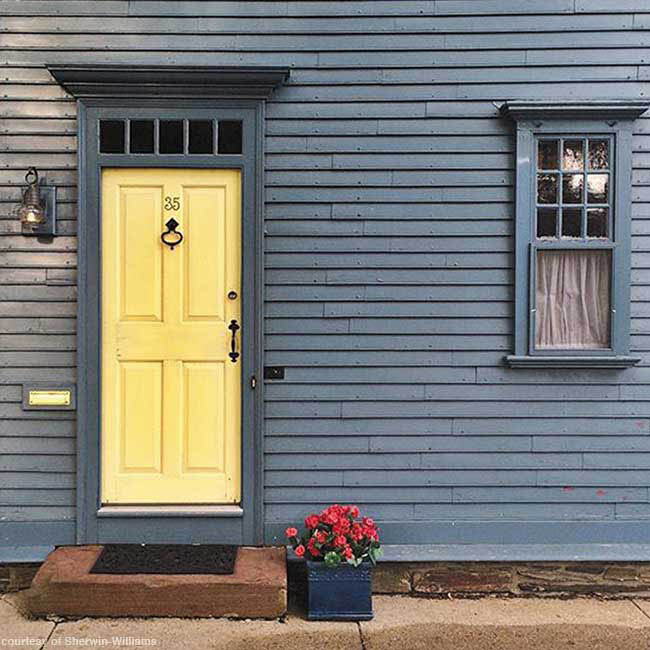 This color is titled Fun Yellow by Sherwin-Williams – and we can totally see why! Including a yellow door provides brilliant contrast to an otherwise dark entrance.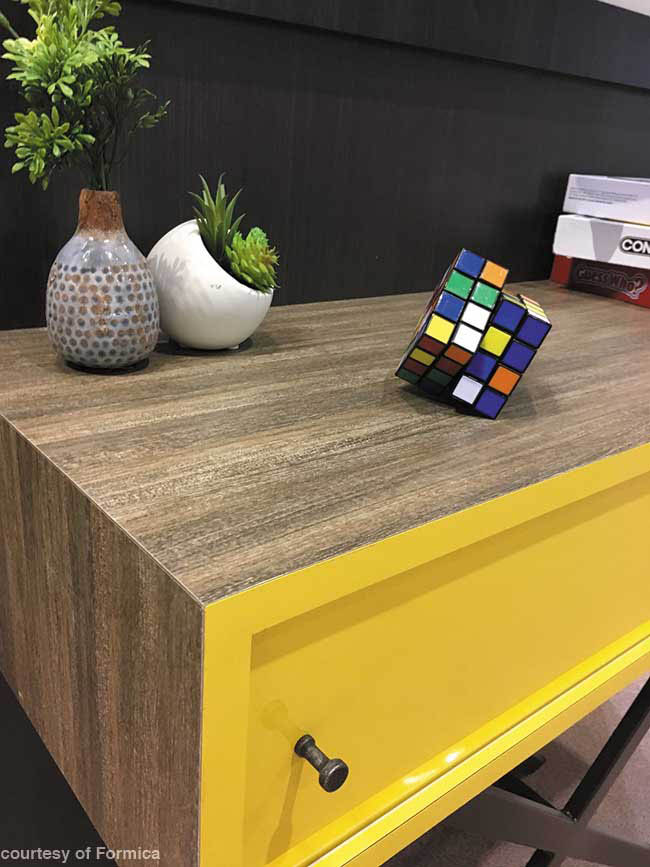 Given the darker color scheme filling this room, the bright change in scenery provided by Formica's chrome yellow drawer is sure to draw the eye.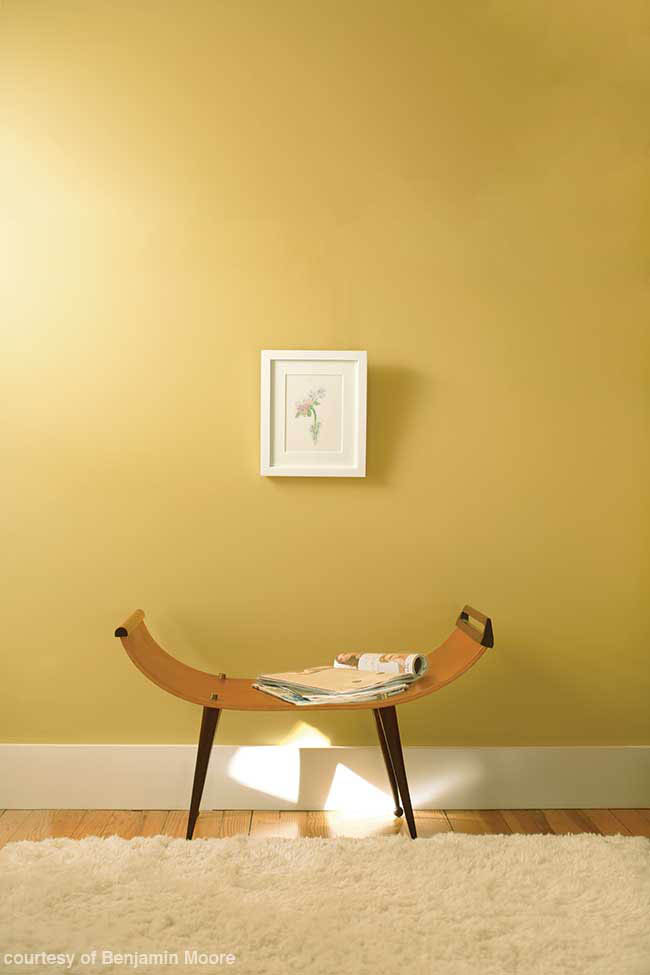 Poised as the perfect backdrop for a minimalistic sitting area, this wall showcases the warm capabilities of the color yellow with Benjamin Moore's York Harbor Yellow.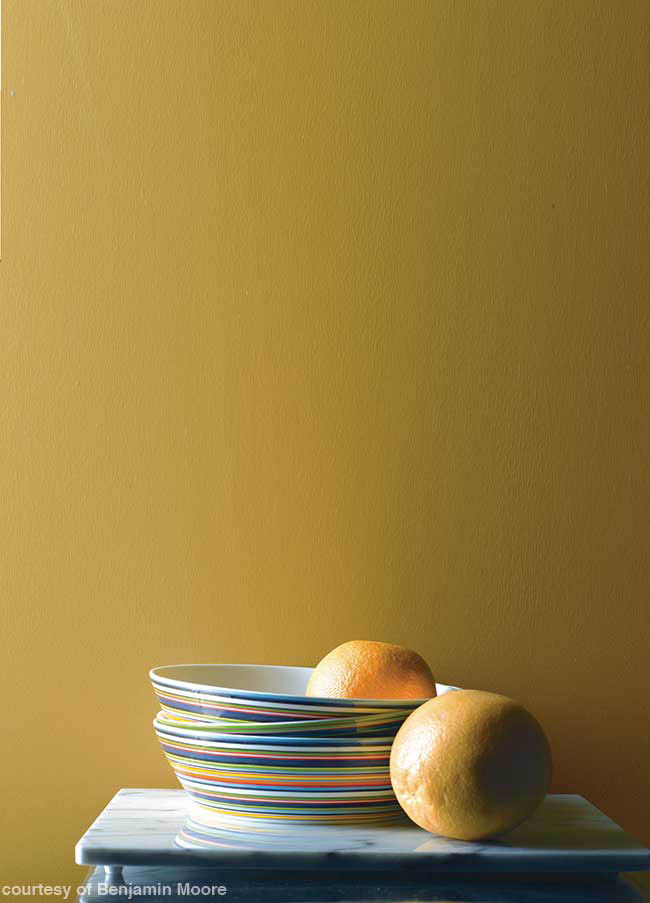 Muted shades of yellow, like Benjamin Moore's Turmeric, are perfect for adding an air of relaxation into the busy areas of your home.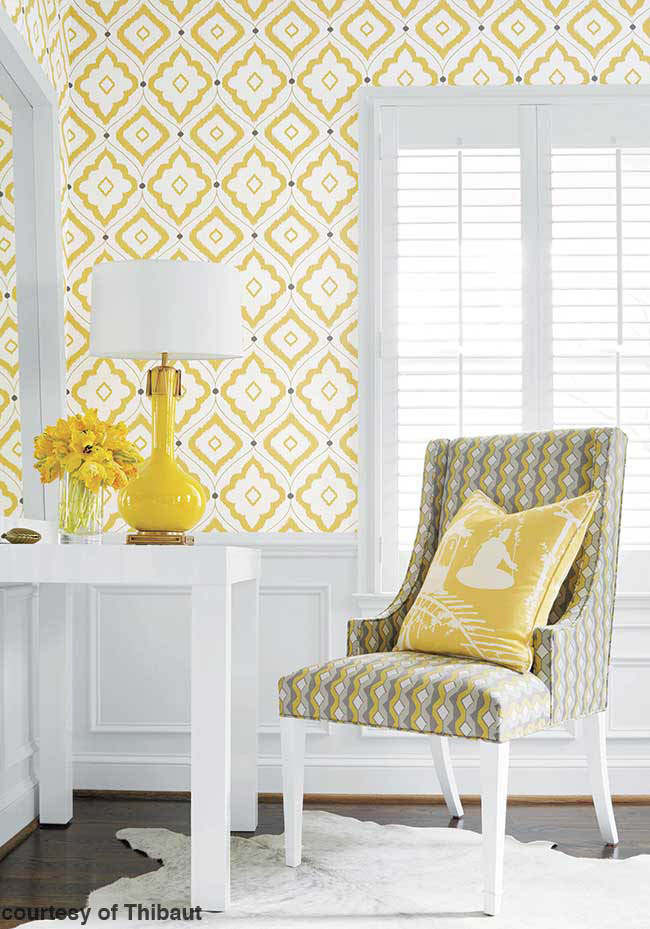 Clean white lines meet Thibaut Design's wallpaper from their Resort collection for a lively look.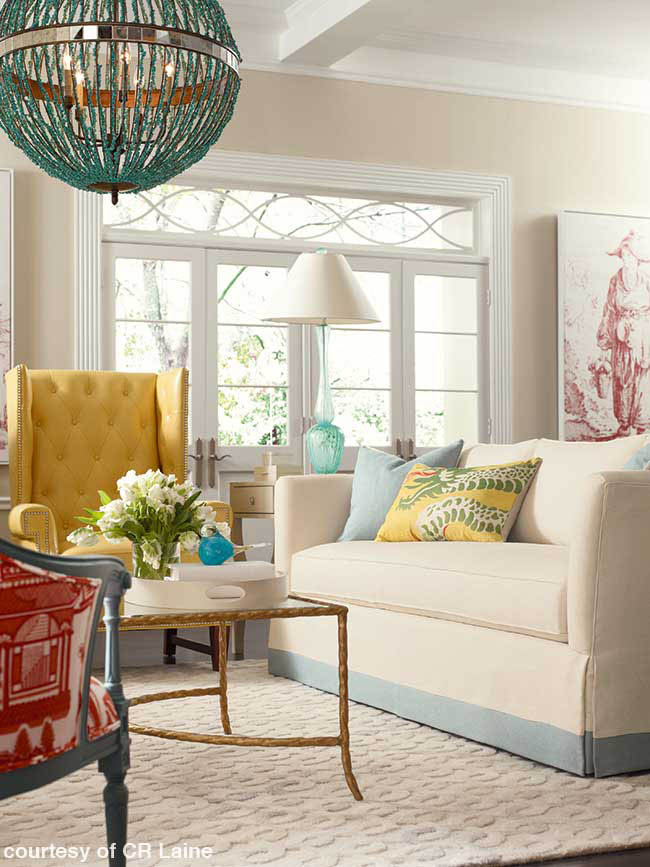 The cheerful yellow of the Gavin leather chair from CR Laine stands out in this cozy living room.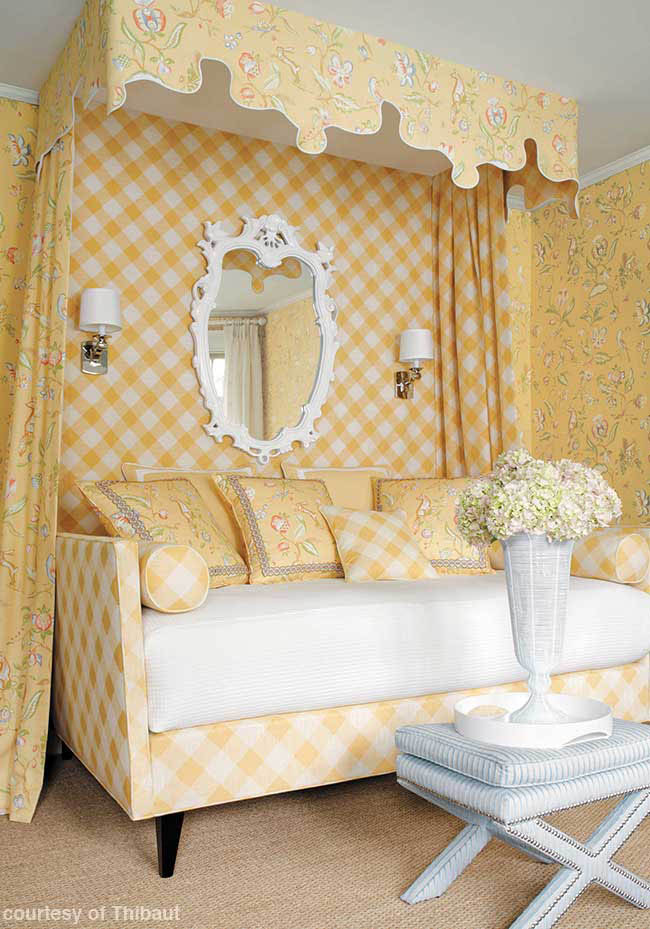 This daybed looks to provide the perfect place for relaxation, but when coupled with a matching canopy and wallpaper from Thibaut Design's Gatehouse collection, there's no doubt that it would provide a bright pick-me-up even on the rainiest of days.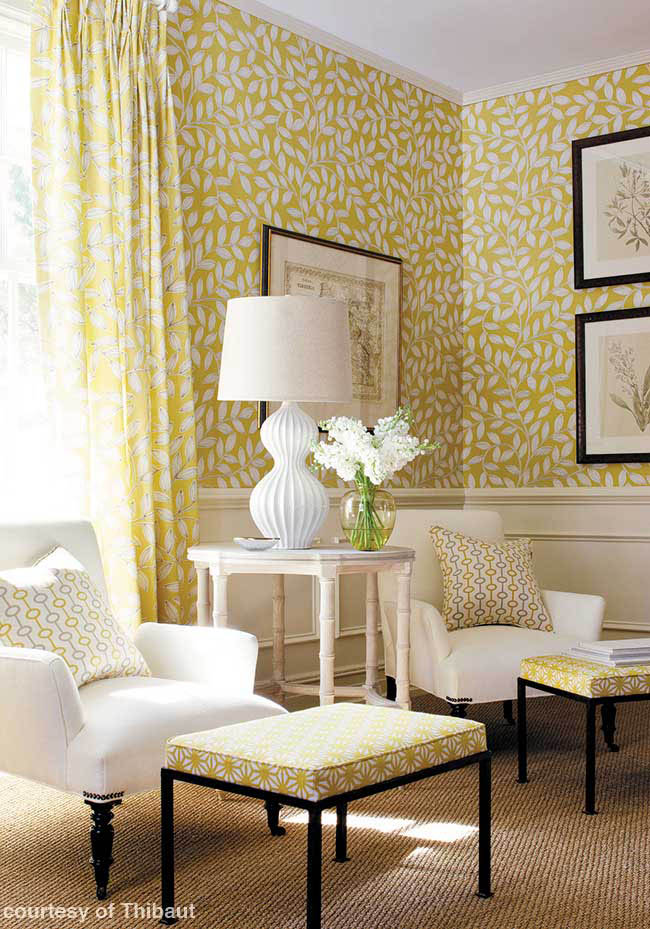 Traditional white molding is complemented by a pastel color palette and patterned additions from Thibaut Design's Jubilee collection.