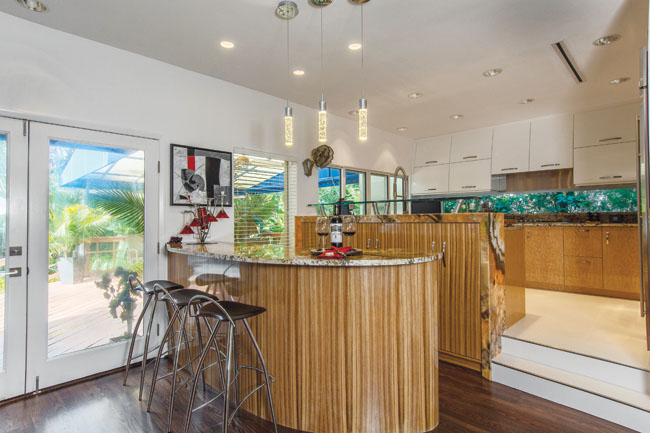 Your eyes light up the moment you walk into the remodeled kitchen inside Jay Coats and Lance Becatti's Tampa home. After purchasing the contemporary abode eight years ago, Jay and Lance started by removing flooring, updating the master bathroom and renovating the exterior façade and landscaping. They then turned their attention to the outdated kitchen. "It worked for us for a while, but it didn't fit our personality," says Lance.
"We wanted something playful and fun, but it also needed to be functional for when it is just the two of us, or when we are entertaining large groups," adds Jay.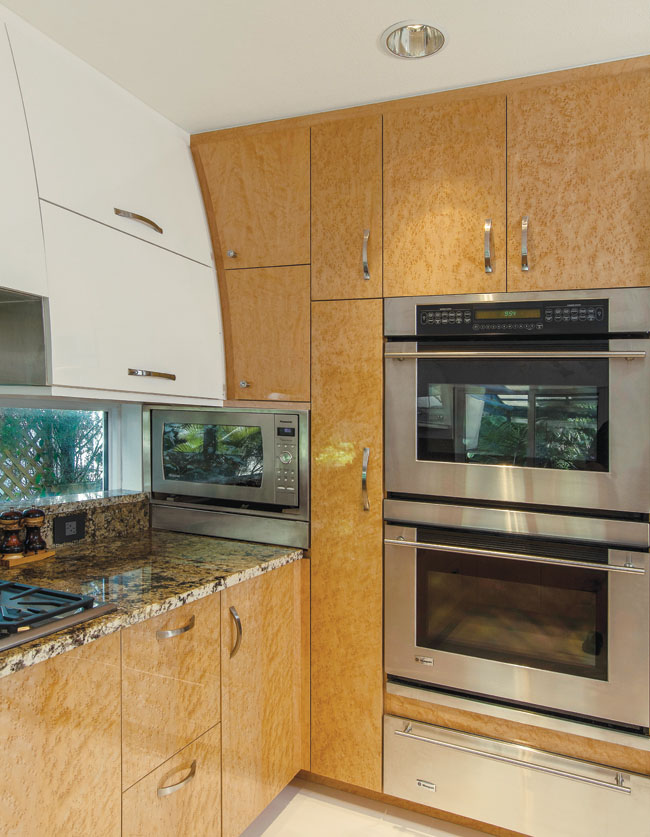 They came across Park Avenue Designs while perusing an issue of Housetrends. "We saw a photo of a kitchen with these unbelievable curved white cabinets and knew we had to include them in the remodel," says Lance.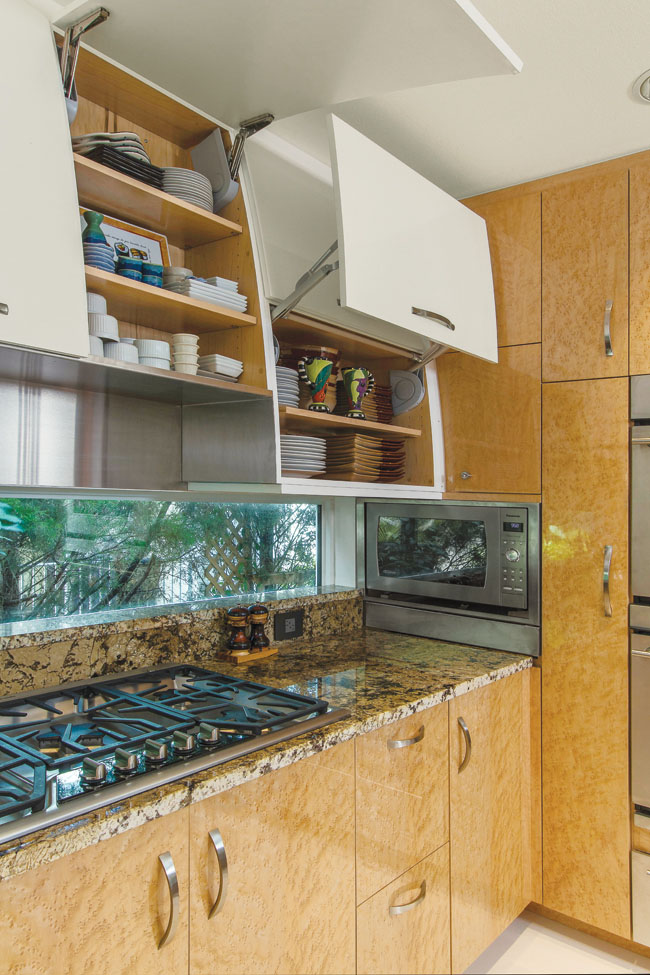 They stopped by the showroom, met owner George Gobes, and the rest is history.
Lance and Jay were able to include those white high-gloss European cabinets, with horizontal lift doors, on the walls.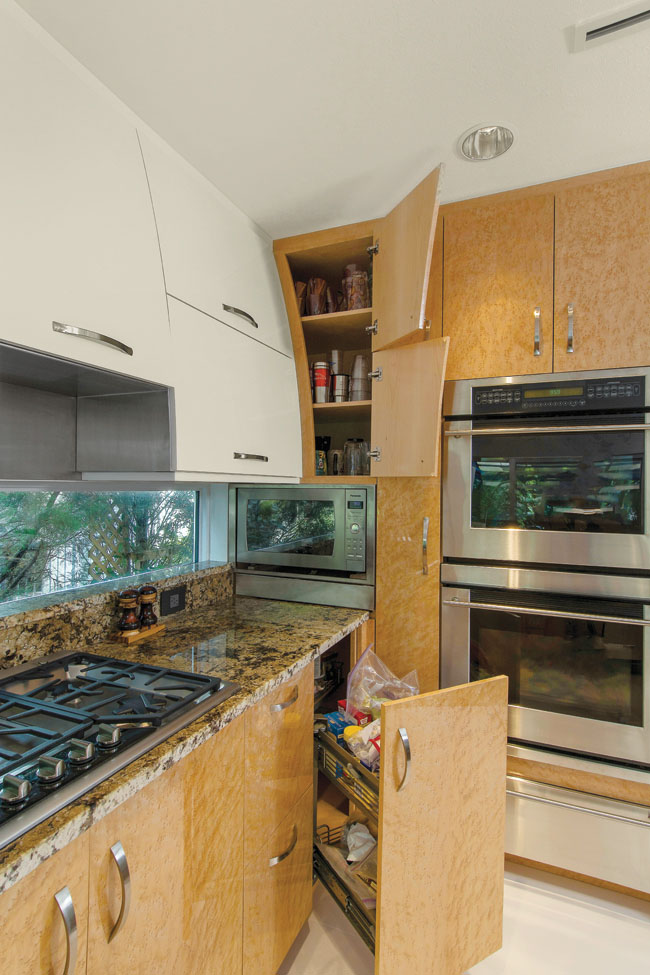 The birdseye maple base cabinets sit below the hurricane glass window backsplash that offers views of the lush garden and back yard. "Thanks to strategically-placed pullout drawers and cabinets we were able to pack a lot of storage into a small space," says Gobes.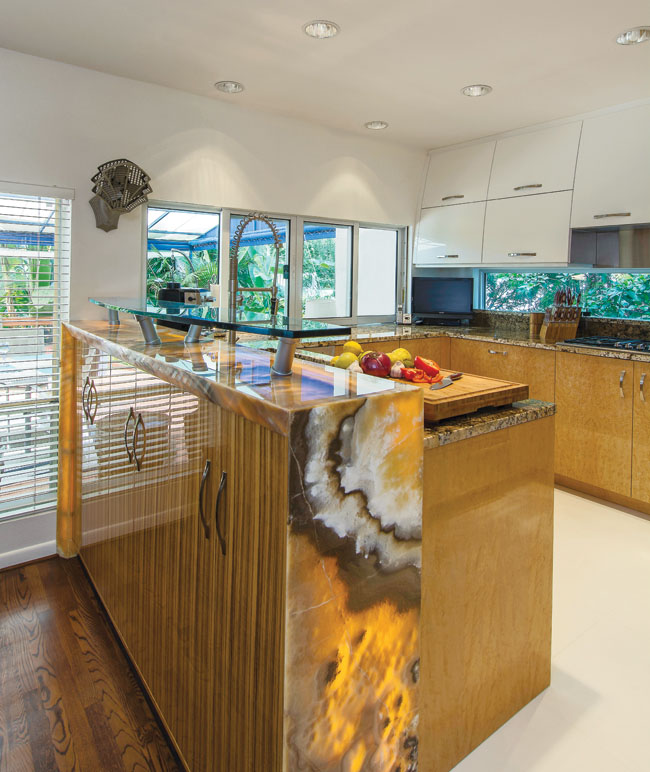 The zebra wood cabinet topped with an illuminated onyx waterfall counter is the real focal point of the kitchen. "There is over 250 linear feet of mitering to match the edges and put this cabinet together," says Lance. "If you let your eyes follow the lines and veining in the stone you will notice that is just flows right over each edge. It is an amazing piece and we couldn't be happier with it."
The onyx-topped cabinet also doubles as the backsplash for the sink and includes storage for glassware as well as a floating glass countertop, which is the perfect entertaining accessory when serving hors d'oeuvres and drinks. "This piece is essentially the room divider between the lower zebra wood bar and the adjoining living room," adds Lance.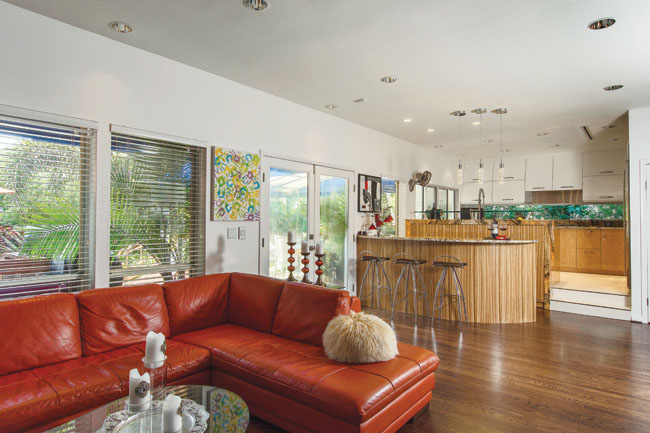 Gobes points to the variety of textures and colors as a big highlight in this kitchen. "It is just a happy space," he says. "Every time I walk into the kitchen there is fresh food on the counter and martinis at the bar. Lance and Jay are a lot of fun, and their traits have translated well to the design of their new kitchen."