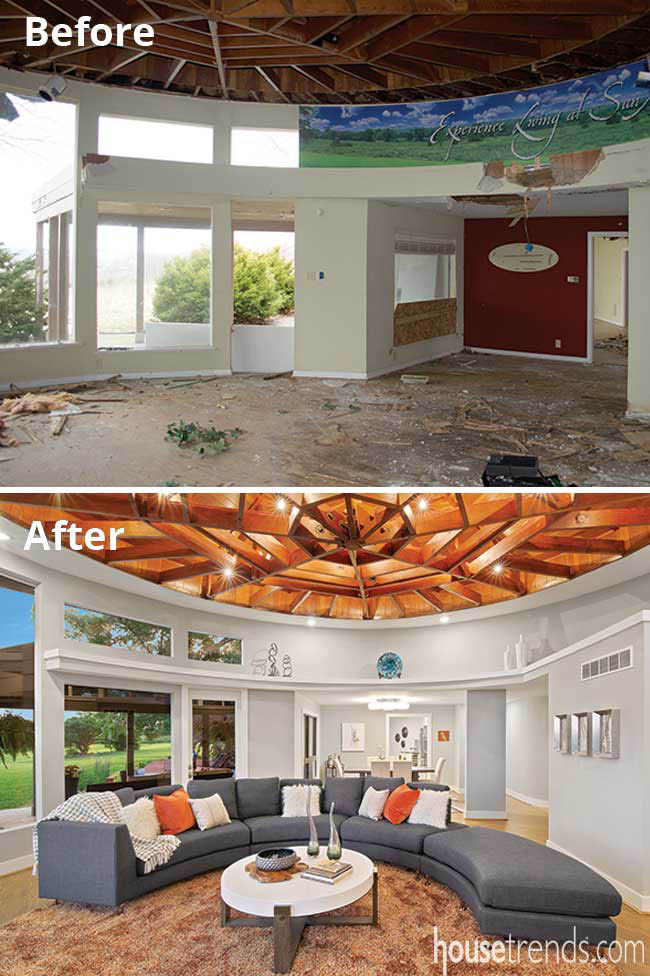 When John and Jennifer Cowan toured a 1950s Mid-Century Modern home in Lebanon, they knew they were stepping inside a home that had been neglected. But when their footsteps went "squish" as they stepped on the great room's carpeting, they were especially taken aback. It wasn't off to a great start.
Apparently water leaked through the room's ceiling and had been doing so for quite a while as this home sat vacant for several years.  But this wasn't just any run-of-the-mill ceiling. It was an inverted cathedral masterpiece made with eye-catching intricate woodwork.
John, who has worked in the homebuilding business since he was 13 years old, knew that barring the soaked rug, they had stepped into something special.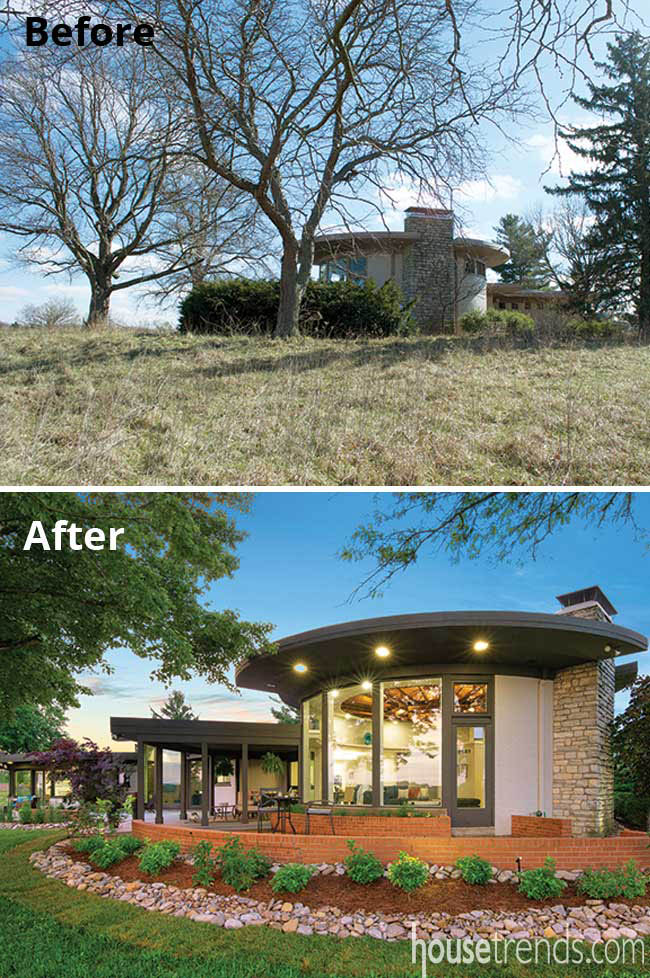 Drive-by sighting
It all began when the place caught Jennifer's eye while she was passing through the area one day. "I happened to see it up on the hill," she says.  "I told John I wanted to see what that house was about."
John visited the 14-acre site, which was originally part of a 153-acre farm, along with his father Stuart, the second of four generations of homebuilders. "I think we can save this," John reported to Jennifer.
Even though they were "ready to pull the trigger" on building a house they had designed—just a mere few weeks away from breaking ground—John and Jennifer decided to switch gears and take the plunge into a bit of Mid-Century madness. The couple sold their traditional home in Maineville, moved into an apartment building in Mason and began eight months of renovation.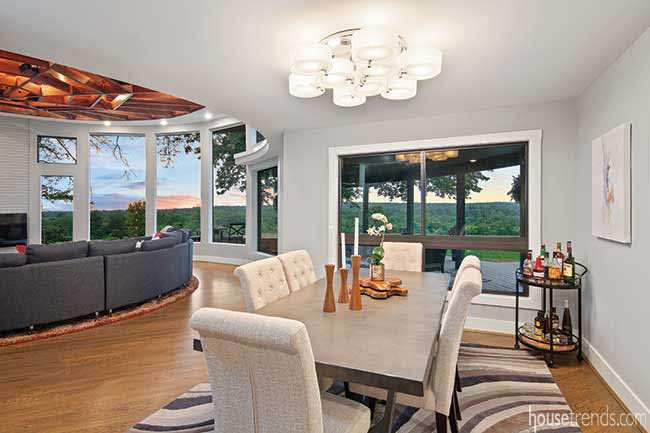 Labor of love
"Most people would think I was crazy," John says. "But I've always loved architecture, and having the ability to save a piece of modern history was a challenge I needed to accept."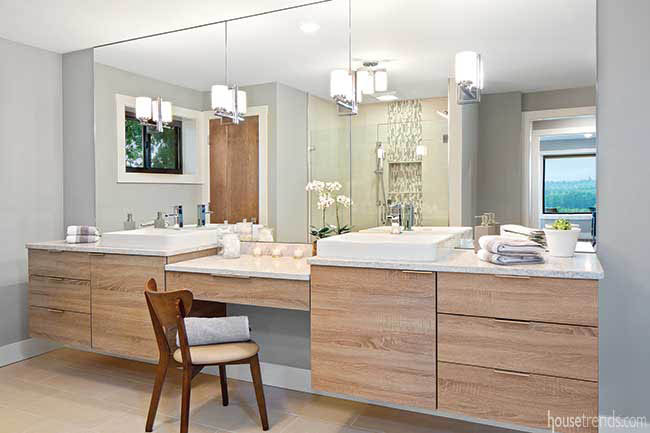 It was important to John that he stay true to the integrity of the original structure. A bit of a history buff, he began to research the lineage of the home. He managed to get his hands on an incredibly detailed set of blueprints after tracking down information on the original owner and then contacting his sons.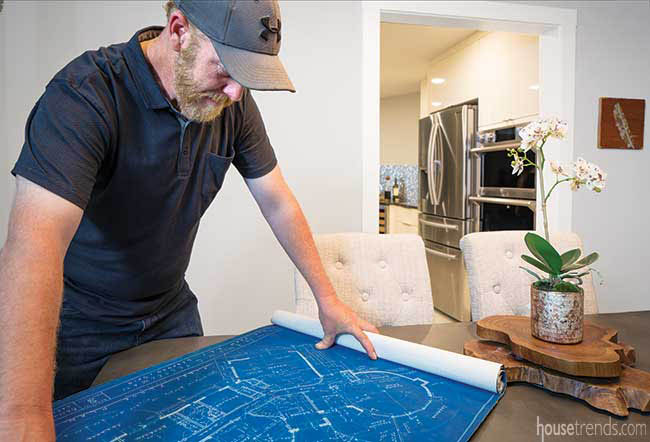 "Fortunately, the Testerman heirs made this renovation much easier through their generosity in sharing these cherished home plans," John says. "Without these prints I would have never found out what was behind these walls without digging," For example, there are steel beams between the windows in the great room, and the prints make clear how the ventilation system works, where crawl spaces are located and much more. The prints also show that part of the great room was tagged to be a library, but apparently that vision was never realized. John intends to honor this concept by building the elevated seating area with curved bookcases out of cherry as originally planned.
The blueprints were drawn by architect Benjamin Dombar, who worked as an apprentice to Frank Lloyd Wright. The home was built for Dr. Woodford C. Testerman in 1953. Testerman spent his days working as a dentist but spent his evenings and weekends tending to a dairy farm on his property.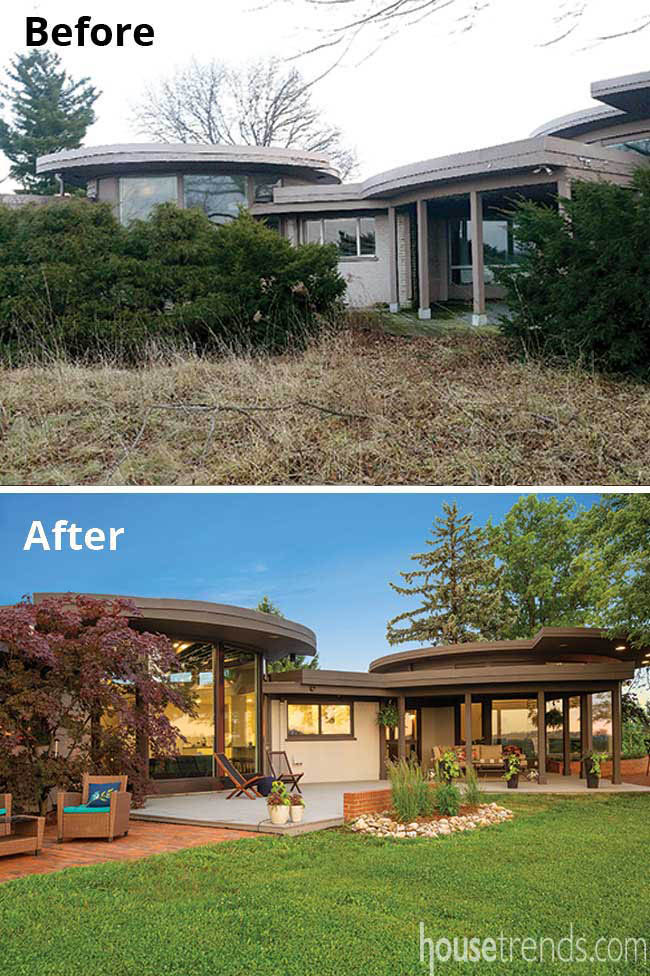 Upon his death in 1999, Testerman's family converted the house into a dentist's office. In fact, a handicapped parking spot still is marked from that time period. Later the place was sold to a corporation that bought it with development of the land in mind.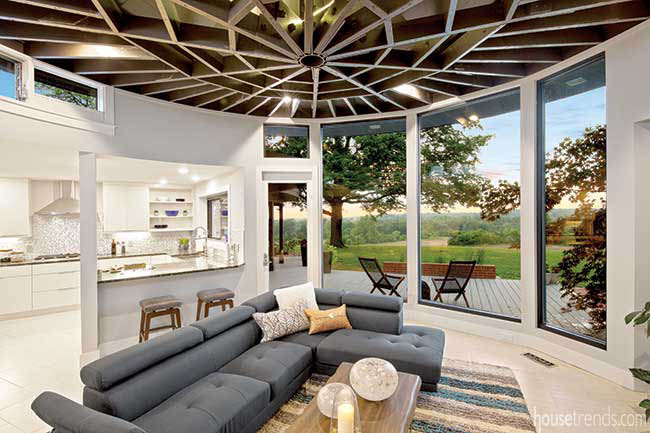 Saving the grace
Once the Cowan family got their hands on the home, they began uncovering hidden gems. For example, after seeing the great room's showstopper ceiling, Jennifer questioned what might lie beneath the plaster that covered the ceiling in the hearth room.
"I had an inclination that it might mirror the great room," she says. "I asked John to let me see what was underneath."
Once the plaster was removed, another inverted cathedral ceiling, similar to the one in the great room, was uncovered. John refers to the structure as an "upside down witch's hat" and describes its construction method with a special appreciation that he brings to the table as a skilled carpenter.
The hearth room ceiling design, with its center steel column and welded flanges, creates a triangular platform that carries its own weight despite the flat roof above. This inversion is similar to a modern day truss design. John explains, "This was certainly ahead of its time and some feat of engineering."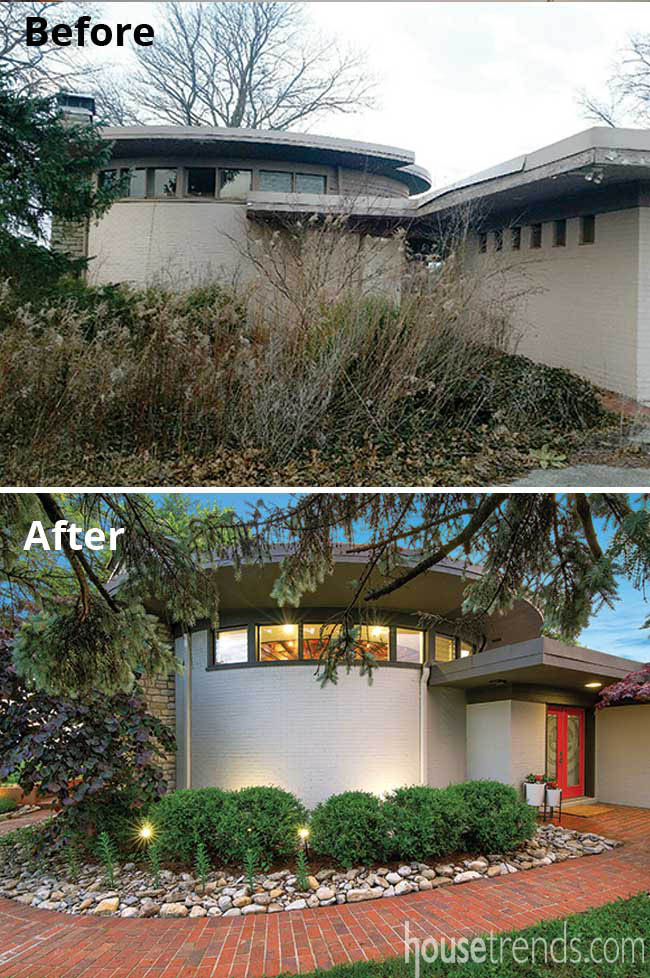 Outside surprises
Aspects of the home were hidden on the exterior as well. "There was a curved brick wall covered in bushes that hid most of the sidewalk," Jennifer says. "We didn't even know the wall was there when we bought this." John adds that a cistern was concealed under a back deck. And it wasn't just any cistern. It holds 11,000 gallons of water which went far to irrigate the home's original 153 acres.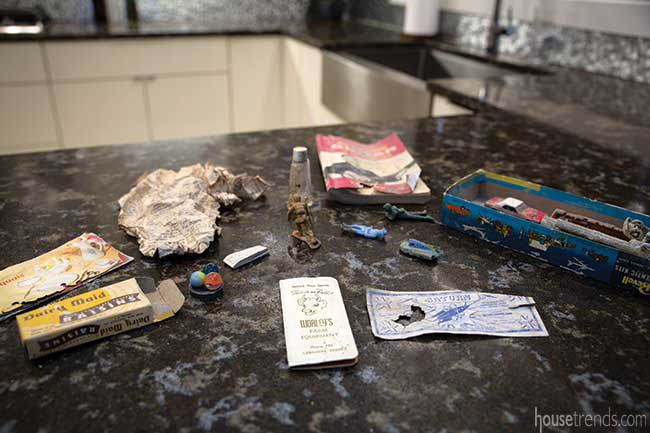 Also, there were treasures found inside the home—behind the walls and beneath the floors. Most are toys the Testerman boys may have played with, but in a serendipitous turn, there happened to be a recipe torn from a newspaper that was dated March 7, 1973. The Cowans purchased this home exactly 44 years later on March 7, 2017.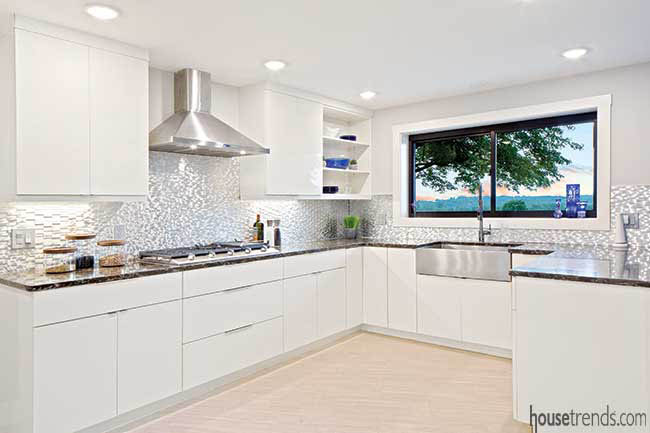 Family affair
Helping John out with the remodeling efforts was his 22-year-old son Alex, who represents the fourth generation in this family of homebuilders. His primary focus was the interior trim work and setting the kitchen cabinetry, but he was heavily involved in all aspects of the reconstruction efforts including ripping out and replacing the entire mechanical system.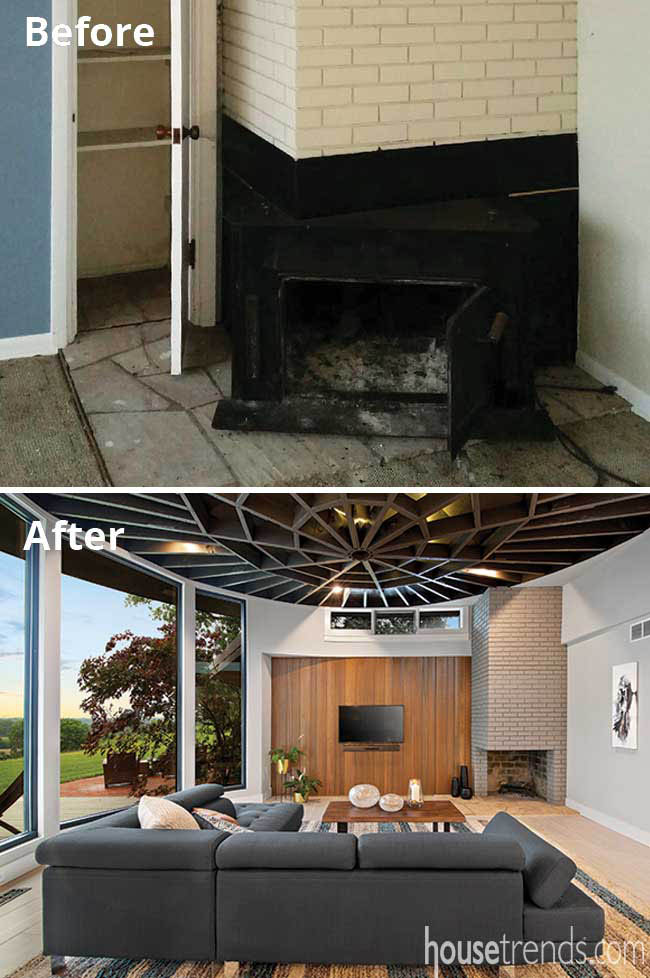 Since Alex and his brother Austin, 24, no longer live at home, Jennifer and John find they spend the majority of their time in the hearth room and kitchen area. It's an intimate space with the incredible view and intricate ceiling serving as focal points.
The layout works equally well when family and friends gather. "This house was made for entertaining," Jennifer says.  "The flow from room to room is perfect."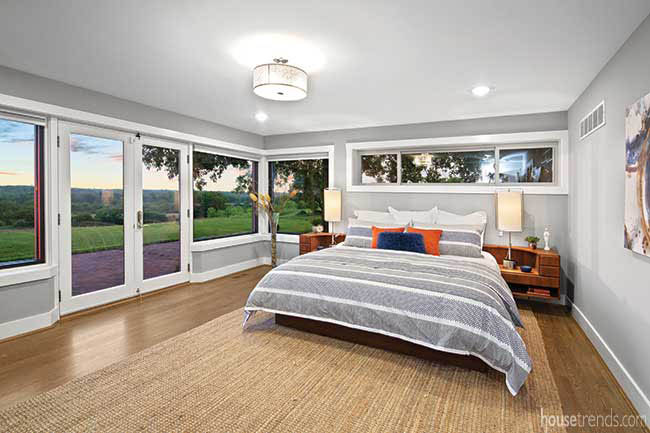 Accent on "modern"
When it came to furnishing the home, Jennifer says, "I wanted the space to be an updated take on Mid-Century rather than strictly Mid-Century Modern."
To help work with these styles cohesively, the couple called upon the talents of interior designer, Andrea Davis. "We tried to walk that delicate line of respecting the heritage of the house with Jen's more modern vibe," Davis says.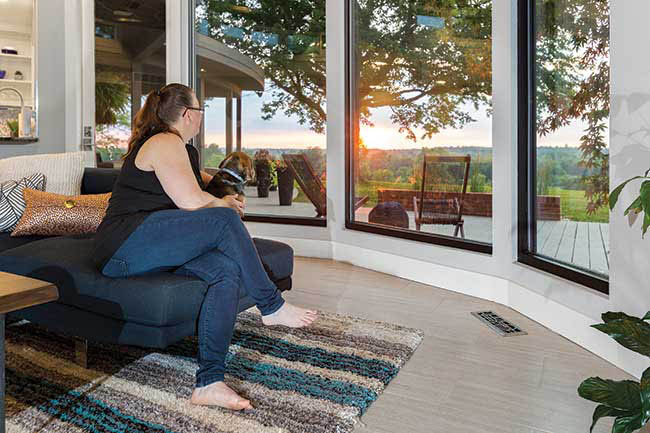 When asked to pick her favorite room in the home, Davis has a hard time selecting just one. "First of all, the front elevation of the home is striking," she says. But inside she thinks it's hard to beat the circular great room with its wall of windows looking out toward the fields.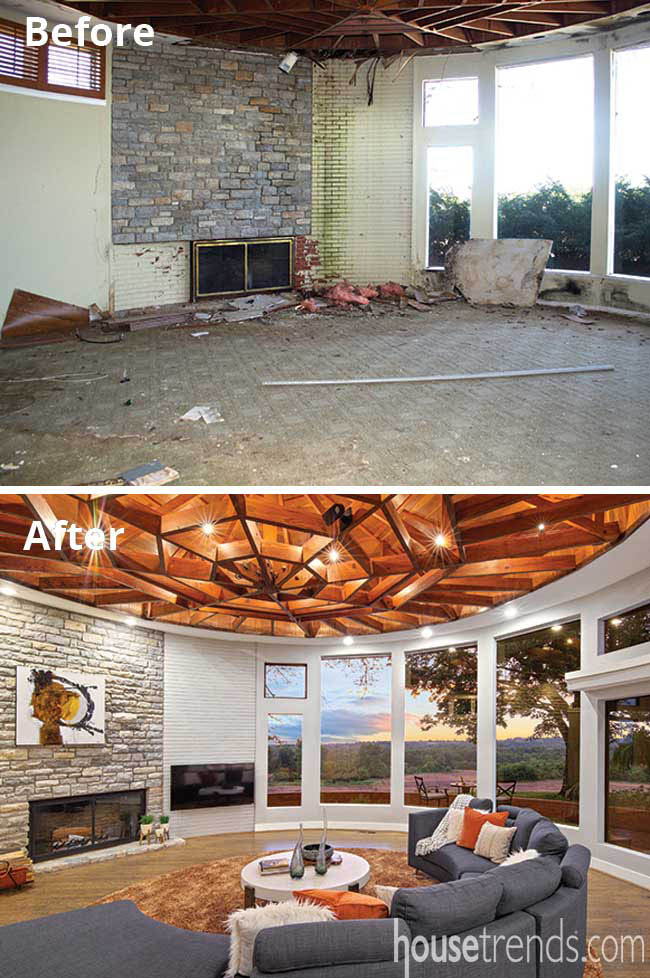 The curved sectional in that room was found by Jennifer, but Davis gave her whole-hearted stamp of approval. It was the perfect piece to accent the shape of the room, she says. "Rather than detracting from the ceiling, it complements it."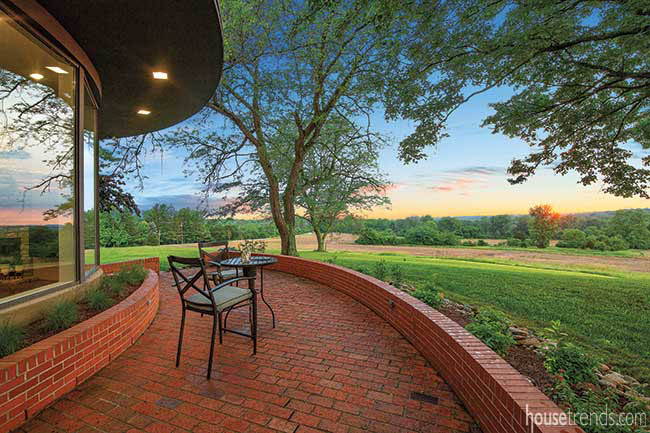 Staying true to the history of the home was a major priority to everyone on the building and design team, while incorporating lifestyle improvements and current building codes and regulations. And the results are stunning.
"Living in this piece of history, on this hilltop, with its expansive views," John says," is like living in a piece of art."
Resources: Architect: Benjamin Dombar, Dombar Architects; Builder: John Cowan, Somerset Custom Homes; Project vision: Jennifer Cowan; Interior design, furniture and accessories: Andrea Davis Designs; Kitchen and bathroom design: Lisa Fisher, Cincinnati Kitchens; Landscape architect: Larry Henry Designs; Kitchen countertops: Gold Rush quartz, Take It For Granite; Kitchen sink: Kraus; Appliances: Samsung, Custom Distributors; Bathroom countertop: Merino quartz, Take It For Granite; Bathroom sink: Kohler, Ferguson; Shower door: Celeste Series, Basco; Cabinetry: Eclipse by Shiloh, Cincinnati Kitchens; Ceramic tile in kitchen and hearth room: Louisville Tile; Faucets: Moen, Ferguson Enterprises; Lighting: Ellis Electric; Paint: Cashmere in Mindful Gray, Sherwin-Williams; Painters: Color Creations LLC; Flooring: 2 1/4" Site Finished Oak, JP Flooring; Window treatments: Graber Solar Shades, Interiors By Design; Windows: Storefront-style windows from Ryan's All-Glass; Crystal Aluminum Windows from Cornerstone Windows; Doors: Birch Slabs, McCabe Lumber; Sound: Phantom Sound; Electric: Ellis Electric; Plumbing: M.T. Crowe Plumbing; HVAC: Willis HVAC; Interior trim: Alex Cowan, AJC Carpentry; Brick: Reading Rock; Waterproofing: Quality Waterproofing; Drywall: DG Drywall; Gutter system: Oaks Seamless Gutters; Insulation: RJ Insulation; Roofing: Weatherstop Roofing; Financing: Park National Bank; Garage door: AE Door & Window; Propane: Auxier Gas