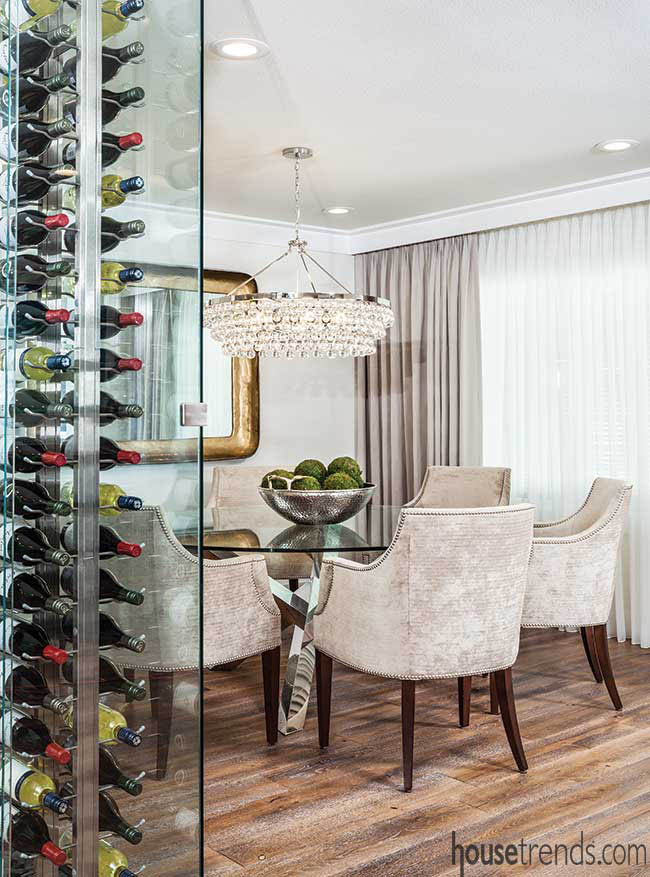 House hunting, especially in a new city, is always challenging. In addition to finding the perfect home to fit your needs, the neighborhood must also fit your lifestyle, values and aesthetics. This was the challenge facing Dr. Paul C. Kuo, who recently moved to the Bay area from Chicago after accepting a position at the University of South Florida.
As an empty nester with three adult children, Dr. Kuo wanted a home with a simple and spacious design but, most importantly, on the water.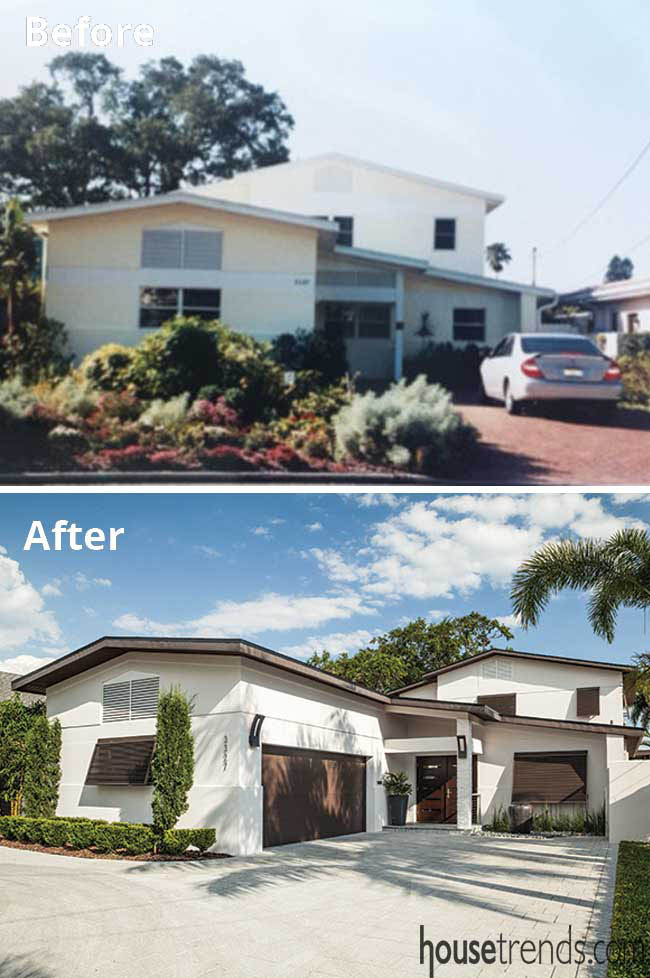 A house with good bones
With the assistance of St. Petersburg realtor Don Howe, Dr. Kuo found the perfect remodeled home for his new situation—a 3,300 square-foot midcentury home built in Snell Isle in the 1960s. The three-bedroom, three-bathroom home was modernized completely in 2015 to include a gorgeous pool and patio. But the most fortunate feature of all was the interior design, which suited his taste to such a degree that he bought all the furniture and accessories—all the way down to the dishes in the kitchen—on the spot.
A Georgia couple had previously owned the home, purchasing it as a winter getaway. Their two sons were enrolled in the University of Florida and Florida State University, and this home in St. Petersburg allowed for frequent visits during academic breaks.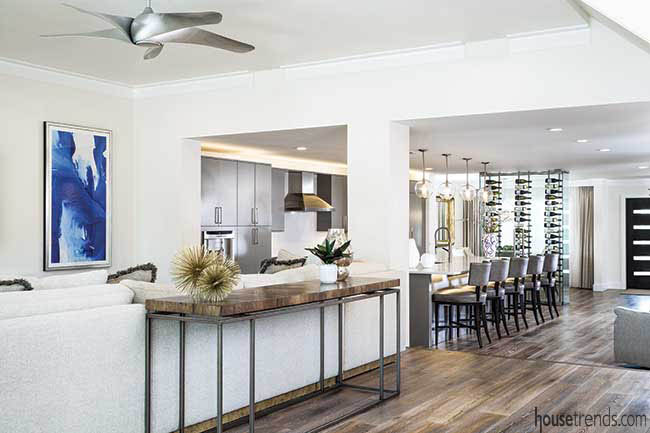 The couple hired Debra Ackerbloom, of Debra Ackerbloom Interiors, LLC in Tampa, and Iskra Homes to assist with a major overhaul of the house. According to Ackerbloom, the house had "good bones," which enabled her, working with Emil and Chris Iskra, to create a renovation that is modern, with a clean design and amenity heavy. "The finishes, fixtures and furnishings were carefully selected to showcase the property's unique qualities, which includes its location on the water," says Ackerbloom, who adds that the design plan and renovation took about 15 months to complete.
Ackerbloom is a 5th generation Floridian, having lived in the Tampa Bay area for 18 years. She earned dual degrees in psychology from St. Leo University and in interior design from the Academy of Design. "The two degrees blend nicely and serve me well in my career choice of interior design," she says.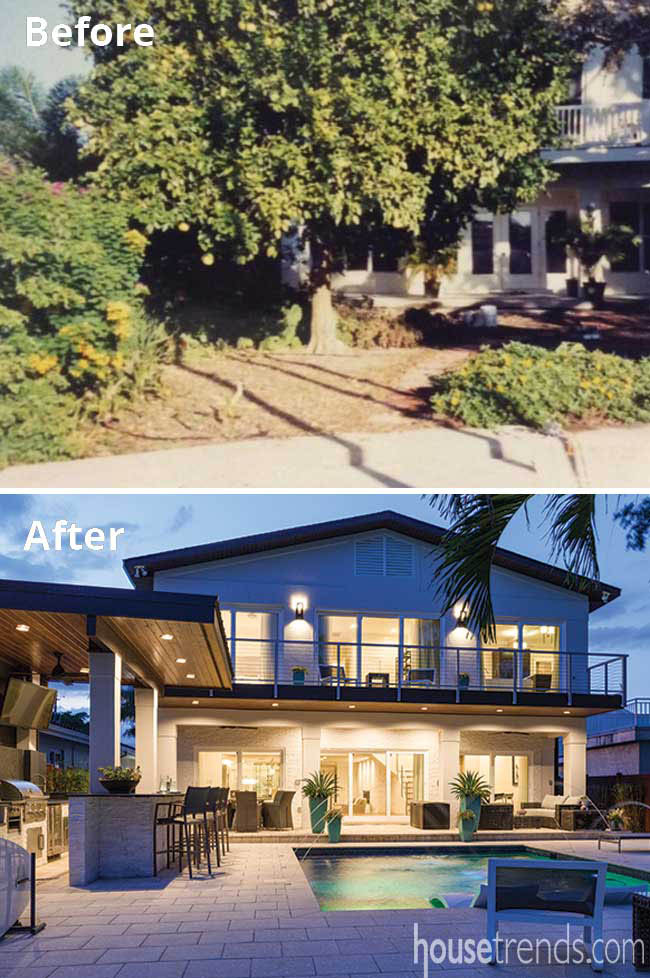 A contemporary palette
Two years ago, when Ackerbloom took on the challenge of renovating the home, she first painted the exterior a fresh, warm white with smooth ledger stone on columns, Bermuda shutters and a large double door. For the interior, she focused on a space plan to create functional flow and to maximize the views of the calming waters, the expansive lanai and a relaxing pool by John Sekas of Sekas Custom Pools.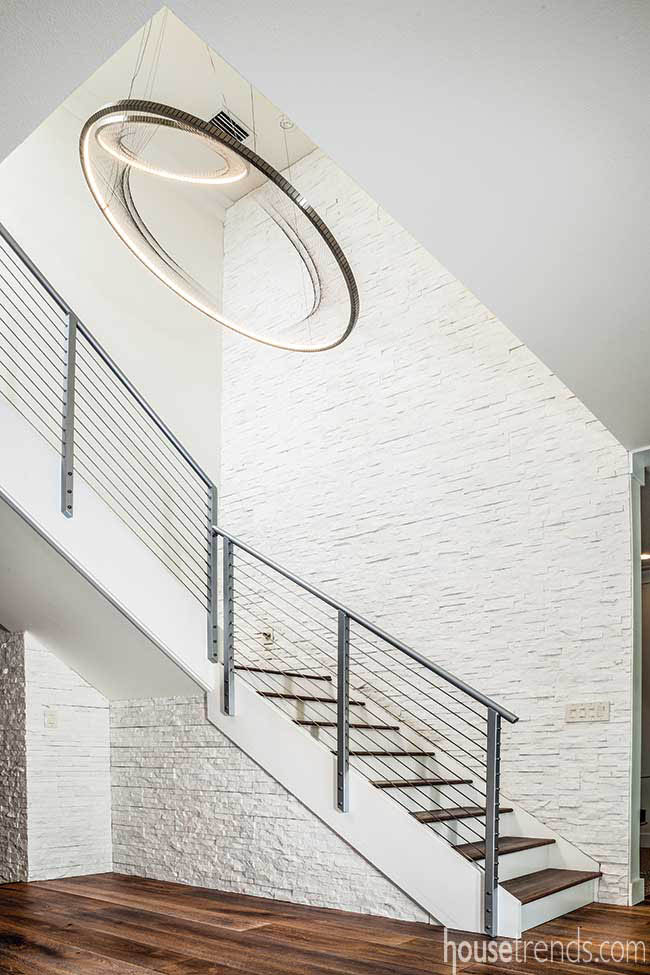 This transformed a midcentury architectural style to a more contemporary one by creating open segmented spaces. She chose a neutral color palette using a layering of natural textures for a modern and balanced tone. Art selections chosen by the designer herself provide rich and dramatic colors against the neutral background. By opening walls and installing floor-to-ceiling windows, her sophisticated and unique design plan encourages Dr. Kuo and his guests to relax and enjoy his restful and spacious home.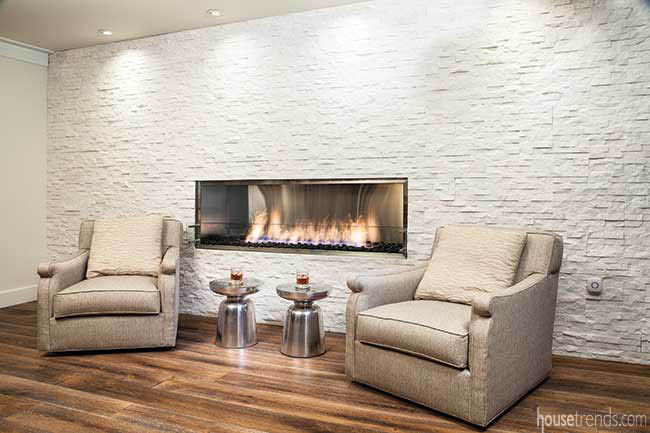 "The challenge with an open space plan is to create warmth, balance, interest and vignettes for privacy," Ackerbloom says. "As we were designing this home, we found many opportunities that quickly became beautiful focal points. The wine wall dividing the dining room and kitchen is a wonderful example of this. From all angles it works. It allows light to pass through, yet gives the illusion of a wall without losing the space.  It's sophisticated, simple and elegant."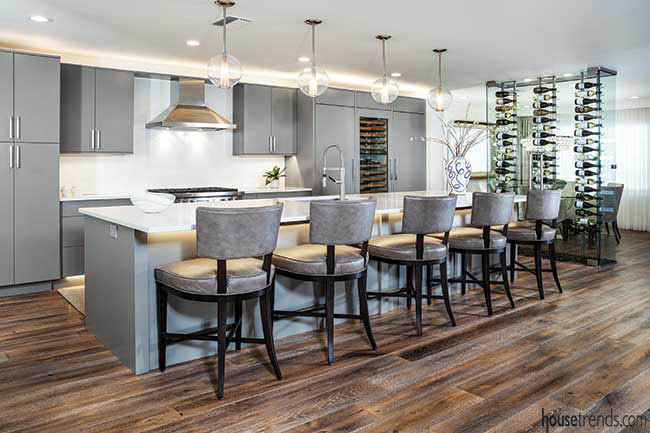 Always the heart of the home, this kitchen is designed with warm gray custom cabinetry, quartz countertops, sleek glass pendant lighting, and stainless steel appliances favored for entertaining. The gray washed plank flooring helps to tie the spaces together.
The sitting area opposite the kitchen boasts a soothing built-in firebox with Norstone cladding on the wall and a pair of inviting swivel chairs, creating the perfect place for conversation or an afternoon cocktail. The Norstone continues to extend up through the stair hallway, with a contemporary cable railing and suspended pendant lighting. The large great room features a u-shaped sectional sofa, a circular ottoman and an open view of the lanai and pool.  Low profile furnishings were selected in order to not obstruct the fabulous view. Even the home office, tucked away behind the stair hallway for a private feel, takes advantage of the water view.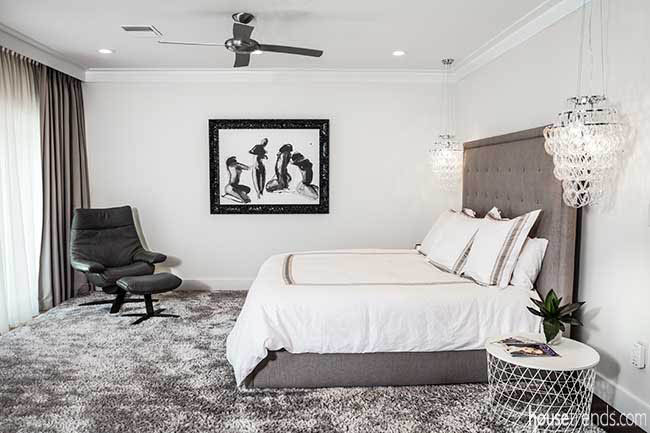 Two large guest bedrooms with en suite baths are on the first floor, allowing for a spacious master suite upstairs. "The second story is devoted entirely to the master suite, a true retreat with a double-sided fireplace between the bed and bath, magnificent waterfront views, his & hers walk-in closets, and a large balcony," says Ackerbloom.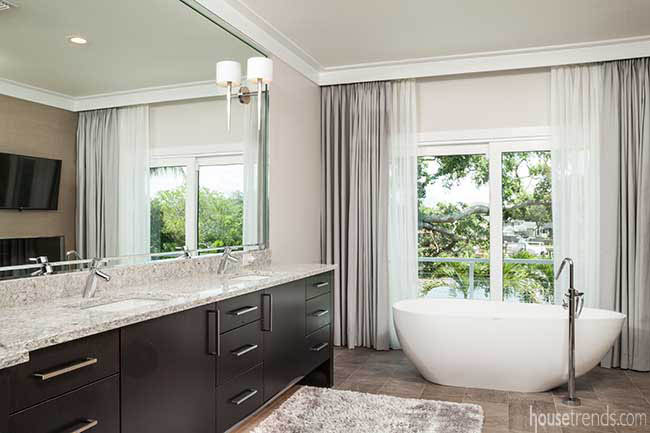 "The master bath is designed to mimic a private spa with a large two-person walk-in shower, dual sinks, beverage bar and a beautiful free-standing soaking tub, also with a water view."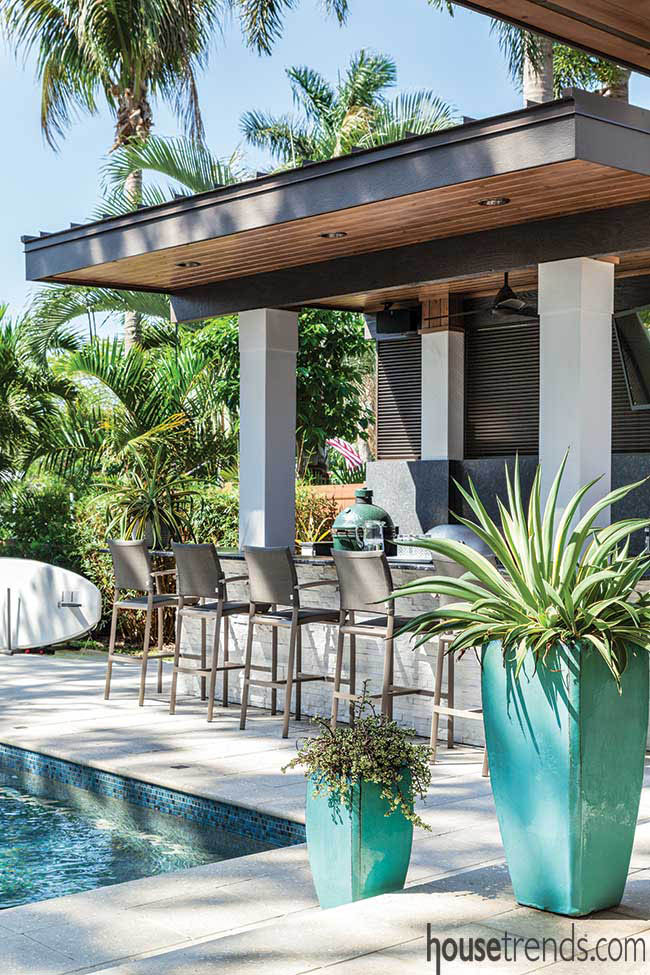 A back yard with a view
The rear lanai with outdoor grill is accented beautifully with lush landscaping and stone pavers. Dr. Kuo laughingly brags that he has learned to utilize and love his Big Green Egg when smoking meat outside. Evening entertaining with tasty food and special beverages along with a swim is heavenly.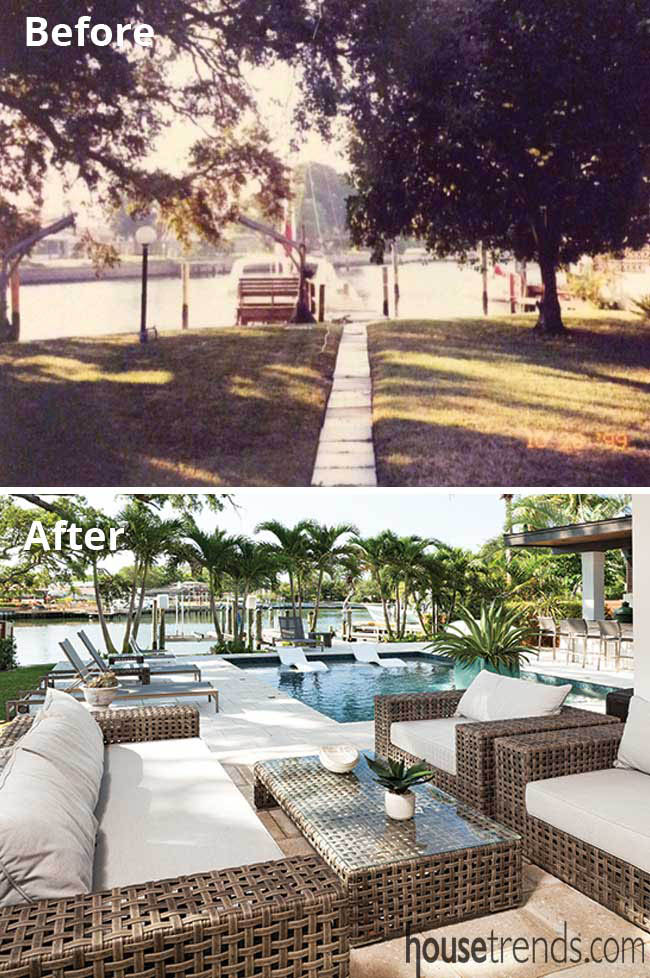 "The house is truly stunning," says Dr. Kuo, "My visitors are in awe and can't believe I found such an outstanding home. I also want to thank the former owner and Debra for all their hard work. I love it here."
Resources: Building designer and architectural services: Sean Roney, Roney Design Group, LLC; Contractor: Chris Iskra and Emil Iskra, Iskra Homes; Interior designer: Debra Ackerbloom, Debra Ackerbloom Interiors; Kitchen designer and cabinetry: Andy Meeder, Allikriste Fine Cabinetry & Kitchen Design; Landscape design: Tommy Todd Landscape & Design; Closets: Mark Ellis, Artisan Closets & Trim; Countertops: Frosty Carrina Caesarstone, Granite World, Inc.; Plumbing fixtures: Cobblestone Court; Appliances: Bosch dishwasher; Sub-Zero refrigerator, freezer and wine cooler; Wolf range and hood; Thermador built-in coffee machine; U-Line ice maker, Ferguson; Wine wall: Vintage Wine Cellars; Pool and hardscapes: John Sekas, Sekas Custom Pools; Landscaping: Chris Benito, My Landscaping Services; Art and wall sculptures: Codarus; Soicher Marin; Phillips Gallery; Audio/video: Rush Faren, Imagine Audio; Stone cladding: White quartz Norstone; Area rugs: Addison/Dicus & Bailey Company; Exterior Bermuda shutters: Mary Lame Wrought Iron & Aluminum; Lighting: Nuevo; Robert Abbey; ET2; Wall treatments: Phillip Jeffries; Furniture: Century; Scan Design; Sunpan; Nuevo; Accessories: Cyan Design; Worlds Away; Noir; Doors: Shayann, US Door & More, Inc.; Window treatments: Accent on Windows; Fireplace: The Bio Flame