Linda and Michael's nearly 100-year-old home had served the family well for three decades, but with the addition of two sons-in-law and five grandchildren, it was time to expand. The couple recruited architect Kenneth Krukowski to bring their modern home plans to life.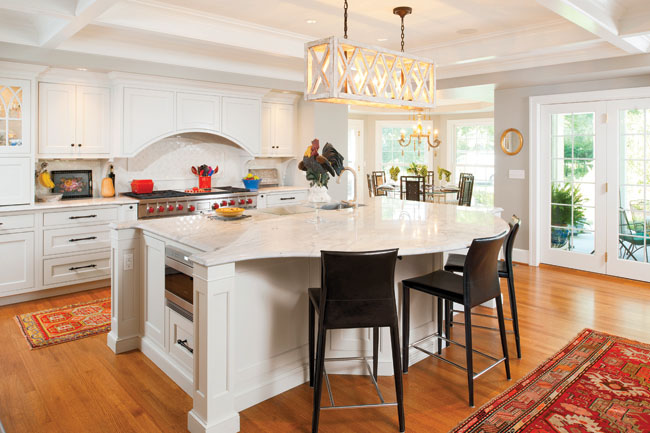 In keeping with the Georgian-Colonial style of the house, the 700-square-foot kitchen was kept traditional with oak floors and baseboards designed to match the rest of the home.  Linda is a bit old fashioned and wanted room spaces to be defined, rather than have big open areas.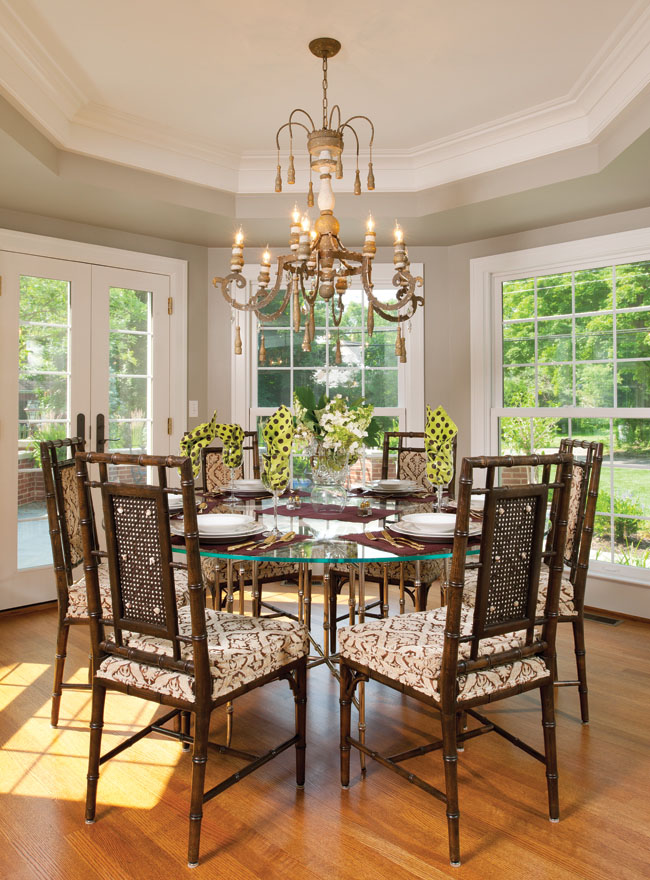 Coffered ceilings were added to create visual interest, enhance the wood cabinetry, and to size down the huge space for a cozier feel.
Krukowski designed an octagon breakfast area off the main kitchen. "I think it creates an interesting element with a lot of views to the rear garden and yard," he points out.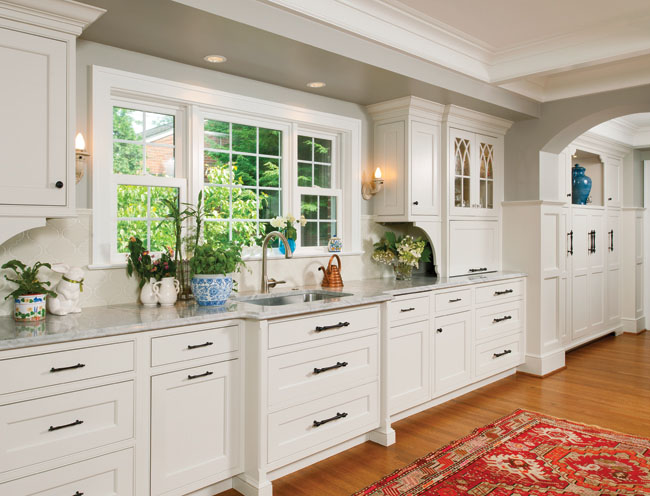 "Ken designed the space and Joyce Cessar, from Cuvee Kitchen Designs, helped put everything together for us," says Linda.
Linda and Mike wanted their counters to be as hard and non-porous as possible so they selected a Brazilian granite for the tops. "Joyce used Rutt HandCrafted Cabinetry from Lancaster, Pennsylvania and we couldn't be happier with the quality," says Linda.  "She had them painted a gray-beige called Balboa Mist from Benjamin Moore, which is a perfect complement to the granite."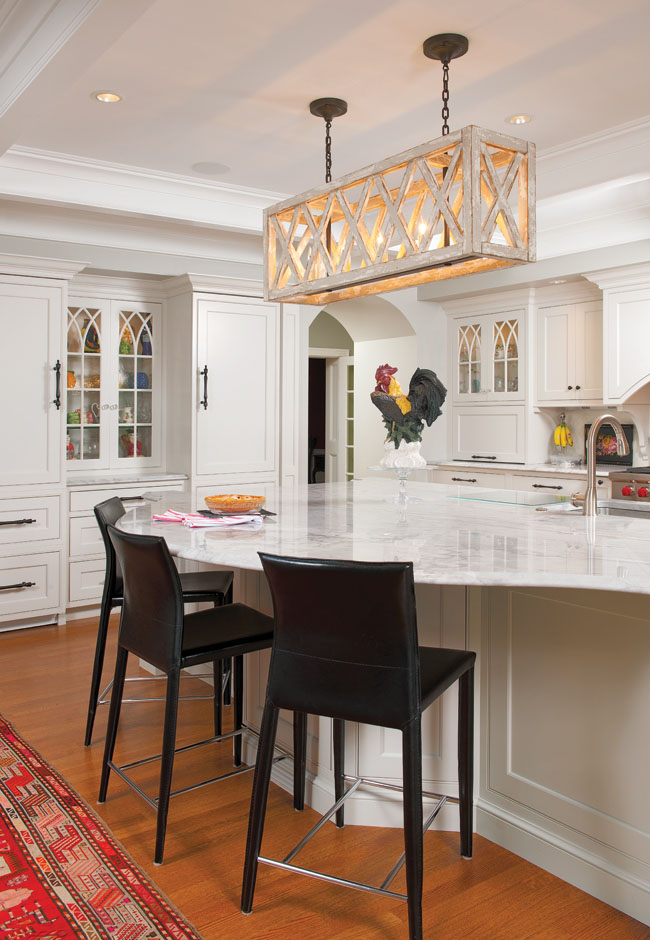 Recessed lighting was used throughout the space, but Linda also wanted to add some unique lighting over the island and breakfast area.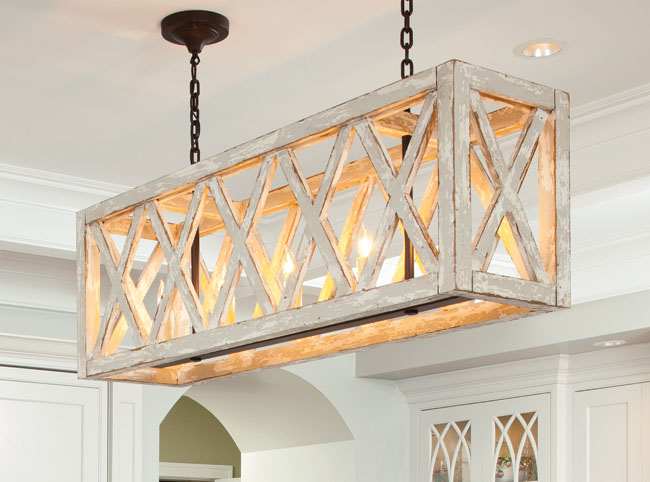 "The chandeliers are a bit funkier than I would have normally had in a traditional home, but they're unique and complement each other," says the homeowner.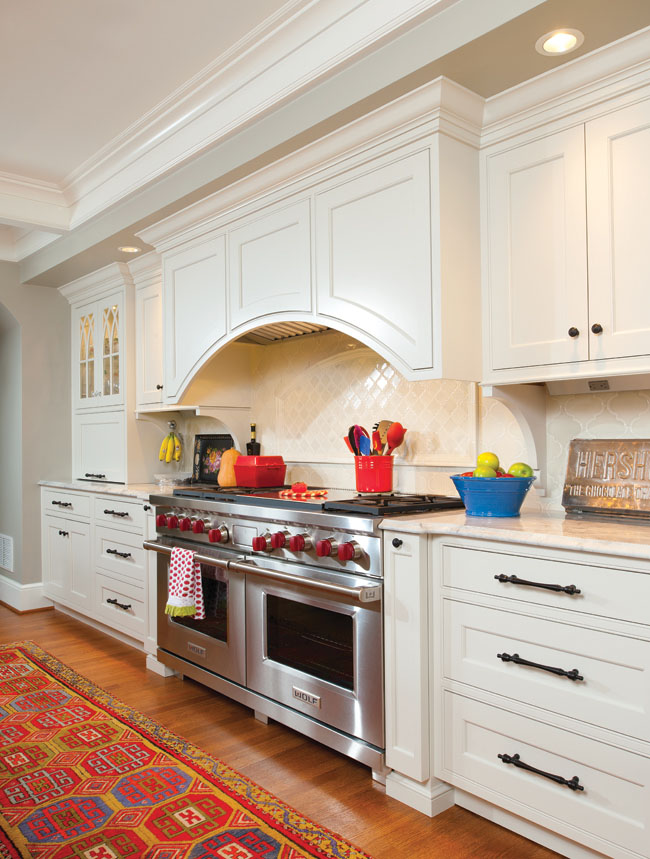 A Wolf cooktop and double-ovens were selected for their high quality and top performance, while double dishwashers were installed to ease holiday cleanups. On display is an original Hershey's Chocolate mold that was once used in the Hershey factory to make 50-pound blocks of chocolate.  This immaculate kitchen gets a lift of color from a pair of Persian rugs, and from the spectacular landscape that can be appreciated through exposed windows.
Every day when Linda comes downstairs for her morning coffee, she is overwhelmed with appreciation for the space that was created by their modern home plans. "I grew up in a blue collar town where my dad worked six days a week to put food on our table," she says.  "I never imagined that I would have something this beautiful, and we are never leaving here."